We're excited to share our year-long Q&A series featuring exemplary quilt and fabric shops all around the country that sell Shannon Fabrics products. To nominate a shop in your area, please let us know in the comment section below. #shoplocal
Seeing the need for a local quilt shop in their small community, co-owners Diane McKoen and Robin King decided (at church over coffee, nonetheless) that they would open a quilt shop.
They started small, with only 500 bolts of fabric in a downtown Merrill, OR storefront, and within a few years, they had outgrown their humble beginnings and relocated down the street and into an old farmhouse.
Now, despite being in such a rural town, they impressively have over 4,000 bolts of various fabrics in stock, including an entire section dedicated to Cuddle® and Luxe Cuddle® minky plush fabric.
Tater Patch Quilts has done a great job getting the community involved through their classes and retreats (featuring guest teachers) that are tailored to sewists and quilters of all experience levels. And of course, they always have the coffee on!

Without further ado, we're proud to present our third Shop Spotlight of the year — Tater Patch Quilt Shop!
To learn more about and see the latest from Tater Patch Quilts, check out their website, stop by their shop at 109 E. Front St. Merrill, OR 97633, give them a call at 541-798-5955 or email owners Robin King and Diane McKoen at taterpatchquilts@yahoo.com.
SF: What's the history of Tater Patch Quilts? When did you open your store?
TPQ: Tater Patch Quilts opened in September 1996. We live in a large rural agricultural area supported by five small communities and we're 15 minutes from a larger city. There were no true independently-owned quilt shops within an 80-mile radius then. Robin & Diane the co-owners of TPQ came from a medical background and were looking to share and fill their creative spirit. That's how Tater Patch was born. We are also very lucky to have a full-service sewing machine (Bernina) and long arm machine business within our store called The Sewing Works.
SF: How has Tater Patch Quilts evolved over the years?
TPQ: TPQ moved for the third and final time into our "forever" home 14 years ago. We have grown considerably along with renovations. With each move we expanded our services and inventory.
SF: Tell us one thing people might not know about your shop.
TPQ: The WOW factor for having such a large shop in a smaller community, and the variety and how there's "something for everybody"!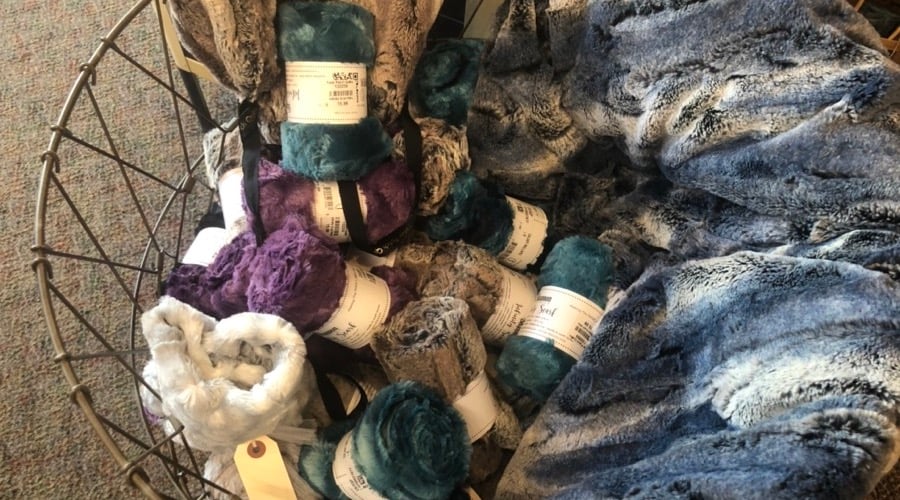 SF: What's your shop's motto or tagline?
TPQ: Well worth the travel. Bring your lunch, you'll need the time!
SF: Describe your shop's aesthetic in five words or less.
TPQ: Great service, something for everybody!
SF: What's unique about your shop?
TPQ: Inspiration and variety!
SF: What is your best-selling Shannon Fabrics product?
TPQ: All things Cuddle®, especially for quilt backs!
SF: Do you sell online?
TPQ: No, but we do mail order. Please call — we love to help and mail!
SF: What projects are on the "must make" list right now in your shop?
TPQ: Wool, hand projects and quick-make gifts such as Cuddle® infinity scarfs & Cuddle® throws.
SF: What do you love most about creating (or seeing customers create) DIY projects with the fabrics you sell?
TPQ: The customers' sense of accomplishment, and enthusiasm to start another project.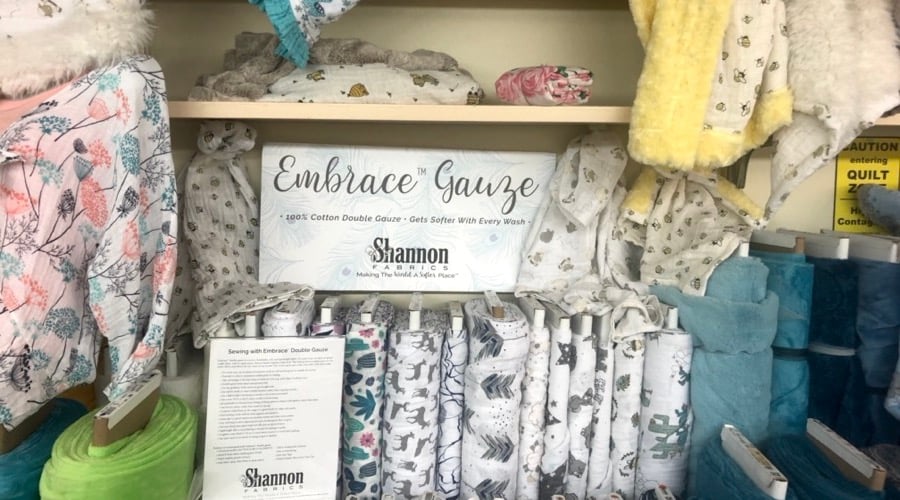 SF: What current quilting, sewing or crafting trends inspires you? Where do you get your inspiration?
TPQ: Our monthly group clubs, wool & hand projects, along with anything "cuddly & comforting".
SF: What's next for your shop?
TPQ: Navigating a new Saturday Sampler event with the limit in group numbers.
SF: Is there anything else you would like us to know or share about Tater Patch Quilts?
TPQ: In the past and hopefully near future, we have had the honor of hosting several National and International teachers. We also host two great quilt retreats each year. We have a wonderful local customer base that supports several club events each month along with the reputation of a "destination shop" — it's well worth the road less traveled.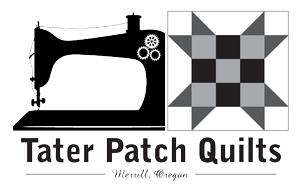 If you have any questions about Cuddle® minky plush fabrics or any of our Cuddle® Kits, feel free to contact our friendly, no-pressure customer service team at 866-624-5252.

Ready to start creating with Cuddle® minky fabric? Use our store locator to find a selection of Cuddle® minky fabric online or near you.