Hey everyone! It's Jayme, Shannon Fabrics Brand Ambassador — aka "Finding Sweet Land" in the quilting community. At Shannon Fabrics, we love making minky fabric strip quilts. They are easy and so great for Cuddle® minky fabric. When we create our Cuddle® minky strip quilts, it's important to follow a few simple rules, and make sure to use the right techniques and notions.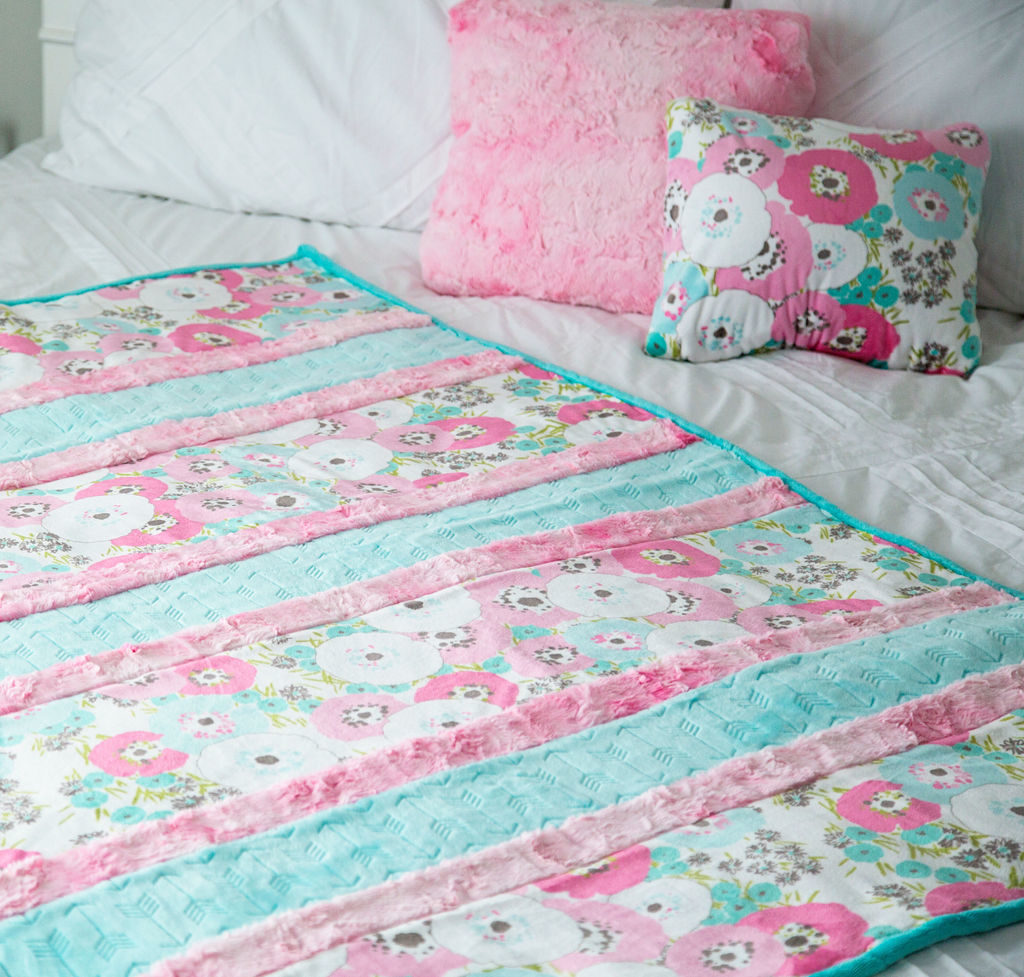 When sewing with Cuddle®, the right tools and techniques make all the difference! When making a Cuddle® strip quilt, you will need a stretch needle, a walking foot and a lightweight low loft batting (to keep the quilt soft, light and fluffy).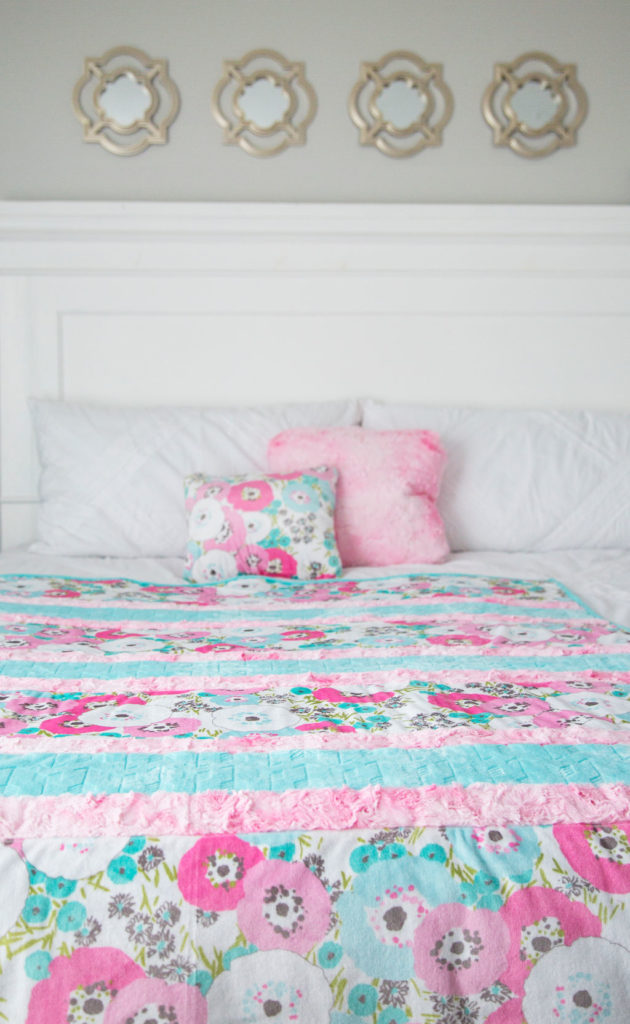 We love using Quilters Dream for so many of our quilts at Shannon Fabrics. In fact, if you've ever seen any of our sample quilts in person (whether it be at trade shows or trunk shows), almost every one of our sample quilts uses some form of Quilters Dream polyester batting.
We especially love the Quilters Dream Puff or Quilters Dream Poly Deluxe for displayed quilts. We also love the Quilters Dream Angel. For the purpose of this post, I opted for Quilters Dream in the Request Poly because I wanted a light and airy feel to this quilt.
Since the majority of our quilts use a "quilt as you go" method, using batting like Quilters Dream Puff and Quilters Dream Angel makes our quilts look extra fluffy and plush but doesn't add too much weight. And here at Shannon Fabrics, we are all about the extra softness and yummy goodness!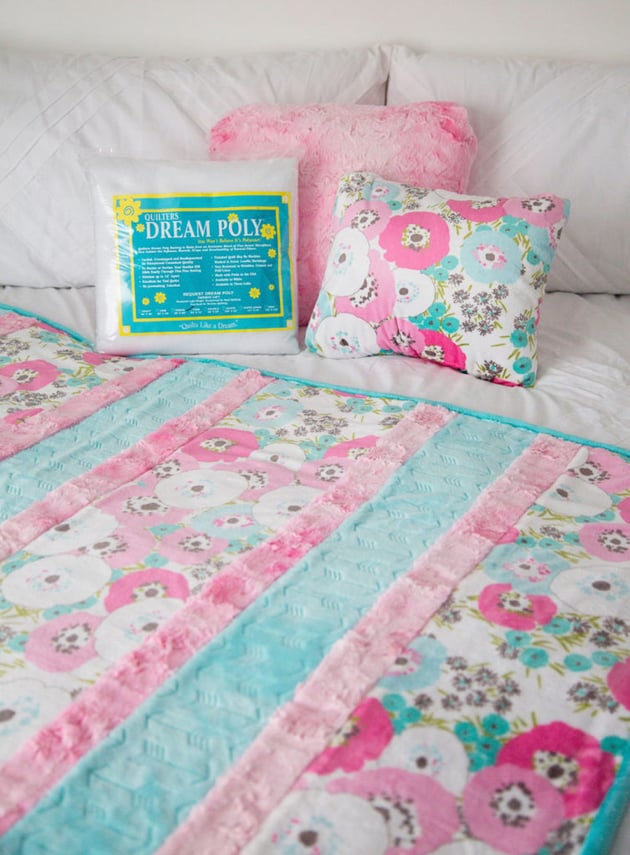 In addition, we like working with Quilters Dream as they believe in giving back, like we do. We are a sponsor of their Hopes and Dreams challenge for ALS. To read more about what we are doing together to support this important cause, click here.
Here is an example of one of our QAYG (quilt as you go) strip quilts. The pattern is available from the Shannon Fabrics website! This one is a Crazy 8. Also, here is a link to our Cuddle® 101 tip sheet — it includes tips on batting.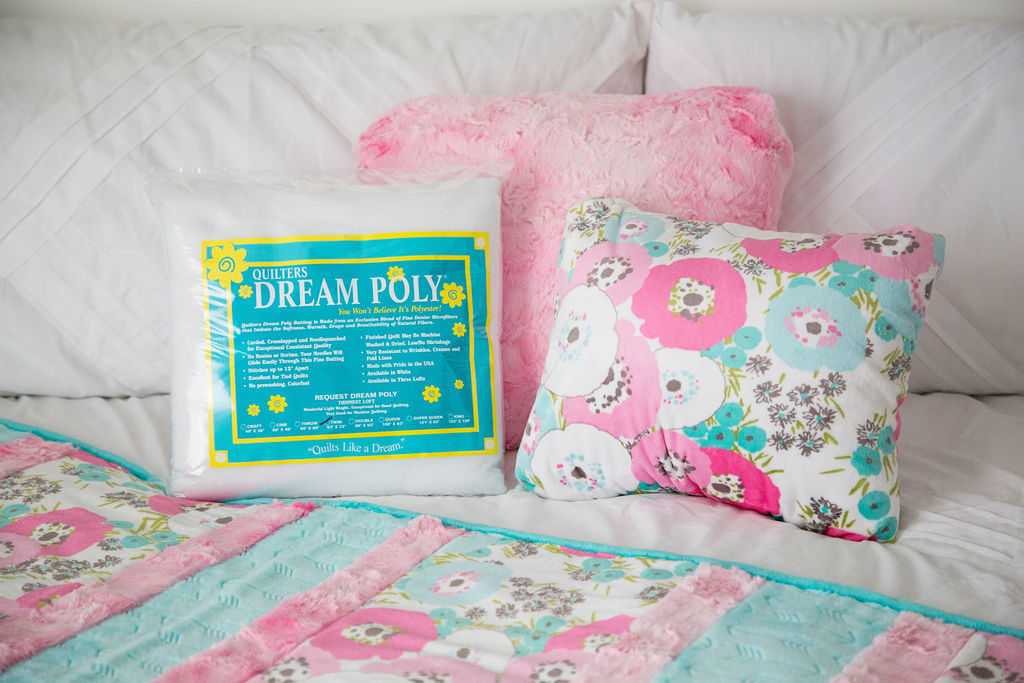 I have been in love with the Blossom Cuddle® Hot Pink print since it came out. It's not very often that I get to keep something I make, or something that would warrant me keeping it for myself, so when I was asked to make a strip quilt that I could keep for myself, I knew this floral was going to be my main print.
Luckily for me, Shannon Fabrics also continues to introduce new Luxe Cuddle® colors/textures, and the Luxe Cuddle® Galaxy Blush was a perfect match to the Blossom print. I also love the Embossed Arrow Cuddle® in Saltwater with the print.
I chose to make a Crazy 8 in custom strip sizes and a layout of my choosing. As previously mentioned, Shannon Fabrics provides lots of free patterns on their website. The Crazy 8 pattern is located in the quilts category and gives you four layout/cutting options.
These are my cuts for my quilt:
The Blossom print: 4 – 10" strips
The Embossed Arrow: 5" strips
The Luxe Cuddle Galaxy: 3" strips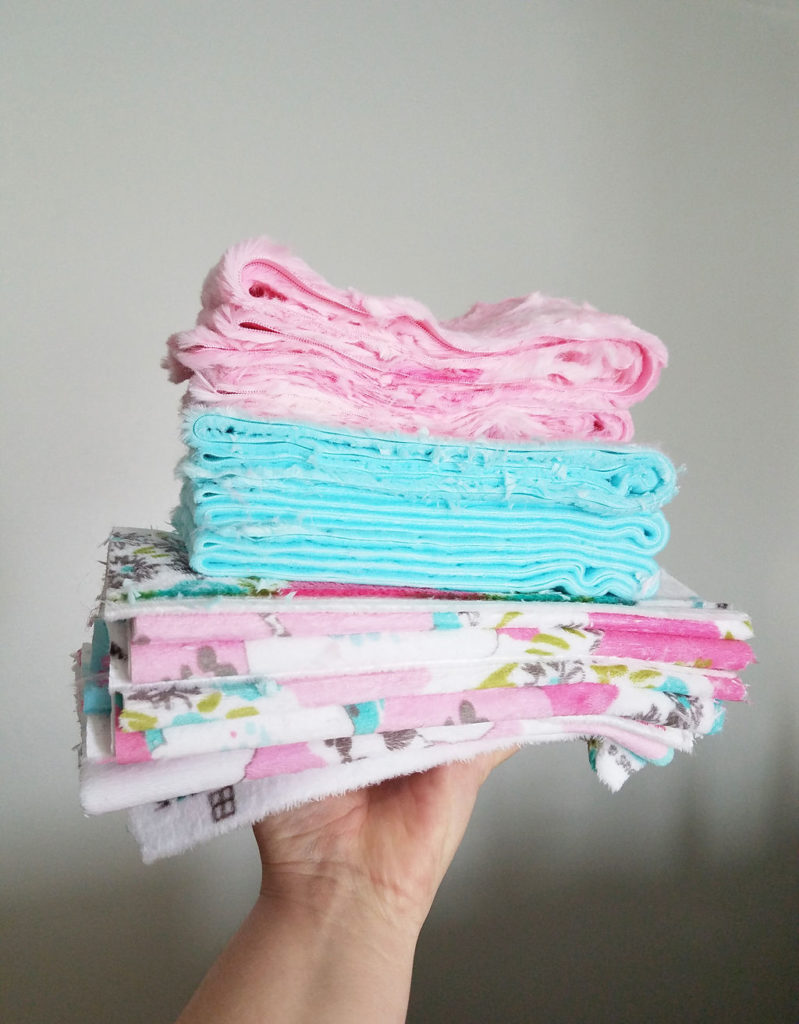 Be sure to pin, pin, pin! I like to use flat flower head pins and double rows. These are from Dritz.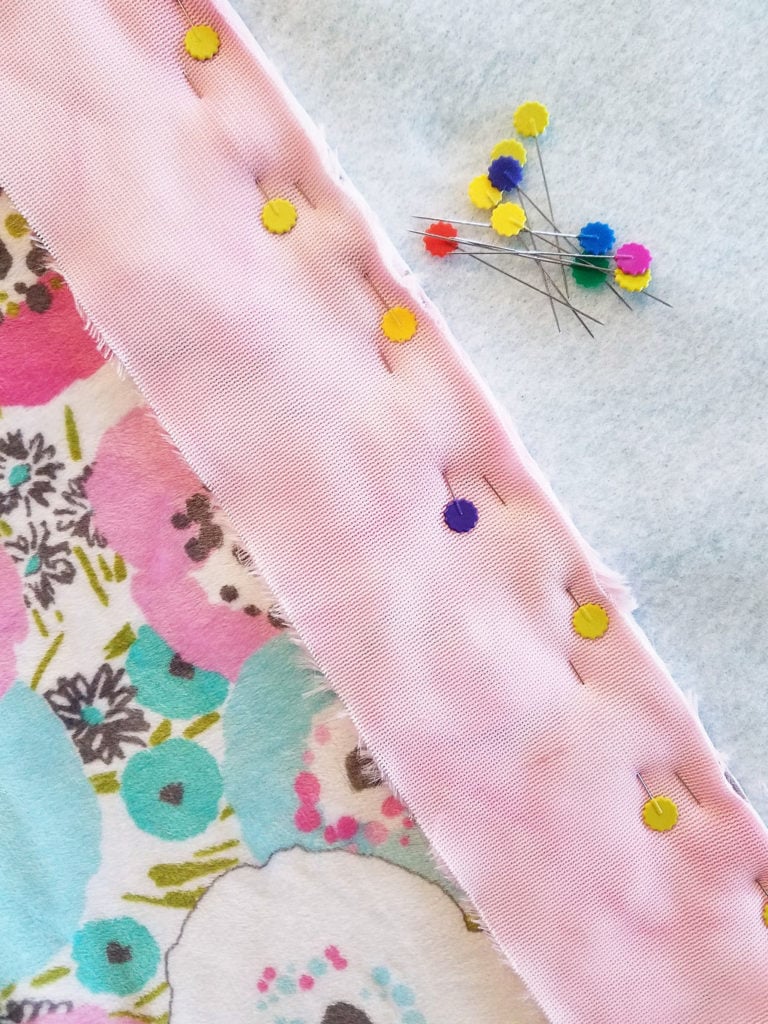 This is the quilt shown with the layout of the strips.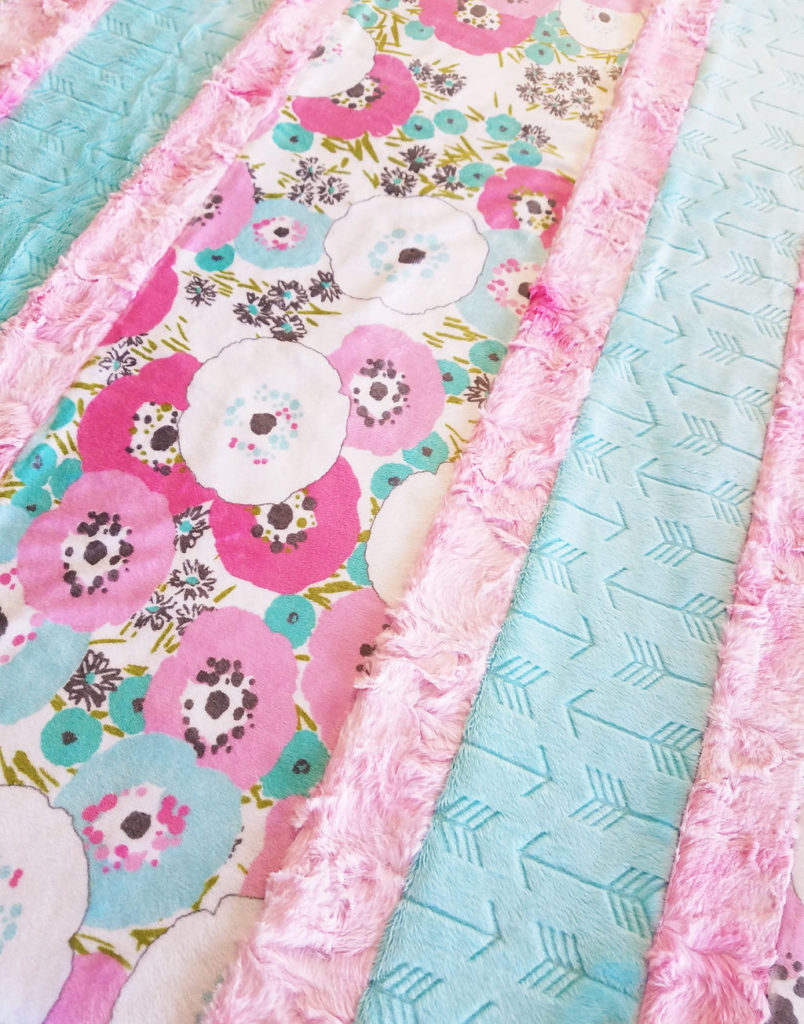 Between the gorgeous colors and the lightness of the Quilters Dream Poly Batting, this quilt was a breeze to make, and is quickly becoming another favorite around my house.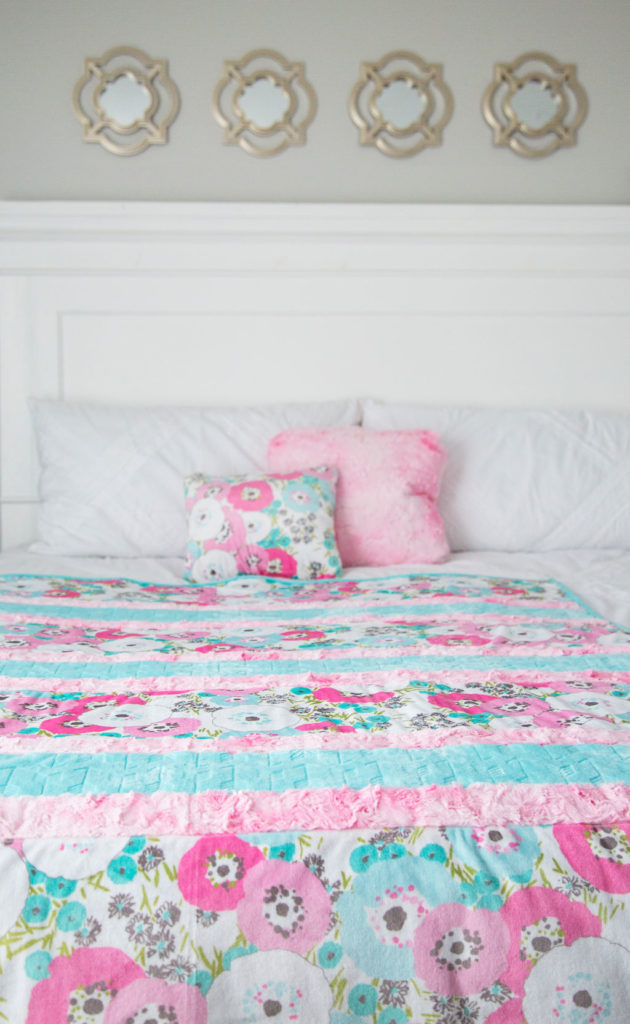 You can find Shannon Fabrics at many local quilt shops and fabric stores. You can also use their Store Locator to find online shops near you.
Stay up-to-date on what's happening! Subscribe to the Shannon Fabricsnewsletter (check the bottom of their home page). Subscribe to follow the blog to be notified about new posts, giveaways and more!
Connect with us on social media: Facebook, Pinterest, Twitter, YouTube, Instagram,
Finally, you can follow me at @findingsweetland on Instagram for all things quilting and sewing.