Hey everyone! It's me, Jayme, aka "Finding Sweet Land" in the quilting community, back on the Shannon Fabrics blog. I made this cute Cuddle® minky fabric fox blanket, so here's a quick tutorial!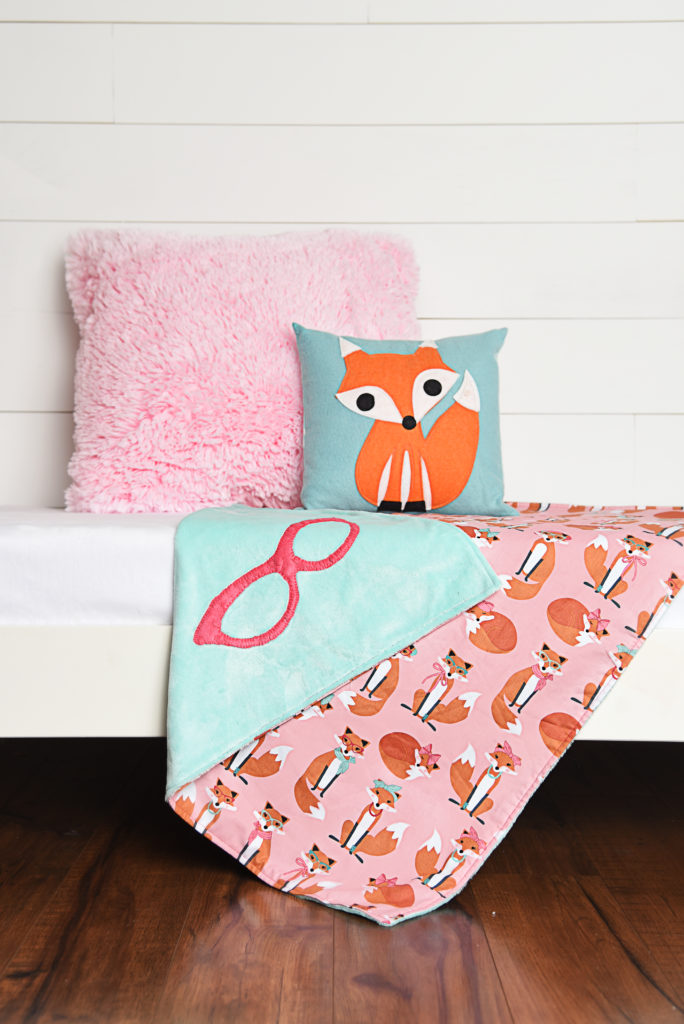 When I saw this adorable quilting cotton fox fabric by Andie Hanna for Robert Kaufman, I knew I wanted to do something with it.* I decided to make a blanket with Cuddle® minky fabric on one side and the cotton print on the other.
*Note: the pink fox fabric has been discontinued by the manufacturer, but it is still available in aqua. Find it here.
I went one step further! I took an image from the fox print, recreated and enlarged it, then incorporated it into a Cuddle® minky applique shape on the back of the blanket.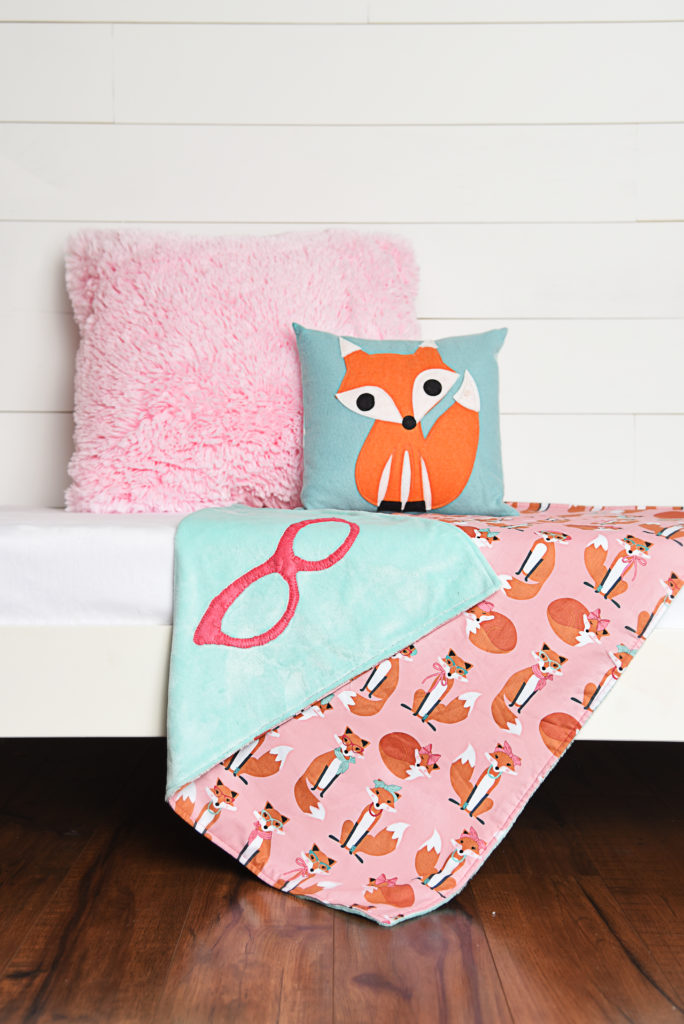 Now, I must be honest, when I first started quilting, the thought of appliqué made me want to run for the hills (appliquéing with cotton, that is)! Using Cuddle® minky fabric as an appliqué substrate is so easy! Cuddle® is a knit polyester minky fabric, which means that when it's cut it doesn't fray, making it the ideal fabric for all kinds of projects, especially appliqué.
I'm going to provide a quick run-down of how I
made this blanket.
First off, since Cuddle® minky fabric doesn't
shrink, I prewashed the cotton fabric first. The shrinkage was minimal.
Blanket
Finished size is approx. 34 inches x 41 inches.
Fabrics:
One yard of Cuddle® 3 Saltwater (back)
One yard of Fabulous Foxes in Pink, Design: Andie Hanna for Robert Kaufman Fabrics (front)
Quarter yard or a large scrap of Solid Cuddle® 3 Fuchsia (applique)
Basic sewing supplies
Other supplies:
I used an Auriful thread in the closest color I could match to the Solid Cuddle® 3 Fuchsia.
I used some of my fave notions from our
trusted partners
Olfa mats and Rotary Cutters
Famore scissors for cutting out the applique
How to
Press the cotton fabric to make it easier to square up
Cut the Cuddle® to same size as the cotton fabric
Pick a motif and freehand draw it on the smooth side of paper-backed fusible web. Using an iron set to medium heat, and using a pressing sheet, press the bumpy side (adhesive side) of the fusible web to the wrong side of Cuddle® big enough to use for your motif. Cut out your applique. Use the pressing sheet and iron to adhere the applique to the large piece of Cuddle® fabric (be mindful of the nap of the Cuddle®).
Using a blanket, zig-zag, or straight stitch, stitch around the applique to secure it to the Cuddle® fabric.
Place the Cuddle® and cotton fabrics right sides together. If there is a direction to the cotton fabric, be sure the nap of the Cuddle® and the direction of the cotton print are going from top to bottom.
Pin well.
Sew around the perimeter of the rectangle using a 3/8 – ½" seam allowance. Be sure to leave an opening for turning.
Clip corners and turn right side out.
Topstitch to finish.
That's it!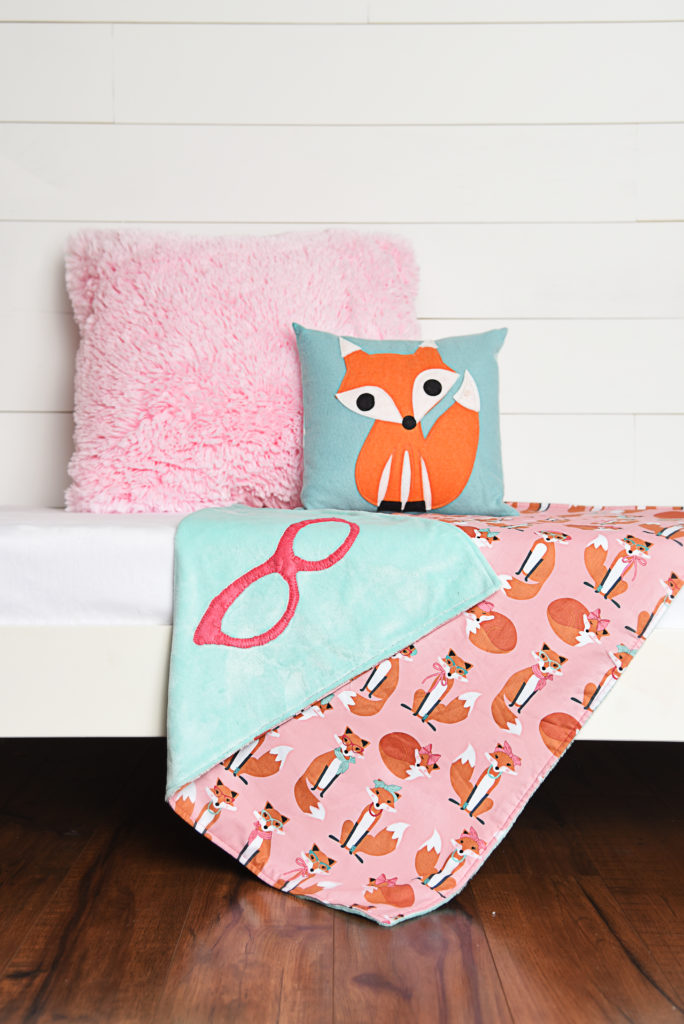 We have so many tips and tricks available to help you navigate your way through any appliqué project you make using Cuddle® minky fabric. Here is a tip sheet on applique.
And, Shannon Fabrics has gathered tried-and-true tips and tricks for you to keep at your fingertips, such as Quilting with Cuddle and Combining Cuddle and Cotton®.
Be sure to check out my other posts for info on quilting with Cuddle and on mixing cotton with Cuddle: here and here
What do you think? Will you make one? If so, tag #diyfoxblanket on Instagram. You can also follow me at @findingsweetland on Instagram.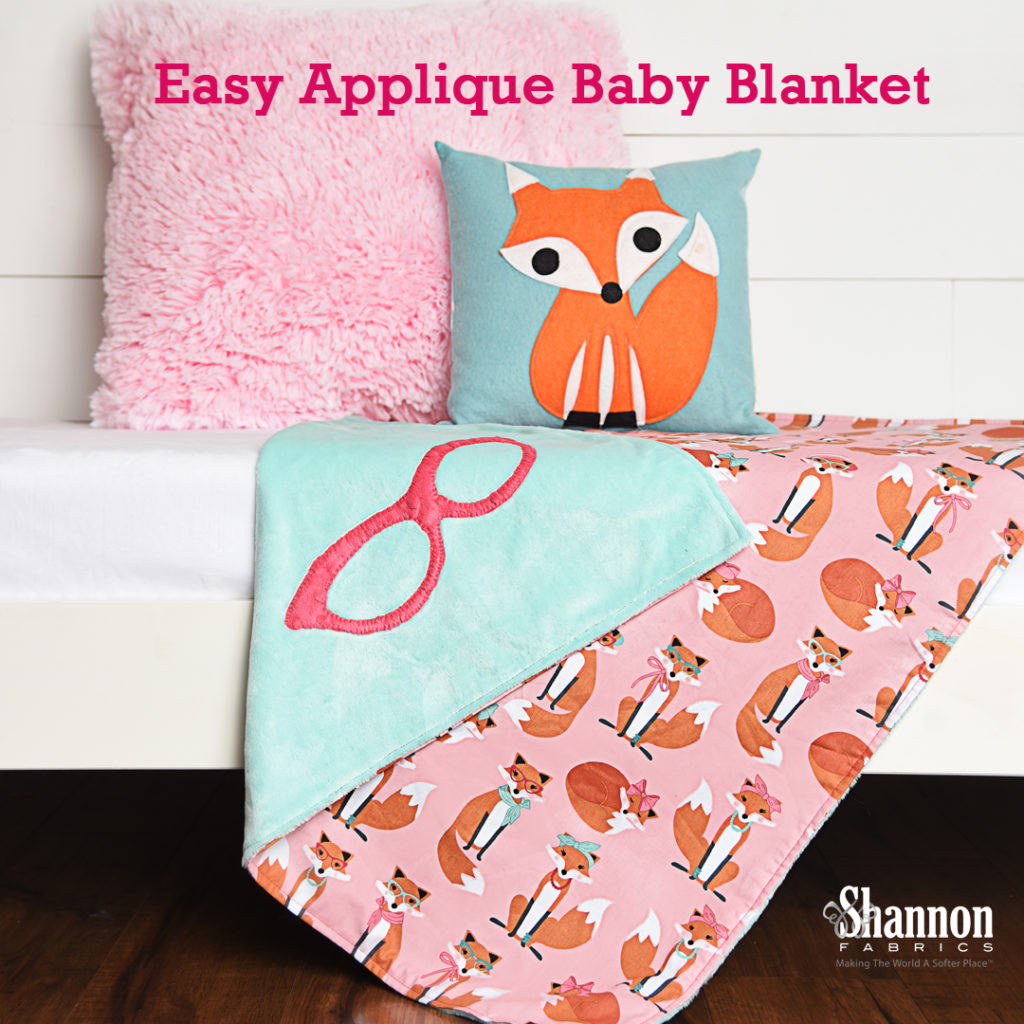 Find Shannon Fabrics at local quilt shops and fabric stores. View the Store Locator!
Subscribe to the Shannon Fabrics newsletter (check the bottom of their home page). Subscribe to follow the blog to be notified about new posts, giveaways and more!
Follow Shannon Fabrics on social media – some of my favorites are: Facebook, Pinterest, Twitter, YouTube, and especially Instagram! It's a great way to stay in the loop about new products, patterns, and to see what other people are making!