Hello! Sarah here from Princess In A Pouch Design.
I had the pleasure of working with Shannon Fabrics and OLFA to design a simple and sweet pet bed for you!
After taking some 'dog bed polls' on social media, I determined that the majority of people wanted to make a large dog bed from scratch — so let's do it!
Before we start, I highly recommend reading the 'General Tips for Sewing with Luxe Cuddle®' found on the Shannon Fabrics website. It's truly helpful!
Shannon Fabrics has partnered with Princess In A Pouch and OLFA to give away a two-yard Cuddle® cut, OLFA ESK-1 45mm rotary cutter, OLFA 6x12 ruler and a Princess In A Pouch seam ripper to TWO lucky winners — click here or scroll down to enter! This giveaway has concluded, please occasionally check our Sewciety Blog for new giveaways.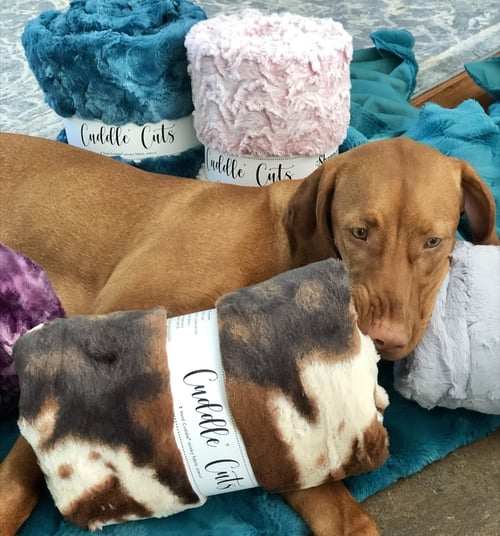 How to Sew a Dog Bed with Cuddle® Minky Plush Fabric
Recommended Notions and Fabrics
Here are the fabrics and notions I used in making a Cuddle® dog bed:
Fabrics:
Notions:
2 yards 1/2" foam
Polyester thread (Mettler Metrosene)
Polyester stuffing (Fairfield World)
Felt tip marker
Stiletto (ByAnnie Precision Stiletto & Pressing Tool)
90/14 Stretch needles (SCHMETZ)
Walking foot
Craft Knife (OLFA ESK-1)
Rotary cutter (OLFA 45mm)
6"x12" frosted ruler (OLFA)
How to Sew a Dog Bed with Cuddle® Minky Plush Fabric
First, cut the foam in half. Use OLFA's 6"-wide ruler to press down on the foam to make cutting with OLFA's 45mm rotary cutter easier. You should have two pieces measuring approximately 24" by 36".
Roll out the delicious Shannon Fabrics Luxe Cuddle® precut. Fold it right side together with selvedges aligned.
Center the foam on top of the fabric. Using the foam as your guide, use OLFA's ESK-1 safety knife to cut the Cuddle® down to size, leaving a few inches of fabric on all sides. You should have two Cuddle® fabric pieces measuring approximately 30" by 44" each.
Now for the quick clean-up! OLFA's ESK-1 craft knife keeps the Cuddle® dust to a minimum, but it's important to pause after cutting Cuddle® fabric to clean up. I like to gently shake my fabric over the garbage can and then take it outside for a thorough shake-out. I use a vacuum then a bit of water and a paper towel to clean up any hard surface (like the floor in this instance). These steps will help keep your sewing machine cleaner, too!
Next, pin baste the foam to the center of the fabric using long flat head pins.
Use a 90/14 stretch machine needle, a walking foot, a stitch length of 3.5mm and sew with the foam side down!
Use OLFA's 6"-wide ruler to mark parallel guide lines across the foam. Stitch on these lines, attaching the Cuddle® to the foam. Alternately, sew a wide zigzag all around the edges of the foam. These stitches are primarily to hold the foam in place.
Remember, go slow. Don't press down on the foam, rather gently lift and guide your work as it feeds through the machine.
Once both pieces are quilted, lay them on top of each other right sides together. Use your fingers to feel the bottom layer of foam and align it with the top piece of foam. Use long, flat pins to pin the layers together along the edges of the foam.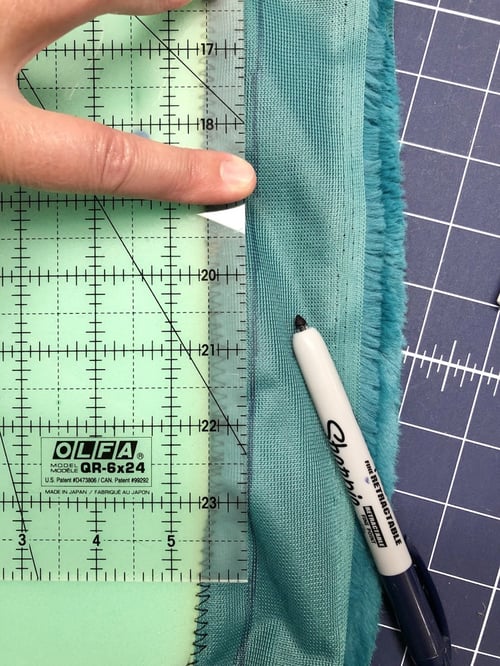 Use your ruler and a marking pen to draw a line on the Cuddle® fabric all the way around, a healthy 1/2" from the edge of the foam. Sew on this line and leave a 10" opening on one end for turning.
There's no need to trim the excess! Turn the bed out through the opening and stuff as desired. Whip or ladder stitch closed to finish your pet bed!
Note that I use 1/2" thick foam in this pattern. If you can't find it or are uncomfortable using it, you may use 1/4" foam. Adjust the seam allowance to a healthy 1/4", and you may need more stuffing material to create a fluffier bed.
For stuffing, I recommend using polyester fiber fill or upcycling by using fabric scraps, old cotton clothing, sheets or towels.
This bed can be made any size or shape. Simply cut your foam down to the finished size you want, then follow the steps above. Use your foam as your guide!
I can tell you from experience, my dog Tilli loves Shannon Fabrics Luxe Cuddle® fabric above all else — she hardly let me finish this bed before claiming it as her own!
I hope you've enjoyed this pet friendly project! Be sure to check the Shannon Fabrics and OLFA websites and social media accounts for loads more fun and inspiration! And don't forget to enter our giveaway, below!
—Sarah, @princess_ina_pouch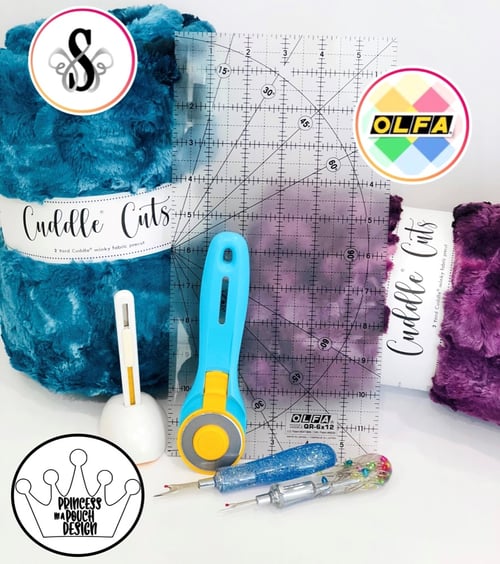 Giveaway: OLFA X Princess In A Pouch Design X Shannon Fabrics
Entries are accepted through 11:59 pm PT, Sunday, November 14, 2021. Two random winners will be chosen on November 15 and have 48 hours to respond.
This giveaway has concluded, please occasionally check our Sewciety Blog for new giveaways!
If you have any questions about Cuddle® minky plush fabrics or any of our Cuddle® Kits, feel free to contact our friendly, no-pressure customer service team at 866-624-5252.
Ready to start creating with Cuddle® minky fabric? Use our store locator to find a selection of Cuddle® minky fabric online or near you.