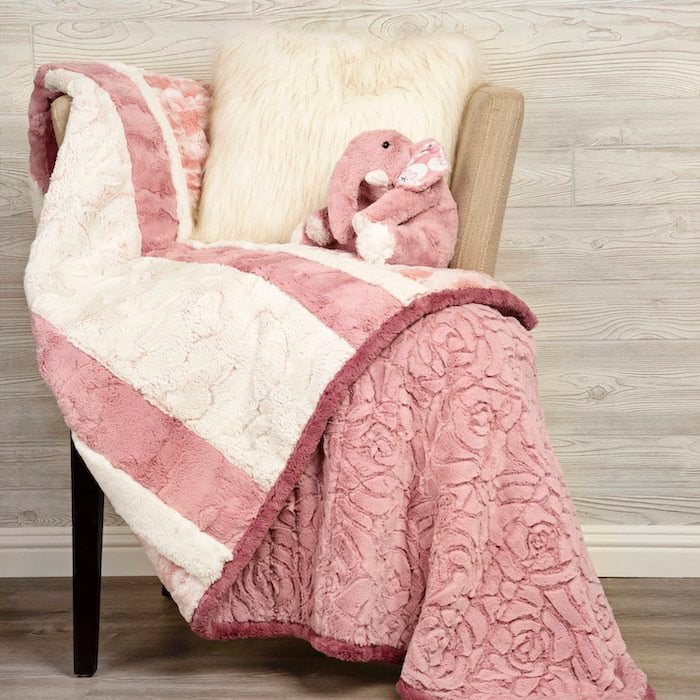 If you haven't heard already, Rose is the 2020 Shannon Fabrics Color of the Year! It's similar, yet softer and more comforting than our popular 2019 Color of the Year (Scarlett), aligns more closely with our tagline Making The World A Softer Place™, and is available in many different shades and textures.
READ MORE: Introducing the 2020 Shannon Fabrics Color of the Year — Rose
To celebrate the Color of the Year, we created Crazy 8 Cuddle® Kit Rosalie — an irresistibly soft Rose-themed kit that includes many of our top Rose-colored fabrics.
The eight 10-inch pre-cut strips in the kit include Luxe Cuddle® Jupiter Rosewater, Luxe Cuddle® Frost Rosewater, Luxe Cuddle® Hide Woodrose and Luxe Cuddle® Frosted Hide Rosewater fabrics, as well as Luxe Cuddle® Marble Wild Rose fabric for the binding. The kit also includes our always-popular Crazy 8 pattern, with step-by-step directions to make sewing this simple yet oh-so-beautiful quilt as easy as possible.
READ MORE: Announcing Silver Jubilee, Our New 25th Anniversary Cuddle® Kit
The finished quilt comes in at approximately 58" by 68", and we recommend using about 2 1/4 yards of Luxe Cuddle® Demi Rose Woodrose for the backing (not included).
Fabrics Included:
Recommended Backing Fabric:
Crazy 8 Cuddle® Kit Rosalie is one of over 50 different Designer Cuddle® Kits, each with their own captivating look and feel. From our Fabulous 5 Cuddle® Kit Jurassic to our Read to Me Cuddle® Kit Forest, you'll be sure to find a style and size that both looks great and is easy to sew.
Follow us on Facebook and Instagram to stay up-to-date on all things "Rose" and Cuddle®, including new product releases, events, discounts and incentives.
If you have any questions about Crazy 8 Cuddle® Rosalie or any of our Cuddle® Kits, feel free to contact our friendly, no-pressure customer service team at 866-624-5252.
Ready to start sewing? Use our store locator to find a selection of Cuddle® kits near you.