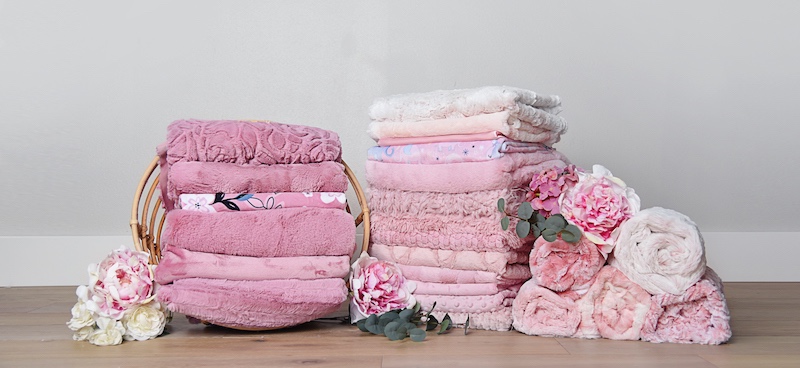 It's officially, official — we're excited to announce that "Rose"
is the 2020 Color of the Year here at Shannon Fabrics!
Why Rose, you're wondering? When choosing our color of the year we take a few factors into consideration — new trends in the industry, popular colors in our collections, and the overall feeling the color gives us as a team.
Long story short, Rose checks all the boxes. It's similar, yet softer and more comforting than our popular 2019 Color of the Year (Scarlett), aligns more closely with our tagline Making The World A Softer Place™, and is available in many different shades and textures — Luxe Cuddle® Rose, Luxe Cuddle® Demi Rose, Dusty Rose, Wild Rose, Primrose, etc.
READ MORE: Minky Plush Fabric vs. Fleece Fabric: A Side-By-Side Comparison
"We chose Rose for our color of the year as it wraps us with love and warmth in our ever-changing daily lives," said Ellen Mickelson, Shannon Fabrics Marketing Manager. "Rose is absolutely gorgeous for quilts, blankets, apparel, home decor, accessories and crafts. It is a lovely warm pretty color!"
From a technical standpoint, Rose is a color halfway between red and magenta on the color wheel and is available in countless shades. Because of this, Rose is highly-versatile and combines well with other mid-tones such as greens and purples, rich browns, yellows and pinks. For a more dramatic flair, Rose can easily be paired with silver (yay, 25th anniversary colors!) and hot brights.
READ MORE: How Much Does Minky Plush Fabric Cost? A Guide to Minky Fabric Prices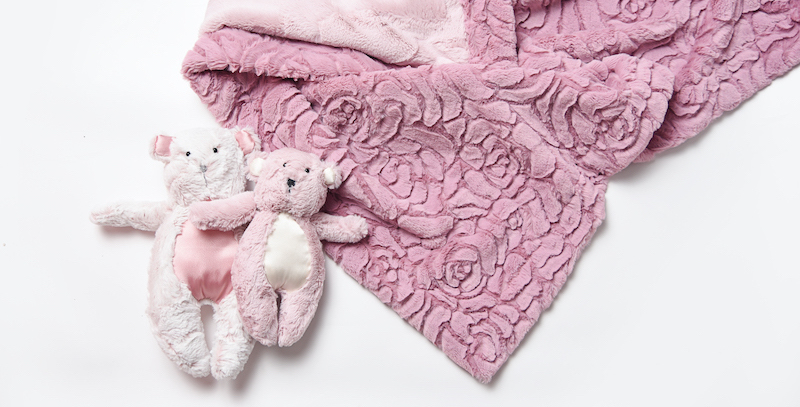 As mentioned above, Shannon Fabrics offers Rose in multiple substrates that can be used alone or combined with other colors or prints. The Rose colorway is available in yardage and is also featured in kits, and Shannon Fabrics offers Rose in Cuddle®, Cuddle® 3 90, Luxe Cuddle®, Embrace® double gauze and Silky Satin Solids.
"As we strive to fulfill our mission of Making The World A Softer Place™, Rose is a welcoming color that fulfills our need for reassurance, calm and compassion — eliciting feelings of relaxation," states Sheryl Sapriel, Marketing Director.
READ MORE: Top 5 Minky Plush Fabric Problems, Concerns & Solutions
Rose-colored fabrics are available now at independent fabric stores and quilt shops, and are also available for designers and manufacturers to incorporate into their products.
Be sure to check our store locator for fabric and quilt shops near you, or give one of our friendly customer service team members a call at (866) 624-5252 to learn more about our fabrics.