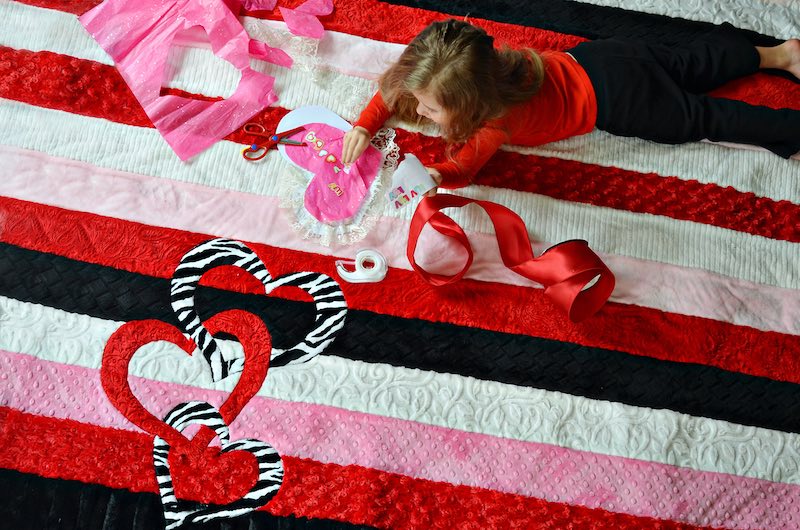 With Valentine's Day just around the corner, we can't think of a better way to celebrate than by creating a quilt or two for your loved ones!
Designed by Shannon Fabrics Brand Ambassador Pat Wodskow, our free Valentine Hearts quilt pattern is one of the most-popular patterns on our site. It's simple enough to tackle in a day or two, but also has super cute heart-shaped appliques to give it added dimension and a bit of extra style. Not only is it eye-catching, but the quilt is irresistibly soft and requires no break-in period.
To keep construction simple, this pattern is designed to be created with Kozy Cuddle® Solids from Shannon Fabrics. We suggest a mix of red, white, pink and black strips to fit the Valentine's Day theme (feel free to go crazy with the accent fabrics for the hearts), but the pattern can be customized with different colors to complement any decor or color palette.
Click the "download now" button below and print out our Valentine Hearts Quilt pattern to keep by your sewing machine (or, if you have a shop, print it out to display and hand out).
The finished dimensions are 60" x 72".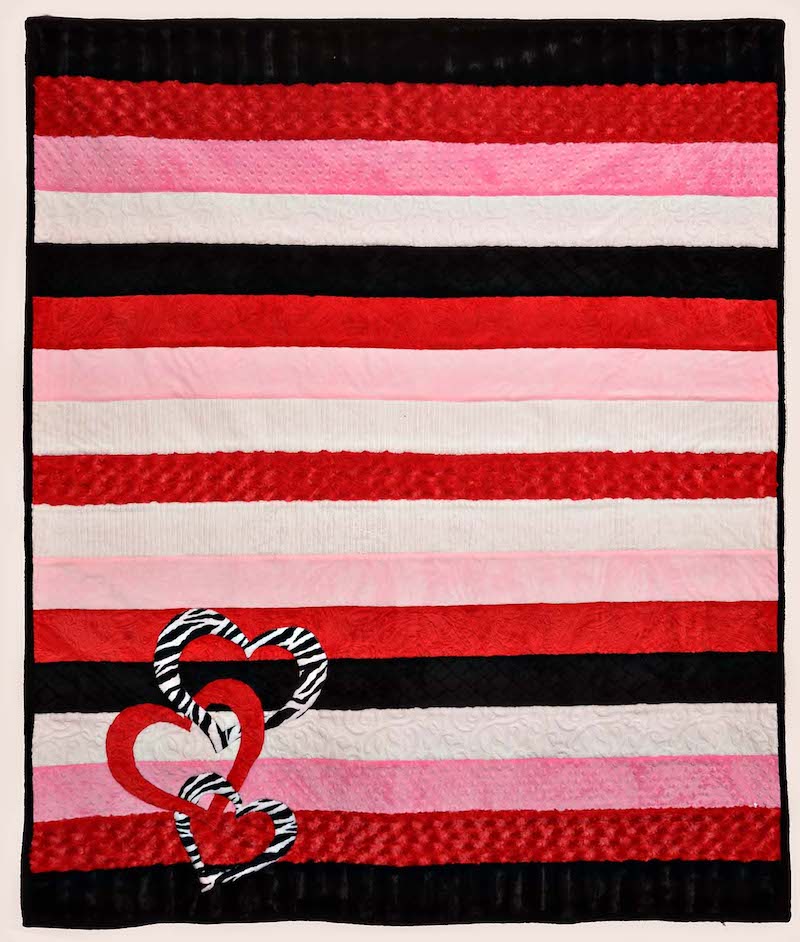 Fabrics:
Any assortment of Kozy Cuddle® Solids strips (17 – 5" x WOF strips):

5 strips of red
4 strips of black
4 strips of white
4 strips of pink

Accent fabrics (hearts): 3 of your choice (13" square each fabric)
Backing: 2 1/4 yards
Binding: 3/8 yard
Batting: 60" x 78"
Notions:
Thread for piecing and quilting
90/14 stretch sewing machine needle
Walking foot for your machine
505 temporary adhesive by ODIF
Batting
Instructions:
Prepare batting and backing for "Sew and Flip" method (free instructions on our website).
Arrange strips in the color order you wish.
Use "Sew and Flip" to applythe strips to the batting/backing.
For fusible appliqué, trace heart templates on paper side of fusible web. Apply to the wrong side of fabric following manufacturer's instructions — be sure to use a pressing cloth.
Position on quilt and press in place using pressing cloth.
Use a decorative or zig-zag stitch to secure appliqués in place.
For non-fusible appliqué, trace heart templates to wrong side of fabric and cut out.
Apply spray adhesive to wrong side of appliqués and position on quilt.
Use a decorative or zig-zag stitch to secure appliqués in place.
Quilt as desired (optional).
Bind with chosen binding fabric.
The information in this pattern is presented in good faith. Every effort has been taken to assure the accuracy herein.