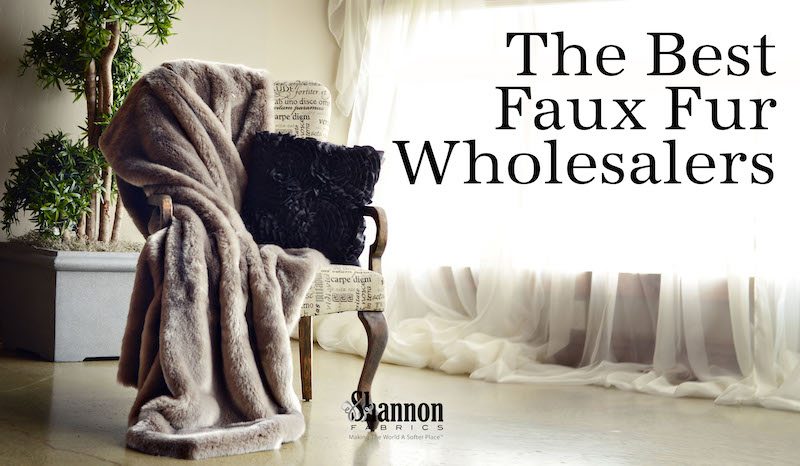 Who are the best faux fur wholesalers? This a tough question to answer, as many faux fur fabric wholesalers have a limited online presence and oftentimes only connect with new customers at trade shows or through word of mouth.
But let's say you, as a retailer or manufacturer, are interested in purchasing faux fur for your business. You're likely going to type "faux fur wholesalers" into Google, but how can you determine which is right for you?
Don't fall victim to picking the first sponsored ad that shows up at the top of the results page — it's important to find a faux fur wholesaler you can trust.
READ MORE: What is Faux Fur? (Material, Textures, & Projects)
Here at Shannon Fabrics we offer more than 130 different faux fur fabrics in a variety of colors and textures. Our fabrics are not only durable and of the highest quality, but they're soft, safe and are offered at a strong value. We don't live under a pile of fabric, and we know you have other options to consider before picking the right faux fur wholesaler.
Options are always good (especially when it comes to business), and we believe in an honest and transparent philosophy of educating first, selling second. And because we've been in the fabric industry for almost 25 years, we know what to look for regarding all things faux fur fabric and faux fur wholesalers.
While not exhaustive, these five faux fur wholesalers are a great starting point.
To be neutral, we've removed Shannon Fabrics from this list.
The 5 Best Faux Fur Wholesalers (in no particular order)
EZ Fabrics, Inc.
Morgan Fabrics Corporation
Sommers Plastic Products
Expo International, Inc.
Télio
EZ Fabrics, Inc.
Location: Los Angeles, CA
Year founded: 1996
Products include: Minky, faux fur
READ MORE: 8 Best Sewing Projects and Uses for Faux Fur Fabric
Notables: EZ Fabrics is a wholesaler based in Los Angeles that offers minky (Snuggle is their brand of minky) in a variety of colors, designs and prints, and faux fur fabrics in solid and two-tone prints.
Morgan Fabrics Corporation
Location: Los Angeles, CA; Shanghai, China
Year founded: 1956
Products include: Faux suede, sheers, faux furs, outdoor fabrics, linen
Notables: Morgan Fabrics Corporation supplies fabrics to manufacturers and fabricators in the home furnishing, recreational vehicle and hospitality industries. They specialize in woven fabrics, and offer a handful of faux furs (sheepskin) in solid colors.
Sommers Plastic Products
Location: Clifton, NJ
Year founded: 1948
Products include: Synthetic, vegan leather and fur, polyurethane, PVC
READ MORE: Real Fur vs. Faux (Fake) Fur: A Side-By-Side Comparison
Notables: Sommers Plastic Products was one of the first companies to use rubber and rubber-like materials in fashion settings. While known more for their polyurethane and PVC, they offer faux fur in few different colors and textures.
Expo International, Inc.
Location: Houston, TX
Year founded: 1983
Products include: Home decor trims, bridal trims, appliques, accessories
Notables: Expo International, Inc. specializes in fashion and home decor trims, and they offer faux fur trims in a variety of colors, textures and widths. They also offer faux fur pillows and accessories.
Télio
Location: Montreal, Canada
Year founded: Unavailable
Products include: Polyester and rayon prints, silks, bridal laces, faux fur
READ MORE: 7 Must-Try Faux Fur Sewing Tips
Notables: Télio has been importing and exporting wholesale fashion fabrics for three generations. They're known more for their polyester and rayon prints, but they offer shaggy faux fur fabric in black and off white.
Next Steps
These five companies listed above are just the tip of the iceberg when it comes to faux fur fabric wholesalers, but it's a great starting point for you and your business to compare and shop around.
READ MORE: How Much Does Faux Fur Cost? A Guide to Faux Fur Prices
Since we're faux fur wholesalers too, we know what to look for and it's our job to help you find the right fit. Beyond simply finding whether or not a fabric wholesaler offers faux fur, here are a few additional details to compare when deciding between different wholesalers:
Product selection
Product availability
Material/content
Quality
Weight
Pile height
Price
Country of origin
Shipping charges
Return policy
Care instructions
Loyalty rewards
If you're feeling overwhelmed, this is normal. There are a lot of factors to keep in mind, and no matter if you decide to purchase faux fur from us or not, we're here to help.
Feel free to check out our library of free (yes, you read that right) educational resources, including patterns, tutorials and videos to learn more about this fabric we love so much.
Also, be sure to join the conversation on our Facebook, Instagram and Pinterest, where we schedule daily posts about new product releases, tips and tricks and LIVE video tutorials with our National Educator Teresa Coates.
No matter if you're interested in buying faux fur at the wholesale level, or just want to learn more about faux fur in general, feel free to give one of our friendly customer service representatives a call at (866) 624-5252. If you're ready to incorporate faux fur into your next sewing project, use our store locator to find faux fur fabric near you.