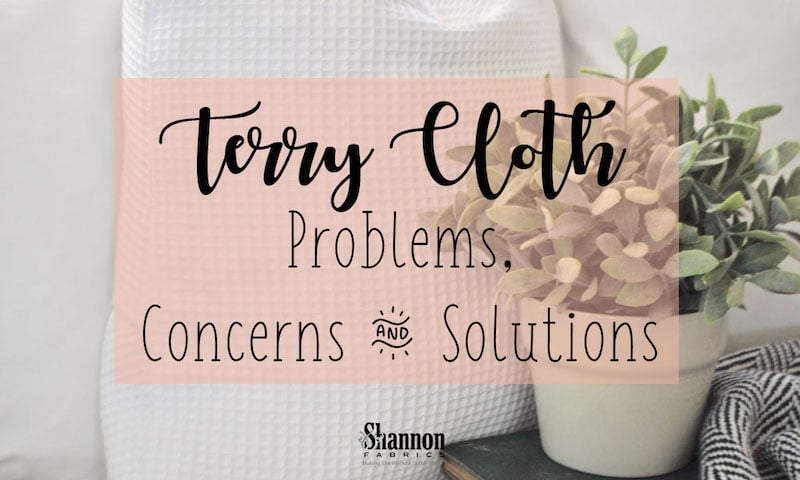 Terry cloth is one of the most common fabrics around. It's embraced not just by sewists and quilters, but professionals ranging from car detailers to restaurateurs as well. It's literally everywhere, and most of us around the world use terry cloth in our bathrooms as bath towels and washcloths due to how absorbent and durable it is.
But let's say you're interested in using terry cloth for your next sewing project, or have already tried and things didn't go as planned. We're guessing you've done some research online, typing "common terry cloth problems" into Google and getting limited results.
Frustrating, we know.
Here at Shannon Fabrics, terry cloth is one of our specialities — we offer several terry cloth colors and weights in waffle terry, Turkish terry and terry velour. And despite loving this versatile, durable fabric, we admit terry cloth is not without its share of unique problems and concerns.
READ MORE: What is Terry Cloth? (Materials, Colors & Projects)
Luckily though, by keeping a few easy-to-remember points in mind, many of the issues you might face can be mitigated altogether. We've listened to the feedback from our customers, partners and vendors, so we know the problems everyday sewists face when working with terry cloth.
Combine this insight with our experience developing high-quality terry cloth, and let's just say we know a thing or two about the good and the bad when sewing with this often-underappreciated fabric.
The Most Common Terry Cloth Fabric Problems and Concerns (and Solutions, Too!)
Can terry cloth go in the washer or dryer (does terry cloth shrink)? (solution: warm water, low/medium heat)
Do the edges of terry cloth fray? (solution: finish the cut edges)
Does terry cloth shed, is it messy? (solution: give it a shake or throw in dryer)
Is terry cloth baby-friendly? (solution: yes, after the first wash)
Does terry cloth fabric snag? (solution: avoid velcro and and be careful removing stitches)
Problem #1: Can terry cloth go in the washer or dryer? Does terry cloth shrink, and does terry cloth bleed?
Let's address these issues one by one.
First, since most terry cloth is made with 100% cotton, it's super friendly with both the washing machine and dryer.
Second, because it's 100% cotton, it will shrink through the first couple cycles. This is normal, and we suggest preshrinking your terry cloth pieces before incorporating them in your sewing project.
READ MORE: 9 Best Sewing Projects and Uses for Terry Cloth Fabric
Lastly, most terry cloth is purchased in white, so you don't have to worry about whether it bleeds or not. If you opt for a color other than white, it can bleed a bit when washed since cotton doesn't hold it's color quite as well as polyester. This is universal for all cotton fabric, not just terry cloth.
Solutions for machine washing and drying terry cloth
This is easy, but before you throw your terry cloth fabric or towels into the washer and dryer, be sure to double check that it's 100% cotton and not mixed with other materials (it can sometimes be infused with spandex).
If your terry cloth is 100% cotton, feel free to wash with cool/warm water on gentle and dry on low/medium heat to limit the color fading and prolong the life of the fabric. Expect your dyed terry cloth to bleed a bit, so be sure to wash by itself for the first couple loads then with similar colors moving forward, just as you would a pair of jeans.
Problem #2: Do the edges of terry cloth fray?
Since terry cloth is a woven fabric covered in loops of thread, the edges will fray pretty quickly once cut. The raw edges will start to unravel and give the edge a "messy" look if not addressed. Luckily there are several easy ways to not only limit this fray, but also prevent your terry cloth from fraying in the first place.
Solutions for managing frayed edges of terry cloth
From cutting with the right tools to finishing the cut edges, here are four unique ways to keep terry cloth fraying to a minimum.
Cutting techniques to reduce terry cloth fraying
Contrary to common belief, it doesn't matter if you cut with or against the nap — since terry cloth is woven, it will start to fray if cut in either direction. From a design standpoint, always cut in the same direction to keep your pieces consistent throughout your sewing project.
One way to limit the fray is to use pinking shears when cutting, and take your time when making your cuts. We especially like these pinking shears by Famore.
Using a binding stitch to prevent terry cloth fraying
Ultimately, a serger is the best way to close off unfinished terry cloth seams. We know not everyone has access to a serger, so a sewing machine works as well — just use a straight stitch along the raw edge, then double back with a zigzag stitch.
READ MORE: How Much Does Terry Cloth Cost? A Guide to Terry Cloth Prices
You can also use Cuddle® minky fabric as binding for the raw edges of terry cloth to prevent fraying. Our National Educator Teresa Coates goes step-by-step on how to sew binding with Cuddle® minky fabric in our Sew Together Tuesday video series (see below).
Problem #3: Does terry cloth shed? Is terry cloth messy?
In a similar vein to the frayed edges above, terry cloth also sheds when cut. This is because as your scissors (or the fabric blade) cuts through the fabric, it's splitting the loop piles that stand up off the base of the fabric. Fortunately, managing terry cloth mess is simple and straightforward.
Solutions for dealing with terry cloth mess
After you've cut your pieces, simply give them a shake to dislodge any loose cotton fibers. Since terry cloth is made with heavier cotton threading, this mess is much easier to collect and vacuum up than other polyester fabrics.
READ MORE: Terry Cloth vs. Microfiber Fabric: A Side-By-Side Comparison
If you're cutting a larger amount of terry cloth (for a bathrobe, for example), it's easier to throw your pieces in the dryer with a damp washcloth for 10-or-so minutes. The lint trap will catch the loose fibers and prevent them from spreading all over your sewing room.
If you use a cutting die (we especially love AccuQuilt GO! Cutter Dies), make sure you clean the dye out before each use. A die pick is great for this, as cotton "shards" can build up in the dye, making your cuts (and therefore your shapes) less clean.
Problem #4: Does terry cloth fabric snag?
Terry cloth is cozy and absorbent due to the way it's made. It features a looped pile that increases its thickness and surface area, allowing it to absorb over 20 times its weight in moisture. And while these "loops" have many benefits, they also can snag with improper use.
Solutions for preventing terry cloth snags
Terry cloth's durability is in-part due to the way it's woven, but it's also durable because cotton is an inherently-durable substrate. Although it's uncommon, terry cloth can sometimes snag, pulling some of these loops further out of the fabric. Note there isn't much that can be done once this happens, but there are a couple ways to prevent this from happening in the first place.
Terry cloth treatment guidelines
First, be gentle with terry cloth fabric. No, you don't have to treat it like it's delicate — after all, it's used by cleaners and car washers on a daily basis — but keep it away from from velcro (don't wash with any garments that have velcro) or pets who have a history of chewing or sharpening their claws on soft surfaces.
Be careful with a seam ripper
Not all is lost if you make a mistake while sewing with terry cloth. It's easy to backtrack and remove your stitches, but with this comes the risk of causing a snag. First, only use sharp seam rippers (we love the Kai Seam Remover) or scissors. This will help you be more precise and only address the mistake and not catch any nearby terry cloth loops, too.
Second, since terry cloth has a thicker pile, it's easy to lose your thread in the fabric. This becomes a problem if you need to fix a mistake, so you can save yourself the headache of digging around with a seam ripper by using a slightly different color thread when sewing. You won't notice this color difference unless you're searching for it, but it'll make it easier to find when removing stitches.
Problem #5: Is terry cloth baby-friendly?
As much as we'd like to say terry cloth is baby-friendly, the answer here isn't so black-and-while. Every brand has their own suppliers and manufacturers, and each has their own tolerances and quality control standards. Know that chemicals are used when manufacturing all fabric types, but by the time fabric hits shelves or arrives at the warehouse, they're usually safe and free from chemicals.
We can't speak for other brands, but we can guarantee that Shannon Fabrics Turkish terry cloth is baby-friendly, and is perfect for many sewing projects for babies. The high-quality 100% cotton threading is made with natural fiber, and it's not only breathable and absorbent, but terry cloth is also comfy and soft due to its heavier weight.
READ MORE: 7 Must-Try Terry Cloth Sewing Tips
Solutions to ensure terry cloth is baby-friendly
While we're a fabric wholesaler by trade, know that many of us here at Shannon Fabrics are parents as well. It's important to us that our fabrics are baby-friendly, and we wouldn't sell our customers something we wouldn't give to our own little ones.
We recommend applying these tips to all fabric types, not just terry cloth.
Wash terry cloth before sharing it with a baby
As mentioned above, chemicals are used in the production of all fabrics — even natural cotton fabrics like terry cloth. While these chemicals are usually washed out before shipped to a store or wholesaler, it's always a good idea to run terry cloth through the wash before exposing a baby to it.
This simple solution not only removes any leftover chemicals, but it also preshrinks the fabric before you use it in your next terry cloth sewing project (we suggest our terry cloth baby burp cloth video above). If you use basting spray in your project, be sure to wash the end product again.
Use trusted sources of terry cloth for babies
You wouldn't trust just any insurance provider or car salesman, so apply this same level of skepticism when buying fabric, too.
Cheaper fabric is cheaper for a reason — the quality usually isn't up to par and corners can be cut to reduce overhead. You don't want a terry cloth fabric that's potentially unsafe and covered in chemicals.
In addition to our honest business practices, Shannon Fabrics only works with manufacturers who are inspected regularly, use ethical labor practices and have the highest quality control standards.
Next Steps
It's our goal to be transparent and trustworthy with our customers, and as a premier wholesaler of terry cloth, it's our job to educate first and sell second. And as you can tell, terry cloth is not without its issues.
We've shared our love of fabric for over two decades, aligning with top brands in the industry and teaching hundreds of sewists and quilters our tips and tricks on how to maximize the enjoyment from our fabrics. Through this, we've crowdsourced solutions and ways to prevent many of the problems associated with terry cloth.
READ MORE: The 5 Best Terry Cloth Wholesalers (Reviews/Ratings)
Don't forget, sewing is a journey and one we're constantly learning from. Terry cloth is perfect for a wide range of sewing projects, from baby burp cloths and bibs, to bathrobes and towels. But like the fabric itself, each project will present its own challenges and obstacles — don't let this deter you.
For a little extra inspiration and guidance, we've created an extensive library of free tutorials, patterns and videos for working with terry cloth. And if you're interested in sewing with terry cloth, use our store locator to find available terry cloth fabric fabric near you.
Do you have any questions about or solutions for sewing with terry cloth? Leave us a comment in the comment section below, or contact one of our friendly customer service associates here.