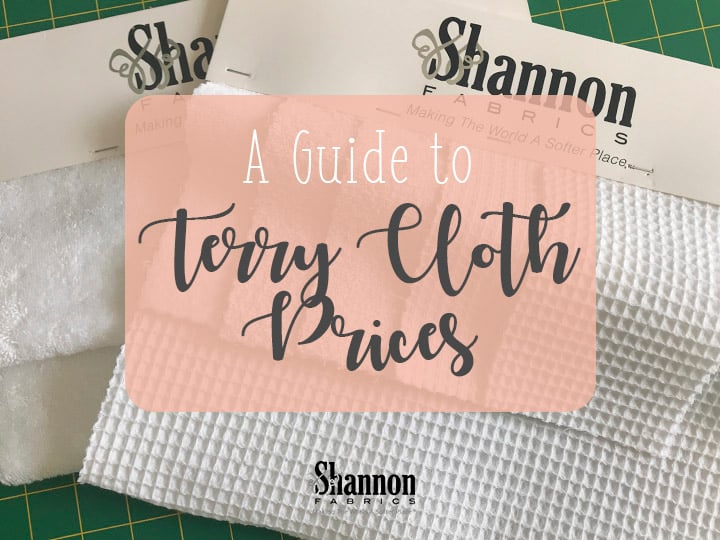 While we'd love to say "terry cloth costs X amount", pricing terry cloth isn't so black and white. Picking the right terry cloth is a personal decision, with factors such as personal budget and the project in question influencing what type of terry cloth you should purchase.
Ideally, the terry cloth you go with will have the optimal balance of quality, durability and affordability — essentially, the most value and most bang for your buck.
We know what you're thinking: "Okay, well how much should I expect to spend?"
READ MORE: Top 5 Terry Cloth Problems, Concerns & Solutions
For a little more context, here we've outlined a brief overview of terry cloth fabric price ranges for basic terry cloth, why certain types of terry cloth cost what they do and how these prices stack up against comparable fabrics.
How much does terry cloth cost?
The most basic form of terry cloth is usually a medium weight simple solid that's available in a wide variety of colors. This entry-level terry cloth can be priced from $11/yard to $17/yard at retail.
That's a significant price range and doesn't nail down an exact number — but that's a good thing. This gives you the option to purchase terry cloth at a wide range of prices and levels of quality.
READ MORE: 9 Best Sewing Projects and Uses for Terry Cloth Fabric
Below we unpack what affects terry cloth fabric prices to give you a better understanding of what to look for when buying terry cloth, yourself.
What affects terry cloth fabric prices?
This might sound obvious, but the fabric at the lower end of this price range won't be the same quality as the fabric at the higher end. This allows sewists to find the right value-to-quality ratio that best fits their budget.
Here at Shannon Fabrics we offer terry cloth that fits in the mid- to upper-end of this price range (more on this below). We believe in ethical and transparent business practices, and this approach includes how we view our fabrics.
Our terry cloth is ethically made in Turkey with licensed and certified manufacturers who specialize in terry cloth. This means our terry cloth is not only softer than less-expensive options, but more durable and longer lasting.
READ MORE: Terry Cloth vs. Microfiber Fabric: A Side-By-Side Comparison
We have no shame saying how much we love our terry cloth, but here are a few details that provide a little more context on what influences terry cloth prices.
Terry cloth fiber content and structure
Put your thinking caps on, it's about to get technical!
The price of terry cloth is highly influenced by the quality of the cotton fiber used to weave the fabric. The most common terry cloth is 100% cotton (what we use on a daily basis for shower towels and washcloths), but note terry cloth can also be infused with polyester. The polyester/cotton variety isn't nearly as absorbent or soft, which decreases the price.
Most 100% cotton terry cloth is made from one of three types of yarn at three different levels of quality. Raw cotton first goes into the ginning process that separates cotton fibers from the seed, and is followed by the spinning process that turns the cotton fibers into yarn.
READ MORE: The 5 Best Terry Cloth Wholesalers (Reviews/Ratings)
Turkish combed yarn is the most expensive, top-of-the-line yarn used in terry cloth. Ring-spun carded yarn falls somewhere in the middle quality-wise, and open-ended yarn is the cheapest yarn made from leftover fibers and is often blended with other materials.
Before purchasing, be sure to check what kind of yarn the terry cloth in question is woven with.
Terry cloth fabric weight and width
Terry cloth is sold in ounces (by the yard), and if everything is consistent in terms of content, the heavier the fabric is, the higher its price will be. Terry cloth weights range from about 10 ounces for a more breathable fabric, all the way up to 21 ounces for a thicker, more highly absorbent fabric.
Even though the 21-ounce variety is heavier, it doesn't mean it's right for all sewing projects — and vice versa. Sometimes a 10-ounce is better if a project needs to be lighter, more breathable, or paired with other heavier fabrics.
Terry cloth cost also depends on fabric width. Typically, terry cloth can be bought by the yard at 43 to 44 inches wide, or 58 to 60 inches wide. Of course, the wider the fabric, the more expensive it will be.
Terry cloth finishing processes
Terry cloth types
There are three main types of terry cloth: terry cloth (towel terry), French terry and terry velour.
Terry cloth (towel terry) is most commonly used for bath towels, baby products and loungewear due to its durability, absorbent properties, and its two-sided woven design. French terry, like terry cloth, is woven, but is smooth and flat on one side and has the classic terry cloth feel on the other. Terry velour is flat on one side like French terry, but it's much more luxurious and has a velvety look and feel.
Colors
All three varieties of terry cloth are available in virtually endless color options, as the cotton fibers are dyed to specific colorways. The plain, solid options are usually the least expensive no matter the manufacturer.
But like the yarn itself, not all manufacturers dye their cotton terry cloth the same way or with the same environmental standards.
We only work with documented and certificated Turkish terry cloth manufacturers who dye their material according to European (German) standards. Turkish terry cloth is dyed white, which is not only more expensive and labor intensive, but safer and creates a consistent pure white color.
READ MORE: What is Terry Cloth? (Materials, Colors & Projects)
Other, less expensive terry cloth manufacturers bleach the fabric, often using dangerous chemicals that are not allowed in Turkish production. This method results in terry cloth that will look slightly yellow or greyish (not pure white) and is often untested and potentially unhealthy for babies, infants and children.
Volume
Just as if you're buying granola or laundry detergent in bulk, the more terry cloth you buy, the more you'll likely save.
Especially applicable for wholesalers and manufacturers, smaller (often custom) orders of terry cloth are more expensive than larger orders of common fast-selling varieties. Of course, availability plays a role in price, so backordered fabric is less likely to have a discount than fabric ready to ship.
While we can't speak for everyone, many fabric shops or online retailers will offer a loyalty discount or a tiered discount depending on how many yards of terry cloth you purchase.
Origin country
We've mentioned origin country already in regard to terry cloth dyeing standards and terry cloth yarn, and how each of these affects overall price. Where the cotton is grown, the technology used, and the labor required to make terry cloth all contribute to the price as well.
Raw cotton
The higher the quality of cotton, the more expensive the terry cloth fabric will be. Raw cotton quality largely depends on where it's grown, and the majority of terry cloth cotton comes from Turkey, Pakistan, India or China.
Out of the four countries listed above, Turkey is renowned for its cotton production. Cotton grows in the dry heat and areas with little rain, which makes Turkey the perfect place to both grow and manufacture cotton. These conditions lend to a longer staple yarn, which increases the quality and durability (and is better for weaving and production).
Technology
Just like you wouldn't put low octane gasoline in a sports car, the top-of-the-line looms used to create terry cloth require high-quality yarn to operate smoothly. Our Turkish manufacturers use the latest technology in shuttleless looms (imported from Italy and Germany) that are both fast and automated.
This helps drops the cost while increasing quality, which gives a better value to our customers.
Labor
We won't get too specific here, but labor prices vary depending on the country.
Due to labor laws and how advanced the technology is, it costs much more to employ workers per hour in Turkey than workers in Pakistan, India and China. This affects the price of the terry cloth, but also affects the quality of the terry cloth being produced.
Shannon Fabrics terry cloth prices
Terry cloth has become a staple for many sewists and quilters around the world, and for good reason — it's soft, durable and highly versatile. It's great for anything from simple bath towels and spa products, to baby burp cloths and baby bibs.
READ MORE: 7 Must-Try Terry Cloth Sewing Tips
As mentioned above, here at Shannon Fabrics we sell a wide variety of colors and weights of high-quality Turkish terry cloth that have been trusted by our customers for years. The ideal blend of quality and value, our prices range from $9/yard to $22/yard at retail depending on the weight, width and texture.
While it's important to figure out how much you're comfortable spending, it's also important to learn the right techniques when working with terry cloth. No matter if you decide to purchase Shannon Fabrics terry cloth or not, we've compiled a free educational library of patterns, tutorials and videos to give you all the inspiration and guidance you need to make the most of this irresistible fabric.
Ready to get to work? Use our store locator to find terry cloth for your next sewing project near you, or give one of our friendly customer service associates a call at 866-624-5252 to learn more about terry cloth or set up an account.