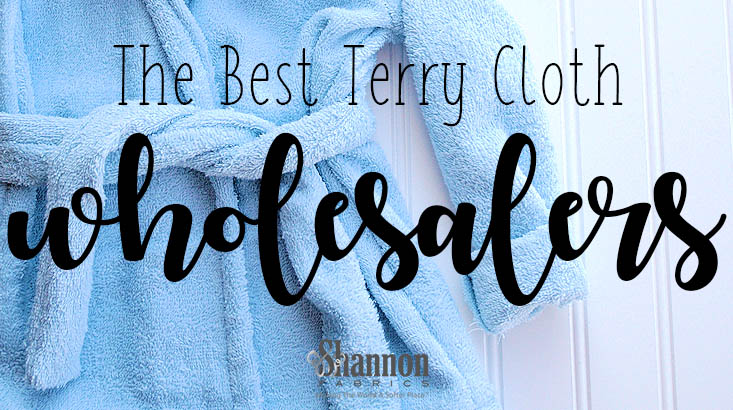 Who are the best terry cloth wholesalers? This can be tough to answer, since there are plenty of terry cloth wholesalers to choose from right at your fingertips if you're a manufacturer or a retailer.
A few keystrokes in Google will yield Company A and Company B, but many of which have paid for ad space to show up at the top of the results page. How can you decide who to trust with your business?
Here at Shannon Fabrics, we pride ourselves on providing terry cloth fabric to our customers that's not only priced competitively, but super soft, easy to work with and made to last. But we understand every business has their individual needs and goals to keep in mind when choosing a terry cloth fabric wholesale supplier, and we encourage businesses to weigh all their options before making a decision.
READ MORE: What is Terry Cloth? (Materials, Colors & Projects)
We know what makes a wholesaler great — we have a long history of selling terry cloth at the wholesale level, and we've collaborated with our partners, customers and vendors to optimize our business and make purchasing terry cloth as easy (and fun!) as possible.
You don't become one of the country's top terry cloth wholesalers without an honest and transparent business philosophy, and part of being honest means educating first and selling second. We're passionate about terry cloth and want you to love it too, so we're all about sharing our years of experience and knowledge with anyone — even if you choose not to do business with us.
READ MORE: Terry Cloth vs. Microfiber Fabric: A Side-By-Side Comparison
Check out our list of five of the best terry cloth wholesalers you should consider, below.
We omitted Shannon Fabrics from this list for the sake of being neutral.
The 5 Best Terry Cloth Fabric Wholesalers (in no particular order)
Richlin Fabrics, Inc.
American Terry Mills
Fabric Merchants
Télio
David Textiles, Inc.
Richlin Fabrics, Inc.
Location: North Kansas City, MO
Year founded: 1976
Products include: Laces, twills, denims, fleeces, terry cloth
Notables: Richlin Fabrics, Inc. is a small team known for their wide range of wholesale fashion fabrics, including flannel, denim, wool, etc. Their terry cloth is available in 44/45-inch wide 100% cotton "comfort" terry cloth (9 oz.) in several different colors, as well as 10 oz. stretch terry and 14 oz. woven terry.
American Terry Mills (towels)
Location: Norcross, GA
Year founded: Unavailable
Products include: 100% cotton terry cloth towels, microfiber towels
Notables: While they don't sell terry cloth and microfiber fabric by the yard, American Terry Mills sells wholesale cotton terry cloth and microfiber towels in a variety of sizes, shapes and levels of quality. They run their own textiles mills in Pakistan and China and distribute their fabric themselves.
READ MORE: 7 Must-Try Terry Cloth Sewing Tips
Fabric Merchants
Location: Los Angeles, CA
Year founded: 1995
Products include: T-shirt knit cottons, spandex printed knits, French terry cloth
Notables: Known mostly for their t-shirt knit cotton and cotton/spandex printed knits featuring floral and children's designs, Fabric Merchants also offers apparel-friendly lightweight bordeaux French terry fabric in a range of colors.
READ MORE: 9 Best Sewing Projects and Uses for Terry Cloth Fabric
Télio
Location: Montreal, Canada
Year founded: Unavailable
Products include: Polyester and rayon prints, silks, bridal laces, French terry cloth
Notables: Télio has been importing and exporting wholesale fashion fabrics for three generations, using in-house designers to release new products on a yearly basis. While known more for their polyester and rayon prints, they offer French terry cloth made from bamboo/spandex, as well as a cotton/poly/rayon variety.
READ MORE: How Much Does Terry Cloth Cost? A Guide to Terry Cloth Prices
David Textiles, Inc.
Location: City of Commerce, CA
Year founded: 1985
Products include: Fleece prints, flannels, cottons, terry cloth
Notables: David Textiles, Inc. is a wholesale textile converter and manufacturer who offers licensed fabrics and base cloths. While terry cloth isn't their speciality, they offer a basic while 44"-wide terry cloth in 100% cotton at the wholesale level.
READ MORE: Top 5 Terry Cloth Problems, Concerns & Solutions
Next Steps
As you can see, there are several wholesalers to consider when shopping around for terry cloth. As terry cloth wholesalers ourselves, we want to make sure you find the right fit for your business.
There can be a lot to think about, especially for first-time customers. Consider these few points when comparing your options:
Product selection
Product availability
Material
Quality
Weight
Pile height
Price
Country of origin
Shipping charges
Return policy
Loyalty rewards
READ MORE: The 5 Best Terry Cloth Wholesalers (Reviews/Ratings)
While we may be known more for our ultra-soft minky plush fabric, terry cloth has long been one of our personal favorites and we have several color options and a variety of weights in stock and ready to ship.
But buying fabric is just one part of the journey — we also offer an entire library of free downloadable educational resources, tutorials and patterns to take your sewing experience to the next level.
For more information on terry cloth, or if you are interested in opening a wholesale account, email our team of friendly customer service associates here or give them a call at 323.234.5252. If you're a consumer and would like to purchase Shannon Fabrics terry cloth, use our store locator to find a store near you!