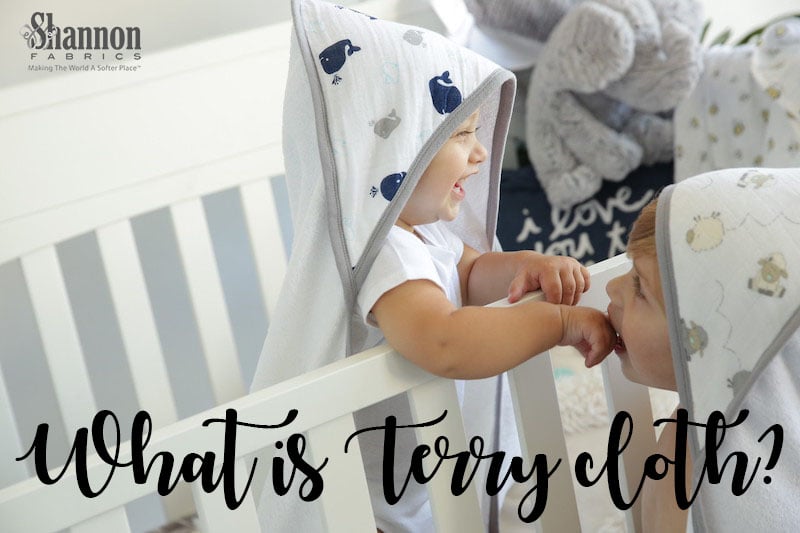 What is terry cloth? It makes sense why we get asked this question on a regular basis —terry cloth is available in a wide range of weights and materials and one type can look and feel dramatically different from another.
This super-popular type of fabric is just about everywhere, and oftentimes many people use terry cloth on a daily basis without knowing its name. In its most simple form, terry cloth (also known as terry toweling), is a fabric covered in tiny loops designed to be both highly absorbent and soft to the touch. There are three main types of terry cloth, terry cloth (towel terry), French terry and terry velour, and we'll describe each of these in more detail below.
Here at Shannon Fabrics, we're probably known more for our wide-selection of ultra-soft minky fabrics, but terry cloth has been steadily gaining popularity amongst sewists and quilters and has quietly become one of our personal favorites. Of course this makes us a little biased, but it's super durable, surprisingly versatile, and available in plenty of colors and weights — so what's not to love?
READ MORE: What is Terry Cloth? (Material, Colors, & Projects)
Below we break down how terry cloth is made, common terry cloth materials, different colors and weights and some of our favorite terry cloth projects.
Now let's get to the bottom of the "what is terry cloth fabric?" question.
What is Terry Cloth?
Terry cloth is pretty unique in terms of how it's made. It's a fabric that's woven using two warp beams, comprised of the ground warp that creates the base fabric and the pile warp that creates the uncut loop piles that stand up on the base fabric.
Okay, okay — but what does that actually mean?
The pile warp is the secret sauce — it increases the surface area and makes terry cloth super absorbent, strong and soft to the touch.
READ MORE: Top 5 Terry Cloth Problems, Concerns & Solutions
This looped pile can be found at varying heights and densities depending on if you prefer a softer, more luxurious feel, or a less thick, breathable feel. Obviously, the higher the pile and denser the loops, the more absorbent it is.
But this is where terry cloth gets interesting — it's actually stronger when wet. If you think about it, it makes perfect sense why it's used anywhere from car washes to restaurants (and don't forget at home as baby bibs and bath towels, too).
The woven design is one reason why it's so strong and durable, but the material used is another. Terry cloth is almost always found as a cotton fabric, but note that sometimes it can be infused with silk, linen or other polyester fibers. Cotton is the only substrate that can withstand the wear and tear of everyday use when wet (and can impressively absorb over 20 times its weight).
READ MORE: Terry Cloth vs. Microfiber Fabric: A Side-By-Side Comparison
Cotton terry cloth is also usually the most affordable (and most available) option, and is made in a few different common varieties — terry cloth (towel terry), French terry and terry velour.
Terry Cloth (Towel Terry)
Towel terry is easily the most common type of terry cloth on the market. It's what you reach for after your shower, and it's used from anything from loungewear to baby products and more.
READ MORE: How Much Does Terry Cloth Cost? A Guide to Terry Cloth Prices
Towel terry features the woven techniques mentioned above, and it feels the same on both sides of the fabric. These loops are generally on the longer side, designed for maximum absorbency.
French Terry
Unlike towel terry, French terry has two distinct sides — one side is smooth and flat, and the other side has the classic "looped" terry feel. French terry cloth is often used in apparel, and can be found infused with spandex for a more athletic feel.
Terry Velour
Terry velour is similar to French terry in that one side is smooth and flat, and the other side feels similar to traditional terry cloth. Where it differs though, is that the smooth side of terry velour has a luxurious velvety look and feel, and is usually more plush than both towel terry and French terry.
READ MORE: 9 Best Sewing Projects and Uses for Terry Cloth Fabric
Terry Cloth Colors and Weights
With tons of color options and weights, terry cloth is about as versatile as fabric gets. While it's easy to purchase based on color, it's important to determine how the fabric will be used before purchasing.
READ MORE: The 5 Best Terry Cloth Wholesalers (Reviews/Ratings)
For example, if you're using terry cloth to make bath towels and washcloths, then a heavier two-sided fabric with a long pile height might be a better option. Not only will it absorb tons of water, but it will be soft, warm and oh-so-cozy. If you're planning on sewing a terry cloth garment, then a one-sided, less-plush fabric might be a better fit and feel.
As mentioned, terry cloth can be found in just about every imaginable color and pattern — it's easily dyed and can even be digitally printed with custom designs. Here at Shannon Fabrics we have over a dozen solid color options in a variety of weights ranging from 10 ounces to 21 ounces.
Terry Cloth Sewing Projects
For most sewists, terry cloth is probably most closely associated with burp cloths and baby bibs. This makes sense — little ones need all the softness, durability and absorption fabric can offer. We've put together a free Cuddle® hooded towel and burp cloth pattern that's great for the beach, pool or bath time.
READ MORE: 9 Best Sewing Projects and Uses for Minky Fabric
Other simple common terry cloth sewing projects include beach blankets, washcloths and bath and kitchen towels. If you're looking for a bit more of a challenge, terry cloth is great for apparel, and works well as loungewear, beachwear and robes. And as shown in the burp cloth pattern above, terry cloth pairs nicely with other fabric types, including minky fabric.
While terry cloth can be used to sew a wide range of sewing projects, it's especially popular among embroiderers. Monogrammed towels or spa products are always a fan favorite, and terry cloth can handle intricate embroidered designs and heavy threading — just make sure you use a topper!
Looking for More?
Terry cloth is one of those underrated fabrics that can do so much more than what it's traditionally known for. Sure, there's nothing better than a terry cloth towel straight out of the dryer after a warm shower, but feel free to get creative with it.
READ MORE: 7 Must-Try Terry Cloth Sewing Tips
Terry cloth is durable, soft and absorbent, which makes it more-than-ideal for virtually endless applications. Better yet, caring for terry cloth couldn't be easier. Simply wash with cool water on gentle and dry with low heat to prolong the life of the fabric and limit color fading.
Interested in learning more about terry cloth fabric? We've created a complete library of free patterns and video tutorials that address not just terry cloth-related topics, but minky plush fabric, faux fur and double gauze topics as well.Contact one of our friendly customer service associates to talk shop, or use our store locator to find available terry cloth fabric near you!