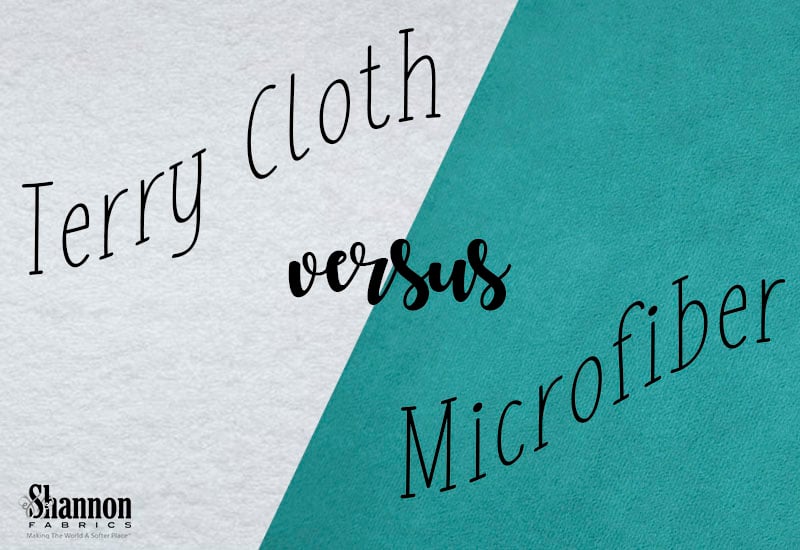 Terry cloth and microfiber fabric are two of the most useful fabrics around. They're both similar in many regards, as each is super durable and comes in a variety of colors. But you might be asking yourself, "what's the difference between terry cloth and microfiber fabric?" We hear this question all the time, and it's one we never get tired of answering.
Here at Shannon Fabrics, we specialize in a type of microfiber fabric called minky fabric (Cuddle® is our brand name), and we also offer terry cloth in several different colors, textures and weights. Despite offering both types of fabric to our customers, our first priority is to give you all the information you need to decide what's best for you.
And while it's likely either microfiber fabric or terry cloth will fit your project in mind, we realize they're not a fit for everything. We want you to feel excited about sewing, and that starts with finding the right fabric — no matter what you decide.
Let's first give you a little more context by defining terry cloth and microfiber fabric.
Microfiber fabric, also known as plush fabric or minky (Cuddle®) fabric, is made from 100% polyester fibers that are knitted into fabrics of varying weights and pile heights. Most minky fabric is one-sided, meaning the plusher, fur-like texture is only on the top side.
READ MORE: What is Minky Fabric? (Material, Textures, & Projects)
Terry cloth, also known as terry toweling, is a fabric generally made from 100% cotton that is covered in tiny loops designed to be both highly absorbent and soft to the touch. There are three main types of terry cloth — terry cloth (towel terry), French terry and terry velour.
READ MORE: What is Terry Cloth? (Materials, Colors & Projects)
Despite selling each of these fabrics, we admit both terry cloth and microfiber have their own unique pros and cons. Here are a few criteria we'll take a closer look at:
Cost
Versatility
Durability
Care Instructions
Construction
Textures/Colors
Issues
Terry Cloth vs. Microfiber Fabric: A Side-By-Side Comparison
Microfiber Fabric vs. Terry Cloth Fabric Cost
Depending on which brand or manufacturer you purchase from, both microfiber fabric and terry cloth prices can vary dramatically. This is mostly due to the fact that both are available in a wide range of styles, and factors such as country of origin and quality are also taken into account.
To keep things easy, the most basic minky plush fabric is usually a simple solid, and this entry-level minky fabric can be priced from $10/yard at retail to $20/yard at retail.
READ MORE: 7 Must-Try Terry Cloth Sewing Tips
Terry cloth is a bit simpler to price out, and a plain option generally ranges from $8/yard at retail to $18/yard at retail and greatly depends on the weight.
Versatility
Both microfiber fabric and terry cloth are two super-versatile fabrics with many overlaps regarding best uses.
Microfiber (minky) fabrics are surprisingly durable, and their heavier weight and higher pile have quickly been adopted by quilters and sewists for their cozy, ultra-soft feel with no break-in period. Minky fabrics are suitable for anything from apparel and baby products, to quilting, home decor, pet accessories, stuffed animals and more.
READ MORE: 9 Best Sewing Projects and Uses for Minky Fabric
Softness, durability and absorption are terry cloth's stand-out features, and these features lend themselves to high-use applications. Popular terry cloth projects range from burp cloths, baby bibs, beach blankets, and bath and kitchen towels, to loungewear, beachwear and robes. Terry cloth pairs well with other fabrics (including microfiber fabrics), and is popular among embroiderers as well.
Durability
Despite being made through two different techniques (knitted vs. woven), both microfiber fabric and terry cloth are about as durable as fabric gets.
Since microfiber (minky) fabric is made with 100% polyester fibers, it's great for rough-and-tumble applications that will be subjected to serious wear. This includes quilt bindings and home decor pieces, as well as jackets, scarves and hats.
READ MORE: How Much Does Terry Cloth Cost? A Guide to Terry Cloth Prices
If you're looking for a fabric that absorbs moisture, terry cloth edges out microfiber fabric by a wide margin. The looped pile increases its surface area, allowing the fabric to absorb over 20 times its weight in liquid. Terry cloth is actually stronger when wet, and it makes perfect sense why it's used anywhere from car washes to restaurants (and don't forget at home as baby bibs and bath towels, too).
Care Instructions
Microfiber fabric is made with 100% polyester fibers, so you don't have to worry about it fading or shrinking when run through the wash. It's just fine in the washing machine as long as you wash on gentle (and cold) with laundry soap that doesn't contain bleach. Drying is a bit more complicated process, as the dryer can melt the fibers or unravel the heat-set embossed designs if the wrong settings are used. It's easy to prevent — simply throw your microfiber fabric in the dryer on low heat for 10 minutes to tumble, then remove and hang dry.
READ MORE: Minky Fabric vs. Fleece Fabric: A Side-By-Side Comparison
Terry cloth is a bit more machine-friendly. Note that because it's made with cotton, terry cloth will shrink during the first couple cycles. For everyday use, terry cloth can be washed with like colors in warm water in the washing machine, and dried on medium heat in the dryer.
Construction
This is where terry cloth and microfiber differ greatly. While each is plenty durable and supple, they're made in two completely different ways.
Microfiber (minky) fabric is made from 100% polyester fibers that are knitted, and most minky fabric has the plush feel on only one side. Minky comes in several different widths, weights and pile heights depending on the collection.
READ MORE: 9 Best Sewing Projects and Uses for Terry Cloth Fabric
Unlike microfiber fabric, terry cloth is a woven fabric generally made with cotton. It's woven using two warp beams, comprised of the ground warp that creates the base fabric and the pile warp that creates the uncut loop piles that stand up on the base fabric. The "plush" feel of the fabric is determined by how long and dense the loop piles are, and two-sided terry cloth is the most popular style.
Textures/Colors
Terry cloth is available in three main varieties, terry cloth (towel terry), French terry and terry velour. Terry cloth (towel terry) is the variety we're all familiar with — it's what we usually use on a daily basis as a towel or washcloth. French terry and terry velour are similar in that the looped surface is only on one side, but unlike French terry, the backside of terry velour has a luxurious velvety look and feel. Waffle terry adds an additional texture that features a grid-like pattern covering the surface.
Color-wise, white terry cloth is easily the most popular option on the market, but it also can be found in a wide range of solid colors to match any decor.
We're not knocking terry cloth here – it has a distinct, cozy feel we all enjoy on a daily basis — but microfiber fabric takes the cake if you're looking for a variety of textures.
Microfiber (minky) fabric is available in several different embossed options, including marble, paisley vine, arrow, dimple, and our personal favorite, rose. These embossed textures are heat-set into the minky fabric during manufacturing, and not only do they add a more stimulating feel you won't be able to keep your hands off of, but they make any sewing project more visually interesting with their depth and design, too. The sky's the limit as far as microfiber colors go — this fabric can be found from simple solids, to one-off custom digital prints.
Issues
As with any fabric, both terry cloth and microfiber fabric aren't without their issues. Luckily, using the right techniques can mitigate many of these concerns.
Microfiber (minky) fabrics stretch because they're knit fabrics, and this can present somewhat of a learning curve when sewing. Minky is one of our most popular collections here at Shannon Fabrics, so we've addressed this stretching issue in our post, Top 5 Minky Plush Fabric Problems, Concerns & Solutions, where we also answer other common minky questions (such as 'does minky fabric shrink?' and 'is minky baby-friendly?').
Terry cloth stretches less than microfiber fabrics, but like microfiber fabrics, it's notorious for shedding when cut. This is an easy fix — simply gather your cut pieces and throw them in the dryer with a damp washcloth for 10-or-so minutes. The lint trap will catch all your pieces, and you'll won't clog your sewing machine with fuzz!
READ MORE: Top 5 Terry Cloth Problems, Concerns & Solutions
As mentioned above, terry cloth also shrinks because it's usually made with 100% cotton. Be sure to wash and dry your terry cloth pieces to pre-shrink them before incorporating them into your next sewing project. This is especially important if you're mixing materials. Click here to read more about terry cloth problems and solutions.
Next Steps
As you can tell already, terry cloth and microfiber (minky) fabrics are two of our favorite fabrics to work with. They're plenty durable, available in virtually endless color options and work well in a wide range of sewing projects.
READ MORE: The 5 Best Terry Cloth Wholesalers (Reviews/Ratings)
But before making a decision, step back and reflect on some of the criteria listed above. What terry cloth or microfiber fabric features are most important for you and your business? If you're unsure, or would like to learn more, don't hesitate to call our team of friendly, no-pressure customer service associates at 323.234.5252.
We have more than a million yards of fabric in stock, and we're more than happy to help educate on a one-on-one basis to make sure you find the right fit. Also, be sure to check out our extensive library of free educational resources, including tutorials and patterns for microfiber fabric and terry cloth.
Ready to get to work? Use our store locator to find terry cloth or microfiber fabric for your next sewing project near you!