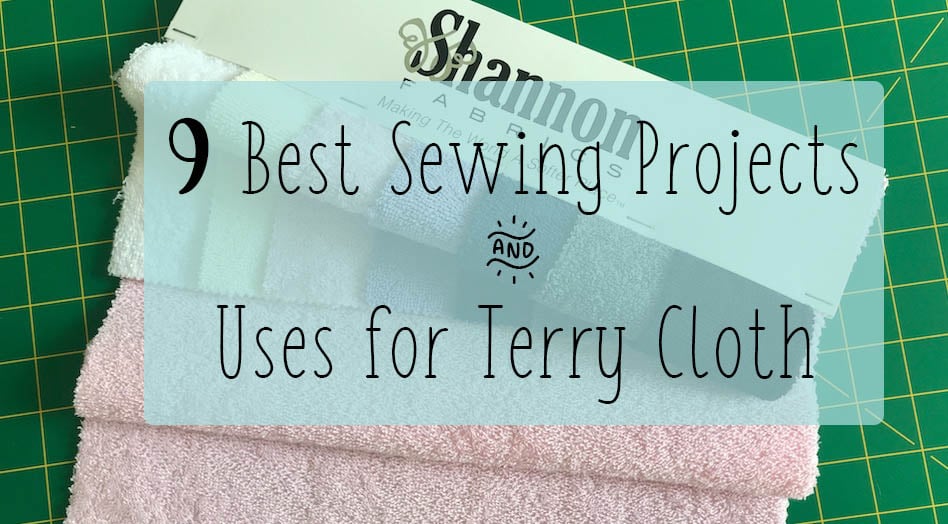 It's generally used in applications that require a bit more durability or absorbency, but terry cloth is more than just a workhorse fabric — it can be incorporated into a wide range of sewing projects from baby products to apparel.
Let's first lay a foundation by defining terry cloth before we jump into our favorite terry cloth sewing projects.To start, terry cloth is a woven fabric (usually 100% cotton) that is covered in tiny cotton loops that increase softness and absorbency. There are three main types of terry cloth: terry cloth (towel terry), French terry and terry velour.
Terry cloth (towel terry) is the most common type of terry cloth (think bath towels and washcloths), and features a two-sided woven design. French terry, like terry cloth, is woven, but has the flat base fabric on one side and the classic terry cloth loops on the other. Terry velour is flat on one side like French terry, but it's much more luxurious and has a velvety look and feel.
If this is confusing, we get it — you really have to get your hands on each type of terry cloth fabric to feel the difference for yourself!
READ MORE: What is Terry Cloth? (Materials, Colors & Projects)
Terry cloth towels and washcloths are the most popular uses for terry cloth by a wide margin — most of us use these products on a daily basis without knowing its name or how it's made. But travel a little deeper down the rabbit hole, and you'll find terry cloth fits a wide range of sewing projects that are both useful and stylish.
From burp cloths to bath robes, here are our nine favorite sewing projects and patterns that pair well with terry cloth.
Did we miss something? We'd love to hear from you — tell us your favorite terry cloth sewing project in the comment section below. You might just be featured in our next article!
9 Best Sewing Projects and Uses for Terry Cloth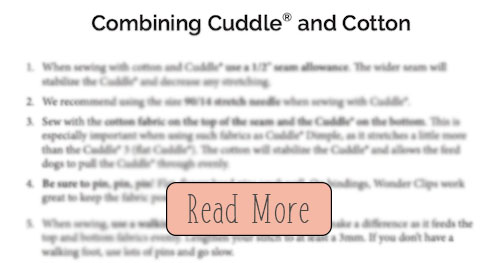 Using Terry Cloth in Quilts
Cotton has been used in quilts since the beginning of time, but did you know that terry cloth can be substituted for quilting cotton?
Quilting cotton is tightly woven which helps the quilt hold its shape, but this can lend to a not-as-cozy experience. Terry cloth, especially medium or heavyweight terry cloth, layers in a bit more practicality and usability without sacrificing durability and softness.
READ MORE: 7 Must-Try Terry Cloth Sewing Tips
Use terry cloth as the quilt backing (and don't use batting) for a beach-friendly, take-anywhere quilt that can withstand heavy use and can be shaken out once dirty.
Pair terry cloth with Cuddle® minky fabrics, and you'll have a ready-made quilt that requires no break-in period.
Click here for sewing tips and tricks on how to combine terry cloth and Cuddle® minky fabric in the same quilt.
Terry Cloth Burp Cloth Pattern
Babies and terry cloth are about as synonymous as it gets. It's the perfect fabric for little ones, as terry is super durable, absorbent and oh-so-soft. Also, it's machine washable, so it can handle messy situations without skipping a beat.
READ MORE: The 5 Best Terry Cloth Wholesalers (Reviews/Ratings)
Burp cloths are one such high-mileage application that pairs well with terry cloth. Our National Educator Teresa Coates shares her can't-miss tips on how to sew a terry cloth burp cloth in the video above, or click here to download the free burp cloth pattern from our friends at AccuQuilt.
If you don't have AccuQuilt's Studio Burp Cloth Die, we've also created a free The Little Cuddle® Burp Cloth pattern for terry cloth and Cuddle® minky fabric.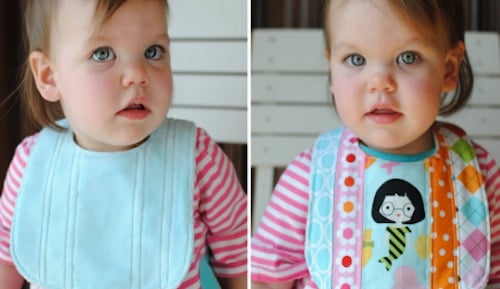 Terry Cloth Baby Bibs Pattern
Just like for burp cloths, terry cloth works well for bibs, too.
Here at Shannon Fabrics, we only work with documented and certificated Turkish terry cloth manufacturers who dye their material according to European (German) standards. This means our terry cloth is not only as white as can be, but it's also baby-friendly since no harmful bleaches or chemicals are used.
We collaborated with Auriful and Amista Baker from Hilltop Custom Designs to create a reversible terry cloth/minky fabric bib that can be customized with different prints for boys and girls.
We also worked with Clover & Violet on a Reversible Little Baby Bibs pattern, perfect for catching a little drool or eating on the go. This little bib can be used on both sides, with soft Cuddle® minky fabric on one side and fun cotton patchwork on the other.
Either pattern makes easy little gifts that coordinate with a variety of outfits, and better yet, they are quick to make and fun to use!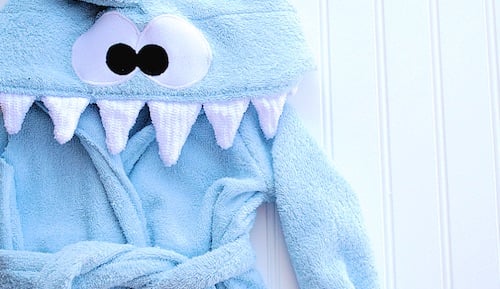 Terry Cloth Bathrobe Sewing Project
Dun, dun... dun, dun! This cute shark-themed terry cloth bathrobe has easily become one of our favorites on this list — it's not only great for bathtime, but also lazy days by the pool!
READ MORE: Terry Cloth vs. Microfiber Fabric: A Side-By-Side Comparison
It's slightly more complex than other terry cloth sewing projects mentioned here, but don't let that deter you — from the supplies needed to thorough instructions, Amber from Crazy Little Projects takes you step-by-step through the entire process (pictures included).
This terry cloth bathrobe sewing project is easily customizable, too. The design and the fabrics can be altered and switched out to represent just about any animal imaginable — feel free to get creative!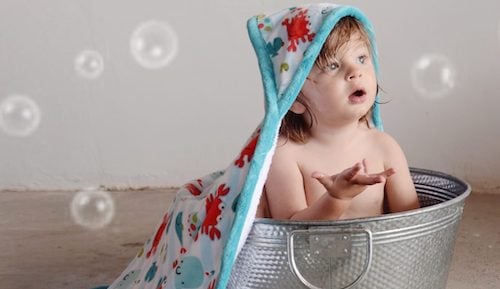 Terry Cloth Hooded Towel Pattern
Make bath time, the pool or the beach more fun with these charming little hooded towels made with colorful terry cloth and Cuddle® minky fabric!
We have two free hooded towel patterns to check out: a Scrappy Happy Hooded Towel pattern and a Cuddle® Hooded Towel. They're both similar in terms of difficulty, and each provide detailed instructions and required fabrics and notions to make sewing as straightforward as possible. They can also be customized with your favorite prints and colors to complement bathroom decor or the theme of your little one's bedroom.
For a few fun images (and lots of inspiration), feel free to check out or blog post featuring the Cuddle® Hooded Towel.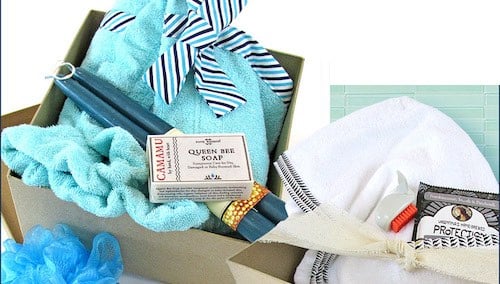 Terry Cloth Shower Wrap Sewing Project
We all reach for terry cloth towels after a shower or bath multiple times a week, so why not switch things up every once in a while?
We've collaborated with Sew4Home to create this irresistible terry cloth shower wrap sewing project in both a women's (full-length) and a men's (shorter) version. It features our 16-ounce 100% cotton terry cloth, but can be customized with heavier weight fabrics and different colors.
Learn more about this easy-to-make terry cloth shower wrap sewing project, here.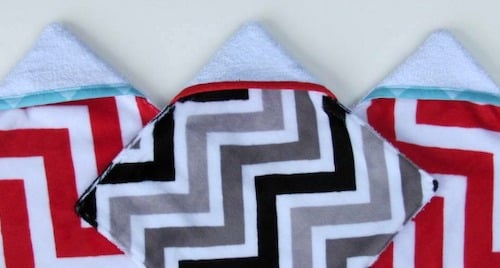 Terry Cloth Washcloth Sewing Project
We've already mentioned terry cloth baby bibs and burp cloths, but a baby washcloth is a great way to round out a nice set of three handmade baby gifts.
This "Rub a Dub Dub" washcloth is essentially a smaller version of a hooded towel, and the "hood" helps the washcloth stay in place while washing a baby or infant. This unique sewing projects pairs Cuddle® minky fabric and terry cloth to create not only a piece that's highly functional, but it looks great, too.
Click here for step-by-step instructions and tips and tricks on how to sew this sewVery baby washcloth terry cloth sewing project.
Terry Cloth Towel Wrap/Beach Cover-Up Sewing Project
Perfect for kids and adults alike, this terry cloth towel wrap and beach cover-up is the quintessential summertime sewing project. It's made with terry cloth and Cuddle® minky fabric, so you know it'll be durable and super soft — not to mention colorfully appropriate for this carefree time of year under the sun!
READ MORE: Top 5 Terry Cloth Problems, Concerns & Solutions
This video features Angel from Fleece Fun as she goes over her steps on how to sew this terry cloth towel wrap yourself. If you want something to sew that not only looks great, is easy for sewists of all levels and is super giftable, look no further!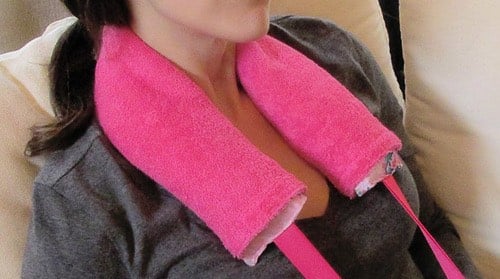 Therapy Neck Wrap Sewing Project
We'd argue terry cloth is therapeutic in and of itself (we know, we're biased), but it's especially therapeutic when paired with rice and flax seed.
This quick sewing project from Sew4Home was featured as part of their Fast Friday series, and takes literally minutes to complete. The outer sleeve of this therapy neck wrap sewing project is made with terry cloth, so it's removable and easy to wash.
The inner tube full of rice and flax seed is made with quilting cotton, which makes it easier to slide into the terry cloth outer.
Sew4Home's therapy wraps finish at approximately 25 inches long and 4½ inches wide with two six-inch handle loops, and can be heated up in the microwave for an even better way to relax and melt stress away.
Next Steps
As shown above, terry cloth is an underrated and surprisingly versatile fabric that can be incorporated into virtually endless unique sewing projects. Terry cloth is easy to work with, easy to sew with and will last a long time even in high-use pieces.
READ MORE: How Much Does Terry Cloth Cost? A Guide to Terry Cloth Prices
Now that you're inspired and ready to tackle your own terry cloth sewing project (or shall we say projects), don't forget that this is just the tip of the iceberg. We've compiled an entire library of free patterns, tips and tricks and video tutorials for terry cloth, and be sure to follow us on social media for new product releases, videos and blog updates.
As a wholesaler of high-quality terry cloth, we hope you find as much enjoyment sewing with terry cloth as we do. Use our store locator to find Shannon Fabrics terry cloth near you, or call one of our friendly customer service associates at 866-624-5252 if you have any questions about purchasing terry cloth or just want to talk shop!