Here at Shannon Fabrics, we're fortunate to work with some of the most talented and inspiring sewists in the industry!
The cosplay scene is one we're especially proud to be part of, and the costumes created by both professional and amateur sewists are nothing short of amazing.
Harry Potter cosplay has long been popular with fans of the beloved series, so recently we sent Michael and Hayley our Luxe Cuddle® Glam Gold fabric* to help with their Durmstrang cosplay. You probably know them as @thewizardtailor and @hobbitparty (give them a follow!), but they're no stranger to creating some of the most detailed and intricate Harry Potter-inspired costumes out there.
For a little context, Durmstrang (or more specifically Durmstrang Institute) is a school for wizards and witches introduced in the fourth book of the Harry Potter series.
See Related: How to Sew Elsa's Dress from Frozen 2
Here Michael shares his tips for working with our Luxe Cuddle® Glam Gold fabric on the cape, and scroll down to watch his breakdown video on the entire Durmstrang cosplay — including what patterns he used, how he constructed it and what accessories he chose.
Mischief managed!
*Note that Luxe Cuddle® Glam Gold fabric has been recently discontinued, but you can find all of our irresistible Luxe Cuddle® fabrics here.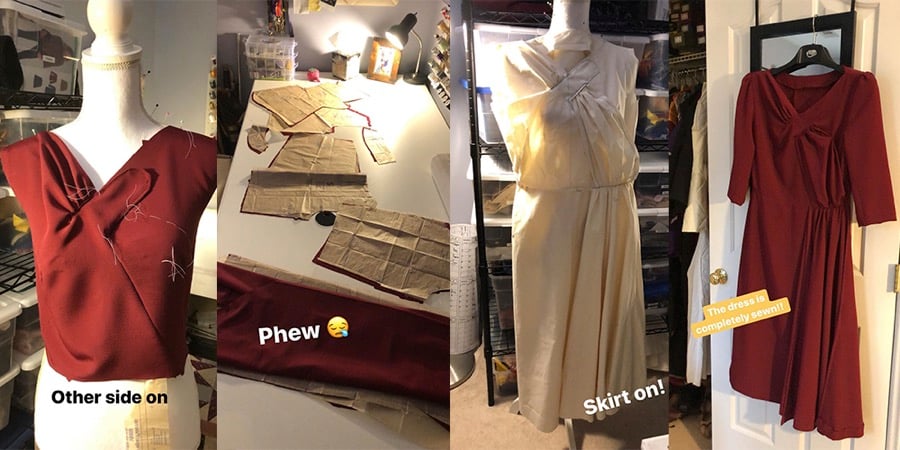 Suggestions for working with the Durmstrang cape fabric
When working with furry fabrics, I always trim the seam allowance down to the fabric backing. That way, when you sew your seam and open it out, it removes the bulk, and there will be no bunched-up fibers or hairs poking out of your seam.
You can trim furry fabrics with a hair trimmer, but my preferred method is to take a long piece of masking tape and stick it to my seam allowance. I then carefully cut the fur down to the backing. Almost all of the fur will stick to the tape rather than flying all over your sewing space.
I recommend turning off any fans or air conditioner vents in your sewing space to prevent mess. Nothing is worse than having a pile of cut fur on your sewing table and to suddenly hear the air conditioner kick on.
After cutting your pieces and seam allowances, carefully move the pieces outside and give them a good shake. You can also go ahead and cut everything outside if you like. But the above methods keep things nice and neat, and prevent you from having to cut everything on your porch or in your backyard away from your sewing tools.
Harry Potter Durmstrang dress cosplay sewing video tutorial
As mentioned above, here Michael breaks down the entire Durmstrang cosplay — including what patterns he used (Vogue Vintage V8850), how he constructed it and what accessories he chose (cape starts around 9:00). Be sure to subscribe to their YouTube channel to see more cosplay (and, of course, Harry Potter) content.
If you have any questions about our fabrics or any of our Cuddle® Kits, feel free to contact our friendly, no-pressure customer service team at 866-624-5252.
Ready to start creating your own cosplay costume with our fabric? Use our store locator to find a selection of our fabrics online or near you.