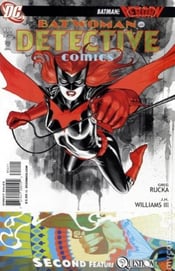 In honor of my seven-year anniversary with cosplay and sewing, I thought it would be a super fun project to try and remake my first-ever cosplay costume — highlighting all the things I have learned since I started.
In August 2009 I picked up my weekly comics from a local shop, and to my surprise Detective Comics Issue 854 featuring a female hero named Kate Kane was in my box! This was my introduction to Kate and eventually launched my sewing and cosplay journey.
See Related: How to Sew Elsa's Dress from Frozen 2 (Elsa Cosplay Sewing Tutorial)

Fast forward 11 years and here I am, revisiting Kate, DC Comics and spandex to recreate one of my all-time favorite characters — Batwoman.
Here I go through how to sew a Batwoman costume, from the belt to the cape and everything in between!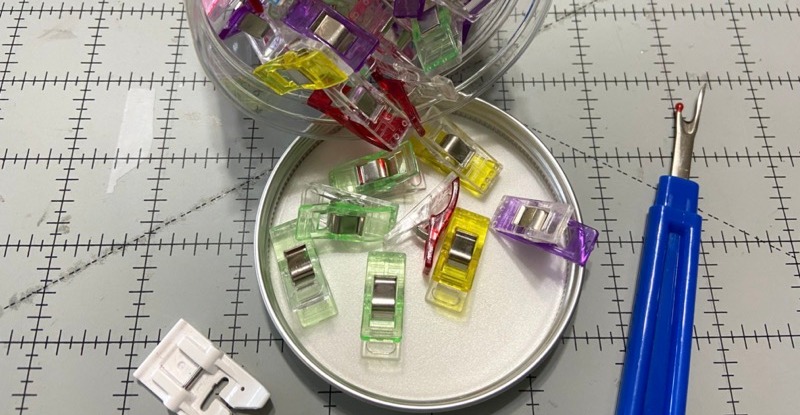 How to Sew a Batwoman Costume: Fabrics and Notions
A few tools that made my life so easy for this Batwoman costume were Wonder Clips because pins will puncture the fabric and leave holes in it. A teflon foot also made sewing the spandex smooth and easy — this fabric has a vinyl- or sticky-type texture on top and this foot just made it a breeze to sew. Obviously having a seam ripper close by makes all kinds of sewing easier.
I also used Shannon Fabrics silky satin fabrics for the cape (more on this below).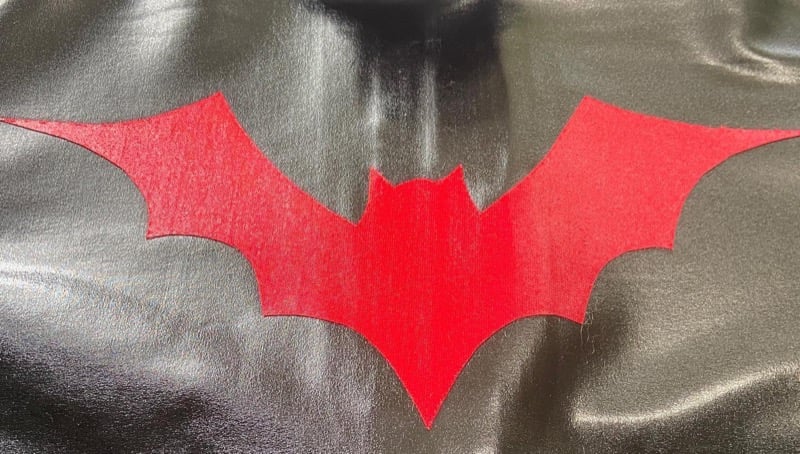 How to Sew a Batwoman Costume: Bodysuit
I started with the bodysuit, and I pulled from my stash the original pattern I used for this cosplay (a vintage Catwoman pattern from Batman Returns). Luckily these days both McCall's and Simplicity have bodysuit patterns that are so much better than what I purchased.
With spandex it can get expensive and wasteful to make a mock up, so instead I stitched my suit together using the lightning bolt stitch on my Janome HD-3000 (a zig-zag stitch will work just as well). I did almost all of the seams except adding the zipper and finishing the wrists and ankles. From there I did a fitting and surprisingly, the only adjustment I made was under the arm in the pit area.
Once my fitting was done, I went ahead and stitched over all the seams with my serger. This isn't necessary, but it totally means I can move and jump and do cartwheels without fear of busting a seam. Once the zipper was added, it was time to add the symbol, and let me tell you, Sew Much Cosplay Mighty Fuse made this incredibly easy to do.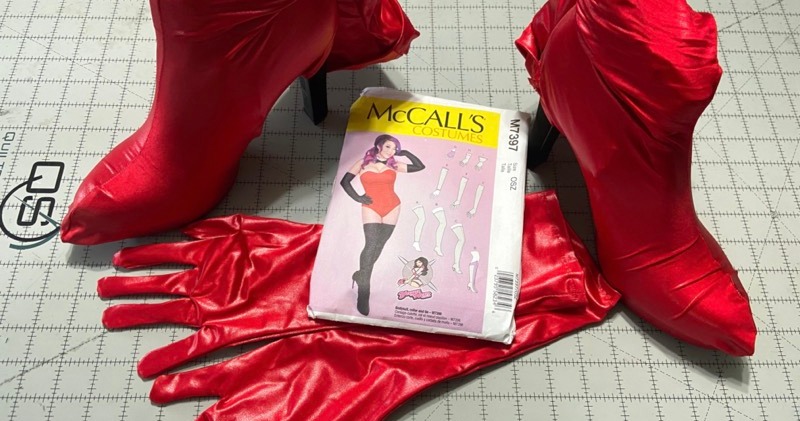 How to Sew a Batwoman Costume: Gloves, Boot Covers and Belt
For the gloves and boot covers I used McCall's M7397 and cut all the pieces in the largest size (it's easier for me to take these things in then it is to let them out). I used my lightning bolt stitch again, and the key is to stretch the fabric a little while sewing. Luckily my fabric is a four-way stretch, so I was able to easily cut my fabric without worrying which way I wanted the stretch.
For the belt, I chose to make the base belt out of 2mm foam covered with my red fabric. I also used 2mm Sew Much Cosplay foam for the bat symbol as well.
For the pockets, I actually made these functional (I wish I had done that for my first cosplay!). I drafted a pattern for a pocket that fit around my cell phone since ideally I like to have my phone, wallet and snacks on me while wearing costumes. I used Super Structure Foam because I knew that if I stitched on the foam/fabric combo, it would create a crease that would make the pocket come together easier.
I just added snaps to put the belt on, clasp the pocket and add the symbol. I only made two pockets, but this belt could hold four to five and adding more would really just be if desired.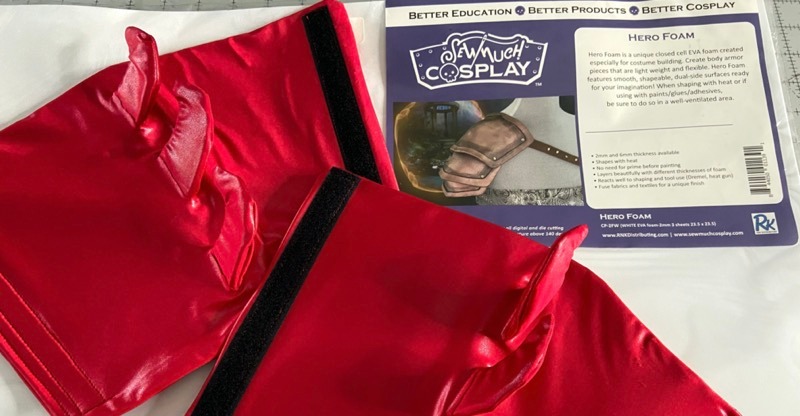 How to Sew a Batwoman Costume: Gauntlets
For the gauntlets I really wanted to sew them again like I did with my She-Ra armor, and honestly, I used my She-Ra gauntlet as the template for this one so it made it super easy.
To make it I cut out the 2mm foam, then cut out two pieces of spandex per gauntlet and stitched those together with the right sides facing each other. For the spikes I cut out more 2mm foam and again stitched the two together to create a casing around the foam, and then I actually hot glued the spikes down and cut slashes in the spandex to go over the spikes.
Since it's spandex it doesn't fray, so I just left it and finally I added Velcro to close them around my arm.
How to Sew a Batwoman Costume: Cape

Finally, my favorite piece — the cape! Capes make everything magical, and to make this I draped a pattern (but Simplicity has a Batgirl pattern and I would highly recommend that if you plan to make anyone from the Bat family).
I cut out four panels of spandex and four panels of Shannon Fabrics silky satin that matches my red spandex. I stitched the two different fabrics together and then pressed my seams — this is a really important step so don't skip it. With right sides together, I stitched the spandex to the satin leaving the top section open, I then flipped, pressed and then folded in the top to stitch it closed.
I added button holes to the cape, then stitched buttons onto the suit. I highly recommend placing the buttons while doing a fitting of the suit — I had to redo my buttons a few times because I tried to guess and I had fit issues with the cape because of it.
How to Sew a Batwoman Costume: Finished Project
And without further ado, here's the final look for my Batwoman costume! It's a cosplay that's always popular!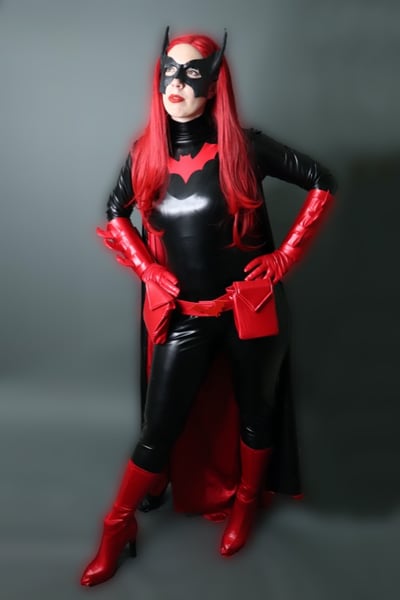 If you have any questions about Shannon Fabrics fabrics or any of their Cuddle® Kits, feel free to contact their friendly, no-pressure customer service team at 866-624-5252.
Ready to start creating your own cosplay costume with Shannon Fabrics fabric? Use their store locator to find a selection of their fabrics online or near you.