October is Breast Cancer Awareness Month, and as part of our mission of Making The World A Softer Place™, we thought it'd be appropriate to create a sewing project that's especially near and dear to our hearts.

This week, our National Educator Teresa Coates continues our Sew Together Tuesday educational series by sharing her tips on how to make a mastectomy pillow. She's made several of these breast cancer heart-shaped pillows out of Cuddle® minky plush fabric for friends and close family members, and all have noted how soft and comforting they felt on their skin.

See Related: How to Sew a Pumpkin with Cuddle® Minky Plush Fabric

So why is it shaped like a heart? Besides a nod to the love and support provided by family and friends through breast cancer treatment and recovery, the heart shape fits nicely under the arm to limit irritation at the surgery site (helps with seatbelts, too).

These pillows make thoughtful gifts for anyone going through breast cancer treatment, and many hospitals accept donations of homemade mastectomy pillows for their patients (please double check with your local hospital and follow their guidelines).

Ready to start sewing? Here Teresa lists her tips for sewing a mastectomy pillow.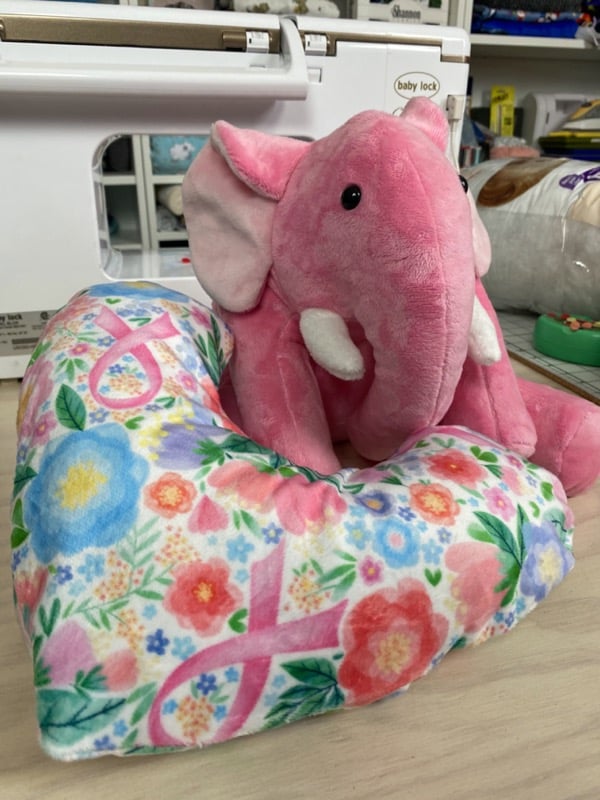 Fabrics and notions you'll need to make a mastectomy pillow
These products can be substituted for whatever you have on hand, but here is what Teresa recommends for her mastectomy pillow tutorial:
½ yard Cuddle®
½ yard quilting cotton (optional)
Coordinating polyester thread (Mettler recommended)
90/14 Stretch needle (Schmetz recommended)
Flowerhead pins (Clover recommended)
Wonder Tape (optional)
45 mm rotary cutter (Olfa recommended)
Polyester fiber-fill (Fairfield Royal Silk recommended)
¾" hook and loop tape (optional)
Stiletto (ByAnnie Stiletto & Pressing Tool recommended)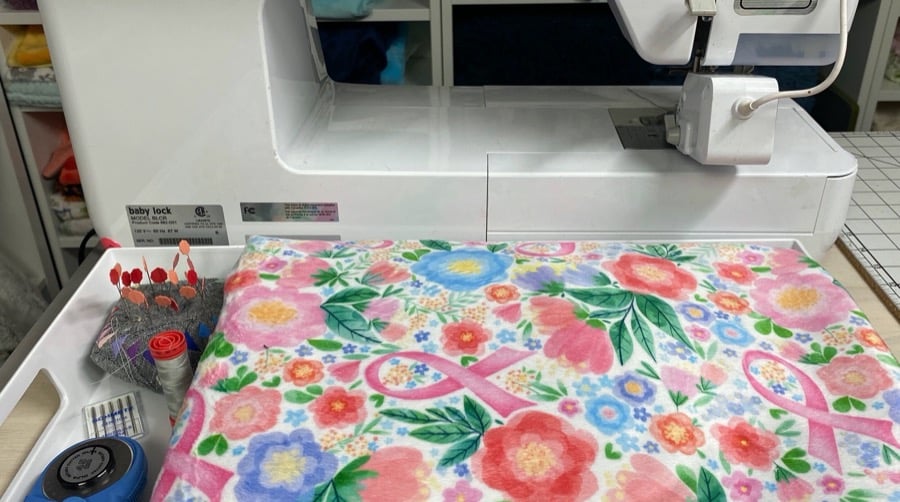 Tips for sewing a mastectomy pillow
Don't worry about finishing the seams or raw edges; they won't fray
Trim curves on cotton, but you don't need to for the Cuddle® pillow cover
Use an extra soft polyester fill such as Fairfield's Royal Silk for extra comfort
Make a separate cotton pillow form and washable Cuddle® cover
Video: How to sew a mastectomy pillow
Mark your calendar — as part of Sew Together Tuesday, Teresa will be going LIVE on the Shannon Fabrics Facebook page at 10 am PDT on October 13 to share her tips on how to sew a breast cancer heart pillow with Cuddle® minky plush fabric.
Free downloadable mastectomy pillow sewing pattern
Click the "Download Now!" button below to download and print Teresa's free mastectomy pillow sewing pattern.

If you have any questions about Cuddle® minky plush fabrics or any of our Cuddle® Kits, feel free to contact our friendly, no-pressure customer service team at 866-624-5252.

Ready to start creating with Cuddle® minky fabric? Use our store locator to find a selection of Cuddle® minky fabric online or near you.