If you're new to sewing, new to Cuddle® minky fabric or you're just looking for a quick-and-easy project, there are a few ideas that come to mind. Of course you could make an infinity scarf, a blanket or throw pillow, but what if you wanted something a little outside the box — literally?
This week, for Sew Together Tuesday, our National Educator Teresa Coates shares her tips and tricks for creating one of the most fun, projects ever — a ball stuffie made with Cuddle® minky plush fabric.
See Related: How to Make a Nappy Bag with Cuddle® Minky Fabric (Sleep Sack Sewing Tutorial)
This is one of the featured projects in our Beginner Box kit, which includes everything from Cuddle® fabric, to a 90/14 stretch needle, polyester thread, flower head pins and an informational booklet with patterns and step-by-step directions.
A soft Cuddle® minky fabric ball is a great scrapbuster that can be used with any color and fabric combination you'd like (you can even add a little jingle or crinkle material for babies). This project will rely on some pinning techniques, but Teresa also teaches some new skills that will help here and with all your other Cuddle® sewing projects.
Happy sewing!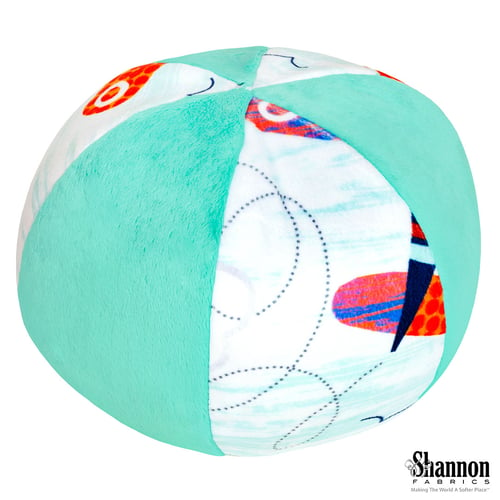 Recommended Fabrics and Notions for Making a Soft Cuddle® Minky Fabric Ball
These products and fabrics can be substituted for whatever works best for you, but here is what Teresa recommends for sewing a soft Cuddle® ball:
Fabrics:
15" x 15" square of Cuddle® 3 Solid

15" x 15" square of Digital Cuddle® Print
Notions:
45mm rotary cutter — OLFA or blade (SAC-1 - OLFA)
90/14 stretch machine needle — SCHMETZ
Fabric clips — (Wonder Clips - Clover)
Felt tip marker
Flower head pins — Clover
Micro serrated scissors — Famore, Kai or Karen Kay Buckley
Polyester stuffing — (Silky Poly-fil® polyester fiber fill -
Fairfield World)
Polyester thread — (Metrosene - Mettler)
Self-healing cutting mat — OLFA
Sewing machine — Janome Sewist 780DC
Stiletto and pressing tool — ByAnnie
Walking foot
Tips for Making a Soft Cuddle® Minky Fabric Ball
Make sure to mark ends and centers when tracing.
Cut with lengthwise grain from top to bottom for a sphere. Cut it the opposite direction (widthwise) and the ball will more oblong.
Pin perpendicular to the raw edge when pinning curves.
Embellish the ball with appliqué or embroidery to make it extra special.
Add crinkle material or a jingle bell to make it extra fun for the littles.
Use Silky Poly-fil® for a softer, smoother ball.
Video: How to Make a Soft Cuddle® Minky Fabric Ball
Mark your calendar — for the next episode of Season 7 of Sew Together Tuesday, Teresa will be going LIVE on the Shannon Fabrics Facebook page and YouTube channel at 10 am PDT on October 12 to share her tips on how to sew a soft Cuddle® ball.

Can't make it? Check back here after her live video concludes for the embedded on-demand video.
Free Download: Soft Cuddle® Minky Fabric Ball
Click here or the "Download Now!" button below to download and print Teresa's free soft Cuddle® ball pattern.

If you have any questions about Cuddle® minky plush fabrics or any of our Cuddle® Kits, feel free to contact our friendly, no-pressure customer service team at 866-624-5252.
Ready to start creating with Cuddle® minky fabric? Use our store locator to find a selection of Cuddle® minky fabric online or near you.