We have a fun tutorial we'd like to share: A beautiful fall wall art project. This creative project features applique leaves made with Cuddle, Silky Satin and more. All you need are a few sewing supplies and some scraps of HeatnBond Lite by ThermOWeb.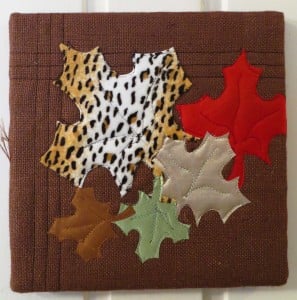 You can make this for yourself or as a gift. It looks just as good as those expensive home dec items you can buy, but it doesn't cost a lot... or take a lot of time to make.
Bia from Ms. Elaineous made the tutorial especially for Sew Mama Sew. See it here.
Bia is a talented seamstress and does tutorials, projects and more on her blog. She also teaches classes over at Craftsy and has a Craftsy pattern store. To read more about Ms. Elaineous, click here.
Do you like making wall art?
Cuddle Hugs,
Ellen