Yay — my turn for post No. 11 on the Sew Cuddly Blog Hop! I'm Linda Lingner, a Shannon Fabrics Ambassador in the New York metro area. Out of all the projects, the bath mat caught my eye in Judy Gauthier's book Sew Cuddly. I loved her color scheme and the idea of stepping barefoot onto delicious, soft Cuddle® fabric. Once I started thinking about Cuddle® underfoot, it was a small jump from the idea of a bath mat to the idea of a rug! I ended up making a throw rug for the wood floor in my granddaughter's bedroom.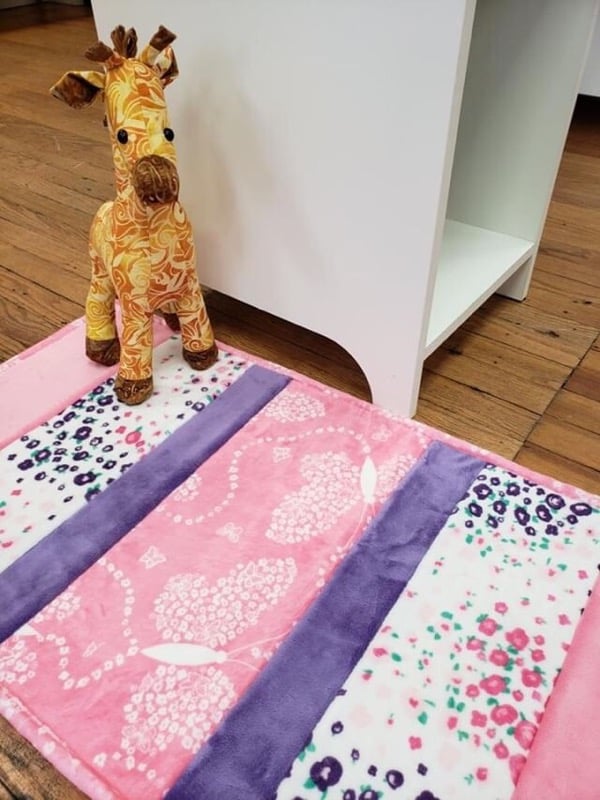 To create this project, the first thing I did was dig through my stash. I had a nice assortment of solids, but needed a few prints to girly it up. I chose strips from the Cuddle® Sweet Strips™ Cotton Candy pack in Floral Fields Cuddle® Paris Pink and Flowerfly Cuddle® in Paris Pink. The strips come precut at 10" x 60". From my stash, I used Cuddle 3® Jewel (the pretty lavender color) and Cuddle 3® Paris Pink.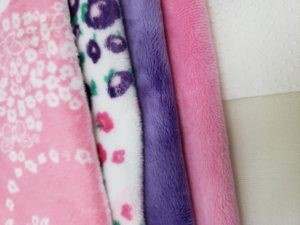 I had a piece of Pellon Flex-Foam (non fusible) that was 19" by 36", so I started with that as my rug size. I'd rather be creative in my materials than not try because I couldn't source the recommended materials. I collected my copy of Sew Cuddly, Olfa rotary cutter, Omnigrid ruler from Dritz, a pair of serrated Famore scissors, a new Superior Threads size 14 topstitch needle, some Clover Wonder Clips® and my 505 Temporary Adhesive Spray and Fix by ODIF.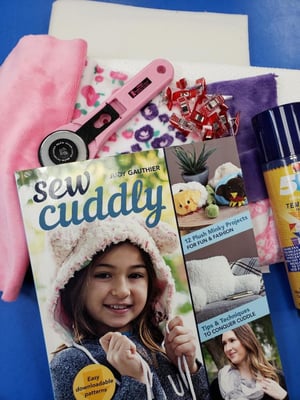 Flex foam is soft, cushiony material often used to give handbags a firm body. I thought it would be perfect addition as cushioning in my version of the mat. My other mat secret is the non-slip backing. As a crafty, thrifty mom I spent many hours picking out worn-out feet on feety pajamas and replacing them with new white grippy material. It can be found in the notions area packaged as Dritz Anti-Skid Gripper Fabric. My local store also offers it on the bolt, and I bought a yard. Now any slipper, booty, coaster or rug can have a non-slip bottom.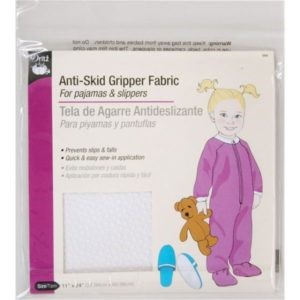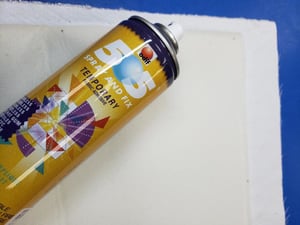 As I played with my colors, arranging them on the table, I realized I wanted to create the mat using a stitch and flip quilt method, similar to making Cuddle® strip quilt. This actually worked out great. There are great directions on the Shannon Fabrics website for the Stitch and Flip Method. I cut my strips into assorted sizes and did a quick drier fluff to eliminate "Cuddle crumbs." I did a light spray of 505 on the wrong side of the gripper fabric and layered it onto foam fabric. I started with 9" strip for the center, measured and marked the center of the foam, sprayed a bit of 505 on the foam and stuck it down centered.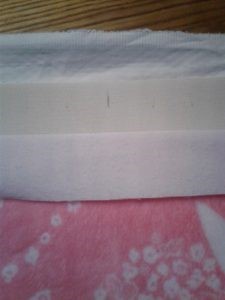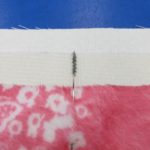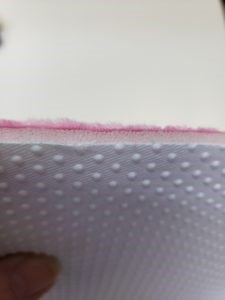 In her book, Judy also marks, but starts at one edge and follows across the piece. I worked from the center out, layering right sides together, protecting the underneath strip with wax paper before a dash of 505 spray. The last strips on the end are also sprayed, to make it easier to square up the finished rectangle.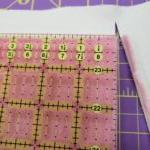 I used the rotary cutter and ruler to do the squaring up trimming. I did a quick baste around the edges. There is also a great tutorial on binding on the Shannon Fabrics website and in Judy's book. The binding strips are cut narrower than traditional strips because Cuddle® isn't folded in half — I find 1 3/4" works great. Because of the extra bit of thickness and the slightly rubbery backing, I found Wonder Clips® were perfect for holding the binding in place without the use of pins.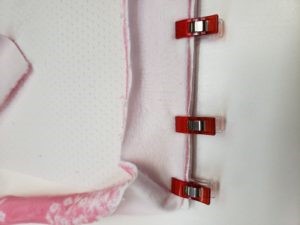 In this case, I sewed the binding onto the front and turned it towards the back. Just like in a regular quilt, I trimmed the corner points off. I loved the 8" Famore Pro Cut serrated scissors. The serration makes it easy to trim straight across without slipping and gets through all the layers of Cuddle, foam, and grippy backing. My thumbs appreciated the soft hand grips.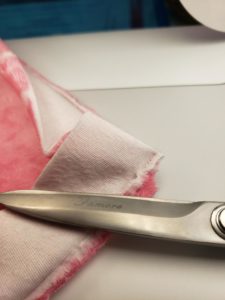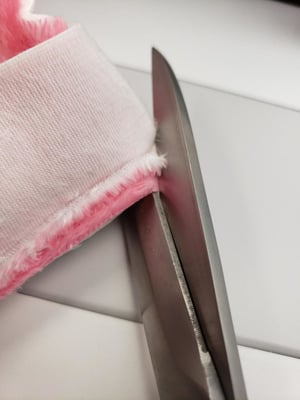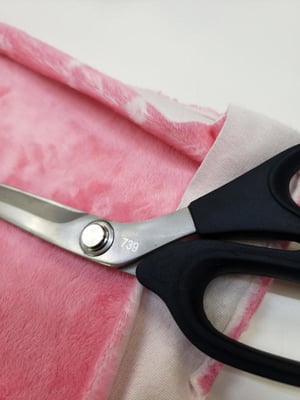 I finished with a topstitch in the ditch on the front.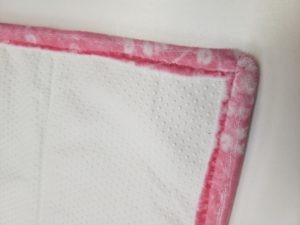 For the finale- presenting a Cuddle®, non-slip bedside rug with color and style, perfect for a little girls' bedroom!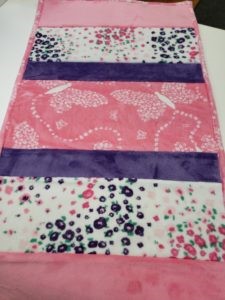 Adorable on a wood floor: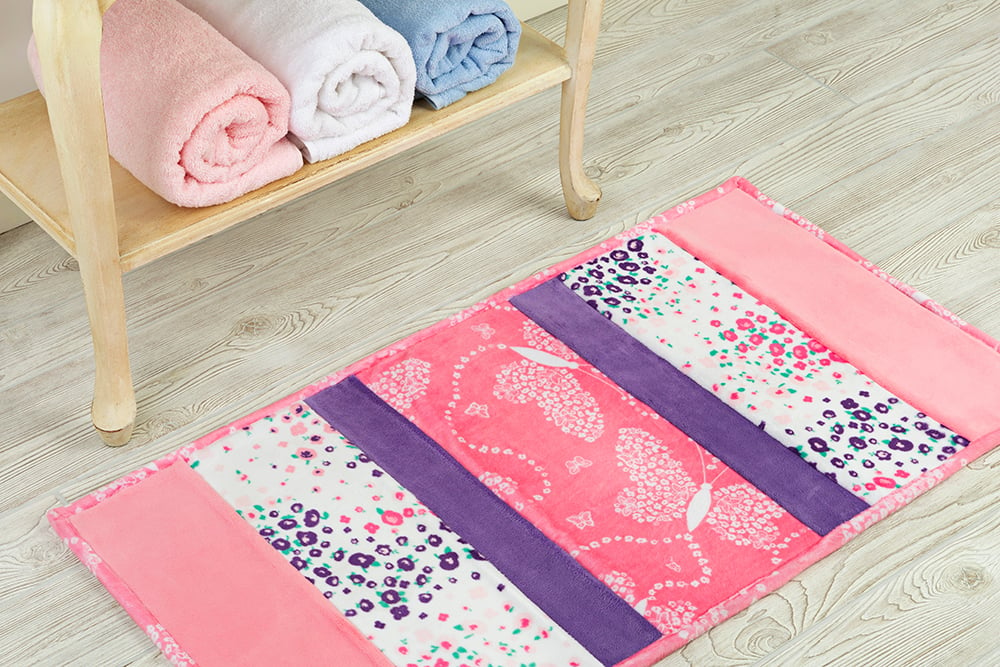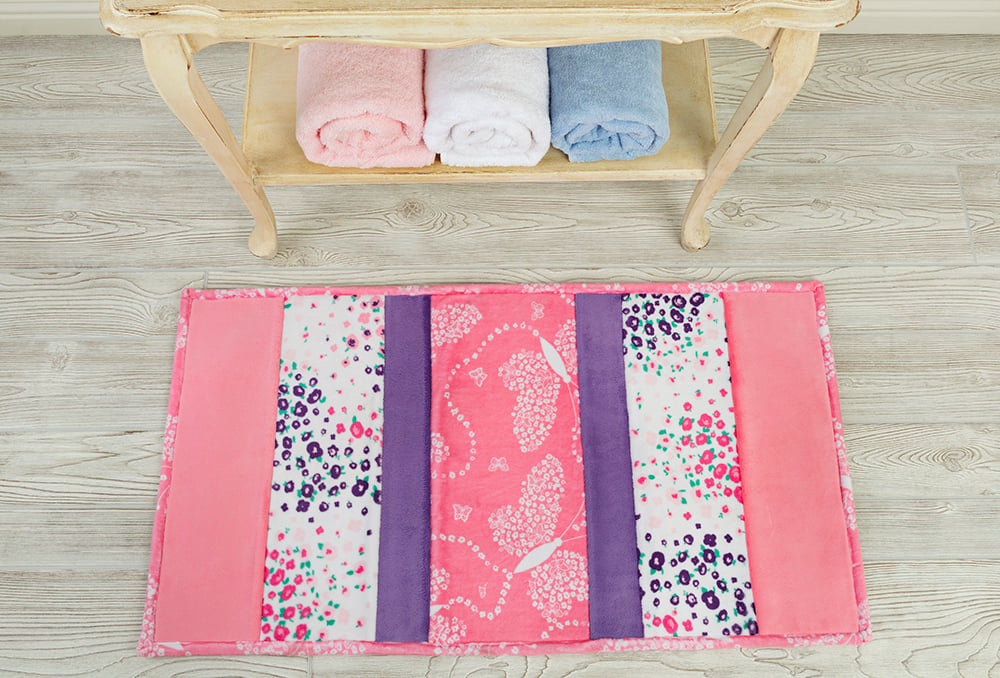 Remember Shannon Fabrics is your #1 source for all things Cuddle® — free patterns, instructions, demo videos, educators and more! I am available, along with the other trained educators, to visit a quilt or sewing shop near you. Contact Shannon Fabrics or teresa@shannonfabrics.com for more information on the education program. Follow me on Facebook or Instagram. If you make something from this book, tag #SewCuddlySewAlong.
Ask for Shannon Fabrics at your favorite quilt shop and visit their Store Locator. Ask for Sew Cuddly at your favorite quilt shop or buy it from Judy's shop, Bungalow Quilting.
Stay up to date! Subscribe to the Shannon Fabrics newsletter and follow their blog!
Be sure to check out the entire blog hop schedule below:
Intro/ Interview: Emilee Masson with Judy Gauthier
February 11- Hatchlings: Emilee Masson
February 15- Hatchlings: April Blazevic Woodside
February 18- Animals Hats: Naomi Williams Stewart
February 22- Animals Hats- Cat Hats: Pat Burke
February 25- Reading Pillow: Alice Borge
March 1- Reading Pillow: Karen Fuchs
March 4- Reading Pillow and throw pillow: Rachel Elkinson Ring
March 8- Reading Pillow: Barbara Crom
March 11- Poncho: Susan Hastings
March 18- Bath Mat: Linda Lingner (YOU ARE HERE)
March 22- Bath Mat: Bobbie Norby
March 25- Sleep Sack: Emilee Masson
March 29- Sleep Sack: April Blazevic Woodside
April 1- Colorful Floor Pillow: Teresa Coates
April 5- Colorful Floor Pillow: Pamela O'Neill