Hello Cuddle® fans! It's Emilee again, and I'm back with lucky post No. 13 as we head down the home stretch of our Sew Cuddly sew along featuring the projects from Judy Gauthier's book Sew Cuddly — 12 Plush Minky Projects for Fun & Fashion — Tips & Techniques to Conquer Cuddle®. Today I will be showing off the sleep sack!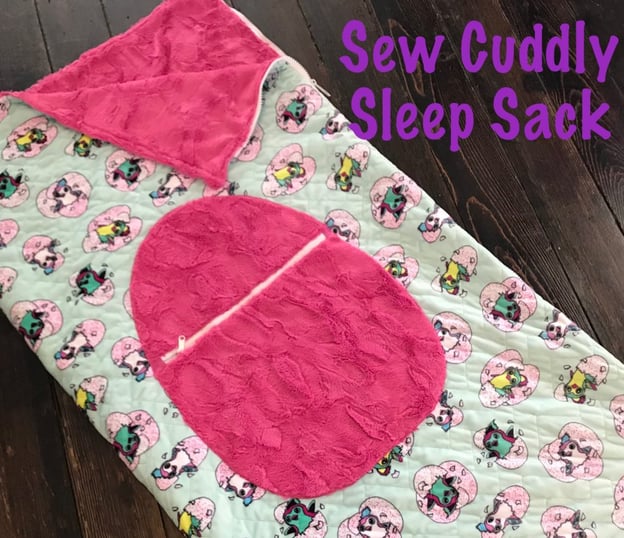 I hope you are enjoying the Sew Cuddly sew along as much as I am. There is still time to jump in and join us! It's so much fun to see all of the projects the Shannon Ambassadors are creating — what a talented group!
Today, I'm showing off my sleep sack made with Hatchimal™ prints and Luxe Cuddle®! This is one of my favorite projects in the book, but I have to admit that the idea of making a sleeping bag did intimidate me. I was so surprised how quickly, easily and professionally it came together! I'm going to give you a couple tips and then skip to my favorite part of any project — picking out the fabric! This sleep sack is perfect for customizing, so I want to give you a few more ideas!
To create this project as I did, you will need:
Sew Cuddly book by Judy Gauthier
2.5 yards Luxe Cuddle® Hide in Carnation (½ yard is used for the pocket)
Sewing machine with a walking foot
Schmetz Size 90 Jersey or Stretch Needle
So Fine! Polyester Thread by Superior Threads
Flowerhead pins — LOTS of them!
24-inch handbag zipper with teeth that can be cut and sewn over
Retailers — interested in kitting or creating a shop sample? Comment below and we can provide that information!
The Hatchimal™ fabric was an easy choice — I've been looking for a reason to create something for my daughter using this fabric. Like most kids, she LOVES Hatchimals! I thought it would be fun and easy to add an egg-shaped pocket to the front. I followed the pattern for the most part, but with a few exceptions: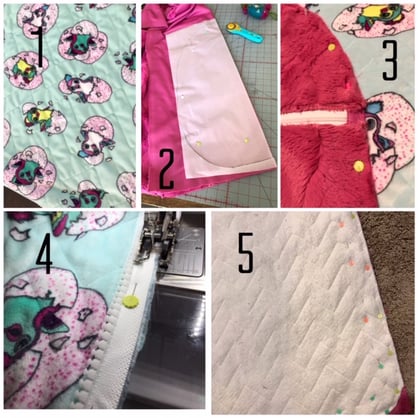 My husband quilted the Hatchimal Cuddle® to the batting first. Next, I trimmed it up and added the pocket.
I used freezer paper to draw an egg and then my rotary cutter to cut it out of the Luxe Cuddle®.
I used zipper tabs on my pocket for a clean and SUPER easy finish. Also, use a handbag zipper or a zipper with a wide zipper tape — this makes it easier to keep the "fluff" out of the zipper teeth.
I pinned and basted my zipper to the main fabric prior to layering it with the lining fabric to prevent slipping.
I pinned my main fabric to the lining along the zipper tape and did another row of pins on the other side of the zipper tape to hold it in place.
I topstitched around the entire bag to keep the lining out of the path of the zipper.
I'm so happy with how with project turned out. It's a great sleeping bag! Not only is it much cuter and better quality than many of the kids' sleeping bags on the market, it can also be used as a blanket because of the separating zipper.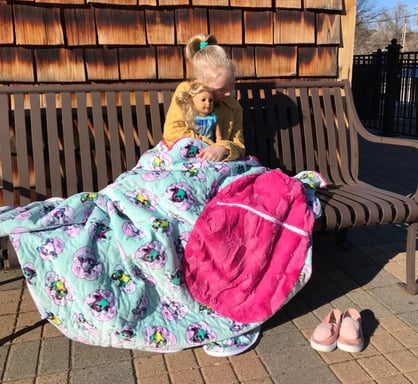 The whole time I was working on this sleep sack, I was thinking about all of the cute fabric combinations I could use on the next one. I got out my samples (perk of being a fabric rep for Shannon Fabrics) and planned a few more!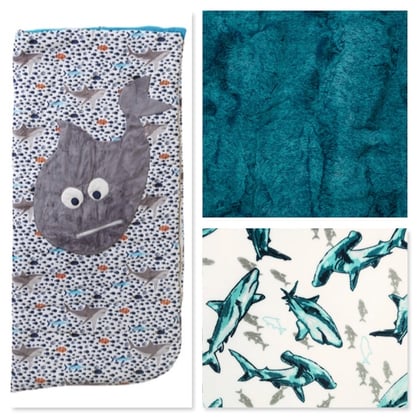 In Sew Cuddly, Judy provides a great applique of a shark — I love the way the teeth of the zipper are the teeth of the shark! The new Fintastic print would be so great to feature as the main fabric. I love the colors in this print and that the sharks are more realistic. I paired it with the Luxe Cuddle Heather in Lagoon.
The other print that came to mind right away was the super cute Kritterkamp in Honeydew. It looks great paired with Evergreen in Luxe Hide. I think a tent shaped pocket with the zipper running vertically would be a great design element!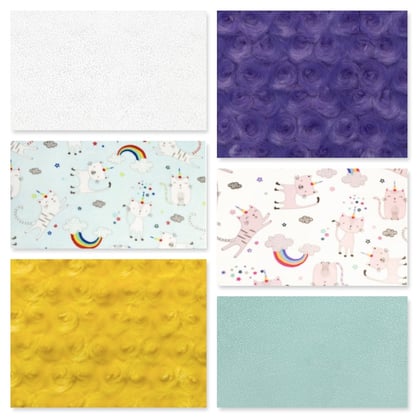 Next, I wanted to show off the two new Caticorn prints! These whimsical kitties feature rainbows and unicorn horns! I love both colorways paired with Luxe Rose Cuddle® . I really like the Blush Caticorns with Violet Tulip or Breeze Rose Cuddle®. For the Aqua colorway of Caticorn, I like it paired with Red or Canary Rose Cuddle. There are so many great colors to pick from, and adding a cloud-shaped pocket in the new Sparkle Cuddle® would really take the cute factor over the top!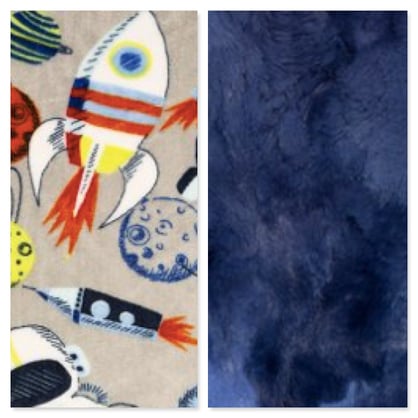 The last print I want to feature is the Space Cadet in Steel. I love this print paired with Luxe Cuddle® Galaxy in Sapphire. Galaxy is one of my favorite in Luxe Cuddle. The tie-dye look of the fabric helps it blend and look great with a variety of prints and colors. For a pocket, a simple spaceship or a planet (out of Galaxy Luxe Cuddle®) would look out of this world!
Thank you for reading and planning along! Camping season is right around the corner and this is the perfect pattern to create a custom sleep sack for the littles in your life! Which combination would you choose?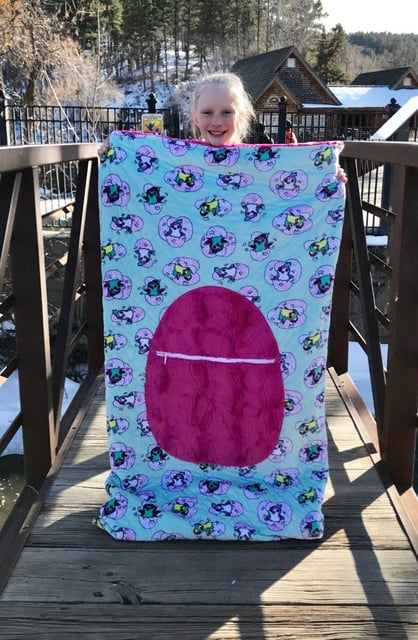 If you make something from this book be sure to tag #SewCuddlySewAlong. To see other projects I have made, please follow me on Instagram here.
Ask for Shannon Fabrics Sweet Strips and Sew Cuddly at your favorite quilt shop! Shannon Fabrics can be found at all of these shops, and to purchase the book from the author, visit her shop Bungalow Quilting.
Happy Cuddling!
Emilee Masson
Stay up to date! Subscribe to the Shannon Fabrics newsletter and follow their blog!
Be sure to check out the entire blog hop schedule below:
Intro/ Interview: Emilee Masson with Judy Gauthier
February 11- Hatchlings: Emilee Masson
February 15- Hatchlings: April Blazevic Woodside
February 18- Animals Hats: Naomi Williams Stewart
February 22- Animals Hats– Cat Hats: Pat Burke
February 25- Reading Pillow: Alice Borge
March 1- Reading Pillow: Karen Fuchs
March 4- Reading Pillow and throw pillow: Rachel Elkinson Ring
March 8- Reading Pillow: Barbara Crom
March 11- Poncho: Susan Hastings
March 18- Bath Mat: Linda Lingner
March 22- Bath Mat: Bobbie Norby
March 25- Sleep Sack: Emilee Masson (YOU ARE HERE)
March 29- Sleep Sack: April Blazevic Woodside
April 1- Colorful Floor Pillow: Teresa Coates
April 5- Colorful Floor Pillow: Pamela O'Neill