Hi! My name is April and I am a Brand Ambassador for Shannon Fabrics down in sunny Florida! My fellow ambassador, Judy Gauthier, has written a book filled with lots of great projects suited for the softest fabric on the planet! Ask for Sew Cuddly at your favorite quilt shop or buy it from Judy's shop, Bungalow Quilting.
For today's sew along, I picked the sleep sack to see if I could really make a sleeping bag myself. It turns out that with this pattern, not only is it possible, but it's easy! Now my kids each want one!
Fabrics:
Supplies:
Sew Cuddly book by Judy Gauthier
Supplies listed in the pattern
Sewing machine with a walking foot
Schmetz Size 90 Jersey or Stretch Needle
Polyester Thread
A special thanks to the companies listed above for providing these supplies — the right tools make the project easy and successful!
Let's Sew!
For my fabric, I chose Shannon Fabric's new Hoffman Ocean Digital Cuddle®. This fantastic new digital print features a coral reef scene — what's more appropriate for a Florida sleeping bag than a tropical scene? Not only is it soft, but it's fun to look at. My kids kept finding new fish and sea creatures hiding throughout the print. For the interior, I used a Luxe Cuddle® Hide in Breeze.
I
decided to modify the pattern a bit, eliminating the applique pajama pocket and
letting the beautiful fabric stand on its own. I started by quilting the ocean
fabric to the high-loft batting, as it says in the directions. Since I was
quilting the layers together on my sewing machine, I decided to quilt at the
max spacing specified by the Dream Puff — 10 inches apart instead of the 6
inches recommended in the pattern. I used a traditional sleeping bag horizontal
block pattern, but made my stitches serpentine (width of 3.5 and a length of
4.0, reducing the tension to 3.8) across the bag to blend with the ocean
currents. A walking foot is essential when working with Cuddle® and high-loft
batting!
Like Judy says, begin with the center line, then move outwards toward one end. I used the print to determine where the first line would fall, and had to bring out the big construction tools (haha!).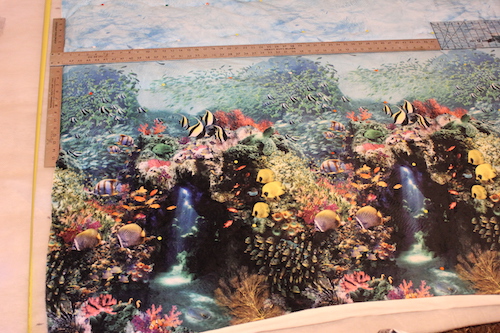 Be sure to pin on both sides of the line you will be quilting to keep the Cuddle® from shifting. It also helps to keep your fabric lined up when moving all that bulk through the machine. Keep smoothing and flattening as you quilt. I used jumbo Wonder Clips to secure the rolled-up fabric and keep it manageable while getting it through the machine.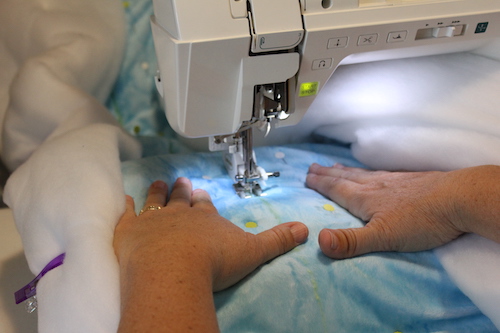 After the top is quilted to the batting, square up the edges. The Famore batting shears worked well to trim up the layers. Then, lay the interior fabric on top of the quilted pieces, and get ready to trim the edges to match. Smooth and pin the layers together to get the nap set and the fabric in place before trimming the edges. Your edges are ready for the zipper. It's a little extra work to pin the layers before cutting, but on a cut of Cuddle® this size, a lot can shift.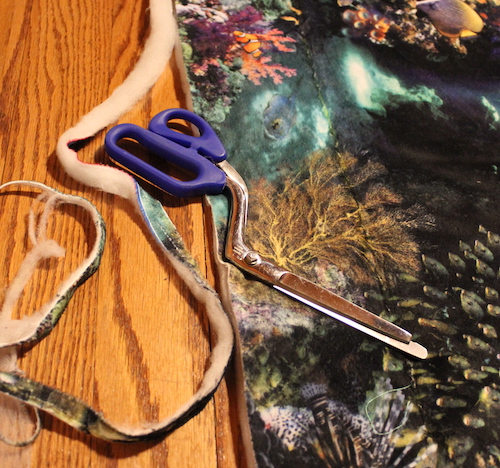 To insert the zipper, I have a couple extra suggestions to help things along. Like the instructions say, the zipper is laid starting along the center bottom edge of the fabric with the teeth facing in towards the center. Also, lay the front of the zipper so its right side faces the quilted fabric's right side. At the bottom center mark, make sure to leave at least a 0.5- to 1-inch space between the two ends of the zipper so you will have that extra play to get the zipper back together when finished. If you have an 84-inch zipper, your zipper will end as you get towards the top of the bag's side. Just keep pinning that side together. If you have a longer zipper, or are using zipper tape, you'll have to make a zipper stop. I put the stop in about 5 inches below the top edge using a scrap of Cuddle® left over from trimming the sides. Judy has a nice set of directions for a zipper end on page 13 of her book if you're making one from scratch.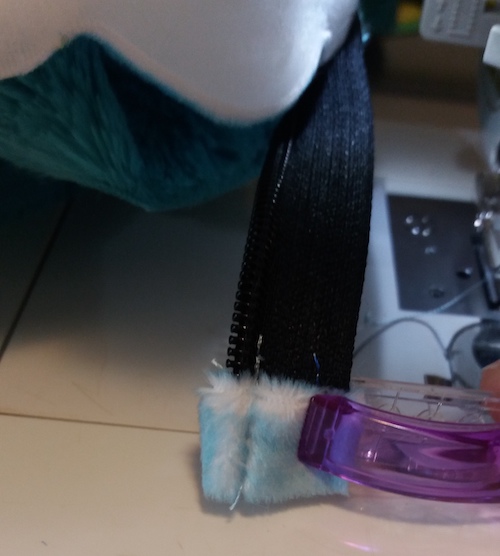 Even
if you have never put a zipper in, this is an easy project. I didn't choose to
hand baste the zipper in first, but rather pinned all the layers together at
one time. If you do this, be warned you are going to pin, pin, then pin some
more. Besides setting your pins close together while pinning in the zipper with
the layers of Cuddle® and batting, also put in a second line of pins about 2 to
3 inches in from the edge to keep the layers of Cuddle® from slipping. Due to
the thick nap on the Cuddle®, and the really
thick nap on the Luxe Cuddle®, the fabric will shift if you don't secure it. Pin
away!
This project will give you instant gratification once that zipper is in, as you turn it inside out and zip it up. Your kids will love it, and they'll be so warm! The Cuddle® is warm and toasty, and the Dream Puff batting says it's warmer than down — get ready to sweat.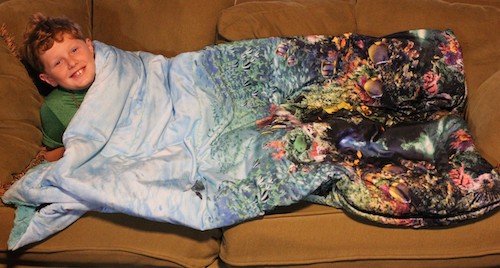 Parting
Thoughts
Should you want to make this adult-sized, it
would be easy enough to sew on an extra band of fabric along the top edge
before you quilt — I'd say another 12 to 14 inches. I also started with two yards
of fabric (instead of the 1 ¾ yard in the pattern), so it's plenty wide for an
adult. Adults would love the luxury of settling down with a Luxe Cuddle® sleeping bag as well!
To see other fun Cuddle® and Embrace® projects I've made, follow me on Instagram, here. If you make something from this book, be sure to share it with the tag #SewCuddlySewAlong on social media. We'd love to see what you make!
Happy Sewing!
April Woodside

Shannon Fabrics Brand Ambassador

Florida
You may have met me at the SDTA/VDTA trade show last year, but if not, I'm ready to come to your favorite quilt shop to show you a trick or two about Shannon Fabrics! For more information on the Shannon Fabrics Education Program and Brand Ambassadors, please click here or contact teresa@shannonfabrics.com.
Ask for Shannon Fabrics Cuddle® and Sew Cuddly at your favorite quilt shop! Shannon Fabrics can be found at these shops. To purchase the book from the author, visit her shop Bungalow Quilting.
Hoffman California Fabrics has been producing innovative screenprints and authentic, made-in-Bali batiks and hand-dyes since 1924. Visit their website here, or follow them on social media, here.
Stay up to date! Subscribe to the Shannon Fabrics newsletter and follow their blog!
Be sure to check out the entire blog hop schedule below:
Intro/Interview: Emilee Masson with Judy Gauthier
February 11- Hatchlings: Emilee Masson
February 15- Hatchlings: April Blazevic Woodside
February 18- Animals Hats: Naomi Williams Stewart
February 22- Animals Hats– Cat Hats: Pat Burke
February 25- Reading Pillow: Alice Borge
March 1- Reading Pillow: Karen Fuchs
March 4- Reading Pillow and throw pillow: Rachel Elkinson Ring
March 8- Reading Pillow: Barbara Crom
March 11- Poncho: Susan Hastings
March 18- Bath Mat: Linda Lingner
March 22- Bath Mat: Bobbie Norby
March 25- Sleep Sack: Emilee Masson
March 29- Sleep Sack: April Blazevic Woodside (YOU ARE HERE)
April 1- Colorful Floor Pillow: Teresa Coates
April 5- Colorful Floor Pillow: Pamela O'Neill