Today is the fifteenth project in our blog series featuring Sew Cuddly- 12 Plush Minky Projects for Fun & Fashion - Tips & Techniques to Conquer Cuddle®, by Judy Gauthier, published by C & T Publishing!
This fun blog series features projects created with Cuddle® fabric by Shannon Fabrics Ambassadors using ideas from the book. Today we are excited to feature our Shannon Fabrics National Educator who has taught events at dozens of stores and shows, Teresa Coates. For more information on the Shannon Fabrics Education Program and Brand Ambassadors, please click here and/or contact teresa@shannonfabrics.com.
Hi! I'm Teresa and I'm the National Educator for Shannon Fabrics. One of our brand ambassadors, Judy Gauthier, has written a book entitled, Sew Cuddly. The book is full of great projects and I wanted to make the floor pillow project, but then I got some assignments to teach in the Midwest (waving hello from Illinois!), so my pillow didn't get finished before I left California almost two weeks ago. I'll make sure to share my finished project when I get back to the studio later in April, but today I want to share some of the tools and tips I use when working with Cuddle® fabrics.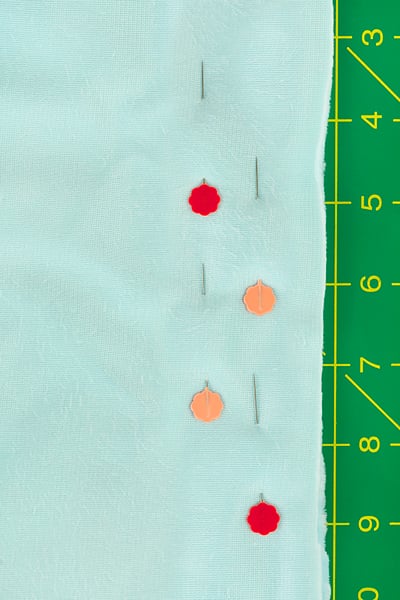 To create any of these great Cuddle® projects, you will need:



Barcelona Cuddle® Violeta




Ibiza Cuddle® Violeta




Madrid Cuddle® Violeta




Paisley Vine Embossed Cuddle® Violet




Solid Cuddle® 3 Violet




Valencia Cuddle® Violeta
When working with any of these projects, I have a few tips that can really help out. I'm using Cuddle® with a shorter nap for my project, so I will cut it with the rotary cutter. First, I'll trace the pattern onto the fabric, then cut along the lines. This makes it easier because Cuddle® tends to want to shift a little when I'm cutting, so if I've got the lines drawn first I can make sure to keep it straight and even.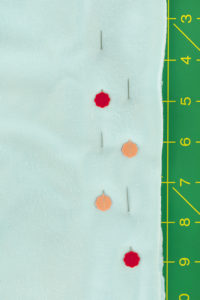 Once I have my pieces cut, it's easiest to hold them together with the double-pinning that I use for Cuddle® strip quilts. With this project, since I'm not using a very thick Cuddle®, I can use Wonder Clips along the edge instead of a first row of pins, but then add in the second row.
I always recommend that you use a walking foot, too, no matter what length of Cuddle® or Luxe Cuddle® you are using. It makes it sew so much easier, even if you already have a dual feed system.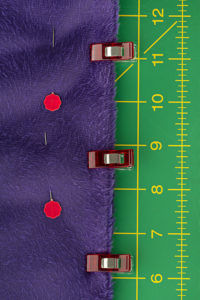 I use a 90/14 stretch
needle and polyester thread to sew my seams. The second row of pins will stay
in place while I sew and hold the fabric really well for me — it barely shifts
as I sew.
When I'm finished
sewing, I'll always go back over my seams with the stiletto to bring the fibers
back up. The longer the nap, the more important this step is to making it
look finished.
I can't wait to get to my studio and finish up my floor pillow project! Sewing with Cuddle® is easy when you have the right tools and techniques — I hope these tips help you sew your own Cuddle® projects! If you make something from this book be sure to tag #SewCuddlySewAlong. Follow me on Instagram and Facebook and check out my blog, here.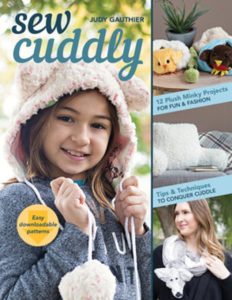 You can find out where I'm teaching next by liking our Facebook page and checking out the events. I'll be heading to Ohio, Kentucky, Florida, Michigan, Missouri and more this year — I hope to see you at a class or show along the way!
Ask for Shannon Fabrics and Sew Cuddly at your favorite quilt shop! Use our store locator to find Shannon Fabrics at a shop near you. To purchase the book from the author, visit her shop Bungalow Quilting.
Stay up to date! Subscribe to the Shannon Fabrics newsletter and follow their blog!
Happy stitching and happy reading!
This is the fifteenth post of our series, and don't forget to check out our previous posts (see links below) for more fun projects.
Intro/Interview: Emilee Masson with Judy Gauthier
February 11- Hatchlings: Emilee Masson
February 15- Hatchlings: April Blazevic Woodside
February 18- Animals Hats: Naomi Williams Stewart
February 22- Animals Hats– Cat Hats: Pat Burke
February 25- Reading Pillow: Alice Borge
March 1- Reading Pillow: Karen Fuchs
March 4- Reading Pillow and throw pillow: Rachel Elkinson Ring
March 8- Reading Pillow: Barbara Crom
March 11- Poncho: Susan Hastings
March 18- Bath Mat: Linda Lingner
March 22- Bath Mat: Bobbie Norby
March 25- Sleep Sack: Emilee Masson
March 29- Sleep Sack: April Blazevic Woodside
April 1- Colorful Floor Pillow: Teresa Coates (YOU ARE HERE)
April 5- Colorful Floor Pillow: Pamela O'Neill