Hello! My name is Donna and I am a Brand Ambassador for Shannon Fabrics. Today, I'm sharing this cute Ellie Elephant pattern from Funky Friends Factory. The idea behind making this stuffed animal was to make a gift to give to an older sibling when giving a newborn baby a baby blanket. It's a fun way to include the sibling in welcoming the new baby!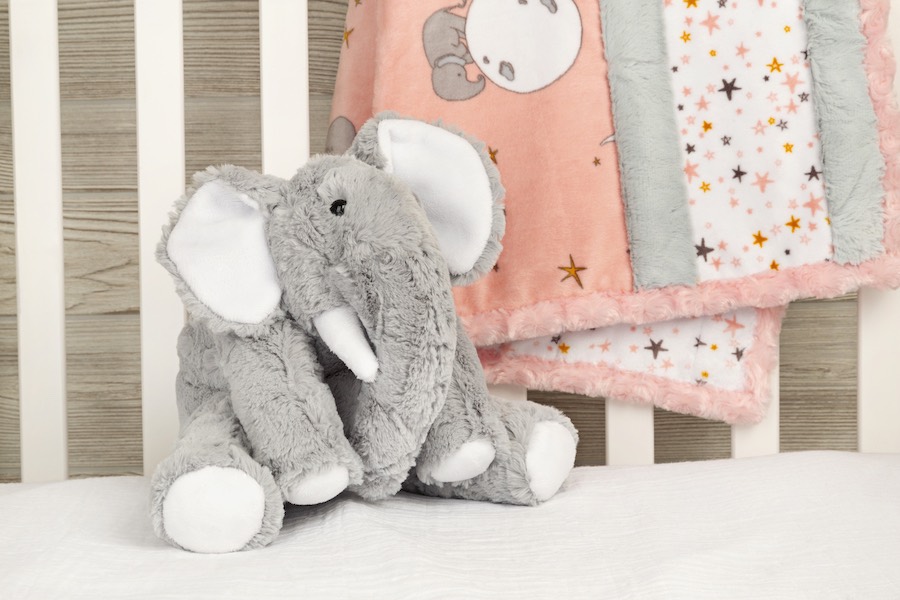 I wanted the stuffed elephant to coordinate with the baby blanket, so I decided to use the Wee One Moonwalk Cuddle® kit (I would use "shell" for a girl).
READ MORE:7 Must-Try Minky Fabric Sewing Tips
I think the elephant stuffed animal coordinates so well with the elephant motif on the feature fabric (Sweet Melody Designs Dream Big Cuddle® Blush) in the blanket. My friend and fellow ambassador, Mary Stevens, sewed the blanket (you can read about it here: A Great Baby Quilting Gift – Easy Cuddle® Minky Baby Blanket).
Funky Friends Factory patterns
These patterns from Funky Friends Factory are super adorable and look amazing when made with Cuddle® and Luxe Cuddle® fabric from Shannon Fabrics. I have made a cat, a flamingo and a fox using these fabrics, and they look fabulous!
I especially love the Ellie Elephant pattern. The best part is the seams are hidden in the fluff, so it's not a big deal if you don't get the seams perfect.
READ MORE: What is Minky Fabric? (Material, Textures, & Projects)
You will find a link in the pattern instructions to a photo tutorial for each pattern. It's an excellent resource if you are new to sewing animals, and the pictures make the instructions easier to understand.
A few tips when making the animals
I like to copy the pattern pieces onto cardstock using my home printer. I cut out the cardstock pattern pieces, and trace them on the back of the fabric with a permanent marker or ball point pen.
When you are cutting Luxe Cuddle®, cut one layer at a time slowly along the pattern lines, using sharp scissors or an Olfa art knife from the back of the fur. Make sure you only cut through the backing, as this minimizes the fluff that is cut in the process.
Once you have cut out all of the pattern pieces, don't forget to minimize the "Cuddle® dust." Simply put the Cuddle® pattern pieces and the leftover scraps in the dryer with a damp washcloth and tumble dry using low heat for 10 minutes.
For more tips on sewing with Cuddle® and Luxe Cuddle®, check out these FREE downloadable tip sheets: Cuddle® 101: Tips for Sewing with Cuddle® and General Tips for Sewing with Luxe Cuddle®.
Below I have listed some notions that I used to make the animals — the right tools make the difference!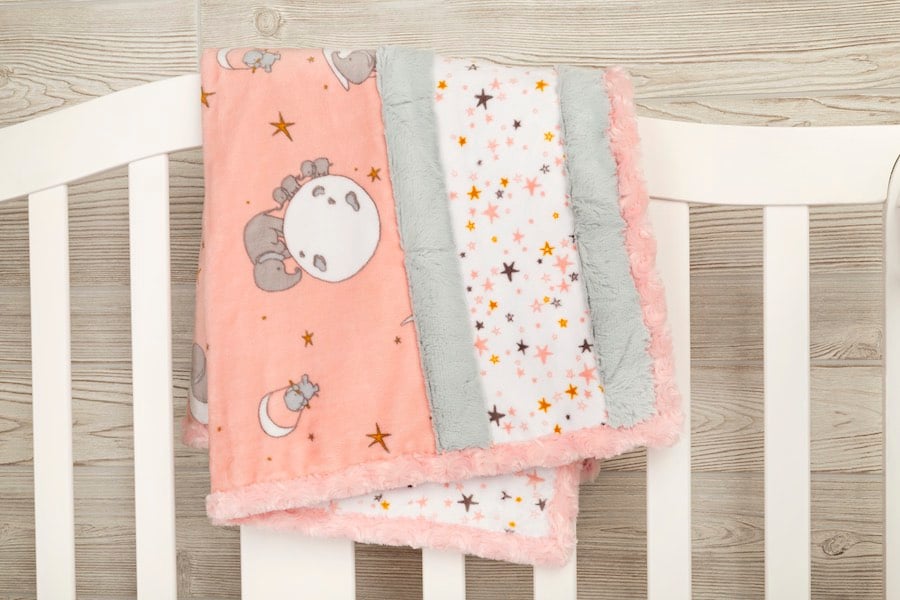 Sewing notions and tools used
Needles: Schmetz Needles Chrome 90/14 stretch needle
Thread: Superior Threads in coordinating colors; I used Superior Threads So Fine #50 401 (white) and 408 (light gray).
Fiber Fill: Fairfield Poly-Fil®
Pins: Yellow flat head flower pins (Dritz)
Quilt clips: Wonder Clips from Clover
Cutting: Olfa Stainless Steel Snap-Off Art Knife
Other: That Purple Thang to tuck fabric fibers in the seam before stitching
More Sewing Tips
Stitch length: 3.0
Machine foot: Use a ¼ inch foot
Cuddle® minky fabrics used
Wrapping it all up
I had so much fun making this sweet elephant — I hope you enjoy making Ellie the Elephant from Funky Friends Factory as much as I did! Let me know in the comments what you think.
You can find Shannon Fabrics kits and fabrics at independent quilt shops and fabric stores, or check our Store Locator to find online shops and shops near you.
Stay in the know! Subscribe to our newsletter and follow our blog. Connect on social media: Facebook, Instagram, Pinterest, Twitter, and YouTube.