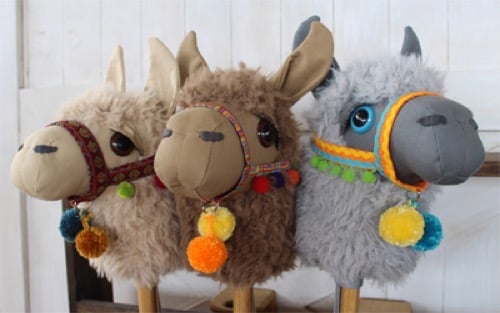 From die-cast trucks and model airplanes to boardgames and dolls, many of us had a favorite childhood toy growing up. We often keep pieces that are especially close to our hearts, passing them down for our kids (who, in-turn, pass them down the line) to enjoy and create memories with. This tactile, analog feeling only comes from products that are well-made and built to last using high-quality materials and robust construction — something lacking in many mass-produced toys on the market today.
The Rustic Horseshoe is an Arizona-based company that's reconnecting with these handmade roots of yester-year. Rena, the founder of The Rustic Horseshoe, creates sewing patterns that feature a timeless design that, despite looking complex, are relatively easy to make. The result is an irresistible, can't-keep-your-hands-off doll, plush toy or wall decor that will stand the test of time.
No matter if you're an expert sewist or someone who's learning the ropes, Rena's patterns are accompanied by tutorials with step-by-step instructions and photos to make sewing as easy as possible (she's done all the testing and trial-and-error herself).
Here at Shannon Fabrics, we're especially a fan of her Ride-On Hobby Horse Toys and adorable stuffed animals, from classic horse designs, to fun alpacas, camels, cows, and more. Many of The Rustic Horseshoe patterns pair nicely with Shannon Fabrics fabrics, and our Cuddle® and Luxe Cuddle® minky plush fabrics, as well as our faux furs have been used in most of Rena's samples. We've also used our favorite premium fill, Poly-Fil® from Fairfield, while sewing.
"You really have to touch and feel these, they're so cute and beyond adorable — they make you smile just looking at them," said Ellen Mickelson, Marketing Manager at Shannon Fabrics. "We featured some in our booth at 2019 Fall Quilt Market and they were the talk of the show".
Click through the slideshow below to see some of our favorite collaborations with The Rustic Horseshoe.
Stick/Hobby Horse Toy and Plush Toy Sewing Patterns
For more information on The Rustic Horseshoe, be sure to check out their website, or head over to their Etsy shop. You can find Shannon Fabrics at independent quilt shops and fabric stores, or view our Store Locator to find online shops and shops near you.
Stay in the know! Join our mailing list. Subscribe to our blog. Connect with us on social media: Facebook, Instagram, Pinterest, Twitter, and YouTube.