We'd like to congratulate All People Quilt on reaching the halfway point of the One Million Pillowcase Challenge. To help celebrate, we are participating in their exciting blog hop. The blog hop showcases the winning pillowcase pattern selected from the APQ Pinterest Voting Contest. For more about the contest, see below.
Here is the pillowcase we made from the winning pattern: Pillowcase Pattern #32 – Train Pillowcase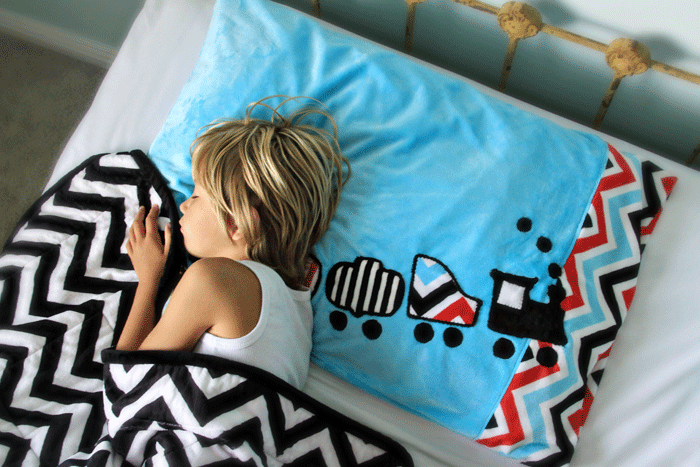 The pillowcase was made using Chevrons & ZigZags from our Cuddle Prints Collection, mixed with a few solids and other prints. For the body, we used Cuddle 3 Turquoise from our Kozy Cuddle Solids Collection. For the border, we used ZigZag - Turquoise/Red/Black. And, for the train cars we used a combination of solids, prints, and more of the same ZigZag that was used in the border.
To view more about the winning pattern, Pillowcase Pattern #32 – Train Pillowcase (from 2nd quarter 2013) click here. To download the pattern, click here.
And, just for fun, this is an image of our train pillowcase that we originally made for the challenge. To find out more, please view our post here on this pillowcase and the challenge reaching its halfway mark.

Here is the background for this exciting blog hop. APQ had a Pinterest Pillowcase voting contest in July. They choose their 20 favorite pillowcase patterns from the One Million Pillowcase Challenge and made a Pinterest board. Starting July 1, they had readers vote for their favorites by repinning the pattern they liked to their own boards. Click here to see the Pinterest board. At the end of July, the pattern with the most repins was declared the winner. That pattern is featured in the blog hop!
For more information about the One Million Pillowcase Challenge click here.
We will be donating our pillowcase to a local charity for children in Utah. Won't you help by making and donating some pillowcases?
Cuddle Hugs,
Ellen