Not even another socially-distanced fall season could stop us from spreading some smiles and holiday cheer this Thanksgiving!
Based on the overwhelming need from our nonprofit recipients, Shannon Fabrics and our nonprofit Making The World A Softer Place®, were determined to provide our hand-packed Thanksgiving meal bags to food-insecure families again this year.
Our customers, partners and grocery suppliers answered our call, and despite supply chain issues and food shortages, we were able to exceed last year's amount that was donated! We were also able to donate funds to nonprofits in Salt Lake City to help them serve hot meals and restock their food stores!
Making The World A Softer Place® is a 100% volunteer-based (501c)(3) nonprofit and all of the proceeds went towards our cause! All donations are tax deductible, too.
Los Angeles
We provided over 1,000 food bags to the same (501c)(3) nonprofits throughout the greater Los Angeles area as we have the past couple years, and we were even able to add another nonprofit with the help of individual donations from our customers their customers.
This year our recipients included:
Each blue "Making The World A Softer Place®" tote bag included the ingredients for a complete meal for a family of six (green beans, corn, cranberry sauce, turkey gravy, instant mashed potatoes, cake mix and frosting), as well as a gift card for a turkey from our new grocery partner, Grocery Outlet.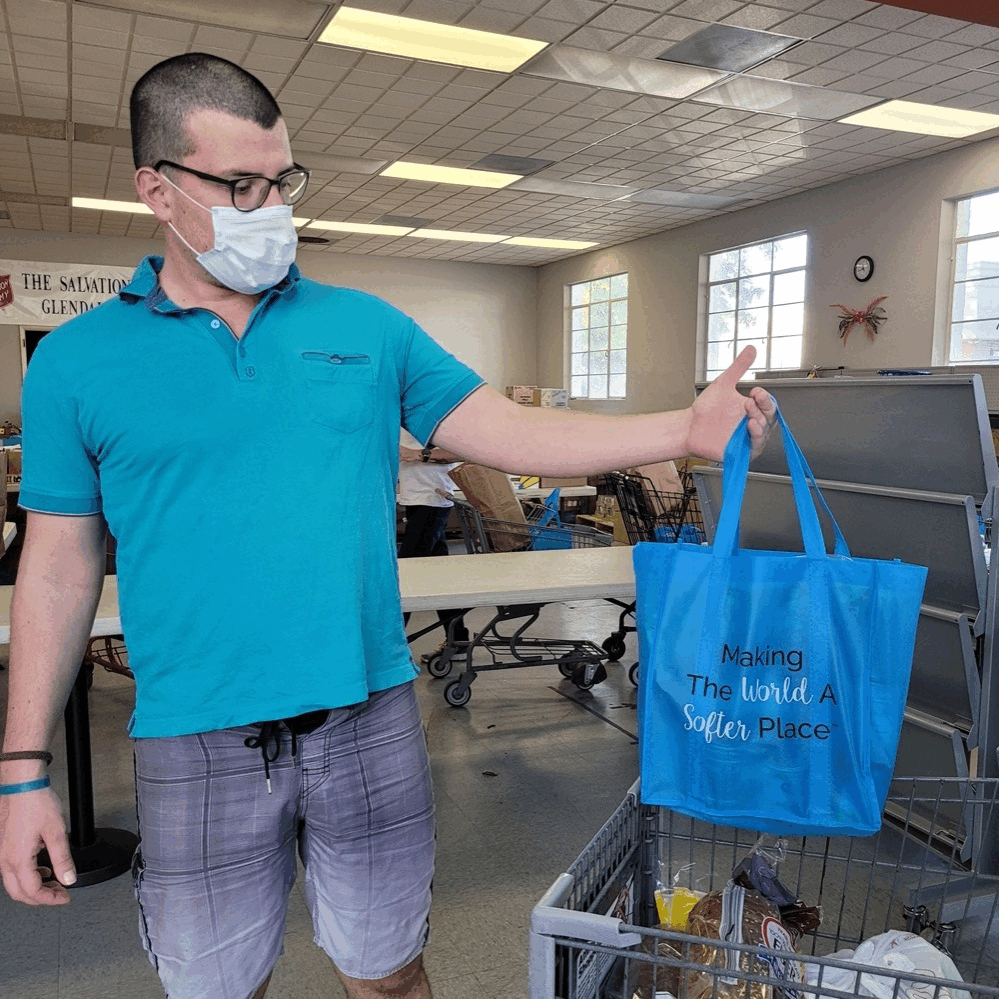 Salt Lake City
Combined with the generous matched donations from Nuttall's Sewing Centers and Sew Sweet Minky Designs, we were also able to raise over $50,000 for the Salt Lake City Mission and the Rescue Mission of Salt Lake.
These funds helped replenish food stores, as well as provided thousands of hot meals in the Salt Lake City area.
Get Involved
Our yearly Thanksgiving initiative is only successful due to support from our customers.
Our nonprofit, Making The World A Softer Place®, uses a three-step approach to support individuals and communities in need, and we provide individuals nationwide with resources to propel themselves towards wellness, growth, and independence.
Click here to visit our website, and stay up-to-date on our initiatives, including food drives, events and volunteer opportunities.