We've made it to post 9 of our Sew Cuddly blog hop, featuring projects made from the book Sew Cuddly! Today's post is by Shannon Fabrics Brand Ambassador Barbara Crom. Barbara is sharing a lovely reading pillow she made in plush Luxe Cuddle Rose Lavender®.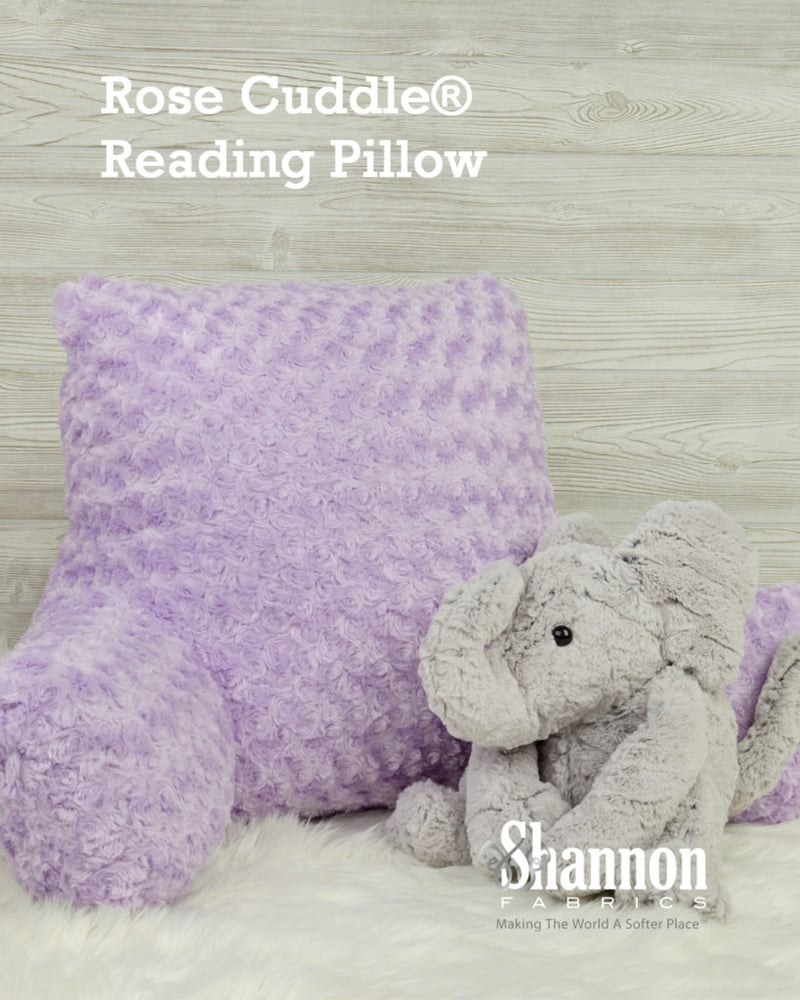 Hi! My name is Barbara Crom and I'm a third generation quilter and Shannon Fabrics Ambassador based in Colorado. Teaching is my passion and I've taught events at Rocky Mountain Sewing & Vacuum and Colorado Fabrics.
I made the Reading Pillow because I've always wanted one for reading in bed, but never thought to actually buy one! I also have 2 grandsons and they love to visit. I'm looking forward to using this pillow to read to them at story time.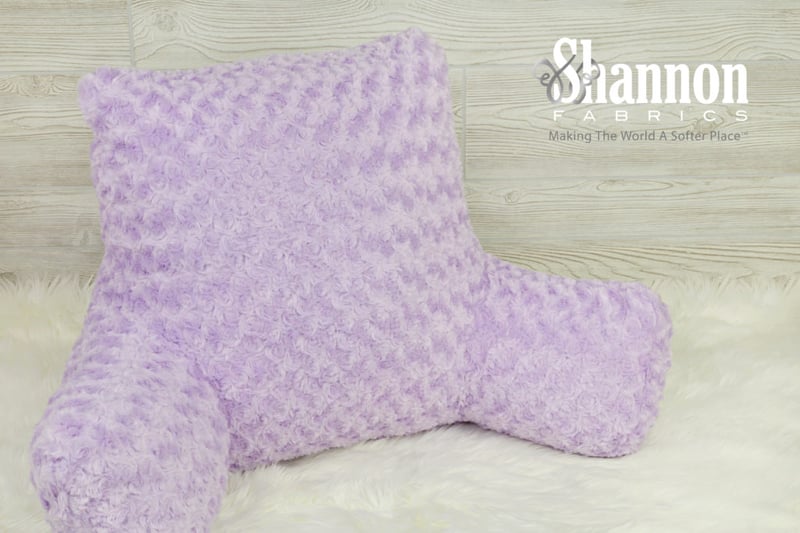 To create this project I used:
Fabric: Luxe Cuddle Rose in Lavender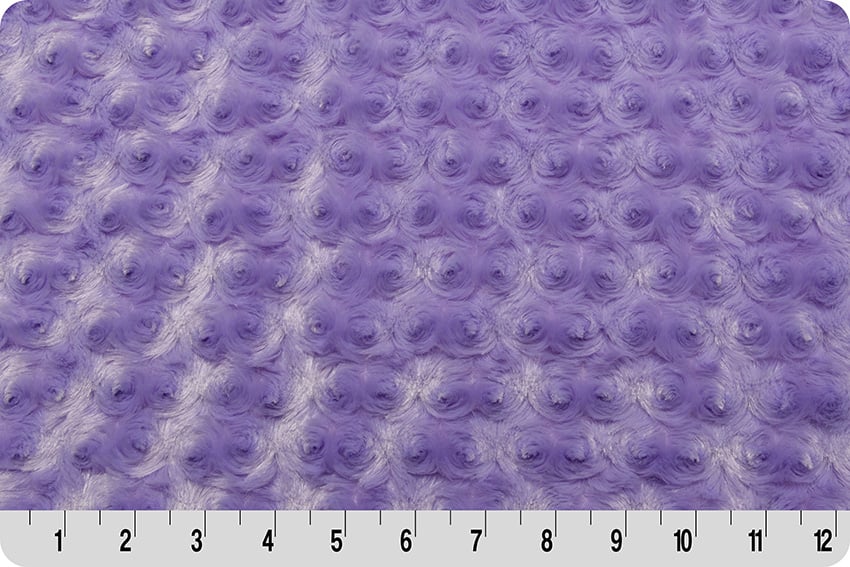 Supplies:
Sew Cuddly book by Judy Gauthier, published by C & T
Sewing Machine with a walking foot
Size 90 Jersey or Stretch Needle
Fabric clips from Dritz
LOTS of flat head pins from Dritz
Tape to join pattern
Royal Silk Poly-Fil from Fairfield
General sewing supplies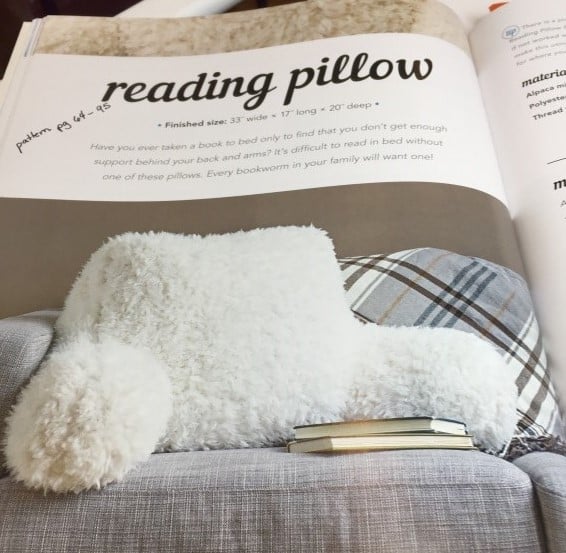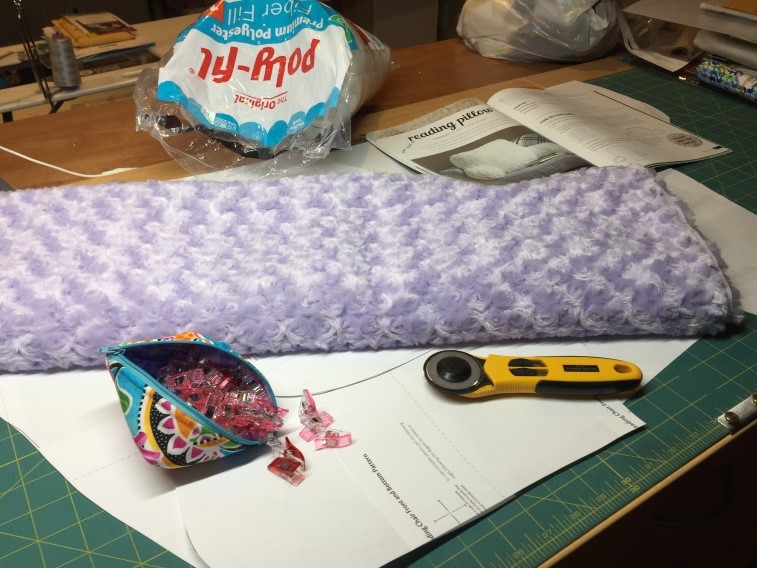 When I first printed the pattern from the book, I felt a bit overwhelmed! 30 pages!! But taking one page at a time and looking at Judy's excellent diagrams. I slowly pieced the pattern together. After assembling the pattern, I needed to cut around the shape, adding extra tape anywhere I thought the pattern might come apart. I made a few adjustments at this point because the two arms didn't look very much alike, I folded pattern in half and tried to match the shape. The shape at the top was a bit rough so I also folded the pattern and tried to make it more symmetrical.
Until this point, I hadn't varied too far from making a strip quilt from Cuddle®, but I plunged ahead. On the reverse side of the fabric, I traced the pieces with a black sharpie, considering the direction of the nap of the fabric. Great way to cut is by using a box cutter on your cutting mat (I have one from Omnigrid). You only need to press as you would when you rotary cut and the big bonus is: LESS 'Cuddle Dust'!! Be sure to mark the dots from the pattern onto the fabric – they're kind of important! Toss all the pieces in the dryer on air fluff (no heat!) to remove any loose fibers and you are ready to sew.
The sewing part was easy. Just like sewing anything else together, except using way more pins and the fabric clips. The clips hold the edges while you are sewing – and you get stuck less, too. When I got to putting the front and back together, I used the dots to help define the corners and shape the pillow.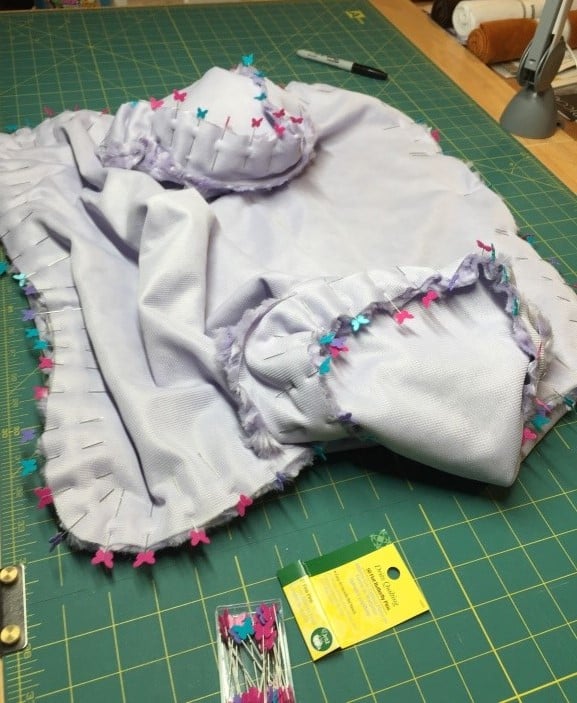 All done except the stuffing!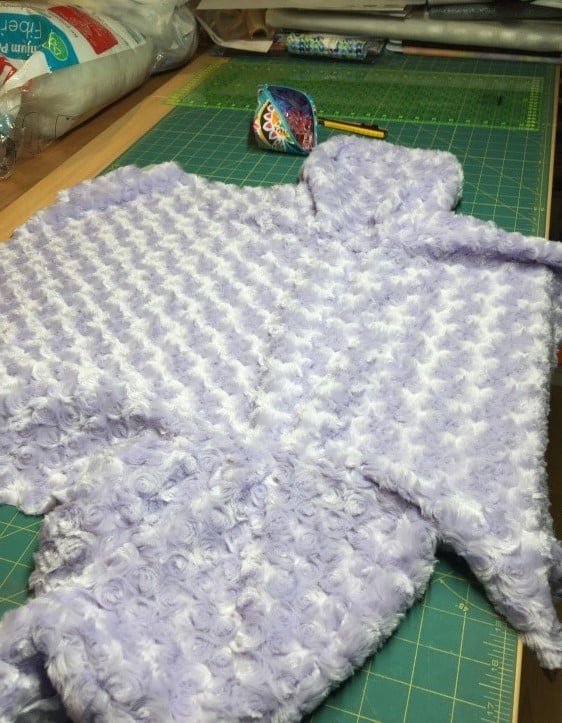 And stuff and stuff and stuff! 3 large bags of stuffing is called for and every bit is needed for the pillow to have its shape and to be supportive. About 6 inches of hand sewing to close up the opening and my pillow was done.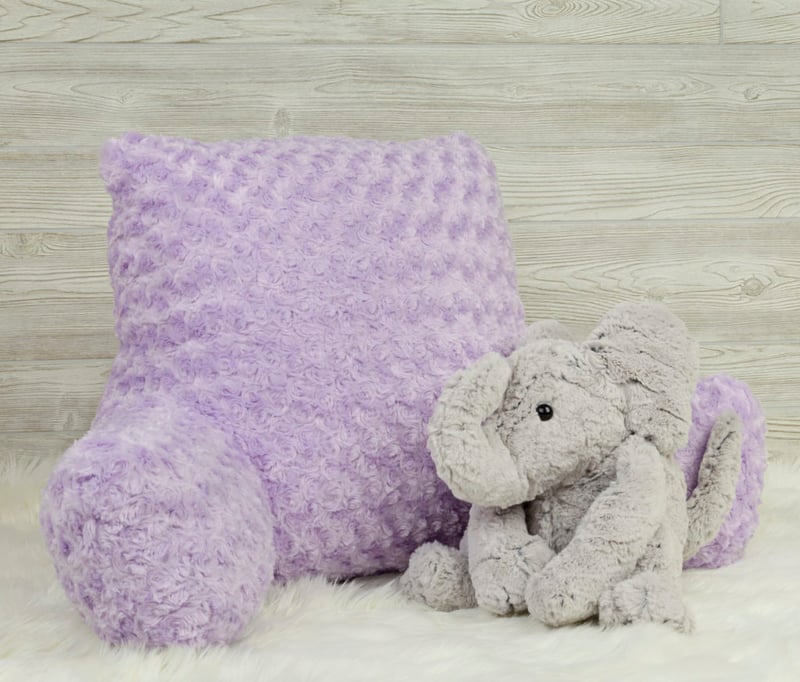 I'm so glad I made this pillow! It is functional, pretty, and soft.
By making the pillow, I am more confident about making other items from Cuddle®. Next on my list is stuffed animals, a couple more projects from the book, and maybe even a jacket!
What do you think of my Reading Pillow? If you make something from this book be sure to tag #SewCuddlySewAlong.
Ask for Shannon Fabrics and Sew Cuddly at your favorite quilt shop! Or visit the Shannon Fabrics Store Locator. To purchase the book from the author visit her Etsy shop Bungalow Quilting. *For Quilt Shops: if you are interested in creating or kitting any of the projects as seen in the blog series, please comment on the post and we'll email you a list of fabrics used!*
For more information on the Shannon Fabrics Education Program and Brand Ambassadors, please click here.
Stay in on top of what's happening with Shannon Fabrics. Subscribe to the Shannon Fabrics newsletter. Follow their blog. Connect on social media!
Happy Stitching and more comfortable Reading!
Barbara
Don't forget to check out the other posts in this blog hop!
Intro/ Interview: Emilee Masson with Judy Gauthier
February 11- Hatchlings: Emilee Masson
February 15- Hatchlings: April Blazevic Woodside
February 18- Animals Hats: Naomi Williams Stewart
February 22- Animals Hats- Cat Hats: Pat Burke
February 25- Reading Pillow: Alice Borge
March 1- Reading Pillow: Karen Fuchs
March 4- Reading Pillow and throw pillow: Rachel Elkinson Ring
March 8- Reading Pillow: Barbara Crom (YOU ARE HERE)
March 11- Poncho: Susan Hastings
March 18- Bath Mat: Linda Lingner
March 22- Bath Mat: Bobbie Norby
March 25- Sleep Sack: Emilee Masson
March 29- Sleep Sack: April Blazevic Woodside
April 1- Colorful Floor Pillow: Teresa Coates
April 5- Colorful Floor Pillow: Pamela O'Neill