Hi! I'm Denise from Whimsy Couture and I blog over at Whimsy Couture Boutique. I'm excited to tell you about the new tutorial I created for Shannon Fabrics, how to make a Cuddle Covered Container.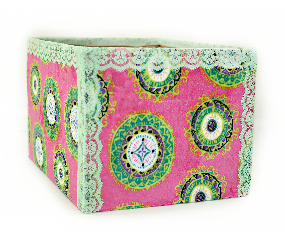 I designed this storage container because I needed a place for my extra sewing supplies. And, I didn't want another rubber tote. So, I thought, how about making an attractive fabric covered box? It's lightweight, easy to store, and looks cute in my sewing room too!
You can make the storage box with or without a covered lid. I made both. For the first, I used Spice Market Spice Goddess Basil. To see the entire collection of Spice Market, a Shannon Studio Collection, click here.
For the second box, I used Fly Away by Amy Schimler in In Bloom Blush. To see the entire collection of Fly Away, a Robert Kaufman Cuddle Collection, click here.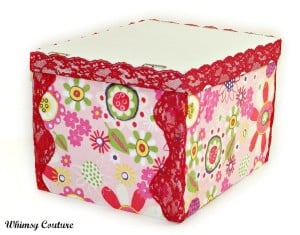 You can download the free project tutorial by clicking on this link.

What would you store in this container? If you make one, don't forget to tag your Instagram and Facebook pictures with #Cuddlecontainer so we can all see what you made! And, be sure to visit my blog Whimsy Couture Boutique to see my other tutorials and patterns.
Have fun!
-Denise