Today is the fourth project in our blog hop featuring Sew Cuddly- 12 Plush Minky Projects for Fun & Fashion - Tips & Techniques to Conquer Cuddle®, by Judy Gauthier, published by C & T. This fun-filled blog hop features adorable projects created by Shannon Fabrics Ambassadors using ideas from the book. Today we're featuring Ambassador Naomi Stewart.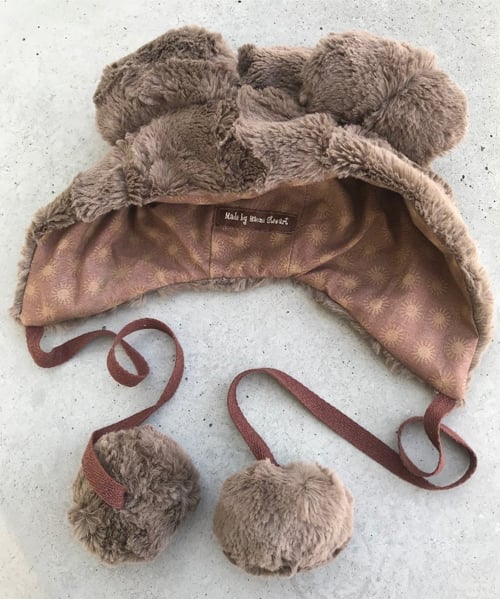 Naomi is a Brand Ambassador in Montana and has taught events at The Silver Thimble, Thimbelina's and Back Door Quilting. Her "All Atwitter" bird pattern was recently published in Quilts and More Winter 2018-2019
Hi! My name is Naomi Stewart and I am a Brand Ambassador for Shannon Fabrics. I chose to make the Animal Hat because it is just too darn cute! As an extra bonus, this is a quick and easy project.
Since I live in Montana, most of the population wears many hats (literally). Even though this project is sized for a toddler, I could see it being popular with the "young at heart" of all ages. I chose to make the hat, substituting ears of a popular Montana animal, the bear!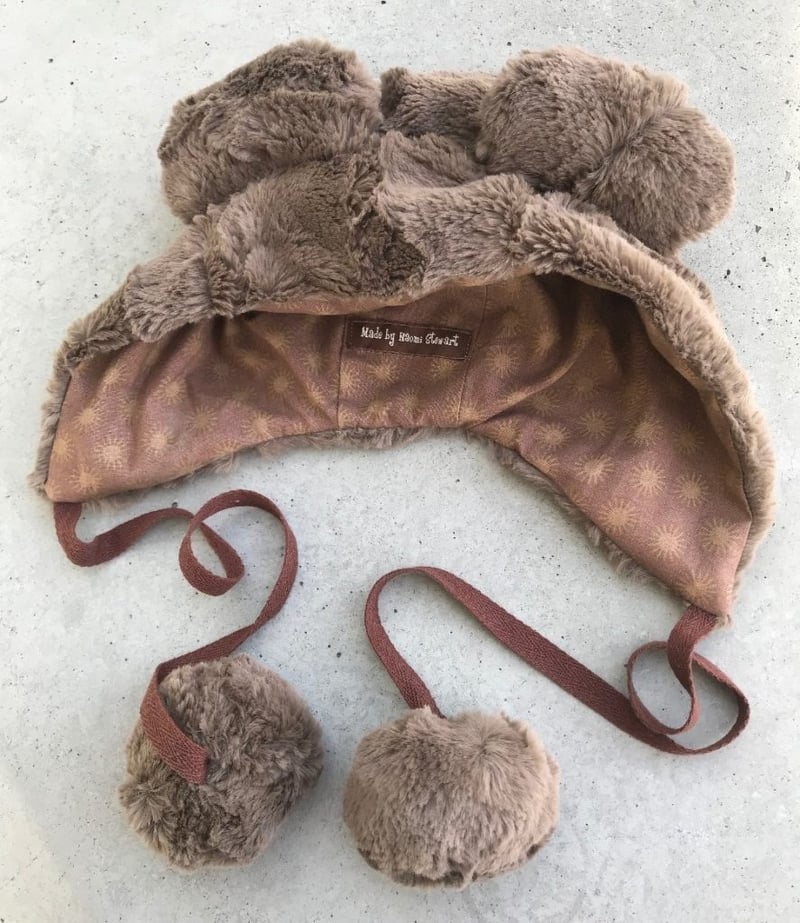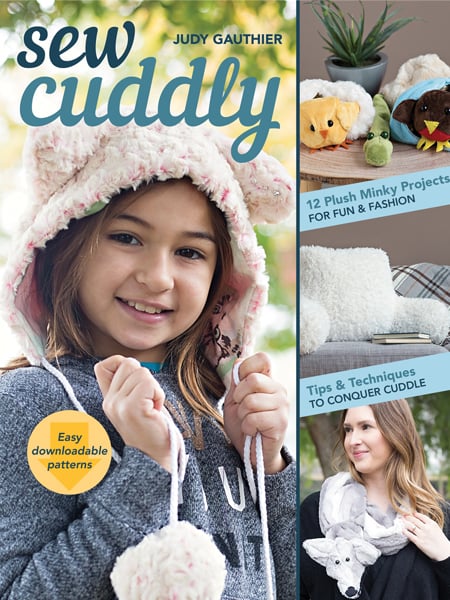 To create this project as I did, you will need:
Supplies:
Sew Cuddly book by Judy Gauthier
¼ yard Luxe Cuddle® Hide Truffle
¼ yard cotton or flannel for lining
Sewing Machine with or without a walking foot
SCHMETZ Size 90 Jersey or Stretch Needle
1 yard cording
Polyester thread for machine sewing project
Heavy thread (I used a button or upholstery thread) for sewing pom poms
Usual sewing supplies
**For Quilt Shops: if you are interested in creating or kitting any of the projects in the book or as seen in the blog hop, please comment on this post and we'll email you a list of fabrics used!**
For my fabric, I chose a fabric that looks like a cute bear, Luxe Cuddle® Hide. I thought the Luxe Cuddle Hide Truffle was just perfect.
When working with Cuddle®, there are a few things to take into account:
Don't be afraid! Cuddle is forgiving to sew. Any mishaps may be hidden in the heavy nap.
If possible, use a 40 wt. polyester thread. Superior Threads has many choices
Yes, there will be "Cuddle dust." Have a handheld vacuum handy. After each cut, vacuum the area. I take my cut pieces outside and shake up a "Cuddle storm", then I toss small piece in a lingerie bag and throw the bag and large pieces in the dryer with a damp washcloth for 10 minutes on low or fluff. This will get rid of most of the cuddle dust.
Don't overstuff your parts! I'm talking about ears here…it is much, much easier to attach your ears when you can see the seam.
Pin well when sewing to minimize slippage.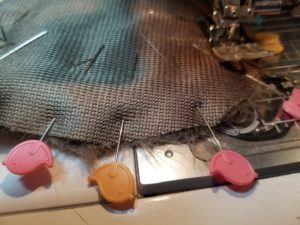 When attaching animal parts, especially stuffed ears, tails, etc., double check your sewing from all sides carefully. This holds true whether you are making a hat or a stuffed animal. Believe me, it is so much easier to make corrections (un-sew) at this stage.
Click here for more tips and tricks on Sewing with Cuddle.
A few tips for this project:
Since bears ears weren't included in the pattern, I created my own by drawing an ear on paper. I folded in half to cut it out, so it remained symmetrical. Think of the possibilities of animal hats you can make!
While there is no need to clip the curves on the Cuddle, however, if you use a non-stretch fabric for the lining (e.g. cotton), make sure you clip the curves on the lining.
When making the pom poms, I like to use a heavy, color coordinated thread. There is nothing worse than when your thread breaks while gathering, so I find the heaviest thread in my sewing kit (color is a close match) and use it.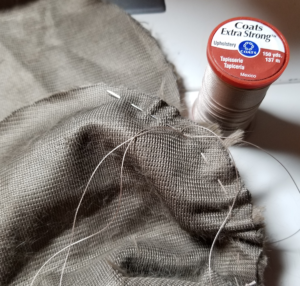 Before sewing the lining to the hat, using a safety pin (from experience—you don't want to use a straight pin here), gather and attach the cording so it is out of the way of any stitch lines).
As I've mentioned, I really like the versatility and ease of this pattern and people love the finished product. My thirty-something year-old daughter even wants a bear hat! I will need to scale this one up!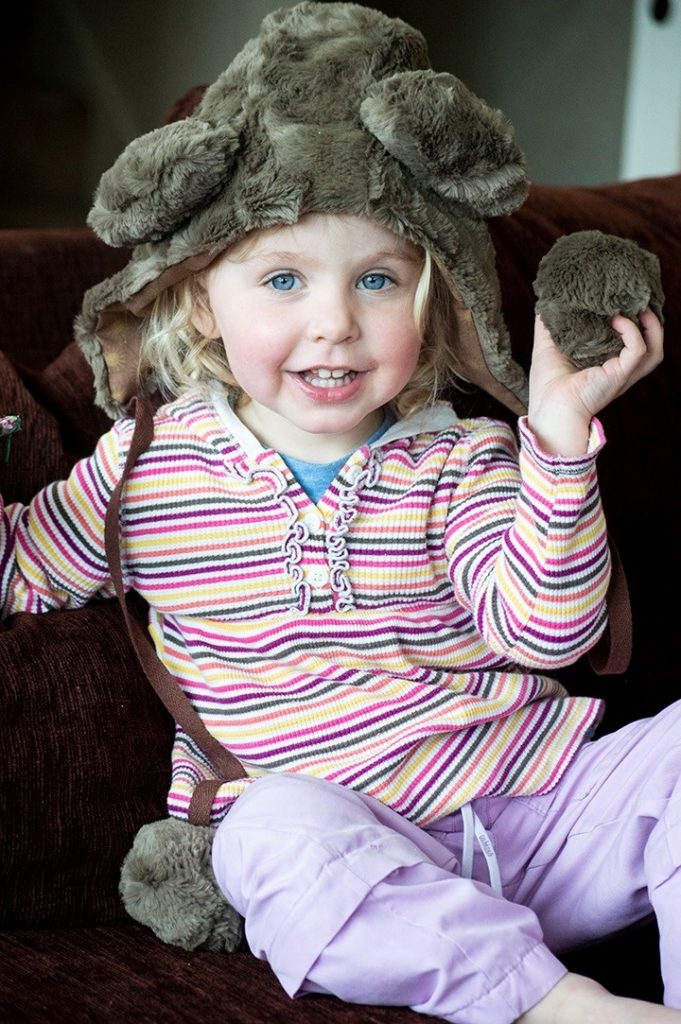 What do you think of my Bear Animal Hat? If you make something from this book, tag #SewCuddlySewAlong. Follow me on Instagram @naomisfabricarts.
Ask for Shannon Fabrics at your favorite quilt shop! Visit their Store Locator. Ask for Sew Cuddly at your favorite quilt shop or buy it here from Judy's shop Bungalow Quilting.
For more information on the Shannon Fabrics Education Program, click here and/or contact teresa@shannonfabrics.com.
Happy searching for inspiration and always…Happy Stitching!
Check out the entire blog hop schedule below:
Intro/ Interview: Emilee Masson with Judy Gauthier
February 11- Hatchlings: Emilee Masson
February 15- Hatchlings: April Blazevic Woodside
February 18- Animals Hats: Naomi Williams Stewart (YOU ARE HERE)
February 22- Animals Hats: Pat Burke
February 25- Reading Pillow: Alice Borge
March 1- Reading Pillow: Karen Fuchs
March 4- Reading Pillow: Rachel Elkinson Ring
March 8- Reading Pillow: Barbara Crom
March 11- Poncho: Susan Hastings
March 18- Bath Mat: Linda Lingner
March 22- Bath Mat: Bobbie Norby
March 25- Sleep Sack: Emilee Masson
March 29- Sleep Sack: April Blazevic Woodside
April 1- Colorful Floor Pillow: Teresa Coates
April 5- Colorful Floor Pillow: Pamela O'Neill