Hi, I'm Alice and I'm a Shannon Fabrics Brand Ambassador. Since falling in love with Shannon Fabrics Cuddle®, Embrace®, and Luxe Cuddle®, I absolutely love making baby gifts. The projects are quick, easy, affordable, and the most popular things I have ever made. I always start with a Self-Mitering Blanket and Lovey – (see the Free pattern here and watch the video tutorial here) and a coordinating Swaddle Blanket or two, and lately I have been having a blast with bonus gifts.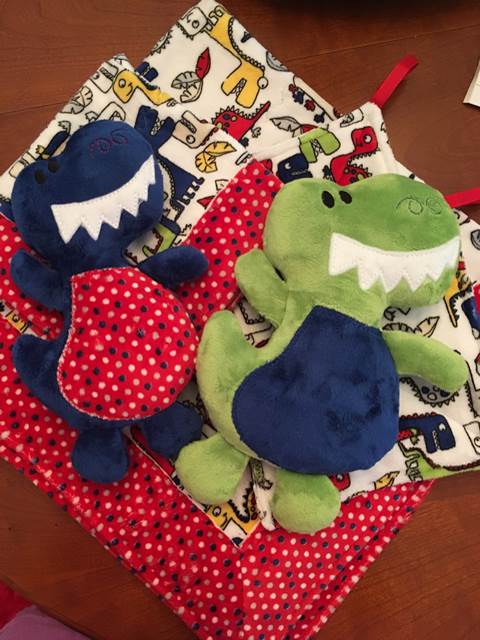 I was recently introduced to the most delightful website: www.Dollsanddaydreams.com. Sarah, the designer, has all sorts of patterns for dolls, stuffies, and critters of all sorts. The thing I love is that she has a large series of in the hoop designs, or ITH, for embroidery machines. Being a machine embroidery novice, Sarah's designs have been great skill builders as well as boosting my confidence to try new things. The hardest part is deciding what to make!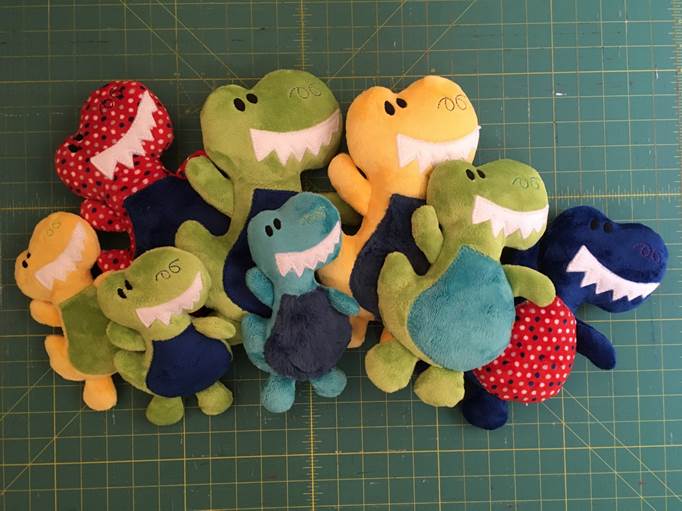 For baby gifts, I have started keeping a large assortment of various Cuddle prints along with some coordinating solids at the ready. The hardest part is always deciding what to choose because there are so many fun options.
Recently, special family friends had their second son. I needed to make a gift not only for New Baby, but also for Big Brother. I fell in love with a Cuddle dinosaur print and coordinating polka dot. What clinched the design choice was Dolls and Daydreams has an adorable dinosaur stuffie called Dino. I was able to make Big Brother a big Dino, and for New Baby, a smaller Dino. The blanket and lovey are adorable, but when you add the stuffed dinosaurs, the gift goes from sweet and cute to out of the park fabulous!
Before: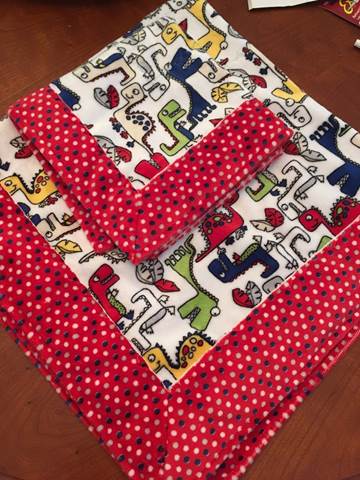 After: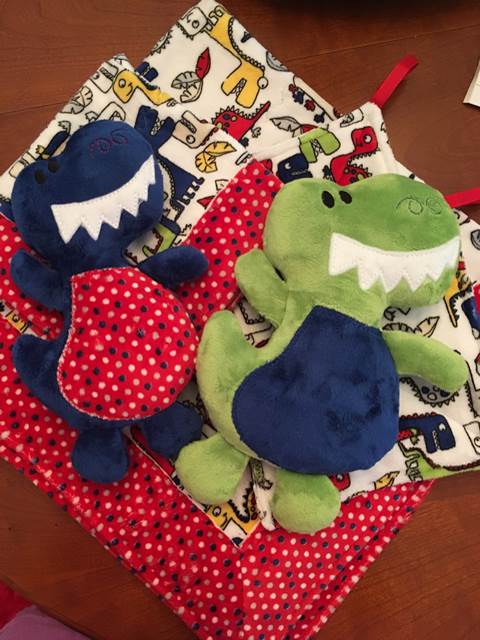 ***I also included 2 baby washcloths made from scraps of dinosaur print and terry.
Supplies needed for ITH Dino are: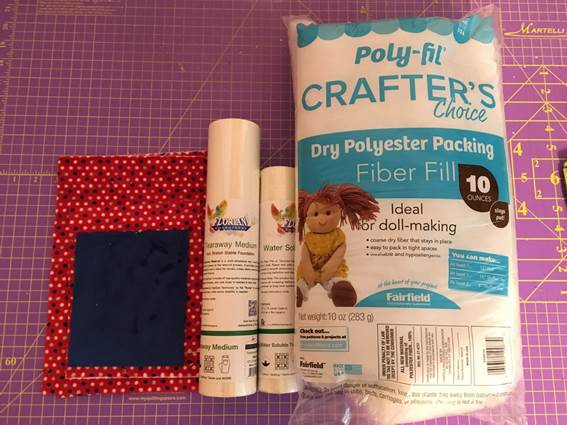 ******Making dolls and stuffies has taught me that not all stuffing is created equal. The Crafter's Choice Dry Fiber Fill is amazing for stuffies and dolls. No wrinkles or puckers! Take the time to search out this product. It is readily available in quilt shops, hobby shops, and on-line.
Once you have made your Self Mitering Blanket, cut the scraps into the designated pieces to create the size Dino that you want to make. Sarah's charts are very clear and easy to follow. Then, just go step by step through the process. I won't be showing any step outs on how to make the dinosaur because included in all of Sarah's designs are incredible directions with fantastic photos for all those visual learners like me. I am including a few photos of things that were especially helpful to me.
Hoop the Floriani Medium Weight Stabilizer in your embroidery machine's hoop. Use transparent tape to secure the Cuddle in place.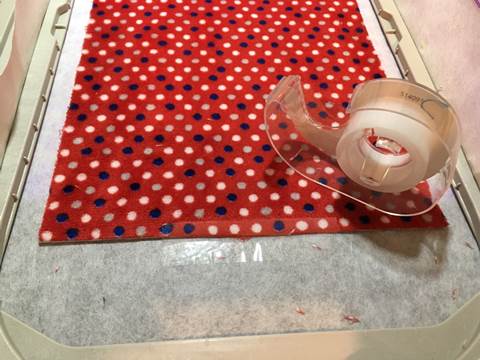 Once you reach the applique portion of the construction, place the topper over the belly and face to assist with the stitches not sinking into the Cuddle. If you look closely, you can see the placement stitches.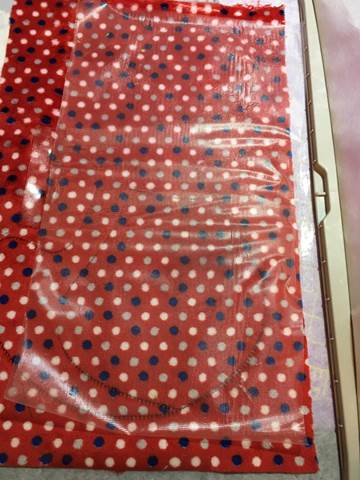 Having a layer of topper in between the dinosaur body and belly applique makes it much easier to trim around the appliqued piece.
Attaching the applique: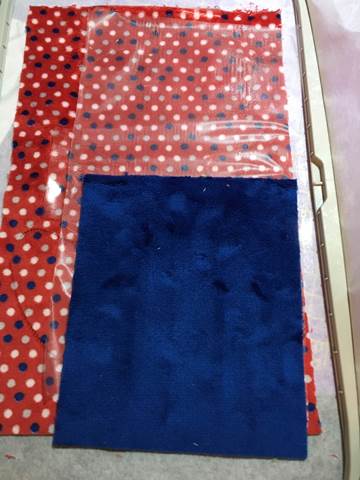 Trimming the applique: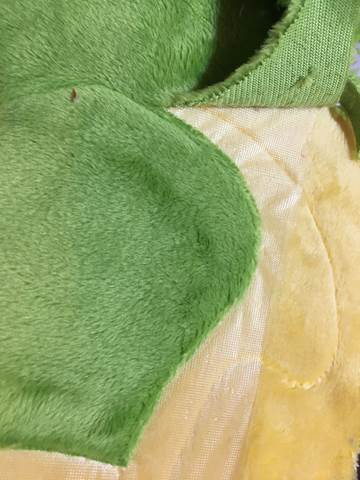 Remove the topper after stitching the limb placement lines as the topper does a wonderful job in aiding the ability to see where the limbs are supposed to go. Stitches just sink into the Cuddle, so using a topper layer makes seeing those placement lines much easier. Quick as a bunny, you will have a dinosaur ready to stuff. As stated above, the extra dry stuffing makes your dinosaur or any doll or stuffie look incredibly professional. You will find the hunt for the dry fiber fill to be well worth the effort.
In the past, my least favorite part of making dolls or stuffies was sewing shut the stuffing opening after filling. Working with Cuddle takes all the frustration away. When closing the final opening with a ladder stitch, stitches just sink into the Cuddle and disappear. I used a high color contrast thread, and you can't see a stitch!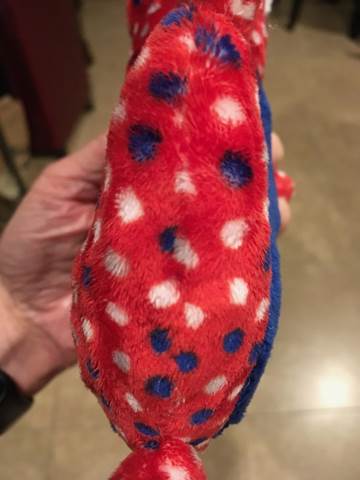 I hope you have as much fun as I have combining Cuddle and Sarah's designs. Be warned: Your scrap stash will quickly be reduced! Also, make sure you have plenty of Floriani Medium Weight Stabilizer and Floriani Water Soluble Topper on hand, because you will end up making an entire group of critters. I still don't know what a group of dinosaurs should be called?!? A herd? A pod? A family? A bevy? A troop? A group of bullocks is called a drove. I don't think it is correct to call a group of dinosaurs by this descriptor, but it sounds cute! Here is my drove of dinosaurs!!! These fellows stitch up quickly, so my best advice is to cut out several dinosaurs at a time because you won't be able to make just one!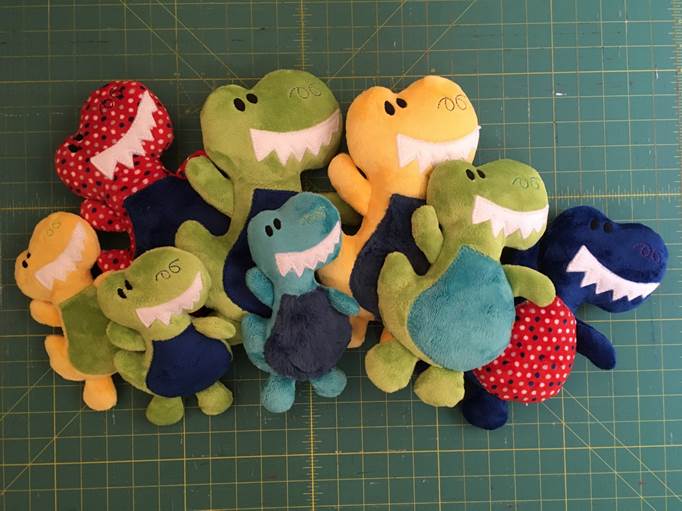 Dolls and Daydreams has recently launched a wholesale program for shops. If you are a shop and want to make Sarah's patterns available to your customers, please email: wholesale@dollsanddaydreams.com for pricing and information. If you are a sewist, be sure to mention Dolls and Daydreams to your local sewing or fabric store. Dolls and Daydreams has a great Facebook group so connect with them soon. You will be inspired!
You can find Shannon Fabrics at fabric and quilt shops and online too. View their Store Locator here. I hope you give this fun project a try!
Be sure to connect with Shannon Fabrics- Join their mailing list, Subscribe to the blog and follow them on social media.
And, if you are a shop, Shannon Fabrics Brand Ambassadors are available to retailers for educational events and shows.
Happy stitching!
Alice