We've arrived at our final project in our blog series featuring Shannon Fabrics + Aurifil. The series features projects handcrafted by both Aurifil Artisans and Shannon Fabrics Ambassadors using Embrace®, Cuddle®, and Aurifil 40wt thread! Today we are thrilled to feature one of our Shannon Fabrics Brand Ambassadors, Pamela O'Neill. We are so excited about the project that Pamela has created and can't wait to share it with you!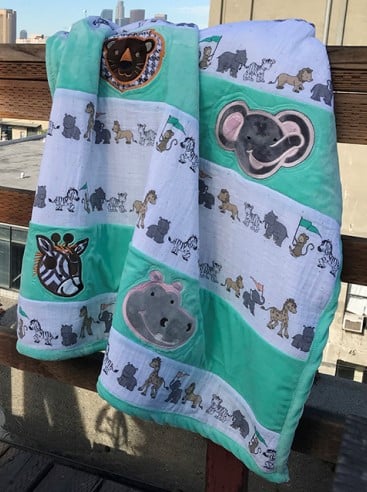 ---
My name is Pamela O'Neill. I live in the Austin, TX area and I have been quilting for 25 years. I have been strictly a quilter but since becoming a Shannon Fabrics Brand Ambassador I've been excited to broaden out to garments and stuffed animals that work so wonderfully with our Cuddle® and Embrace® fabrics.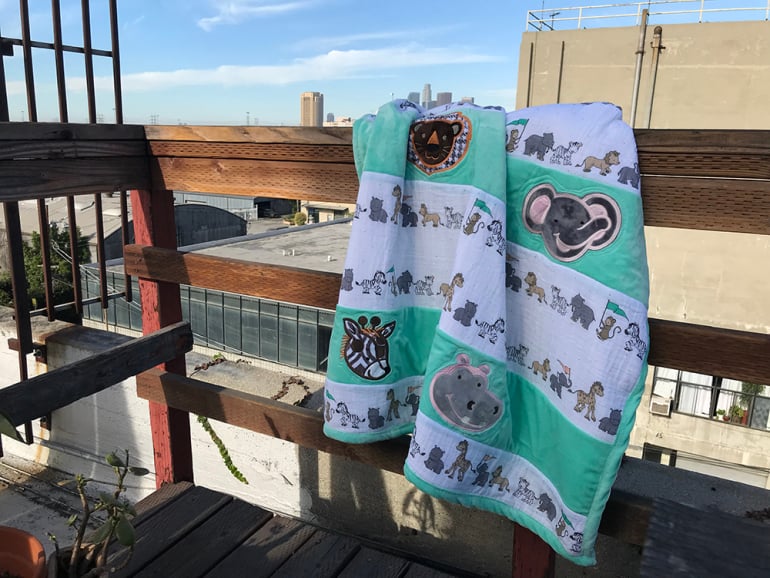 I made this baby blanket because as a mother of 8, and grandmother of 9 (so far), baby items are near and dear to my heart. I love mixing Cuddle® and Embrace® fabrics together for a lighter blanket, perfect for our hot Texas weather. I have noticed that mixing these fabrics and adding embroidery is a favorite for my grandchildren both visually and tactically. They sit with their blankets and run their hands over the different elements and it seems to be incredibly soothing.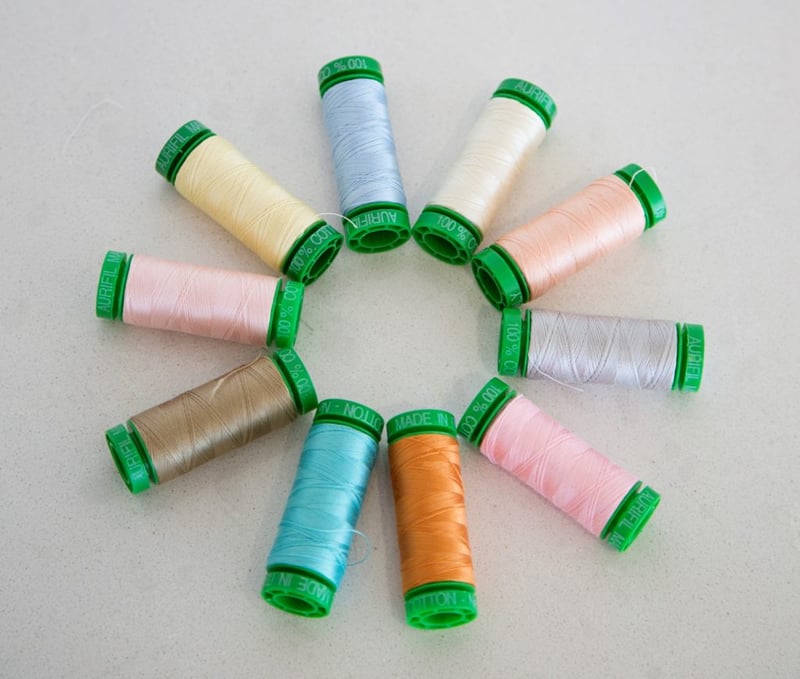 Photo by Jayme Christensen
I used the Sweet Melody Collection by Carrie Tomaschko and 3 other 40wt colors from Aurifil for the piecing, embroidery, and quilting on this project. I used a 3.5 stitch length on my BERNINA to help everything run smoothly. The Sweet Melody Collection worked great to give me those soft color outlines in my embroidery.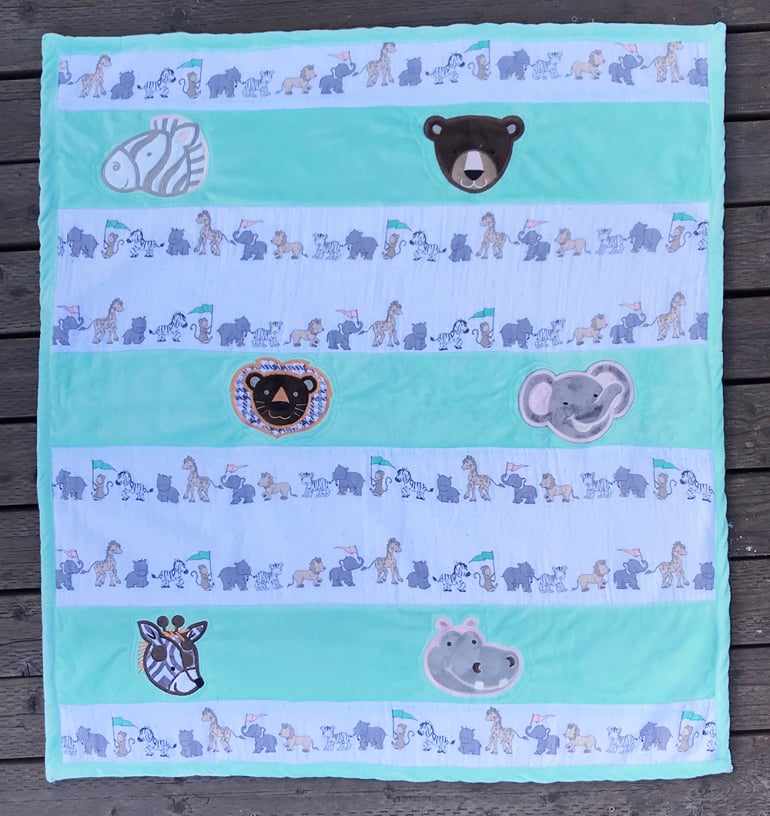 I used 505 Spray and Fix basting spray by ODIF USA when sewing my quilt together. For the embroidery I used Anita Goodesigns Baby Zoo Animals, which I thought went great with our SMD Animal Parade Embrace® Opal print. For the additional strips in the quilt, the backing and the binding, I used Solid Cuddle® 3 Opal.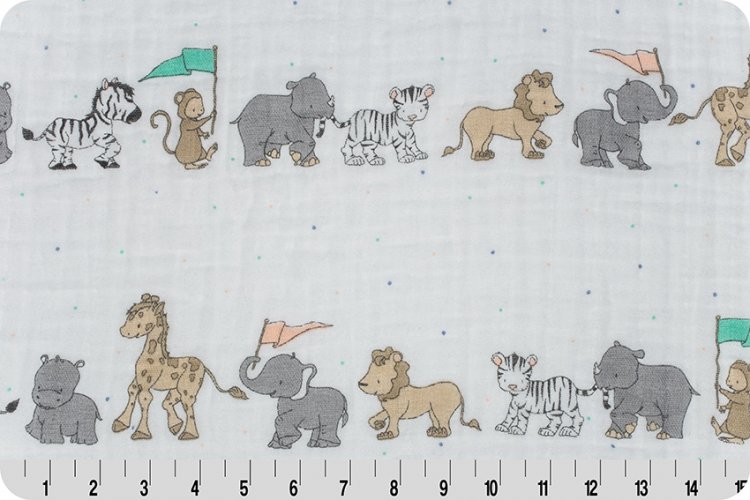 The only thing that didn't come out as well as it could have is my binding -- it twisted a little too much because I didn't pin enough and that is my best tip for working with these fabrics... Must remember to Pin, Pin, Pin.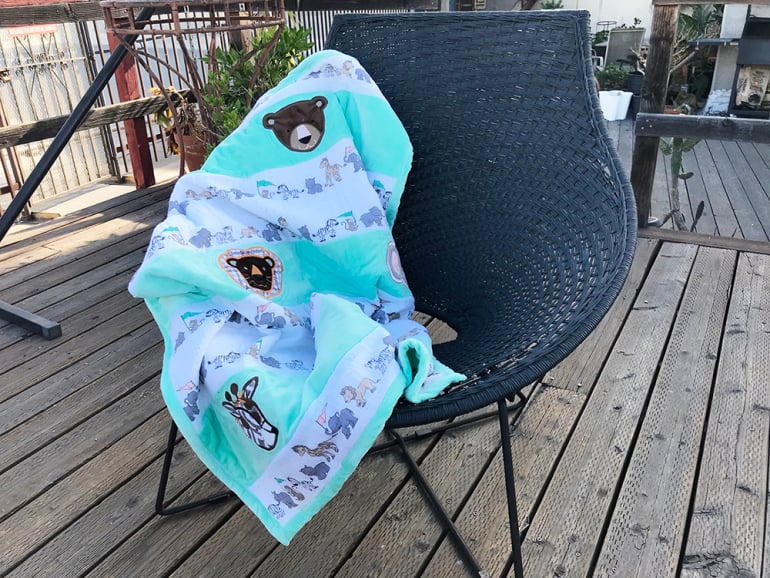 ---
Thanks so much Pamela!! What a sweet quilt and we're sure that it will give one of your grandchildren many years of enjoyment!
This is the last post of our series, so don't forget to check out the previous posts, linked below, for more great tips. We hope you've enjoyed learning more about how Embrace®, Cuddle®, and Aurifil 40wt work together!
SCHEDULE
August 10 – Intro
August 15 – Aurifil, Hilary Jordan (By Hilary Jordan & Aurifil Social Media Coordinator)
August 17 – Shannon Fabrics, Jayme Christensen (@findingsweetland)
August 22 – Aurifil, Amista Baker (Hilltop Custom Designs)
August 24 – Aurifil, Faith Essenburg (Sarana Ave)
August 29 – Shannon Fabrics, Colleen Bell (The Embroiderist)
August 31 – Shannon Fabrics, Pamela O'Neill (@pamelaon) YOU ARE HERE!
ABOUT PAMELA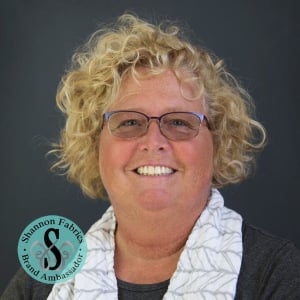 As a child, Pamela always had an extraordinary interest and talent for mixing colors, patterns, and design. As she became a homemaker and mother, this talent grew into a passion as she used this gift to decorate her home and create quilted products to give as gifts to family, friends, and acquaintances. Over the years, as her family continued to grow, she turned her love of quilting into a small business, participating in trade shows and providing independent sales and gifts.