Today is the second project in our Sew Cuddly Book blog series featuring Sew Cuddly- 12 Plush Minky Projects for Fun & Fashion - Tips & Techniques to Conquer Cuddle®, by Judy Gauthier. This blog series features projects created with Cuddle® fabric by Shannon Fabrics Ambassadors using ideas from the book. Today we are excited to feature Shannon Fabrics Brand Ambassador, Emilee Masson.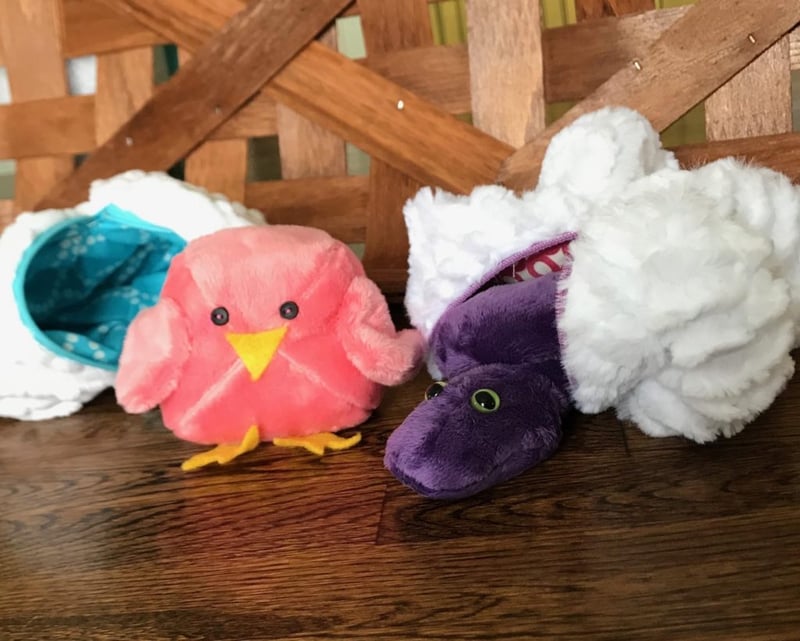 Hi! My name is Emilee and I am a Brand Ambassador/Sales Representative for Shannon Fabrics in South Dakota and North Dakota. I've taught events at Quilts & More in Sidney, MT, The Sewing Center in Rapid City, SD, and The Pin Cushion in Mitchell, SD. For more information on the Shannon Fabrics Education Program and Brand Ambassadors, please click here or contact teresa@shannonfabrics.com.
My fellow ambassador, Judy Gauthier, has written a book titled Sew Cuddly. Ask for this book at your favorite quilt shop or buy it here from Judy's shop Bungalow Quilting. The book is full of great projects. I chose to make the Hatchlings because my 8 year old daughter is obsessed with Cuddle® and stuffies (and she really likes stuffed animal snakes--goofy kid!)--I knew they would be loved!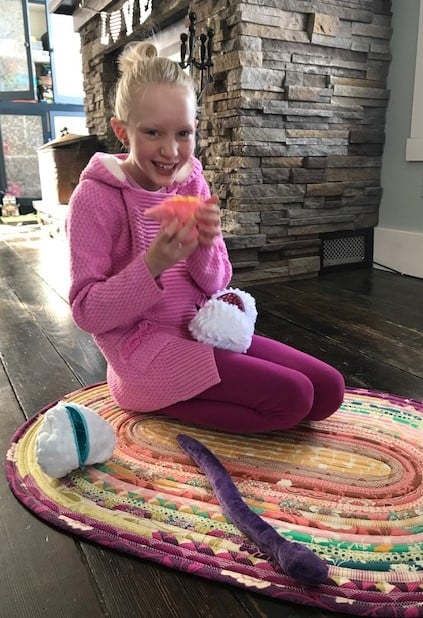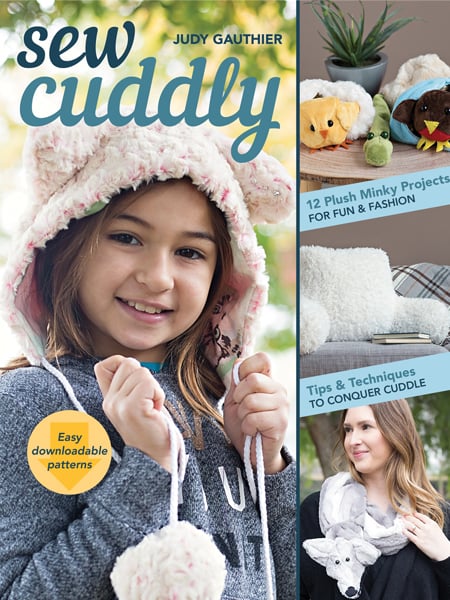 To create this project as I did, you will need:
Supplies:
Supplies I found helpful, but not listed in the pattern:
Poly-Pellets from Fairfield World
Safety eyes for snake (I found the green "snake" eyes at my local craft supply store)
**For Quilt Shops: if you are interested in creating or kitting any of the projects in the book or as seen in the blog series, please comment on this post and we'll email you a list of fabrics used!**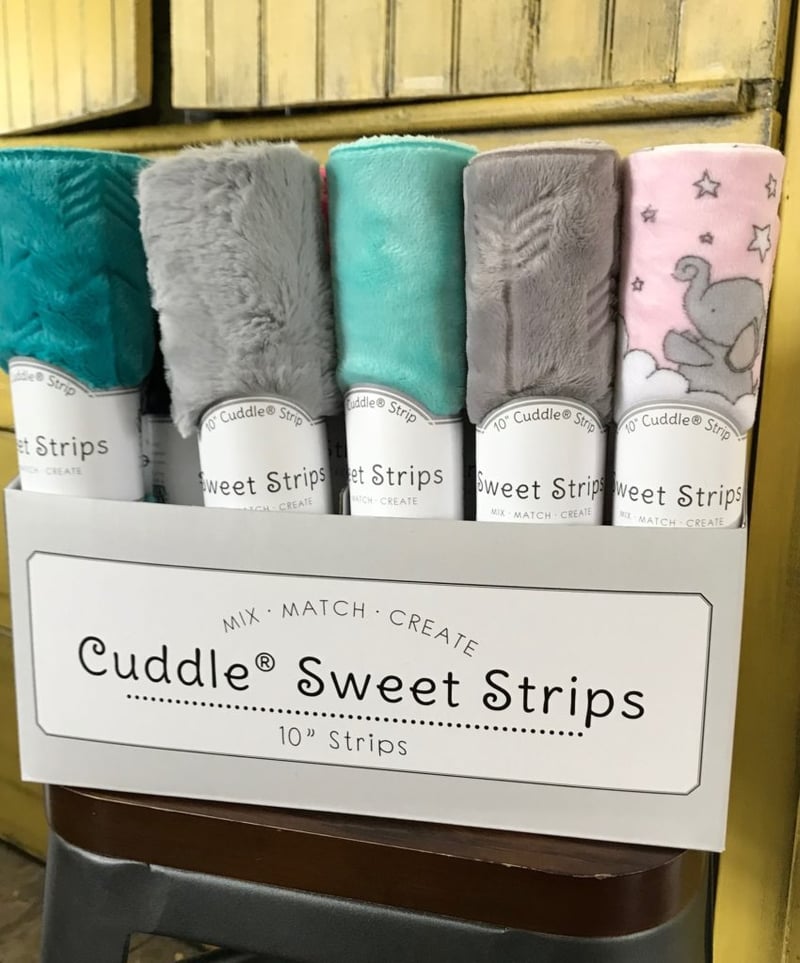 For my fabric, I chose a variety of Cuddle® Sweet Strips. Sweet Strips are 10 inch x 60 inch precut strips of Cuddle®. They are perfect for small projects like the Hatchlings, bindings, and many of the free quilt patterns from Shannon Fabrics! Sweet Strips work for many of the projects in Judy's book including the Hatchlings, Cuddle Clutch Purse, Gauntlets, and Bath Mat! They come in a variety of colors, textures, and prints. There are 4 NEW assortments of Cuddle® Sweet Strips® coming soon! I love having them in my stash!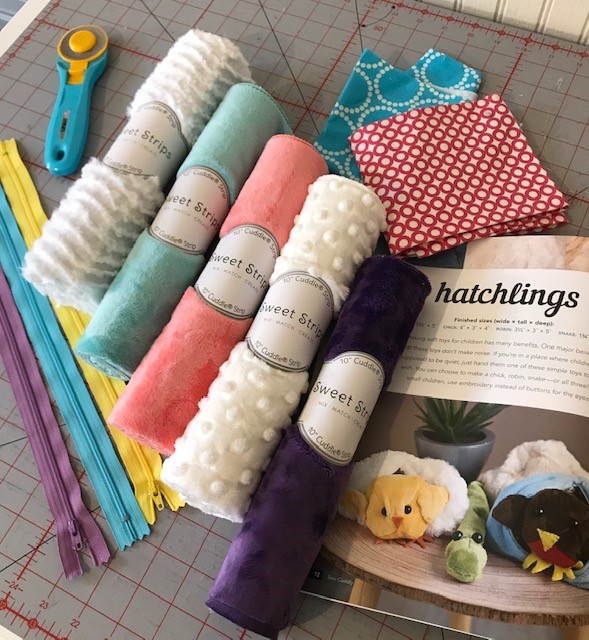 I started by making the egg. I used the 28 mm Olfa rotary cutter to cut out my pieces. The shapes are fairly simple, so this worked great and really cut down my prep work. I made 2 eggs, and the second one did go together much better. On the second one, I cut the zipper about a ½ inch shorter than the pattern recommended allowing me to manipulate the fabric easier without catching the zipper. I also struggled with the drawing showing me how to construct the egg sides (page 14 in yellow). I found the drawing of the chick construction cleared that up and made it easier (page 15 in yellow). I would HIGHLY recommend reading the ENTIRE pattern before starting. I did have small holes left in the top and bottom of my egg linings on both eggs. I was able to quickly fix that with hand sewing needle and thread. The eggs were instantly a hit with my daughter….I'm guessing lots of toys will be hatching out of them!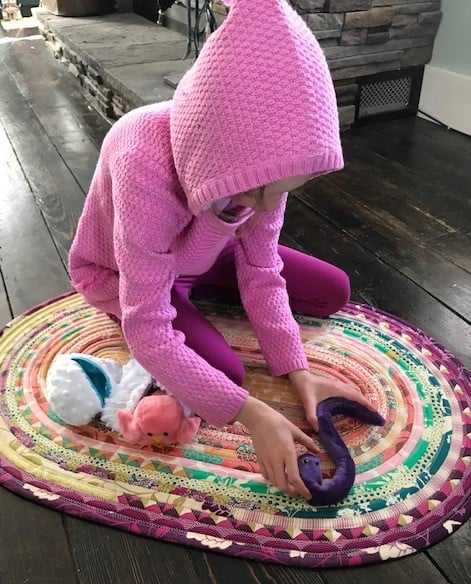 Next I made the snake. He was fun and easy to sew. Also I used the Olfa 28mm rotary cutter to cut out the pattern pieces. I did change the construction slightly on the snake. I attached the top and bottom of the head to the body pieces first, and then sewed around just the head. I took it off the machine, turned it right side out, then added safety eyes. Then, I turned it back out, right sides together and finished stitching around the snake. Doing this allowed me to only have to hand sew the opening closed.
I chose to fill the snake the Poly-Pellets. He has a very nice weight and they are so easy to work with. TIP: Put your project in a box or tote when filling it--that way all of the stray pellets are contained for easy clean up! Next time I will do a better job of marking the placement of the eyes, but I was happy with my construction modification.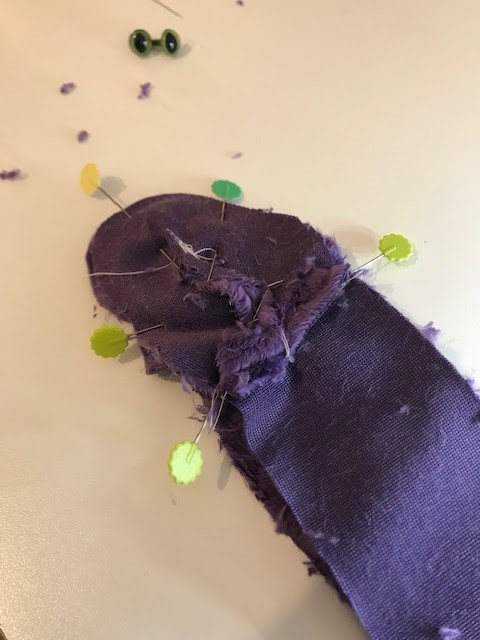 Finally, I made the chick. I saved it for last because I thought it would be the most challenging with the extra hand sewing and all the pieces, but it was my favorite to sew! I followed the instructions as written with the exception of leaving the entire top of the tail open. Because Cuddle® does not fray I didn't have to worry about the raw edge showing. I also added a small handful of the Poly Pellets to the bottom of the chick so it sits nicely.
I tend to be a "go big or go home" quilt maker. I forget how much fun these little projects can be! They also come together very quickly once you get the techniques down and Judy does a nice job of keeping the instructions simple and easy.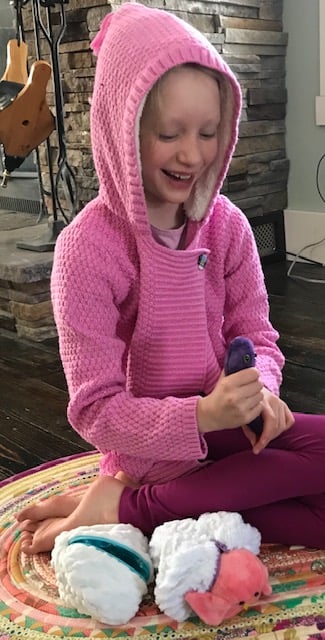 What do you think of my Hatchlings? If you make something from this book be sure to tag #SewCuddlySewAlong. To see other projects I've made, please follow me on Instagram @emileemasson.
Ask for Shannon Fabrics Cuddle Sweet Strips and Sew Cuddly at your favorite quilt shop! Shannon Fabrics can be found at these shops. To purchase the book from the author visit her shop Bungalow Quilting.
Happy Hatchling making!
Stay in the know! Subscribe to the Shannon Fabrics newsletter. Follow their blog. Connect on social media: Facebook, Instagram, Pinterest, Twitter, YouTube
Emilee Masson
This is the 2nd post of our series and don't forget to check out our previous posts, see links below, for more fun projects.
Schedule
February 4- Intro/ Interview: Emilee Masson with Judy Gauthier
February 11- Hatchlings: Emilee Masson (YOU ARE HERE)
February 15- Hatchlings: April Blazevic Woodside
February 18- Animals Hats: Pat Burke
February 22- Animals Hats: Naomi Williams Stewart
February 25- Reading Pillow: Alice Borge
March 1- Reading Pillow: Karen Fuchs
March 4- Reading Pillow: Rachel Elkinson Ring
March 8- Reading Pillow: Barbara Crom
March 11- Poncho: Susan Hastings
March 18- Bath Mat: Linda Lingner
March 22- Bath Mat: Bobbie Norby
March 25- Sleep Sack: Emilee Masson
March 29- Sleep Sack: April Blazevic Woodside
April 1- Colorful Floor Pillow: Teresa Coates
April 5- Colorful Floor Pillow: Pamela O'Neill