Happy (early) Valentine's Day!! It's me, Jayme, aka "Finding Sweet Land" in the quilting community, back on Sewciety, the Shannon Fabrics blog! I wanted to share this little Cuddle® project that I made the other day. If you are an avid Instagram user like I am, okay, maybe a little more obsessive than avid, then you have probably seen this quilt pattern around already. It's called the "I Heart You Quilt" pattern from Then Came June and Pen + Paper Patterns.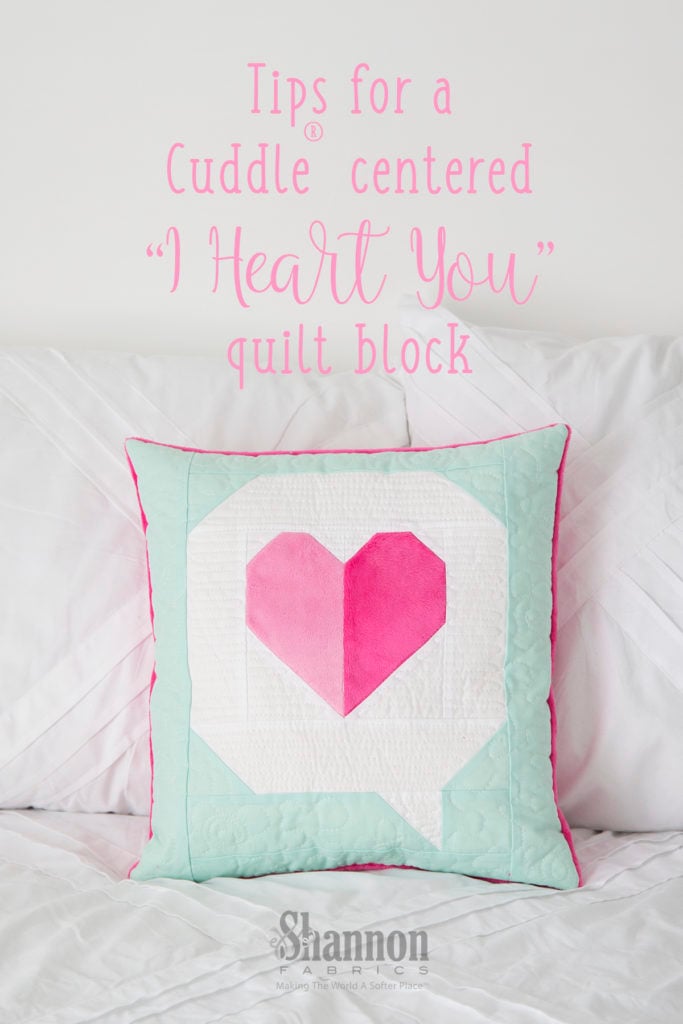 I bought the I Heart You Quilt pattern from Then Came June @thencamejune and Pen + Paper Patterns @penandpaperpatterns. It was just in time to sew up a block for Kelle Boyd of Ann Kelle (follow @annkelle and keep an eye out for her super cute mini quilt). I even had enough of the Robert Kaufman Kona® Solids left over to make a little block for myself! I used it on the front of this pillow!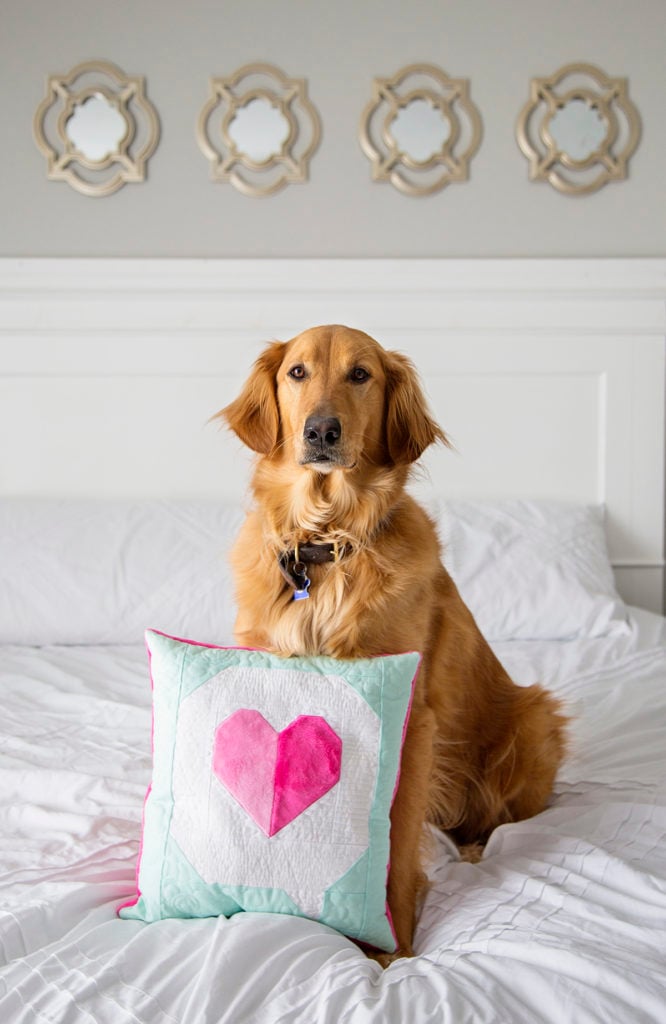 This time I used Cuddle® 3 from the Kozy Cuddle® Solids Collection, in Hot Pink and Fuchsia for the center.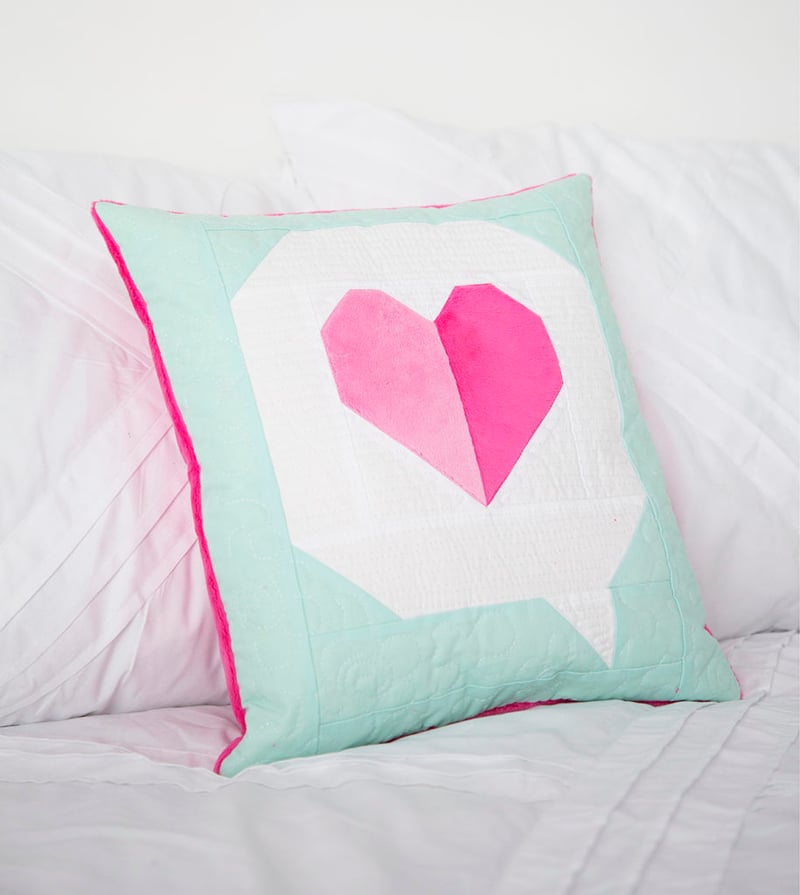 Here are some tips for using Cuddle® in the center of one of these blocks…
TIP #1: Make sure that you cut your center rectangles with the nap going from top to bottom. I used my adorable matching Olfa® Splash Rotary cutter in pink!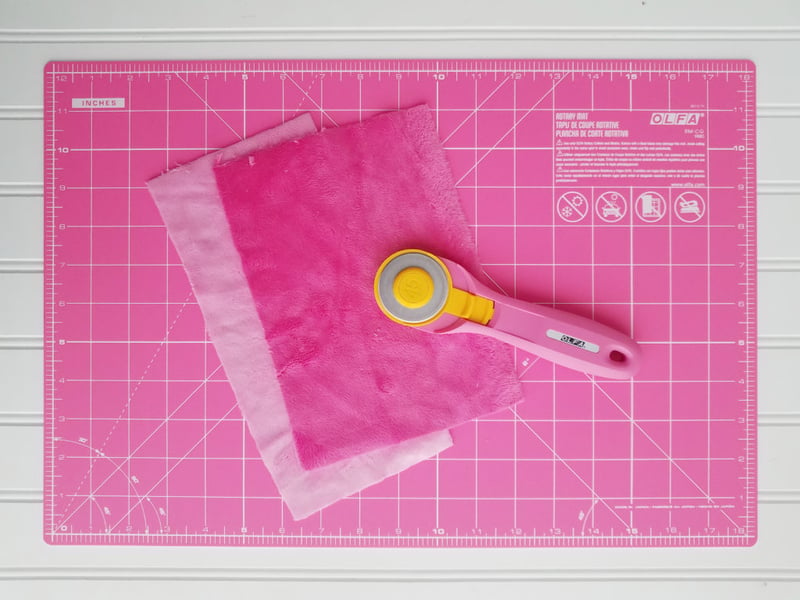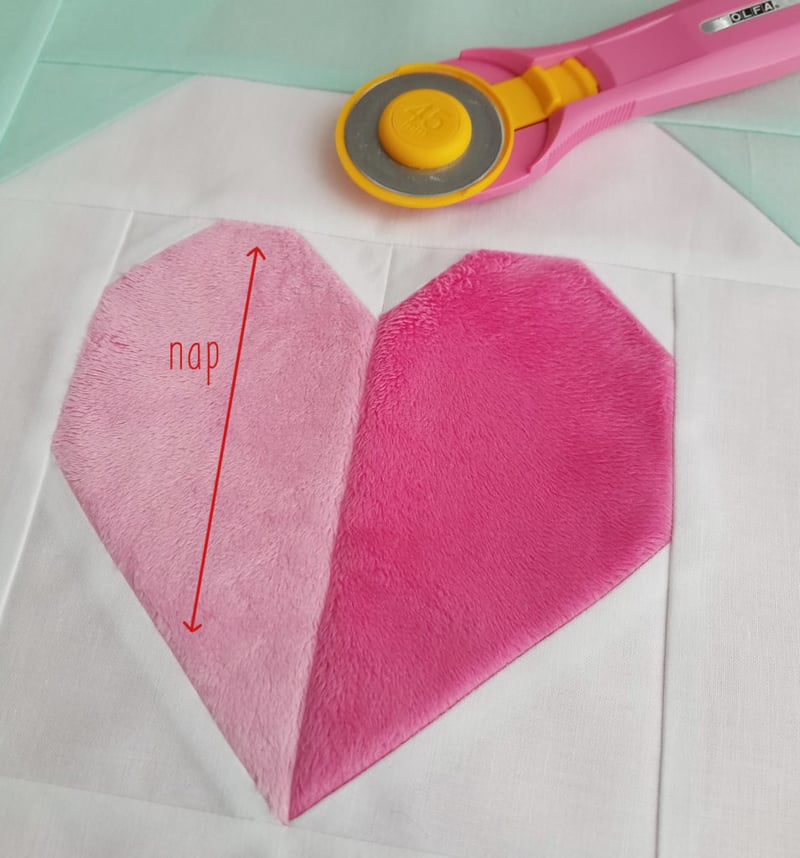 The last thing you want is your nap is going in completely opposite directions! My nap runs from the top of the heart to the bottom for both of my center pieces.
TIP #2: Cut the corner squares 1/8" larger than what the pattern calls for.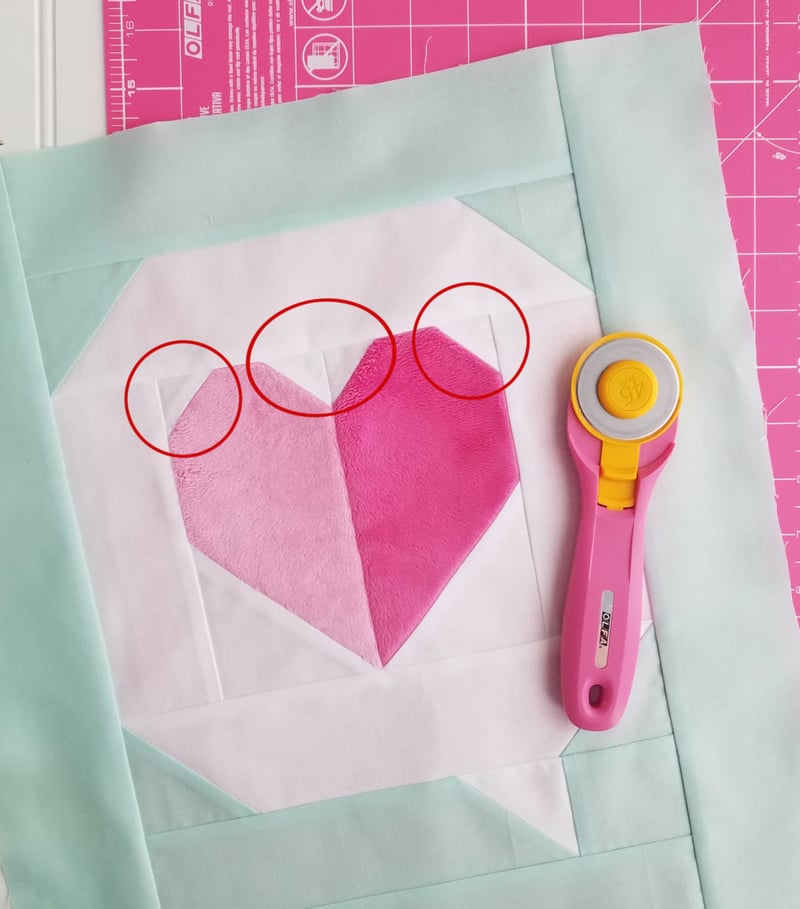 TIP#3: Instead of sewing directly on the diagonal line that you draw on your corner squares, sew just to the outside of the line.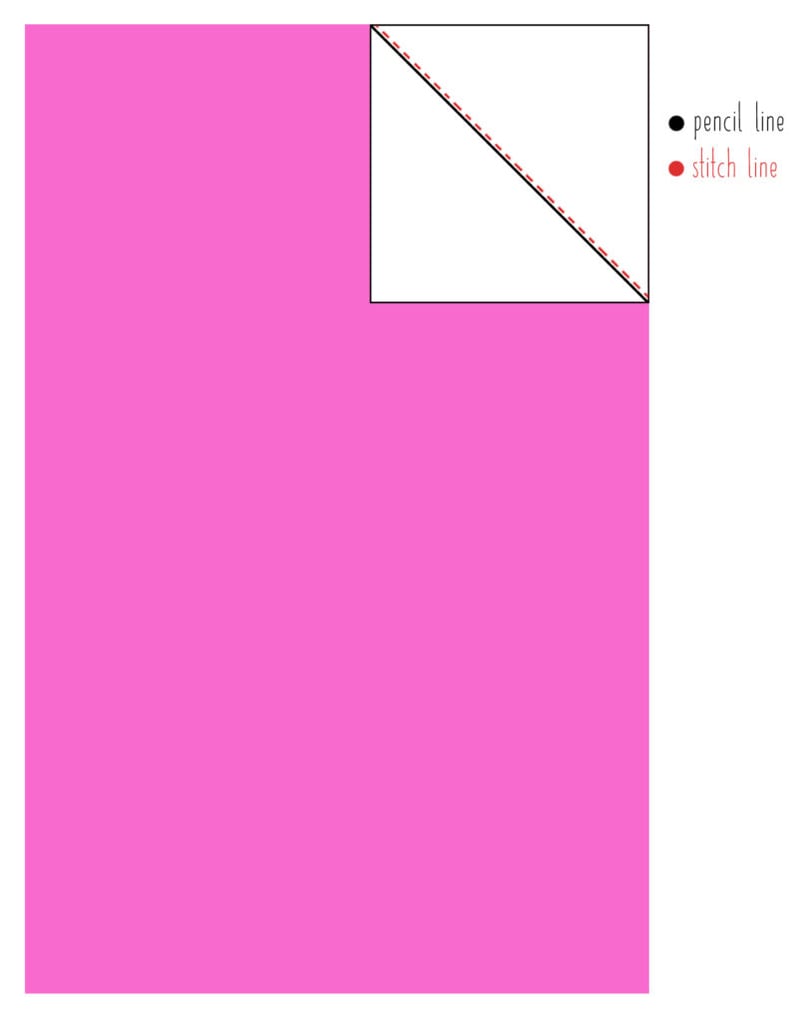 Because the Cuddle® is thicker than quilting cotton, following these two tips will help eliminate bulk and keep the white corners from being too short when you press them over.
Speaking of pressing…
TIP #4: When pressing the corners out, use a pressing sheet.
Since the Cuddle® is a polyester fabric and your iron will be set to a warm/hot to set the cotton seams, the pressing sheet will help absorb the heat from going all the way through to the Cuddle® while still providing enough heat to the seams to set them. I recommend using the Clover Dry Heat Pro Finish Pressing Sheets.
TIP #5: Use a walking foot!
You can still use a ¼" seam for sewing this block, but using a walking foot will help keep the Cuddle® from shifting on such a narrow seam.
I want to add that I used ODIF 505 Temporary Adhesive Basting Spray for added measure when I basted it. Since it was such a small area to quilt I didn't have to baste much but using 505 makes sure that those edges and corners stay put with I'm quilting. I also used Superior Threads® Magnifico 40wt polyester thread for quilting. That thread is like butter in my machine! When it was ready to fill I used my go to Poly-Fil® polyester filling from Fairfield World.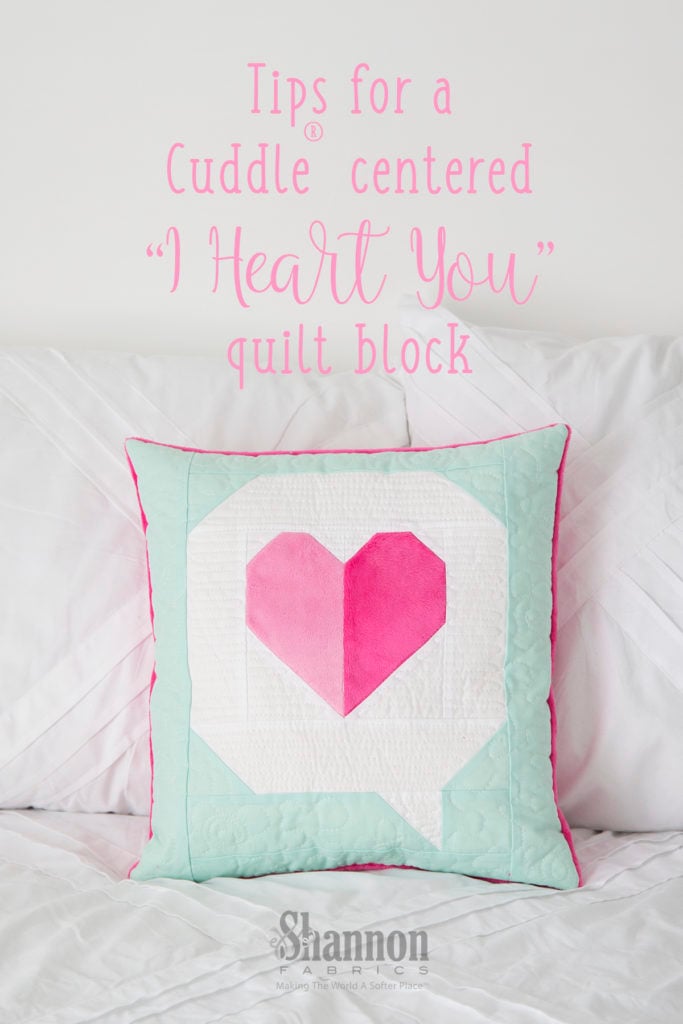 That's it! It's super simple to incorporate Cuddle® in to your regular cotton pieced quilts. Just a little more time to accommodate the different substrate and incredibly worth the little extra effort!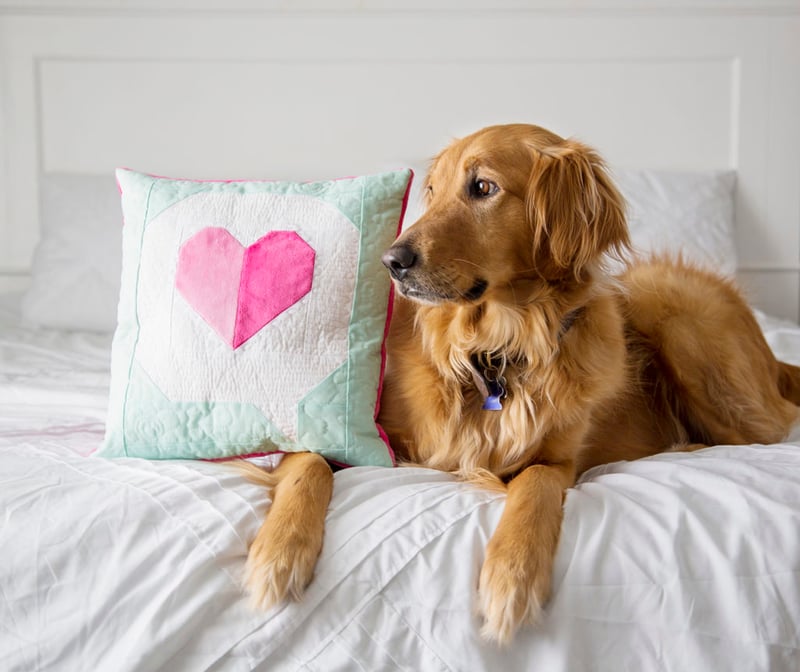 My dog Oscar loves his pillow!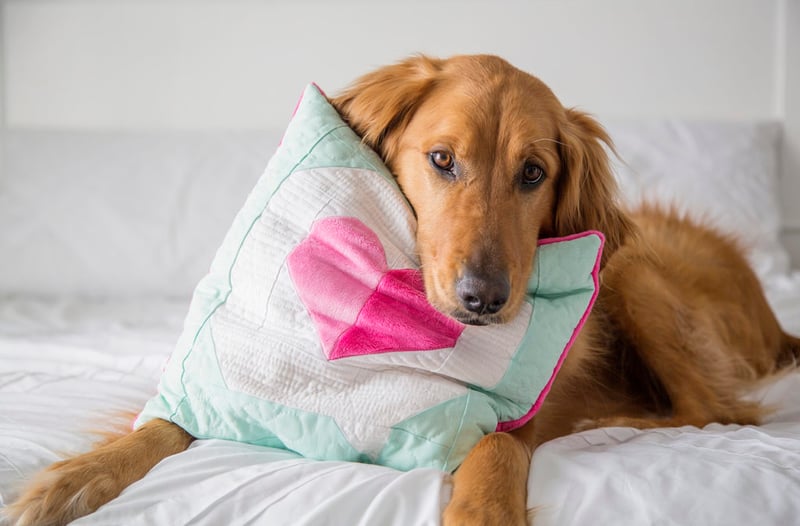 Be sure to check out my post here for info on quilting with Cuddle and on mixing cotton with Cuddle. And, Shannon Fabrics has gathered tried and true tips and tricks for you to keep at your fingertips, such as Quilting with Cuddle and Combining Cuddle and Cotton®.
If you use Cuddle® in the middle of your "I Heart You Quilt" pattern blocks, use the hashtag #iheartcuddle so we can "heart" your photo on Instagram! Let me know how it goes for you! Follow me at @findingsweetland on Instagram.
You can find Shannon Fabrics at independent quilt shops and fabric stores, and online. Check out their Store Locator!
Stay in the know! Subscribe to the Shannon Fabrics newsletter. Follow their blog. Connect on social Media: Facebook, Instagram, Pinterest, Twitter, and YouTube
Hugs from Idaho,
Jayme