Hello. My name is Amanda Murphy and I'm a fabric designer and a quilt designer with my own line of patterns. I'm so happy to be guest-blogging for Shannon Fabrics, the makers of Cuddle fabric, on their new "My Cuddle Corner" blog. Many quilt patterns lend themselves really well to Cuddle fabric, particularly those with large appliqué shapes. Blossoms is a pattern in my line that I thought was particularly well-suited to working with Cuddle, and it makes a really fun quilt for a baby girl.
I made a few modifications to my original Blossoms design to make a "Mini-Blossoms" pattern that is particularly well-suited to combining Cuddle fabric with quilting cottons. (In this case I used white Cuddle for the Blossoms, pink for the flower centers and backing, and 10'' squares of my Bella collection for Blend Fabrics for the rest of the quilt top.)
I took my basic quilt and modified it to a baby-sized quilt and modified some of the directions. The baby size is convenient because that way, you can use one continuous strip of Cuddle to back the quilt.
I love using Cuddle for applique. To do this I used a temporary spray adhesive to attach the blooms. I used white Cuddle snow white color and a hot pink shade for the blossom centers. Spray adhesive works really well; you want to avoid having the Cuddle come in contact with a hot iron.
I also modified the directions to use spray adhesive to sew on and stabilize the borders using a stitch and flip method, which made the Cuddle backing much easier to handle while keeping the borders straight.
I included poinsettia shaped flowers in the instructions for this version, as I think this is a great holiday or Christmas quilt! Buy a layer cake and border fabric from your favorite holiday collection and you'll be all set.
Another great tip that I got from someone when I first started working with Cuddle is to throw it in a dryer and that will minimize any shedding that might occur along its edges before it is appliquéd.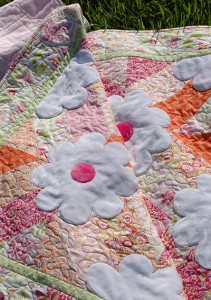 Lots of flowers
This "Mini-Blossom" version pattern can only be found as an online pattern in my Craftsy store. You can also always find out more information about my other available patterns on the sidebar of my blog. Come on over and visit! I would love to hear what you think about my new quilt pattern. Please comment below. And if you make one, please send a photo.
Thanks! Amanda