Whoo Hoo likes this Cuddle™ It's a Hoot quilt by Jennifer Parks?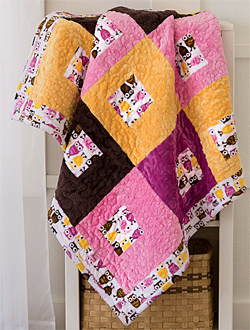 Jennifer Parks, teacher at Holly's Quilt Cabin, designed and made this easy and playful Cuddle quilt. (It was machine quilted by Nancy Metzger.) This adorable quilt features Night Owls by Ann Kelle, a Robert Kaufman Cuddle Collection. The quilt also uses a variety of Cuddle 3, Cuddle Dimple and Cuddle Fleece from Kozy Cuddle solids. Here is what you need to make the quilt:
The quilt is made with 16 (9 1/2") blocks; the Finished Size: is 42" x 42".
You can purchase a video "Take the guesswork out of working with minky fabric" by Jennifer and Mary Kate Karr-Petras which shows how to make the quilt and also tips for working with Cuddle. Download it from DailyCraftTV. You will then get the digital pattern at no extra charge. You can also get the digital pattern by itself at www.shopfonsandporter.com.
Included in the video are examples of two more easy patterns for Cuddle; these are by McKay Manor Musers: Happy Scrappy Whoo and Twisty Twirly Scarf.
Happy Scrappy Whoo: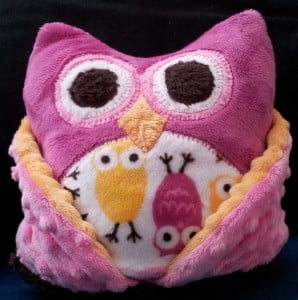 Twisty Twirly Scarf: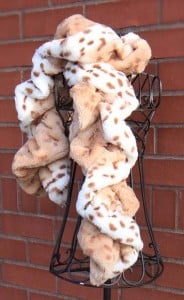 It's a Hoot is featured in Easy Quilts Winter 2013.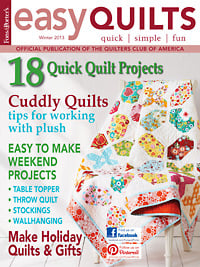 Stay tuned for more coming from Jennifer and Like her Facebook page Jenny Kae Quilts.
Cuddle hugs,
Ellen
PS Follow our blog to be informed of more posts coming soon!