PillowCase Project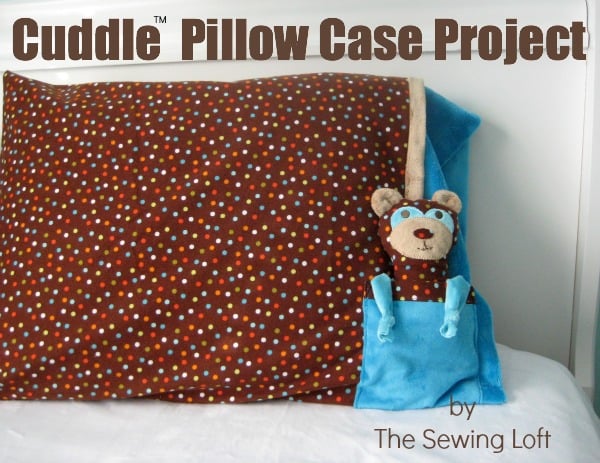 Hello, Hello Shannon Fabrics Readers! Heather here from The Sewing Loft and I have a fun project to share. On the average day, you can find me sharing lots of easy sewing pattern, scrap busting projects, sewing tips and tricks. I would love for you to come by and say hello!

To keep things fun and semi holiday related, I thought it would be fun share an easy project to take to Grandma's house for a visit. This simple pillowcase has a special pocket to carry the Cuddle™ Buddy Bear inside.
Materials:
Tools:
Sewing Machine (serger if you have one)
Scissors
Iron/Ironing Board
Basic sewing supplies
Cutting Instructions:
Fabric A: 40" x 24"
Fabric B: 2 1/2" x 40"
Fabric C: 10" x 40"
Pocket- 7" x 7"
2 1/2" x 7" trim
Instructions:
Create pocket- fold & press 1/4" seam allowance of pocket band. Hem with straight stitch to clean finish. Attach trim band to pocket square right sides together; stitch in place.
Attach trim band to pocket square right sides together; stitch in place. Turn seam allowance up; press and single needle top stitch. Fold right sides together and stitch top down. Clip corners, turn right sides out and press 1/4" seam allowance to wrong side of pocket along sides. Set aside.
Grab fabric B (Cuddle 3 Honey) and fold in half, wrong sides together, so that it measures 40" x 1 1/2" when folded. Press
Lay fabric A (flannel dots) right side up on a flat surface and pin honey trim in place along the 40" side. Stitch in place with either a serger or straight stitch.
Fold fabric C (Cuddle 3 Turquoise) in half, wrong sides together so that it measures 40" x 5". Sandwich over the honey trim band and stitch in place.
Position pocket in place 1 1/2" from folded cuff edge. Stitch in place. Consider adding a

dog ear reinforcement stitch

at top edge.
Fold pillowcase in half with right sides together; stitch seams closed. Turn right side out, poke corners as needed. **If pressing is needed, keep iron on a very low setting to prevent damage to Cuddle fabric. Too much heat can ruin any patterns such as dots, rose or other embossing. If you are combining Cuddle with other fabrics, such as cottons, use the same cautions, even when on the cotton side.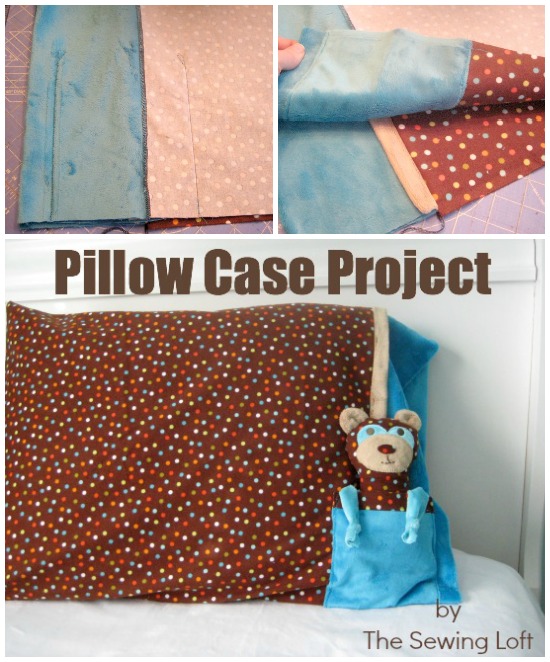 What about that Cuddle™ Buddy Bear? Want to learn more? Well, hop on over for a visit with me and download the free pattern today. While there, be sure to check out all my ever-growing sewing tips library. You will find simple techniques and tips to improve your projects and keep your needle moving.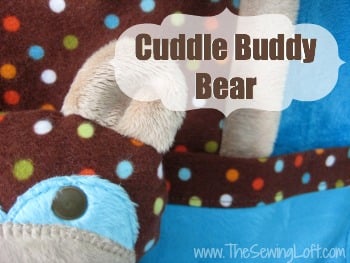 A big thank you to Shannon Fabrics for inviting me to visit with you today. I had a blast and hope that you enjoyed the project!

ps- while there be sure to enter the giveaway to win the fabrics needed to create the Cuddle Pocket Pillowcase & Cuddle Buddy Bear.