We never met a cupcake we didn't like!
This week, our National Educator combines two of our favorite things — cupcakes and Cuddle® minky plush fabric — for our most delicious sewing project yet! With an approximate finished size of 14" x 16", we can't get over how cute and cozy this stuffed cupcake pillow is. It's perfect for adding a splash of color and fun to any room, and it's the perfect take-anywhere size for traveling, too.
See Related: How to Sew a Pumpkin with Cuddle® Minky Plush Fabric
Below we've included Teresa's recommended fabrics and notions, her expert tips, her video tutorial and a FREE downloadable cupcake pillow sewing pattern for you to print out and use at home.
Ready to get your cupcake on? All that's left is to pick your "flavor" and start sewing!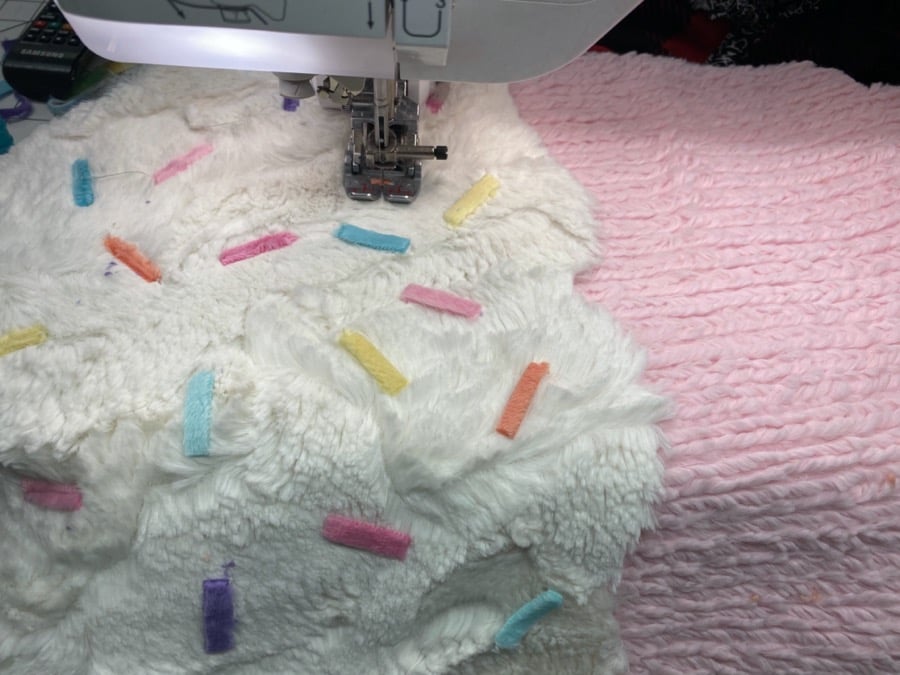 Fabrics and notions you'll need to sew a cupcake pillow
These products can be substituted for whatever you have on hand, but here is what Teresa recommends for her cupcake pillow tutorial.
Fabrics
1/3 yd. Luxe Cuddle® Chenille Blush
1/3 yd. Luxe Cuddle® Hide Natural
Scraps of Cuddle® 3 Baby Pink, Yellow, Sunshine, Papaya, Aqua, Topaz, Iris
4" square of Cuddle® 3 Cherry
Notions
Polyester batting 20" x 40" (Quilters Dream Poly Request)
Polyester thread (Mettler)
90/14 Stretch needle (SCHMETZ)
Long, flower-head pins (Clover)
Stiletto (ByAnnie's Stiletto & Pressing Tool)
Basting spray (ODIF 505 Temporary Adhesive)
Fiber fill (Fairfield World's Poly-Fil or Royal Silk)
Hand-sewing needle
Walking foot
Tips for sewing a cupcake pillow
Basting the pieces to the batting will give the cupcake more body, but you can make it without batting if you prefer.
Use a wide zig zag stitch to applique the Frosting Top to the Cupcake Bottom. Teresa uses a 5mm wide and 5mm long zig zag.
Use a straight stitch to attach sprinkles, making sure to backstitch at each end.
Trim batting slightly smaller than the fabric to make point/curve matching easier.
Use Original Poly-Fil for a firmer pillow and Royal Silk Poly-Fil for a softer pillow.
Video: How to sew a cupcake pillow
Mark your calendar — as part of Sew Together Tuesday, Teresa will be going LIVE on the Shannon Fabrics Facebook page at 10 am PDT on October 27 to share her tips on how to sew a Cuddle® minky plush fabric cupcake pillow.
Free downloadable cupcake pillow sewing pattern
Click the "Download Now!" button below to download and print Teresa's free cupcake pillow sewing pattern.

If you have any questions about Cuddle® minky plush fabrics or any of our Cuddle® Kits, feel free to contact our friendly, no-pressure customer service team at 866-624-5252.

Ready to start creating with Cuddle® minky fabric? Use our store locator to find a selection of Cuddle® minky fabric online or near you.