This is one pencil you won't want to put down!
With the success of our cupcake pillow tutorial, we thought we'd offer something similar this week — this time how to make a No. 2 pencil pillow (aka stuffie) out of our irresistible Cuddle® minky plush fabric!
See Related: How to Sew a Cupcake Pillow (Video Tutorial & Free Pattern)
Our National Educator Teresa Coates originally debuted our pattern for this fun sewing project at Retreat From Home 2020, and now she's graciously sharing her tips for our Sew Together Tuesday educational video series. The pencil works great when doubled as a neck pillow or bolster pillow, and not only do we have a FREE No. 2 pencil pattern download available, but we also have a FREE colored pencil pattern download, too (click here to download both, or scroll down and click the "Download Now" button).
As Teresa would say, let's get started!
"Ellie Elephant" stuffie shown above was designed by our friends over at Funky Friends Factory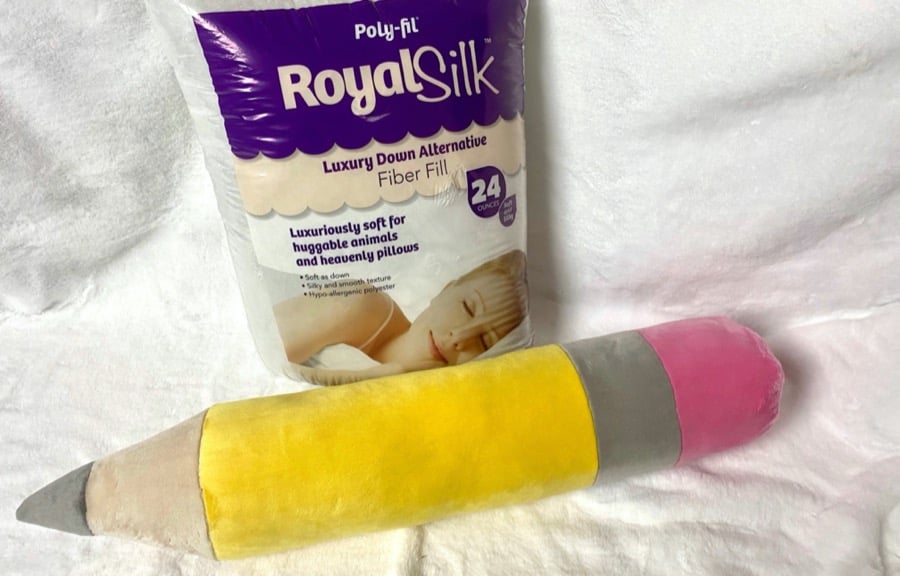 Suggested Notions and Fabrics to Sew a Pencil Pillow
These products can be substituted for whatever you have on hand, but here is what Teresa recommends for her minky fabric pencil pillow tutorial. Note the sizes you need are listed on the pattern, but if you're buying fabrics, this amount will make three pencils.
Fabrics:
½ yd. Cuddle® 3 Sunshine
¼ yd. Cuddle® 3 Graphite
¼ yd. Cuddle® 3 Beige
¼ yd. Cuddle® 3 Silver
¼ yd. Cuddle® 3 Bubblegum
Notions:
Polyester thread
90/14 Stretch needle
Long, flower-head pins
Hand sewing needle
16 oz bag polyester fiberfill (Teresa prefers Royal Silk from Fairfield World for this project)
45mm rotary cutter & cutting mat
Micro-serrated scissors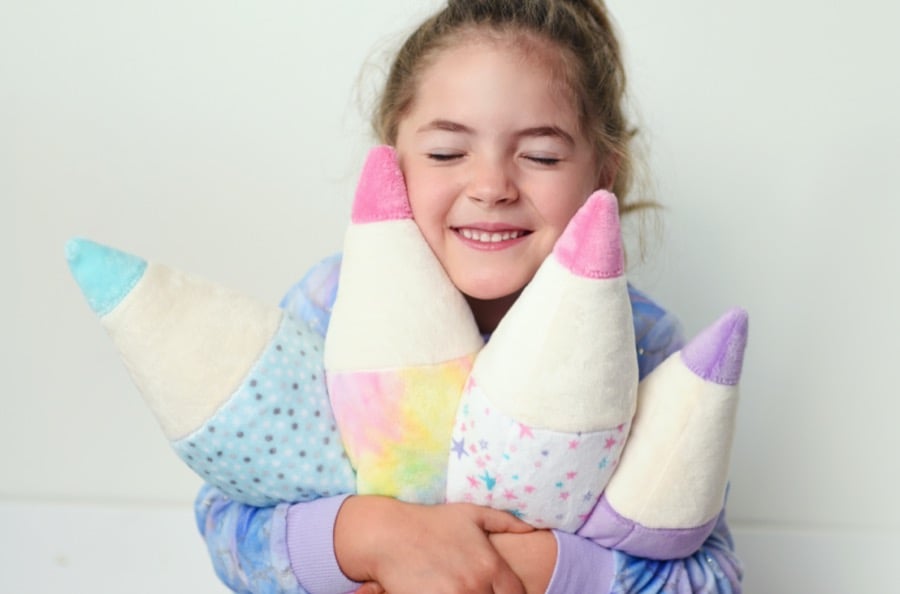 Tips for Sewing a Minky Fabric Pencil Pillow
Pin carefully on curves and sew slowly.
When sewing the Eraser End onto the Pencil Body, have the Eraser End against the feed dogs. It helps catch both layers.
Make sure to check all your seams to be sure both layers have been caught in the seam.
For some extra fun, quilt lines around the Pencil Band (silver).
Make the colored pencil variation by omitting the Pencil Band and Eraser Band, then cut Eraser End and Pencil Body of the same fabric.
Video: How to Sew a Minky Fabric Pencil Pillow
Mark your calendar — as part of Sew Together Tuesday, Teresa's prerecorded video on how to sew a pencil pillow stuffie in Cuddle® minky fabric will be posted to the Shannon Fabrics Facebook page at 10 am PT on December 8.
Free Downloadable Pencil Pillow Pattern
Click the "Download Now!" button below to download and print Teresa's free pencil pillow sewing pattern. As mentioned, you'll also be able to find the free "colored pencil" pattern as well.

If you have any questions about Cuddle® minky plush fabrics or any of our Cuddle® Kits, feel free to contact our friendly, no-pressure customer service team at 866-624-5252.

Ready to start creating with Cuddle® minky fabric? Use our store locator to find a selection of Cuddle® minky fabric online or near you.