Hello! I'm Janet from Adornit and I'm very excited to be guest-posting on Shannon Fabric's blog! Adornit and Shannon Fabrics recently got together and created a pattern book called Zig Zags & Chevrons. Here at Adornit, we design our own fresh, unique lines of quilt fabric, and we create a pattern book to accompany each fabric line as it comes out. When Shannon asked us to collaborate with them to create a pattern book featuring their Cuddle fabrics, we jumped at the chance because, well, we love Cuddle fabrics!
This book is full of an assortment of projects, each with photos and step-by-step instructions. One of our favorites is the Sassy Chevron Everyday Tote – a darling combination of soft Cuddle fabric and Adornit cotton.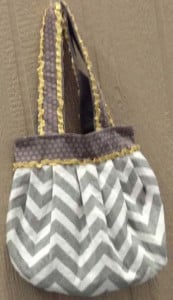 It's easy and fun to make and a great way to mix Cuddle and cottons! If you love it (and we know you do!) go get yourself a pattern book right now! You can find it at your local quilt shop or independent fabric shop, or at many stores with online shopping across the country such as Fabric Depot, Beverly's Fabrics and Mary Jo's Cloth Store.
And now for the best part – a GIVEAWAY!! We're giving TWO lucky winners a complete Sassy Chevron Everyday Tote kit, which includes everything you need to make this adorable bag, AND a copy of the Zig Zags & Chevrons Pattern Book! All you have to do is enter our Rafflecopter giveaway below. We'll announce the winners on August 9.
Enter the Rafflecopter Giveaway here

The Adornit girls are excited to continue working with Shannon on a brand-new, soon-to-be released combination of fabrics that coordinate perfectly, cottons from us and Cuddle from Shannon. The pattern book for this soon-to-be released collection is in the works and we can't wait to show you!
Be sure to subscribe to Shannon's newsletter here. And you'll also soon be able to subscribe to Shannon Fabrics blog- to get emails each time there is a new post.
Stay tuned for more posts and info about our next release. And if you're interested in quilting, scrapbooking, or crafting in general, you can find Adornit it at www.Adornit.com, and be sure to look for us on Facebook, Pinterest and Instagram.
Thanks!
Janet