Today we are sharing a quick and easy project, Eye Spy Eyeglasses Case! This project was designed and made by one of our fabric designers, Dana Brooks of My Lazy Daisy. Fabrics used are from our Lagoona line, which Dana designed. Make these simple, soft Cuddle eyeglass cases to keep your sunglasses, readers and prescription eye wear protected.
HOW-TO
Simply use 5" strips and cut 18" long. You can use pre-cut strips from one of our Cuddle Throw kits. These kits have strips that are 5", times the Width of Fabric (WOF), which for Cuddle is approx. 58"/60" wide. Take one strip, cut it into 3 pieces, and you can get three cases made from one strip (with a tiny bit left over)! You might even use strips from our Cuddle Throw kit Lagoona!

Fold down about 1 1/2" and stitch casing to feed the metal tape into.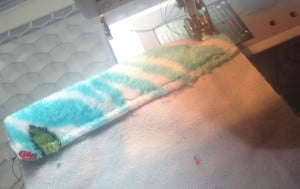 Fold down and sew close to the edge
Cut two pieces of tape measure tape into 3 3/4" cuts. Tape the ends to cover sharp edges.
Feed into casing. Place right sides together and stitch sides. Turn right side out and there you have a quick fun Eye Spy glasses case.
In addition to creating beautiful fabric designs for Shannon Fabrics, Dana also is the co-owner and head designer at My Lazy Daisy, the first and only direct sales quilting and sewing company. You can check out Dana's company and her beautiful products and opportunities at www.mylazydaisy.com
And just to make sure this project is a winner, enjoy a few coconut M&Ms... a little chocolate with a hint of coconut...while you're working...aaahhh!! Yummm! Be sure to stay tuned for other quick and simple projects from Dana.
And, we're so excited about our new blog that we are having a Giveaway for a Cuddle Quarter (Q) Kit! To enter our Giveaway, be sure to comment on this post with words "Cuddle Quarter Kit" and also subscribe to us on YouTube here! There will be 3 winners and each will win a Kit!