Cheerio! I am Colleen Bell, one of Shannon Fabrics Brand Ambassadors, and today I want to share a cute machine embroidery project for you using the Anita Goodesign "Special Edition Collection – Nursery Rhymes" and Embrace® double gauze.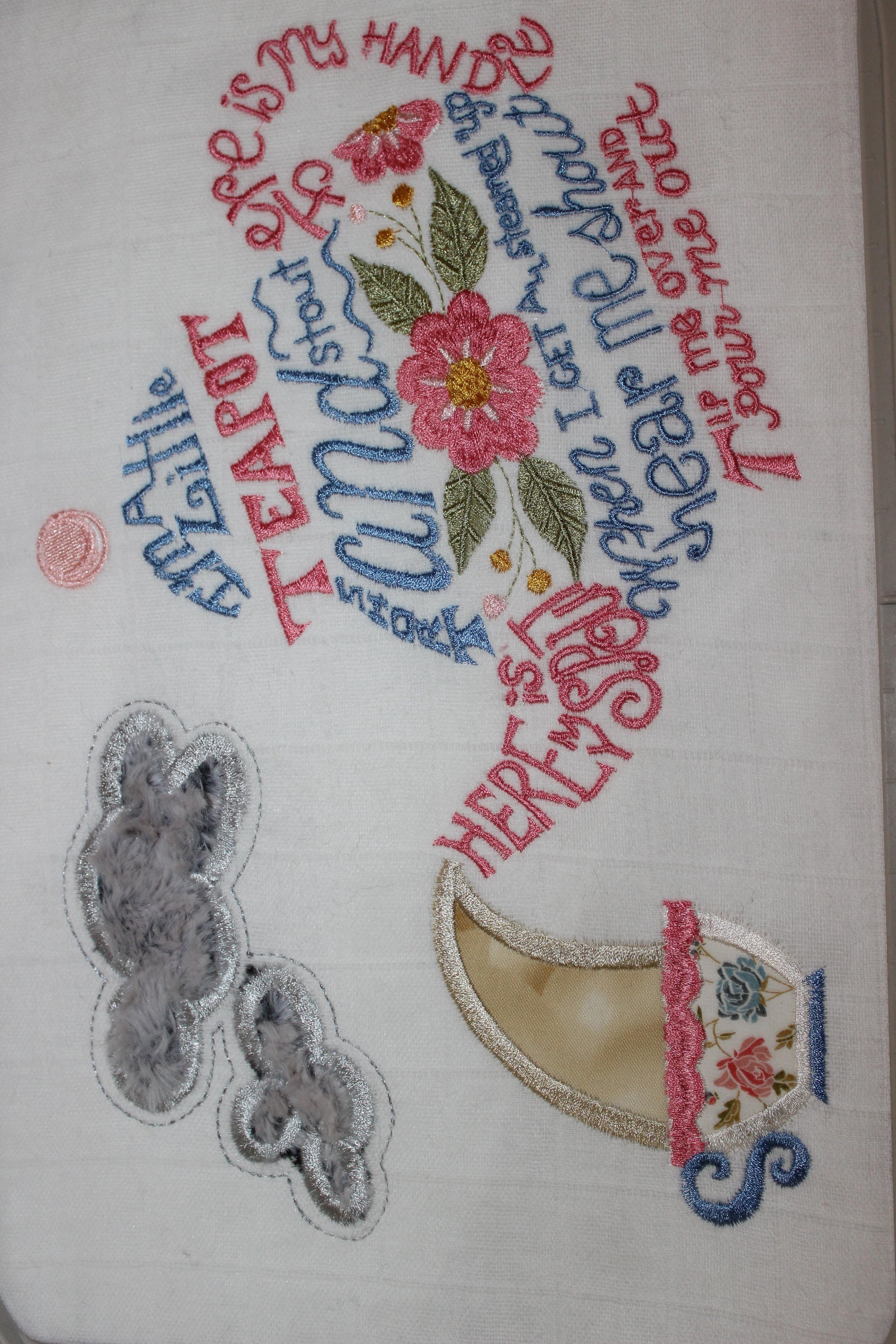 The nursery rhyme makes us naturally think of children, but this is a project for you. What do you think of when you hear the words, "I am a little teapot?" Of course, you finish singing the words, but then you think of that adorable teapot. Maybe it is one that you own or that someone else owns, but whichever one it is, it holds a lot of memories. Tea is just that way. My most treasured teapot is from my grandmother; it used to play the tune "Tea for Two." While it was broken before I inherited it, it is still treasured. My newest teapot was a gift from my son's trip to Ghana. Does my Keurig count as a teapot? I use it every day for my green tea. Maybe I should have made a cozy for it.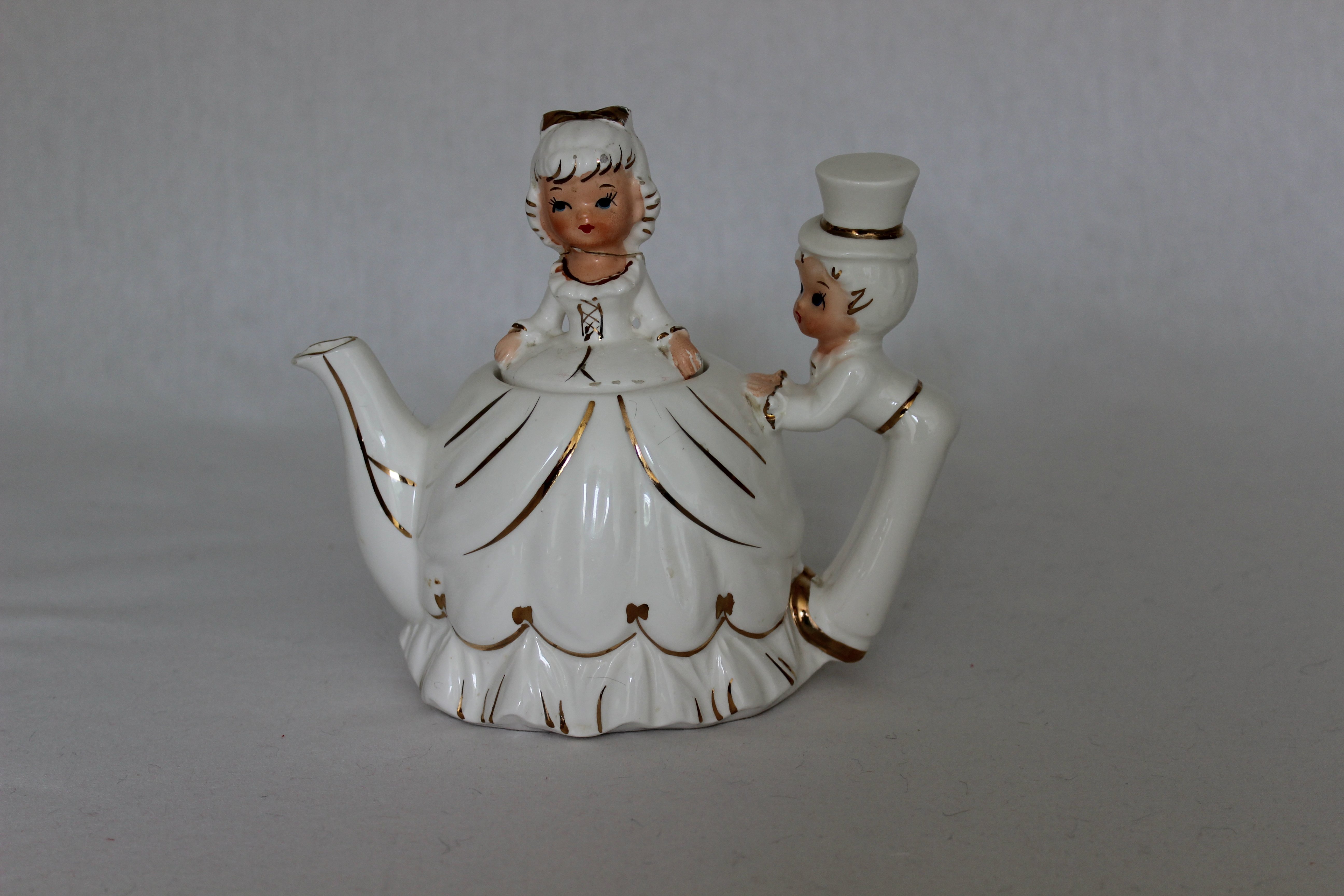 This project is for a tea cozy using the adorable Anita Goodesign teapot nursery rhyme collection, Embrace® double gauze Snow, Luxe Cuddle® Marble Graphite for the clouds, and The Seasoned Homemaker tea cozy pattern.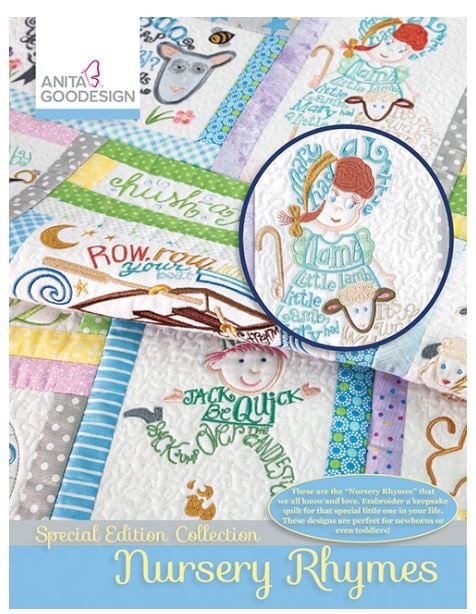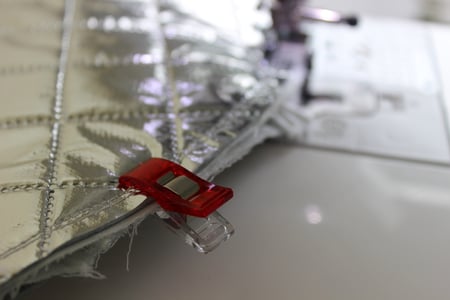 Instead of using flexible foam and a separate lining as The Seasoned Homemaker recommends, I used Aluminor™ by Fairfield World as the inner support and the lining. First, this saved me from using two products, but more importantly, I used it because it has a thermal property that will keep my tea extra warm. That is the primary purpose of this fabric - to regulate the temperature - either hot or cold. Thank you to Fairfield World for supplying the Aluminor™ and the fusible interfacing, "Stick" for this project. One tip for using the Aluminor is to use Clover Wonder Clips® instead of pins. This will prevent the pins from doing damage to the insulation.
I used my Baby Lock Ellisimo Gold with a large hoop about the size of 8" by 12" that allowed me to accommodate this large design.
Embrace® double gauze has a really helpful feature with those built in grid lines. Use these lines to your advantage when cutting out the fabric. Place your first piece on top of the fabric and line up all the lines and you will now have a perfectly placed second piece of the pattern.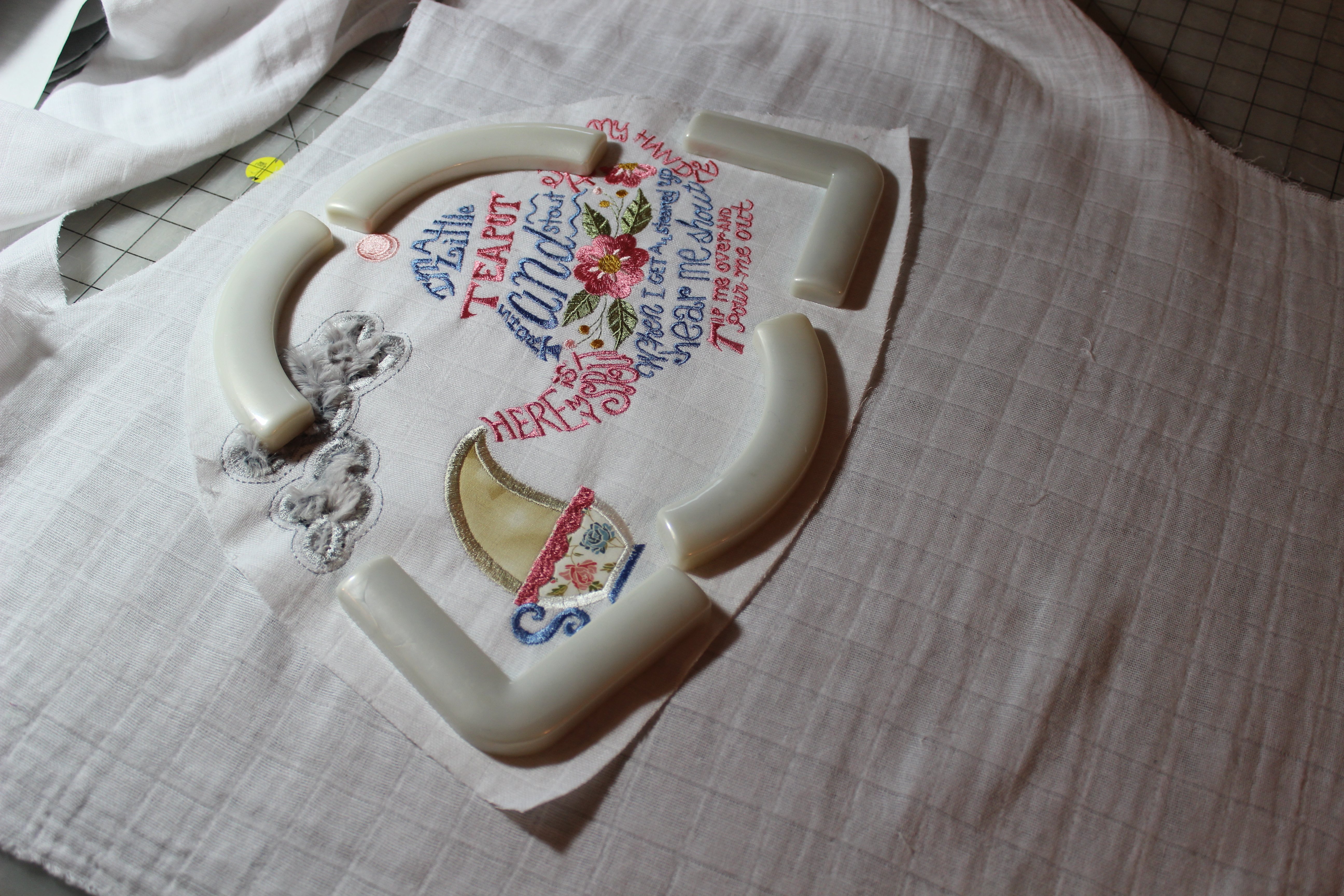 To keep my machine embroidery stitches from falling through those loose fibers of the Embrace® double gauze, I used a cutaway medium fusible stabilizer by Floriani. I kept the stabilizer on the back for extra strength and since the fabric was white and slightly translucent when a dark color is behind it, I thought this would help. I also used their gorgeous machine embroidery threads to make the colors exceptionally beautiful in this design. When adhering the fusible interfacing, do not place the iron directly on top of the Luxe Cuddle® Marble, but put a silicone ironing sheet on top to protect the fibers.
To start your machine embroidery project to be the best possible, I recommend starching so that all those wrinkles are controlled and do not get caught up in the machine embroidery stitches.
When hooping your Embrace® double gauze, you will find it helpful to line it up with a "Perfect Alignment Laser" by Designs in Machine Embroidery which can be found at this link. This will assist in making sure the lines of the Embrace® double gauze are straight in the hoop and that they are centered correctly.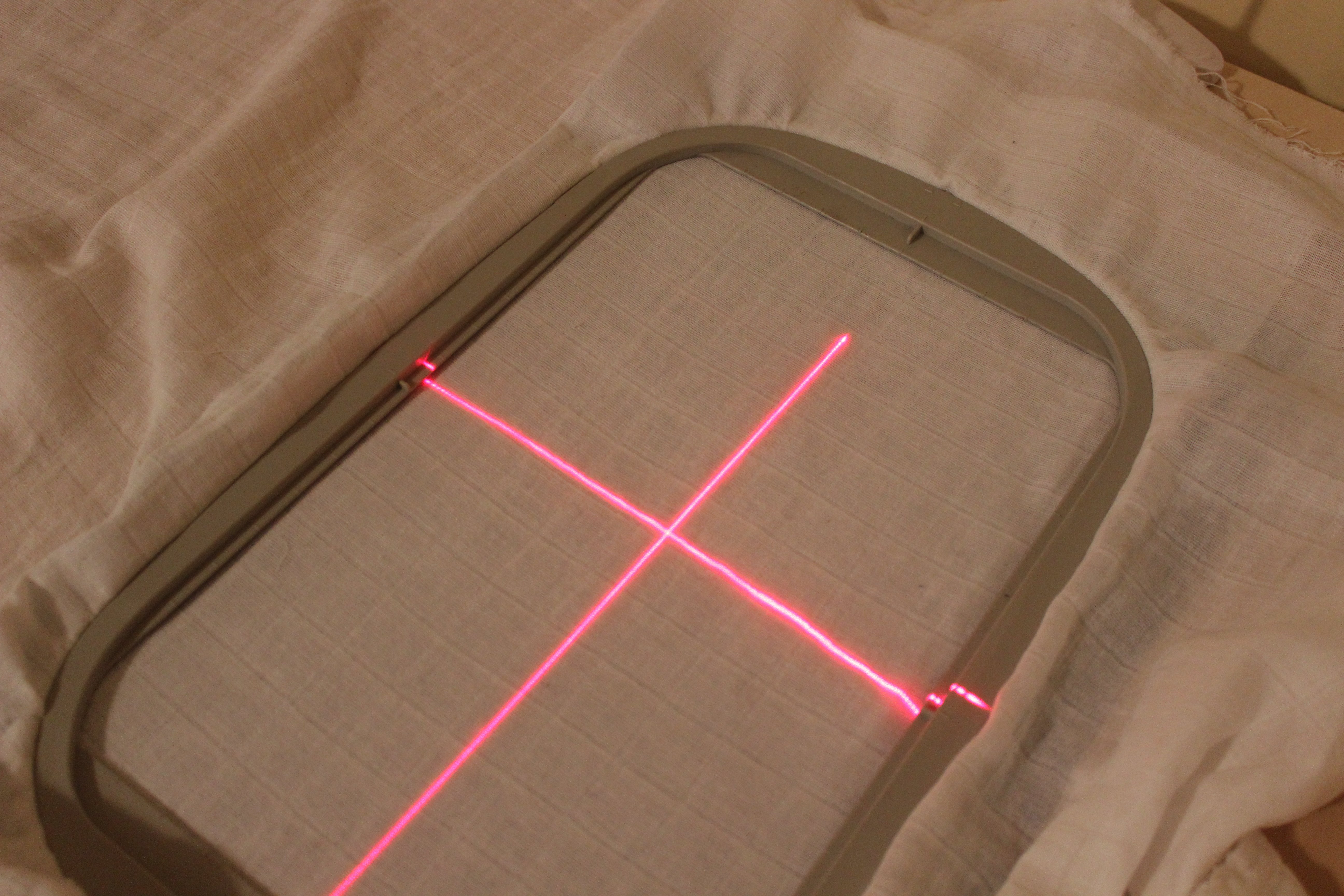 I save all my Shannon Fabrics scraps and I am glad that I do because I had just the right piece of Luxe Cuddle® Marble in Graphite for the steam clouds. At first you might be reluctant to use it as a traditional machine embroidered appliqué, but do not be intimidated by the length of its pile. Place the fabric on the placement lines just as if it were cotton and machine stitch it down. There is no need for a topper, nor is there a need for a temporary adhesive. It stitches perfectly in the hoop.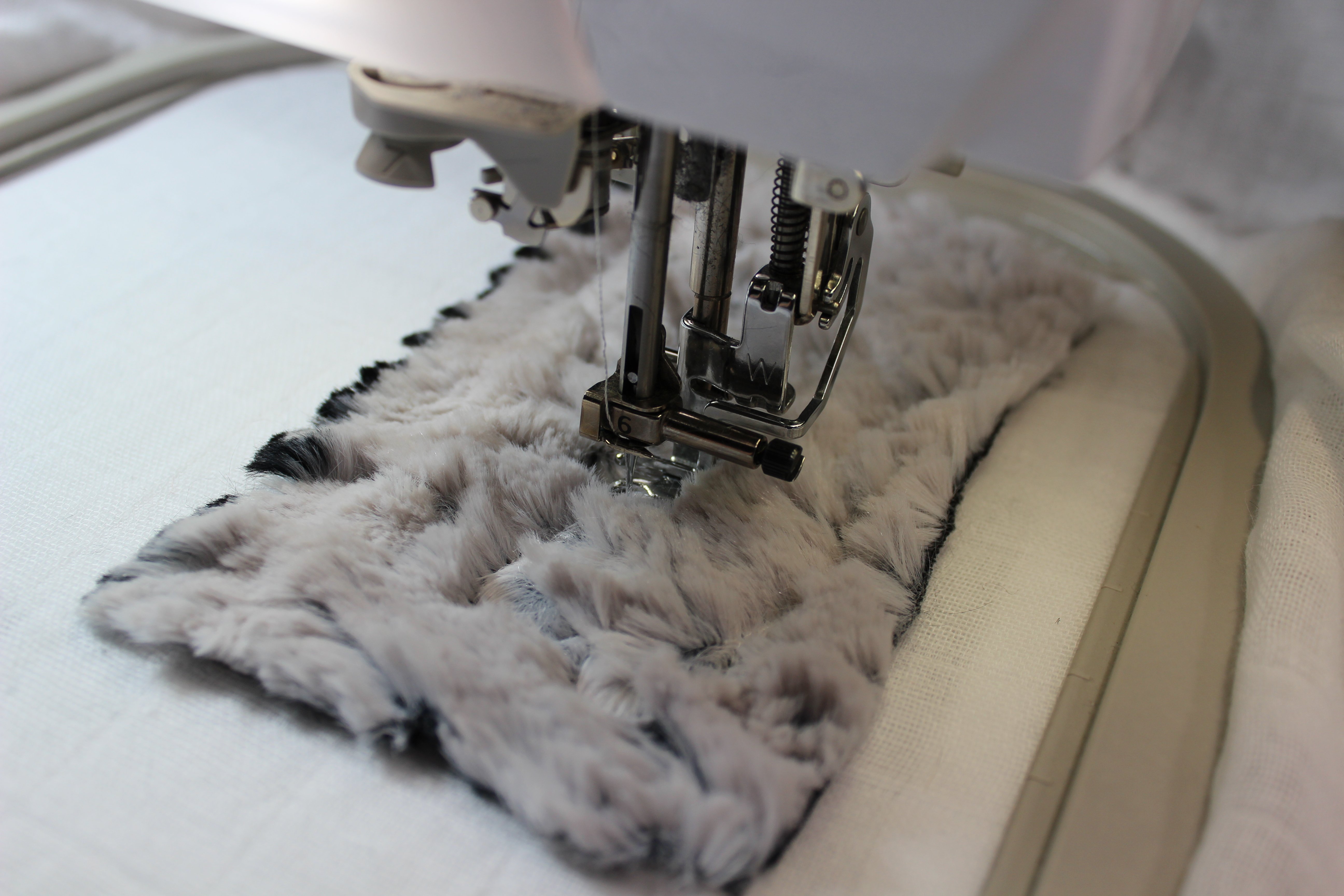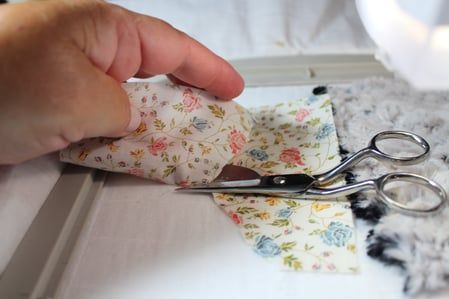 A special note should be said about trimming machine embroidery when Embrace® double gauze is the base fabric. Embrace® double gauze is a very loose and airy fabric, which gives us the beautiful hand in construction, but it can be a little tricky especially when trimming jump stitches. Be very careful to lift only the thread of the stitch and do not catch any threads from the Embrace® double gauze. Curved machine embroidery snippers are perfect for this task. They also come in handy when trimming the long fibers around the edge of the Luxe Cuddle® Marble appliqué.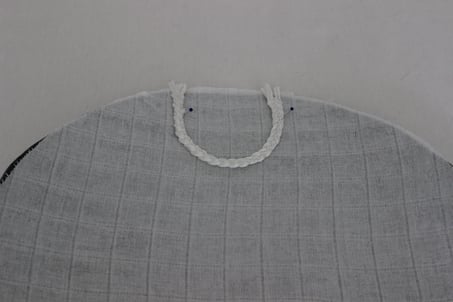 For the handle, I used 6 strands of white cording. I braided them together and sewed the ends so they would not unravel. I also added a pompom trim around the edge.
Hope you enjoyed this project. Please let me know if you have any questions by posting them in the comments section below.
You can find Shannon Fabrics at independent quilt shops and fabric stores, and determine your nearest shop on the Shannon Fabrics website by clicking on the Store Locator button.
Stay up-to-date on what's happening! Subscribe to the Shannon Fabrics blog, Sewciety. Connect with Shannon Fabrics on Facebook, Instagram and Pinterest.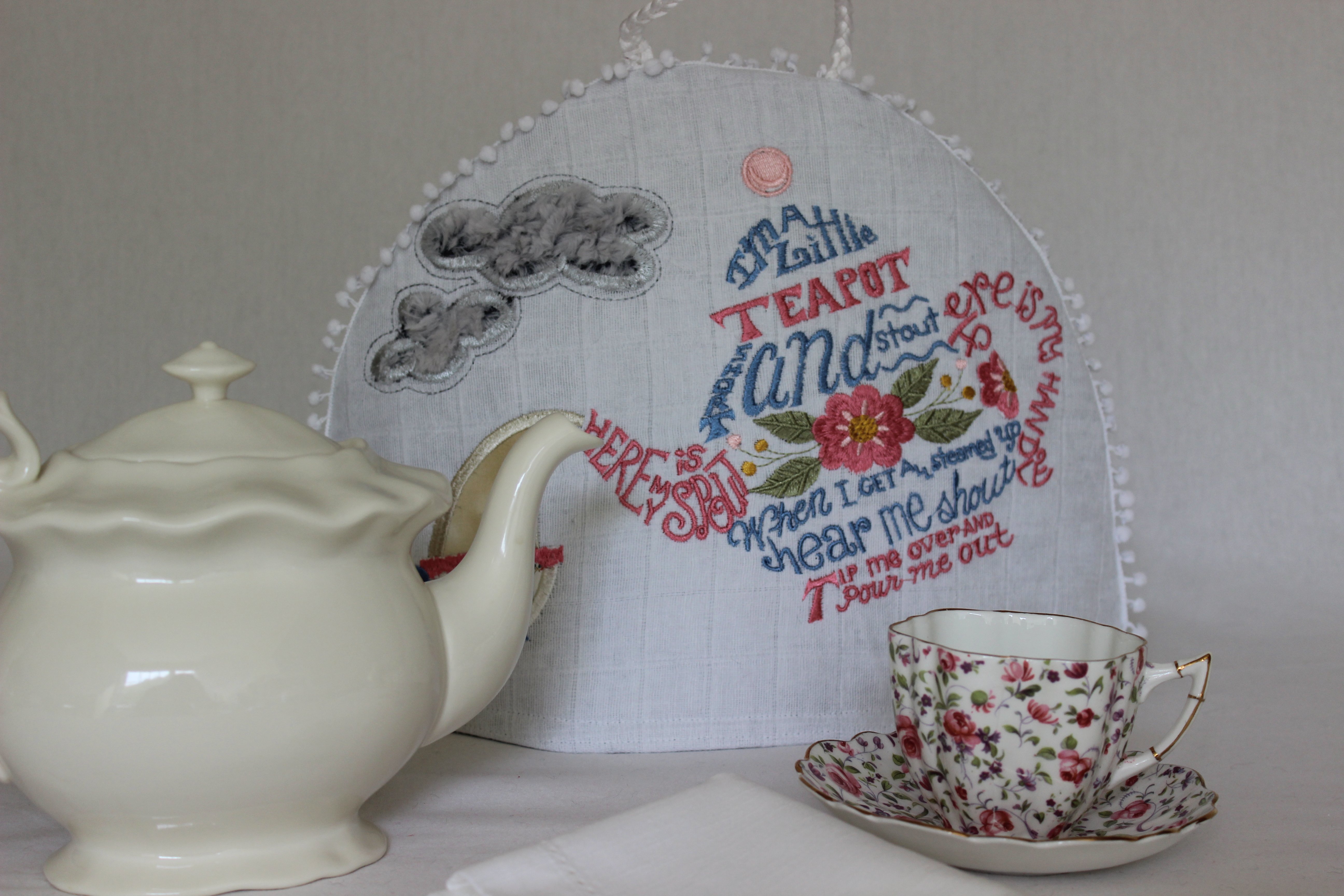 Thank you for spending time with me on the Shannon Fabrics blog. Until next post, happy embroidering and keep making the world a softer place!
Colleen