Polly here from the Pieces by Polly blog to share my favorite new Cuddle® quilt design. I hope you'll love this Disappearing-Nine-Patch quilt as much as I do. It's so fast and easy to sew together, I was able to put it together in a single day.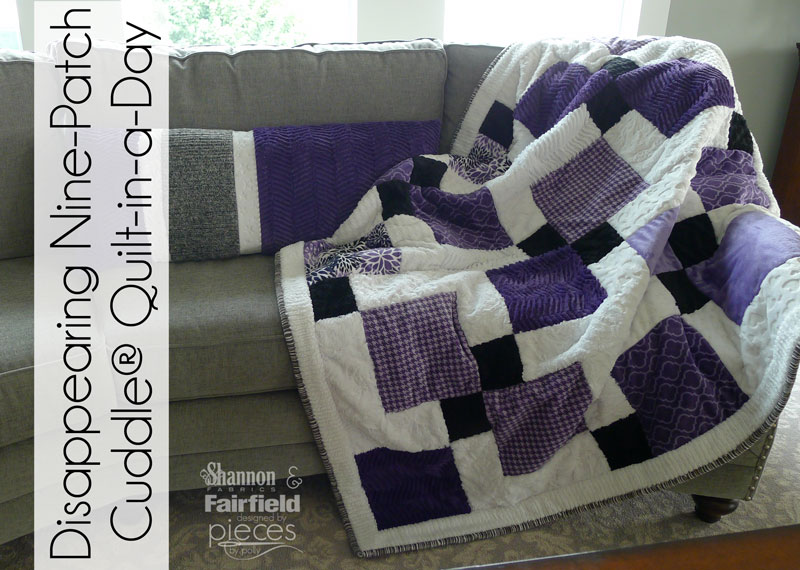 Paired with an asymmetrical body pillow, this deep purple is perfect for the dorm room this quilt is headed to and will be in style all year.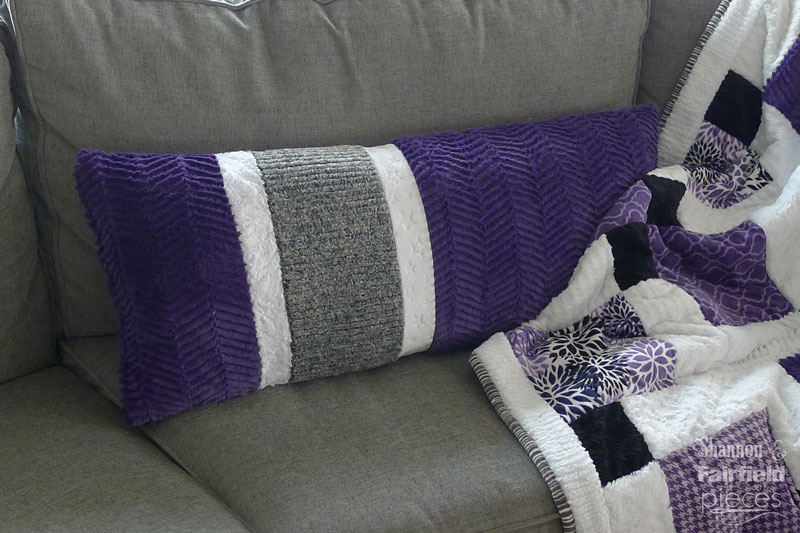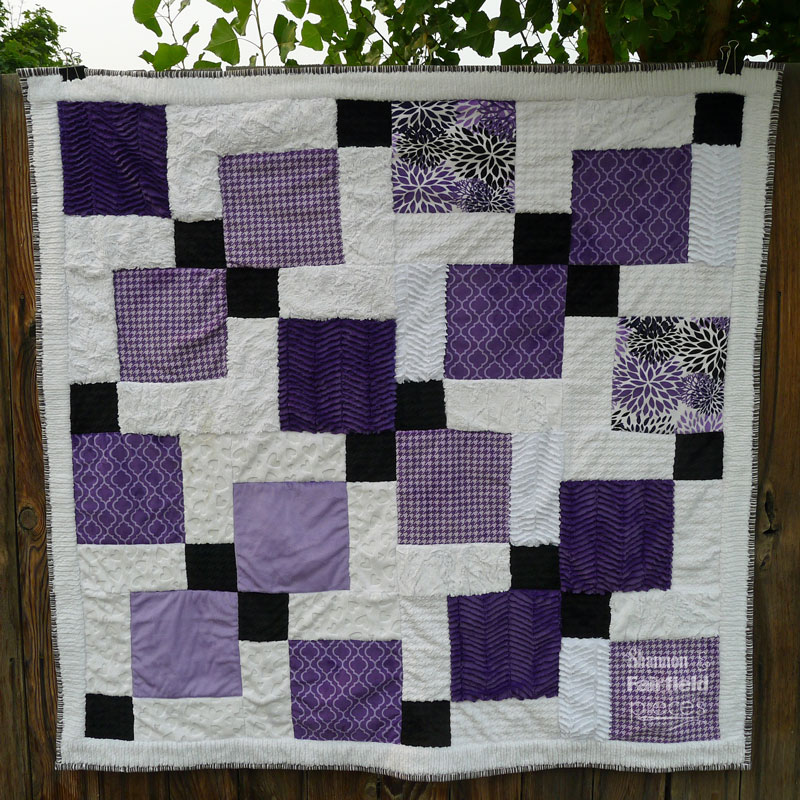 And for the fall in the home, you can coordinate it with some Orange Accented Disappearing Nine Patch Throw Pillows for a Halloween vibe.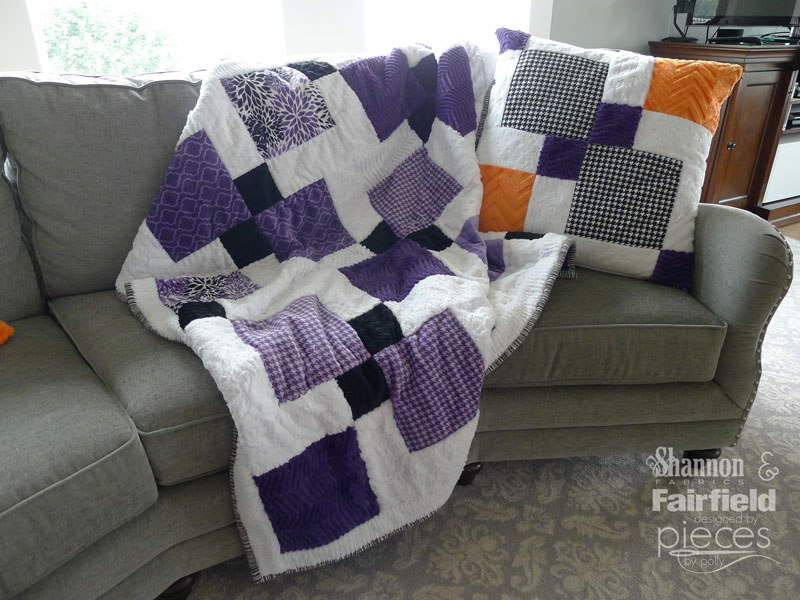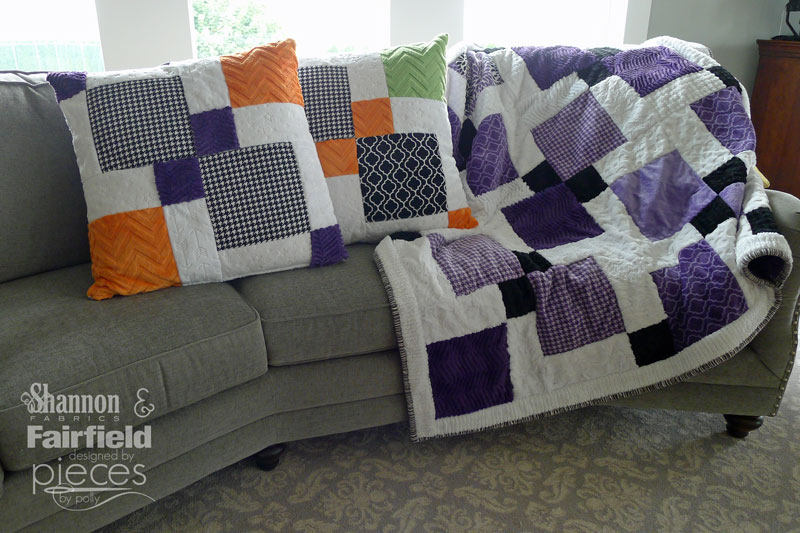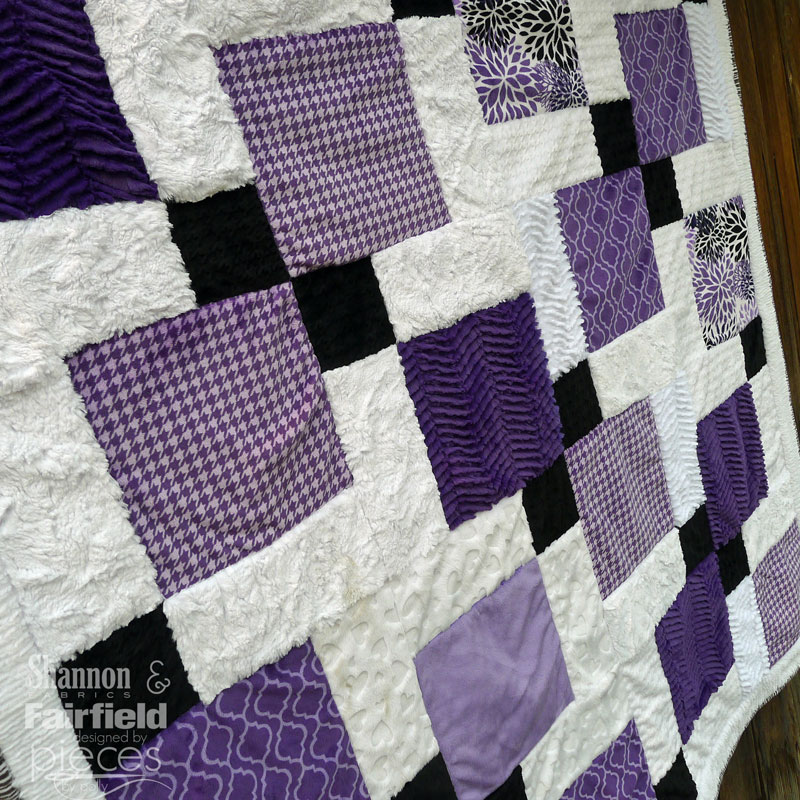 Materials:
This is a great pattern to use up Cuddle® scraps and can be done with any color scheme. Just substitute other colors or prints for the purple and black and choose a contrasting solid for the white portions. The pattern can be easily adapted to smaller size squares. I had quite a few left over 10" squares from other projects, so this quilt was a bit scrappy for me. 10" Cuddle® Sweet Strips™ are a great starting point for fabrics if you're interested in a different color scheme.
Instructions:
Cut your fabric into 10" squares. You'll need a total of 16 purple squares, 16 white squares, and 4 black squares. Arrange in (four) 9-patch blocks. The four corners should be colored. Be sure that matching pairs go in opposite corners and that the . The center square black, and remaining four squares white. Stitch together with 1/2 seam allowance.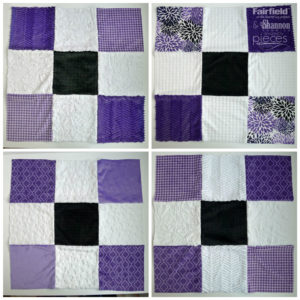 Cut in half from side to side and top to bottom. This is easiest done with a rotary cutter and ruler. (I used my Olfa rotary cutter. ) Line the 4 1/2 inch line up with your seam to get a straight cut through the middle.
Each large block should have been cut into 4 squares like this.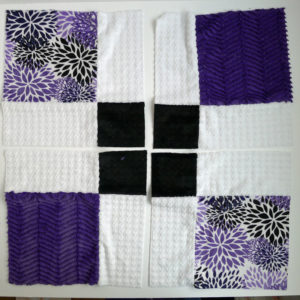 Swap top right and bottom left squares in each block. You may also decide to swap square between blocks. Stitch together using 1/2 inch seam allowance.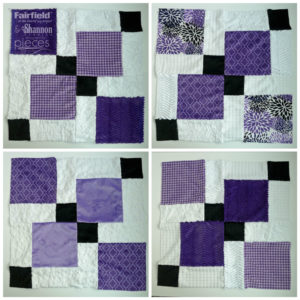 Cut your border fabric into 3" strips. Sew strips to each side of your quilt. Trim even with the quilt. Then sew strips to top and bottom of quilt. Trim even.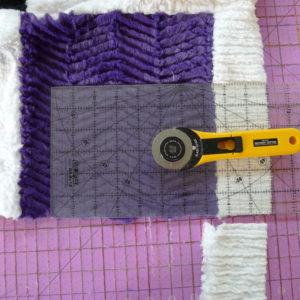 Layer your quilt. My favorite batting to pair with Cuddle® fabric is Nature-Fil™ Bamboo Blend Batting because it is almost as soft as Cuddle® fabric itself.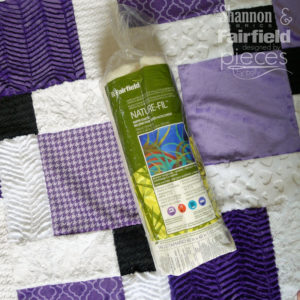 I prefer to use basting spray to keep the layers in place while I quilt. (I like 505® Spray and Fix Temporary Fabric Adhesive by Odif) I lay my quilt out on my batting. Pull half the quilt back at a time, spray the batting with the basting spray, then smooth the quilt back out. Repeat for the other half. Trim the batting to match your quilt top. Then flip over and repeat to add your backing.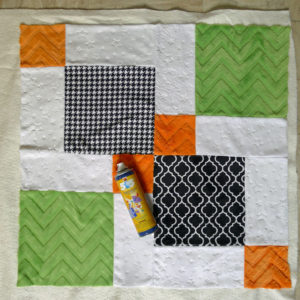 Quilt as desired. See our tips for machine quilting with Cuddle® if you're unfamiliar. I used my home quilting machine to stitch-in-the-ditch around each of the colored and black squares. The fabric is so wonderfully plush that you really have to look to see the stitching afterward. Trim you backing even with the front.
Bind your quilt using 2" strips of your binding Cuddle®. Go here for more tips and instructions for binding your quilt if you're unsure of how to do it.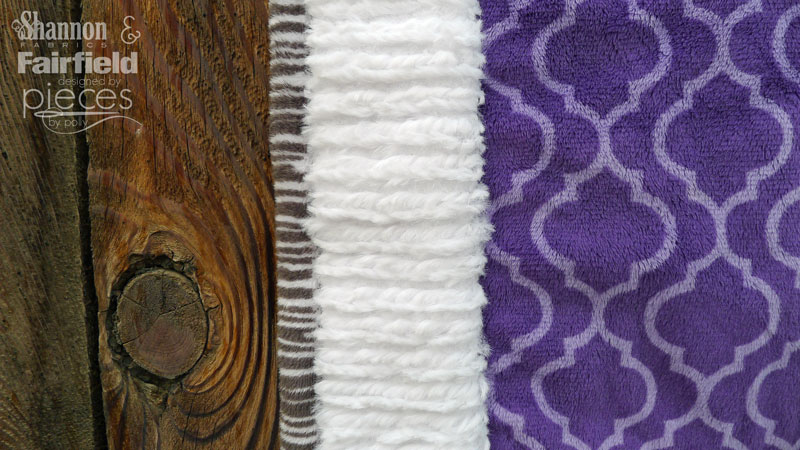 And your quilt will be ready to enjoy!
Polly blogs regularly on Pieces by Polly
Connect with her on…






P.S. You can find Shannon Fabrics at many local quilt shops and fabric stores. A few online shops that carry a wide selection of Shannon Fabrics include fabric.com, fabricdepot.com, missouristarquiltco, fatquartershop.com and theminkyboutique.com. Or, view their Store Locator to find more shops.

Stay up-to-date on what's happening! Join their mailing list. Subscribe to their blog, Sewciety. Connect with them on social media: Facebook, Pinterest, Twitter, YouTube, Instagram, Google +, and Flickr