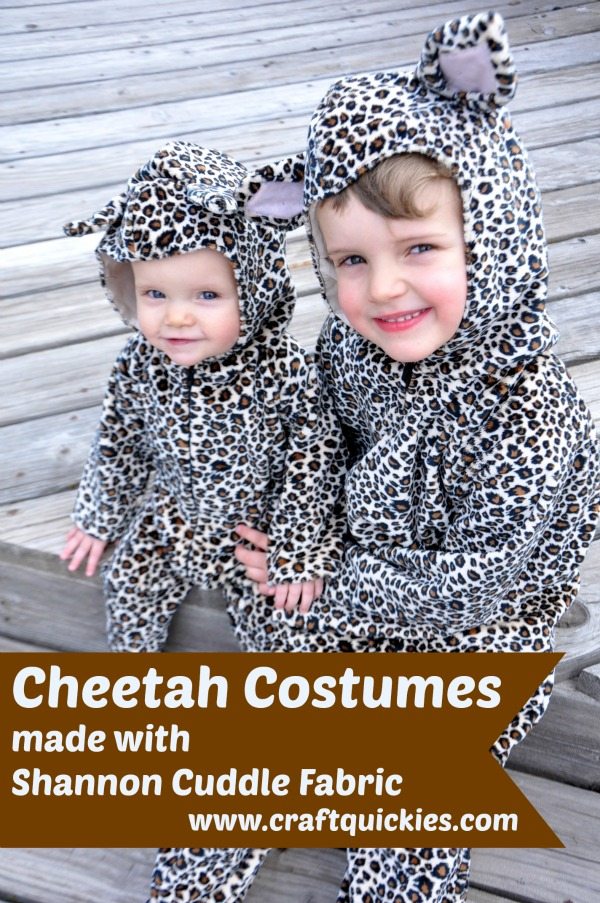 Hello! My name is Sarah and I blog over at Bombshell Bling. Bombshell Bling (formerly Craft Quickies) is a creative blog that covers a little bit of everything, including recipes, jewelry, kid crafts, holidays, home decor, and more! I would love to have you come visit me!
Like most of you, I am a texture junkie, and Shannon Cuddle Fabric is my drug. I LOVE them. I love to snuggle them and get cozy under Cuddle blankets and just feel the fabric's softness. So, naturally, I thought it would be a brilliant idea to make my kids costumes from Cuddle so that I could rub their little baby arms and legs when I snuggle with them. We are a snuggly, snuggly bunch at my house!
I am so excited to share these fabulous, fabulous, FABULOUS cheetah costumes with you today! My mother-in-law made them and my son seriously never takes his off. He wears it even when it is 88 degrees outside! Don't believe me? Just look at my Instagram feed and see how many cheetah pictures you can find. It's almost ridiculous. ;) And yet, despite the constant wearing of the cheetah costume, it is still in beautiful condition. This fabric is so incredible! It washes like a dream and it holds up so well! Plus it's WARM! Perfect for chilly winter nights and for trick-or-treating, don't you think?! Especially since it is available in TONS of animal prints! Score! You can find all of the Cuddle animal prints here.
The all came to pass because my son is obsessed with the tv show Wild Kratts, so for his birthday he requested a "Dragon Power Suit" (which you can see on the post about his How to Train Your Dragon birthday party) and a "Cheetah Power Suit."
I knew that there was no way I could pull off two "Power Suits" in time for his birthday, so I asked my awesome mother-in-law to help me out with the Dragon Power Suit. She used minky fabric and it turned out amazingly!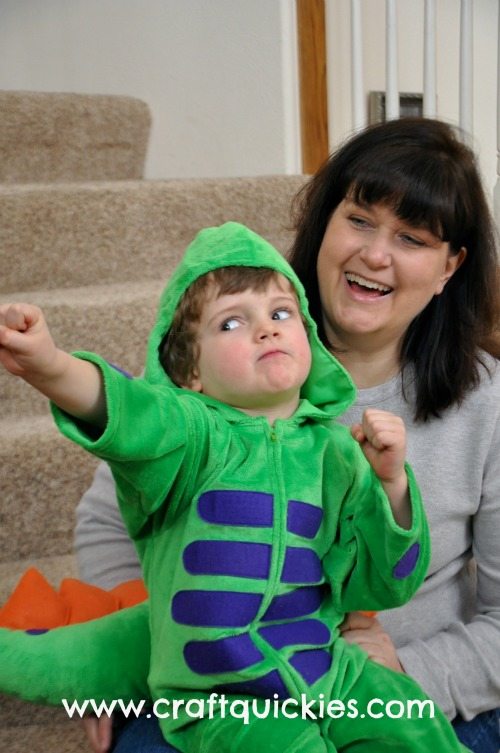 Well, as it turns out, I was so busy with party preparations that I never got around to making the Cheetah Power Suit. Luckily, Grandma had such a ball watching my rowdy boy play in his Dragon Power Suit for the ENTIRE weekend and refusing to take it off that she asked if she could make his Cheetah Power Suit as well. Ummm.....let me think about that for a second....YES, PLEASE!!!! She is a MASTER seamstress and I am self-taught with two years of very limited experience. I will hand off a sewing project to her any day of the week!
So I ordered up a few yards of the unbelievably lush and snuggly Cuddle Jaguar fabric from Shannon Fabrics (note this fabric has been discontinued, but can be swapped out for any of their other Cuddle animal prints) And then Grandma got sewing, and someone was pretty darn pleased with the outcome! Silly goose.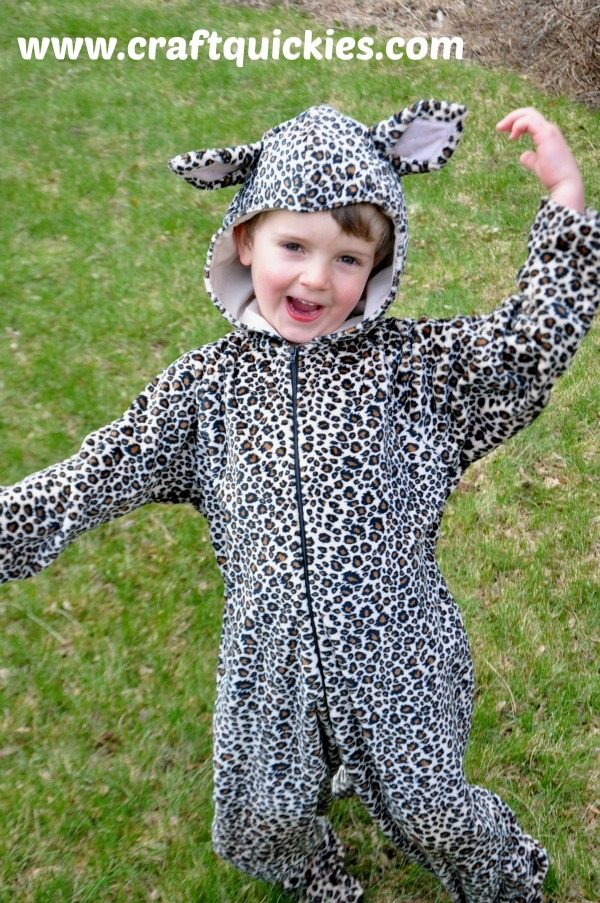 And then I left for three days for the SNAP Blogging Conference, and when I got back THIS had happened with the leftover fabric!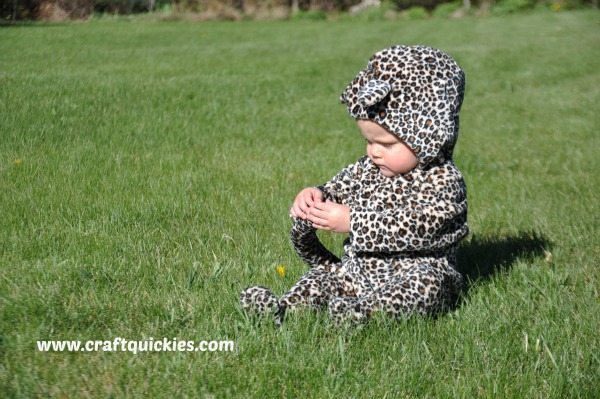 Are you even kidding me?!?!?! I may die from the cuteness!!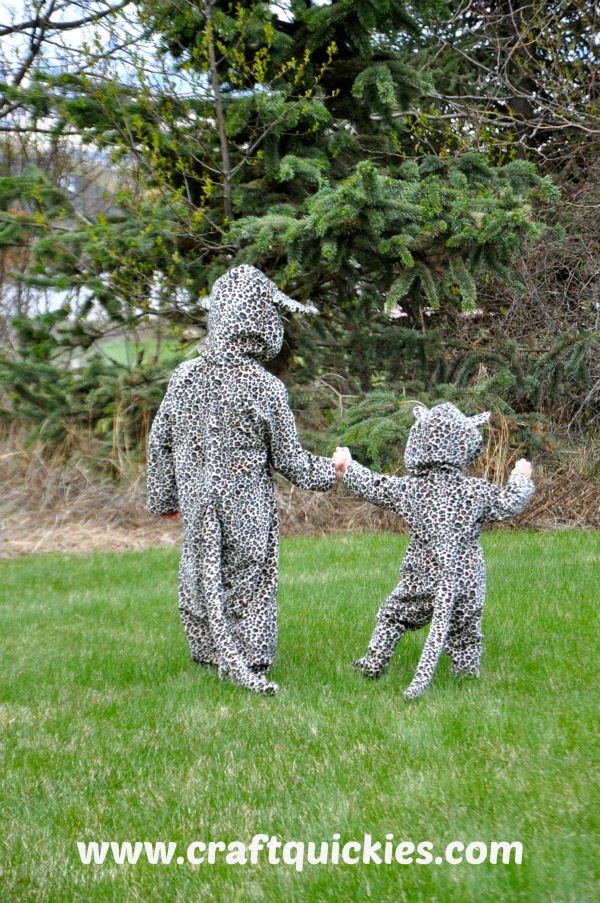 Want a few more details about the creation process? Well, as we have established, I didn't sew these Cheetah Power Suits, and I wasn't even there when she did, but she took a few pictures along the way for me, so I can give you a general idea of her work process. Luckily for you, she works from patterns.
Before you start working with Shannon Cuddle fabrics (which is a specific, fabulous brand of minky fabric) you should keep a few things in mind. Cuddle fabric has some unique quirks, so be sure to check out these tips from the Shannon Fabrics website prior to diving into your project. Ok, now let's get going!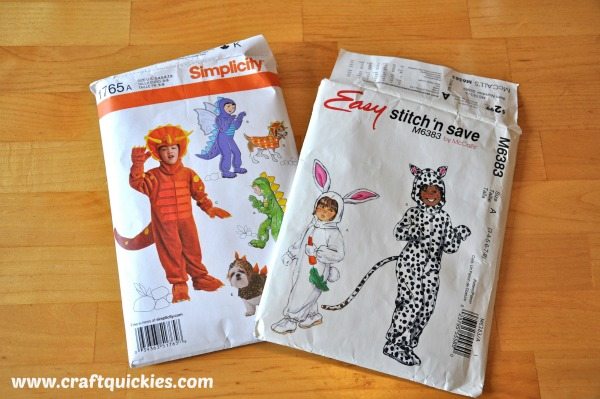 These are the patterns she combined/used for my boy's Cheetah Power Suit. For my baby girl's suit she used an old pattern she has had since she was sewing sleepers for my husband when he was an infant. You could find any baby sleeper pattern for it. She is a pattern follower for sure, but she did adapt it a bit at my request so that the headpiece would be an attached hood and to close up the feet like footie pajamas, even for my big boy's outfit. There is nothing I hate more then dealing with a meltdown because he can't find the one last piece of a costume he wants to wear. Ay ay ay! I wanted them as one solid piece, and she was kind enough to humor me.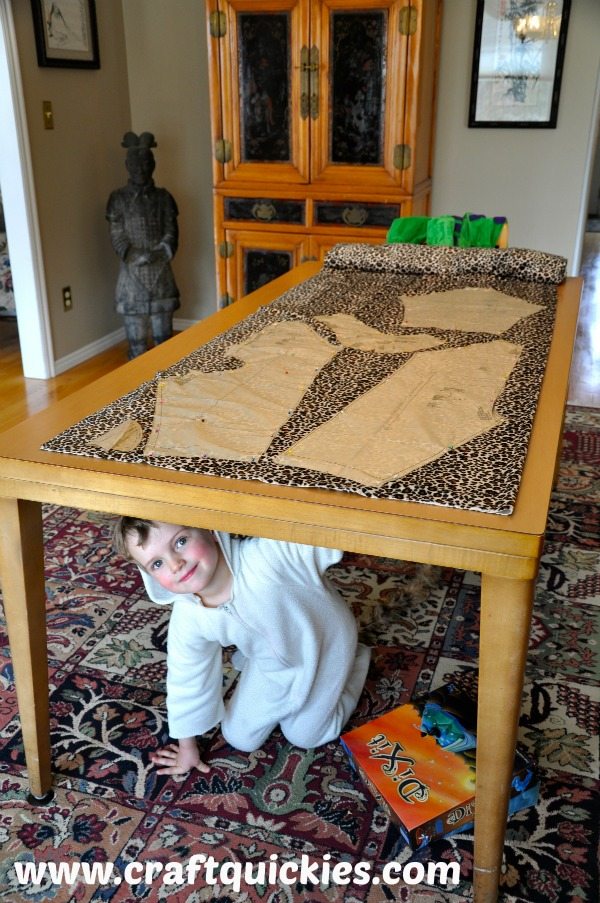 This little wolf (wearing a Where the Wild Things Are outfit I made him for his third birthday) was very excited about the process, so he supervised Grandma and his very pregnant aunt's progress.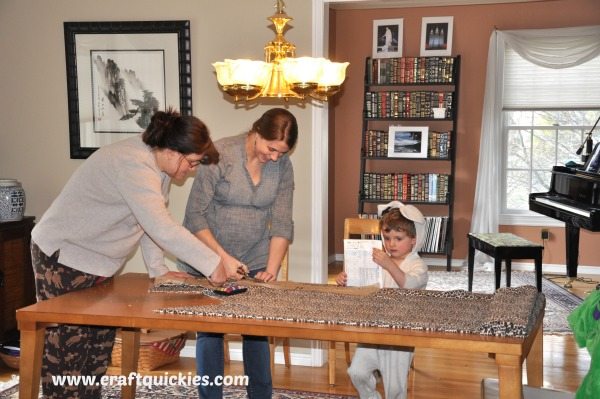 Below you can see how she made the hood, made the ears, then slit the fabric, slid in and pinned the ears, and then sewed them firmly to the hood. At that point she added in a lining and attached the hood to the body. She has skills that I do not have.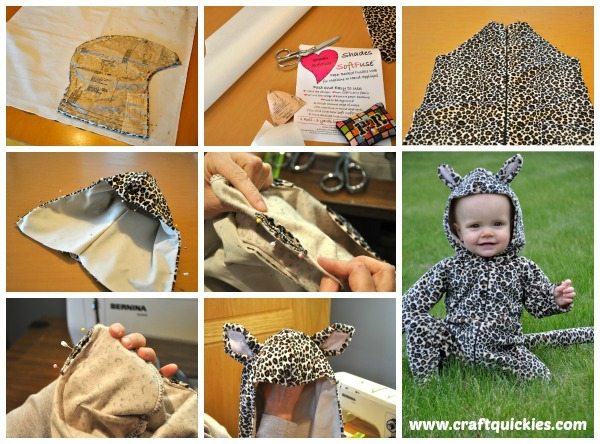 Below you can see her process for making the feet. I thought it was very clever how she zig zagged the elastic into the ankle for a more snug fit which leads to less tripping.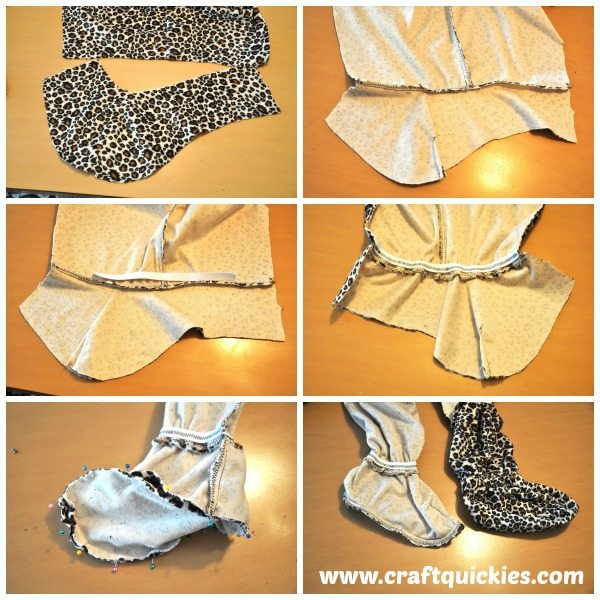 The final modification that she added to the patterns was to sew a zipper in along the inner leg seam (aka the crotch) of the baby costume. That was I can unzip it for quick and easy diaper changes without having to pull her halfway out of it or exposing her little baby chest and belly. BRILLIANT! Apparently she has been doing that to baby sleepers since she made them for my husband and sister-in-laws as infants.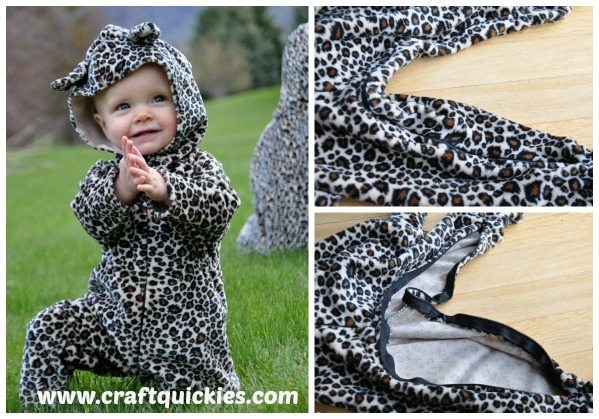 Now let's just admire the finished product in action, shall we?! I love my little cheetahs, and I love how much they love each other, as well as their awesome grandma!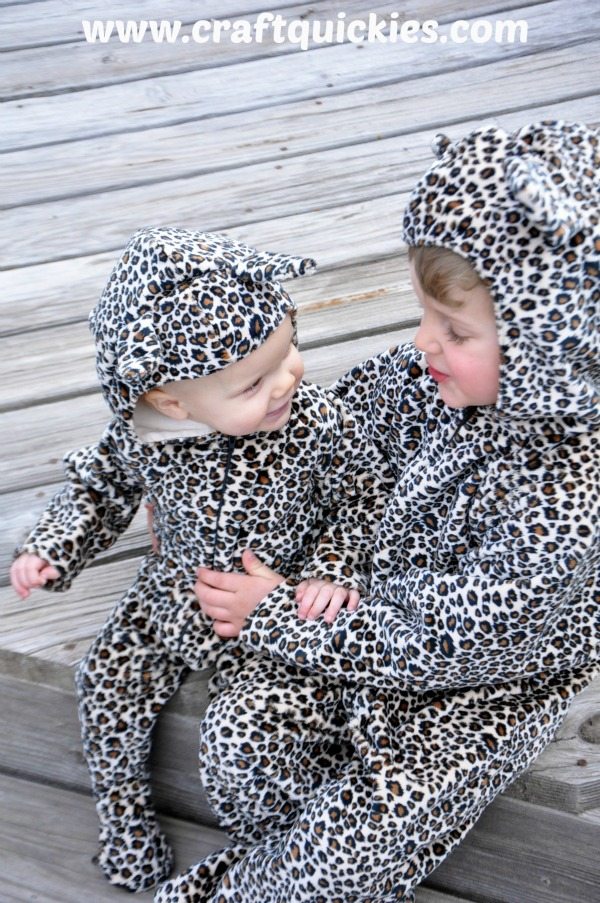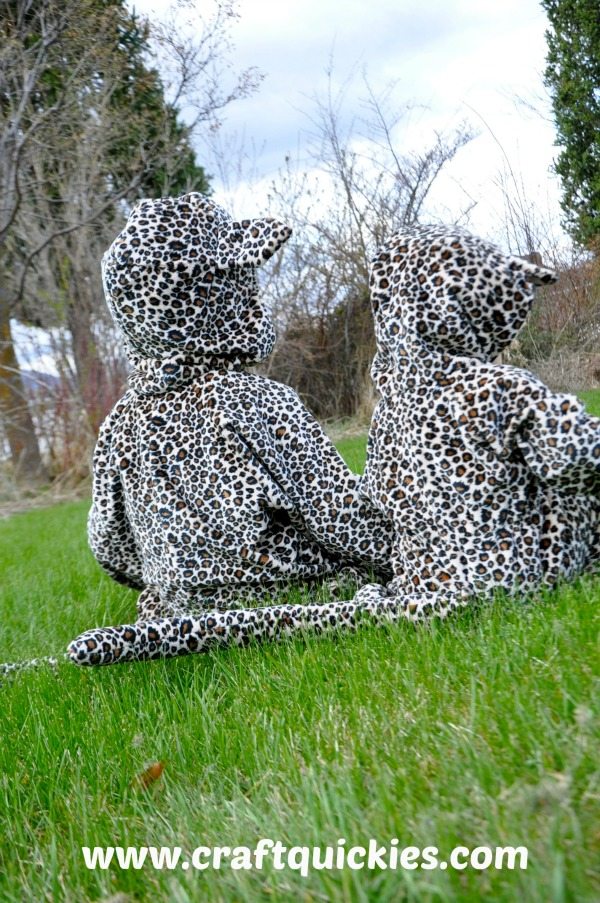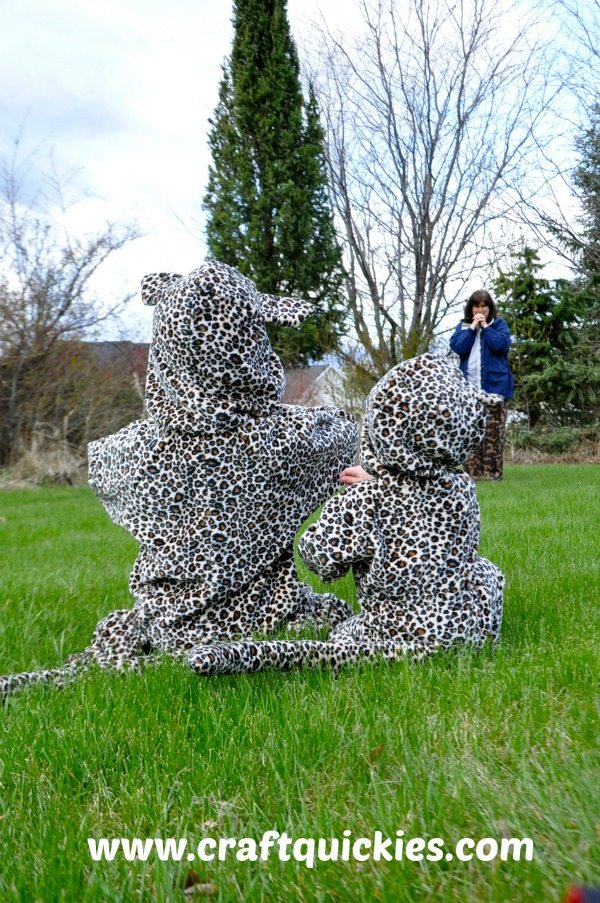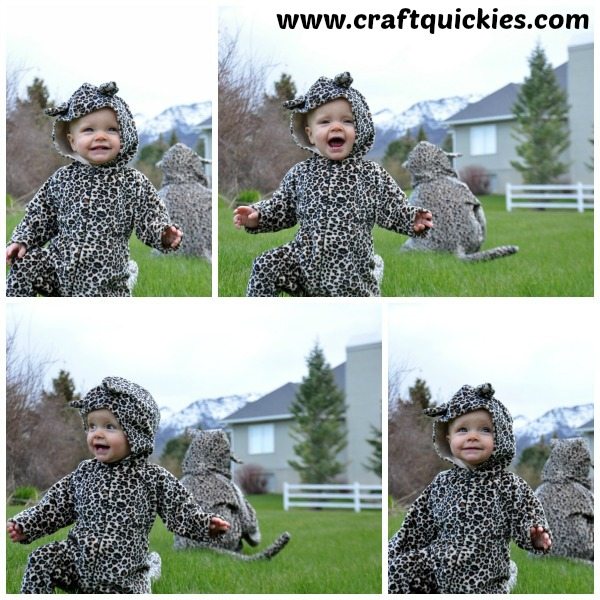 Aren't they just the cutest little cheetahs that you have ever seen in your life?! I think so. Not that I am biased or anything.... ;) If you make any Halloween costumes using Cuddle Fabric please be sure to share them with me on Facebook! I would love to see anything that this post may have inspired!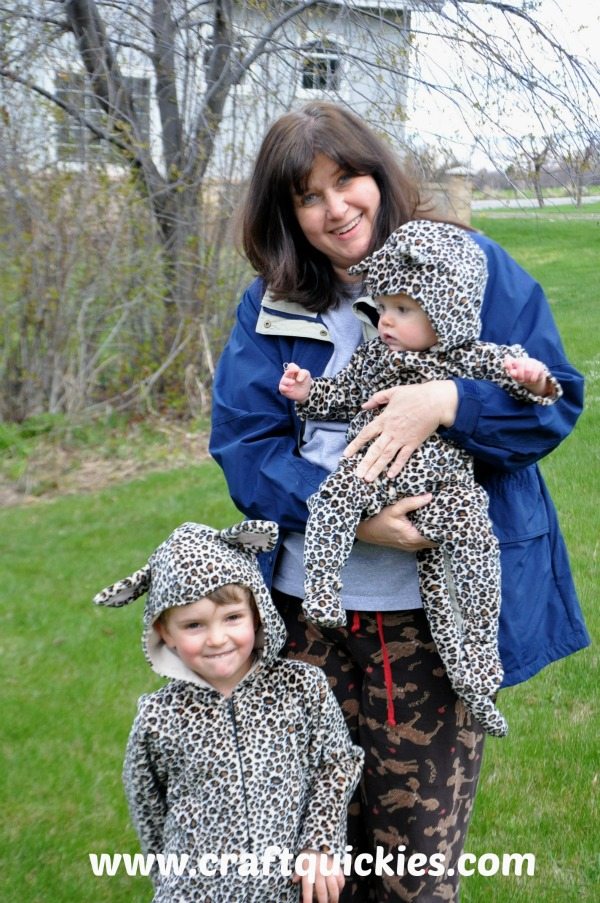 Come visit me over at Bombshell Bling for even more fun Halloween ideas!
Here are a few of my favorite seasonal posts in which you may be interested: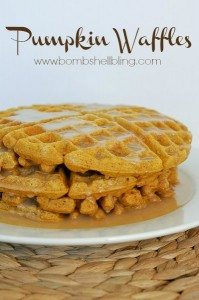 Pumpkin Waffles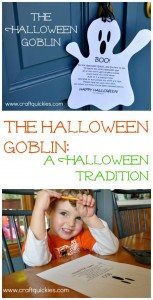 The Halloween Goblin: A Halloween Family Tradition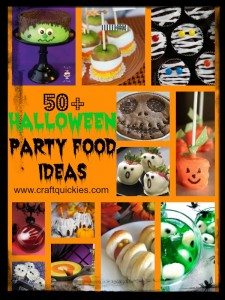 50+ Halloween Party Food Ideas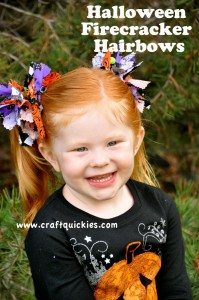 Halloween Firecracker Bows