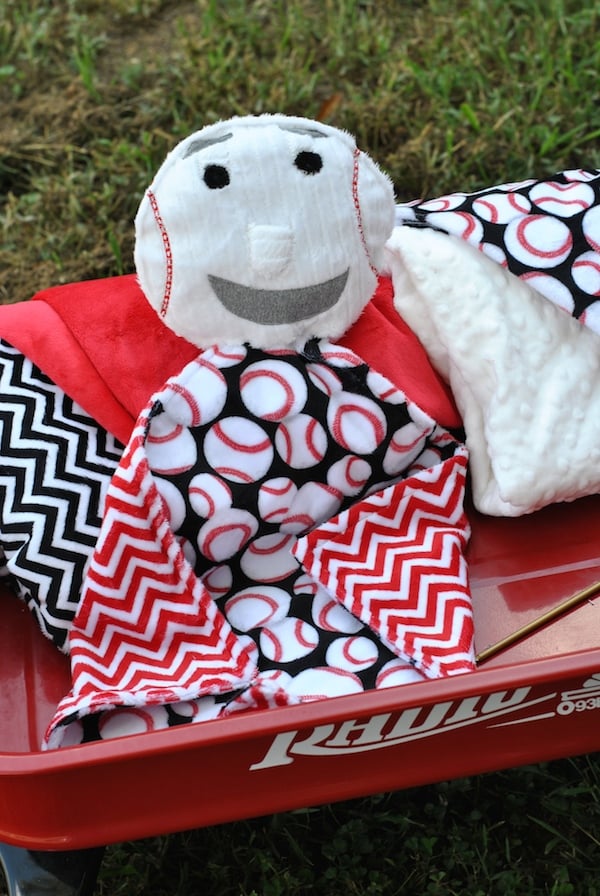 Hello! I'm Lindsay from Lindsay Sews and Craft Buds, and I'm here today to share a little project I whipped up for my son, now 7 months. Early in life, Elliot fell in love with his stuffed bear with a little soft blanket attached. When nothing else would make him laugh or smile, Mr. Bear could! Well, he loved it so much that I decided to make him a backup toy using the SCORE! Collection from Shannon Fabrics. Since my husband is a baseball fan, I figure Elliot will someday inherit this love of sports.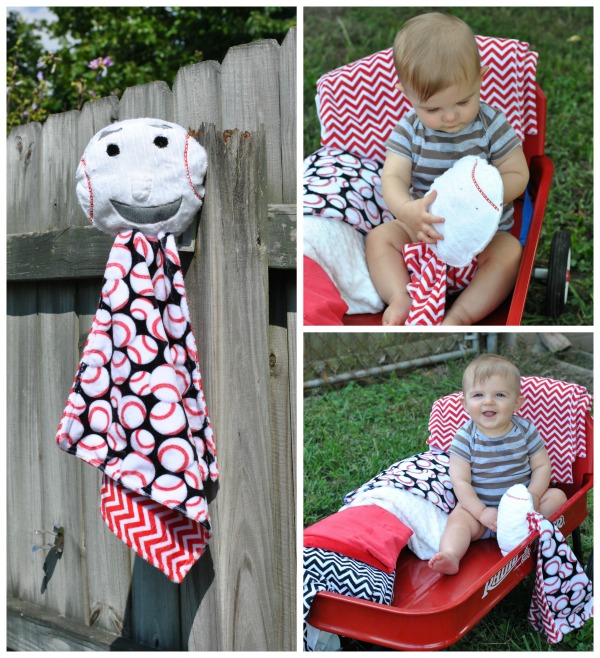 This Baseball Buddy soft toy is an easy, quick project to sew for babies. Plus, it can be customized however you like! Here's a tutorial for you to make your own Baseball Buddy:
Materials:
- 16" square Baseball Cuddle in Black
- 16" square Mini Chevron Cuddle Red/Snow
- 12" square Ribbon Cuddle® Snow White
- Fabric Scraps for the face (I used bits from old T-shirts)
- 32" of thin (1/8"- or 1/4"-wide) red ribbon for baseball detail
- Fiberfill stuffing (a few handfuls) Poly-Fil® 100% Premium Polyester FiberFill
Directions: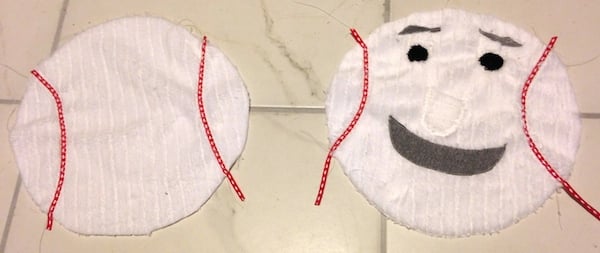 From white fabric, cut 2 circles the size of a small (salad) plate for Front and Back of baseball head. Cut tiny circles of white for eyes and nose and zig-zag stitch to right side of baseball head Front. From black and grey fabric, cut other details for face and stitch.
Cut four 8" lengths of red ribbon and place on right side of baseball head Front and Back as pictured.

Use a couching stitch (pictured) or zig zag stitch to enclose the whole ribbon and secure to the fabric.

Stitch the circles together, right sides facing. Leave a 3" gap for turning where the baseball's "chin" would be. Turn right side out.
Topstitch 1/4" from outer edge around the perimeter (except for the 3" opening).
Fill baseball head with fiber fill stuffing.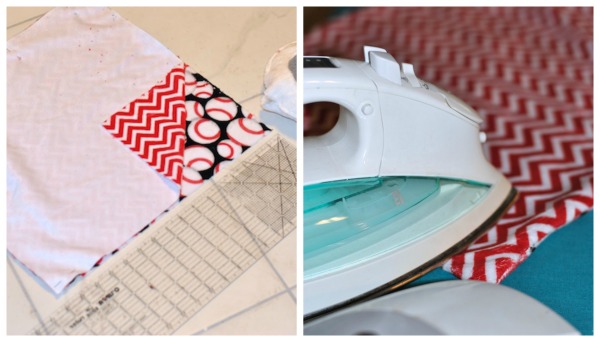 With right sides facing, pin 16" squares of black baseball and red mini chevron fabric. Make sure the grain/stretch and nap are running in the same direction. Stitch 1/4" from the perimeter, leaving a 3" opening along one corner. Flip right side out through opening. Press.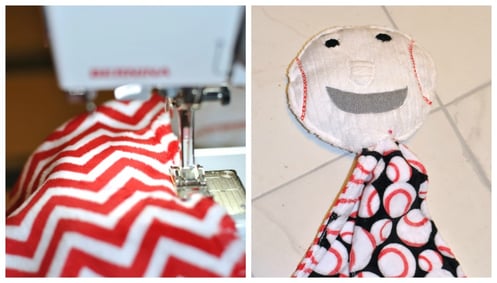 Topstitch blanket 1/4" from perimeter. It's okay to leave the raw edges of the opening loose until the next step. Take the open corner of the blanket and poke inside the opening of the baseball head.
Pin in place, folding the raw edges under. Hand stitch the opening closed all around the blanket.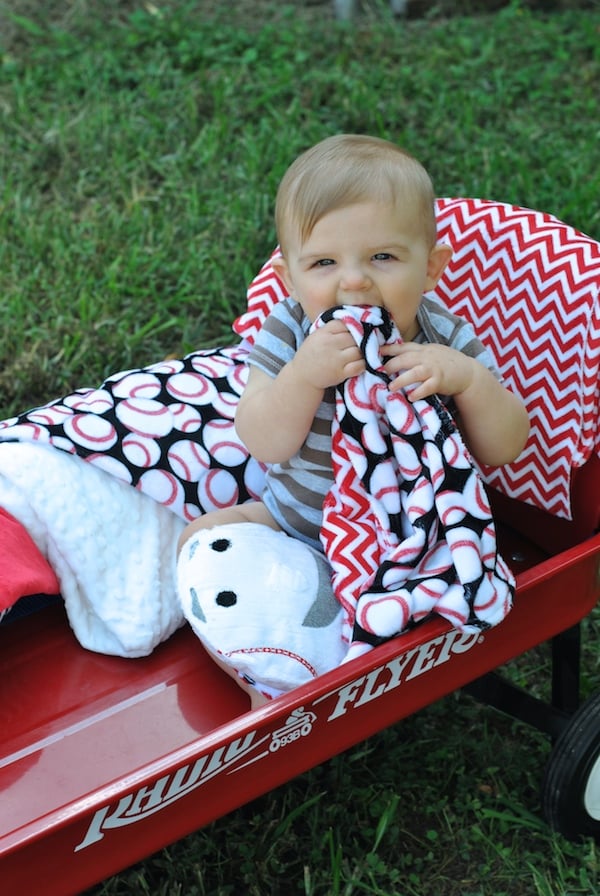 And, that's it! As you can see, Elliot loves his Baseball Buddy, and he loves everything I make for him from Cuddle Fabric because it's so soft! When time allows, I plan to use the rest of this fabric to make some adult-size throw blankets . . . perfect for an outdoor ball game or picnic.