Hello! I am Colleen Bell and am I have the wonderful privilege to be one of Shannon Fabrics' trained brand ambassadors. I'm a machine embroidery expert with articles published in Designs in Machine Embroidery and Creative Machine Embroidery, as well as blogging at The Embroiderist. I love embroidering on fabrics from Shannon Fabrics and wanted to pass on some tips that I have found helpful.
This post is the first in a series on machine embroidering on substrates from Shannon Fabrics, using everything from the silky satins to the monster furs. We will begin with an introduction to nap and pile with loads of information on specific hoops, stabilizers, needles and more coming soon.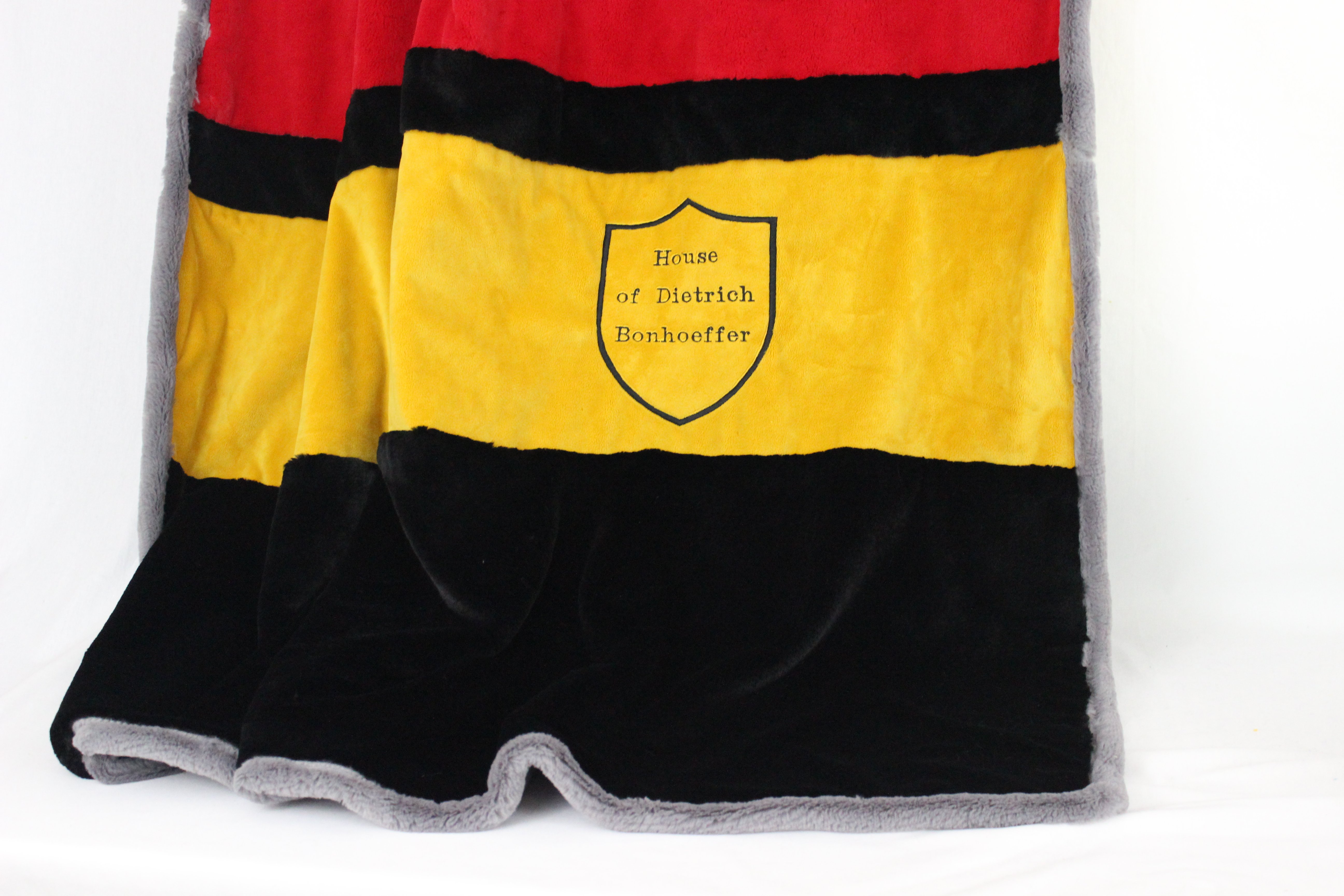 Machine Embroidered College Throw in Cuddle® 3
I spent almost a month machine embroidering on my Baby Lock Ellisimo Gold on every type of fabric manufactured by Shannon Fabrics, trying to find one that could not be machine embroidered, but I can safely say that it does not exist. I feel like Will Rogers when he said, "I never met a man I did not like."
*Please note that some of these fabrics might be discontinued, as our amazing team of designers is always updating our fabrics and collections to push the boundaries of fashion, home decor and apparel sewing! Feel free to swap out the suggested fabrics with similar styles and colors.*
Most of the Shannon Fabrics textiles have a nap and a pile. Today these terms are often used interchangeably, but it is important to understand the difference.
According to Fairfield's Dictionary of Textiles (2008), "Nap: An array of fiber ends protruding from the surface of one or both sides of a fabric and giving a fuzzy appearance. Produced by brushing…" (p. 378 FDT). The dictionary even has a diagram of the napping process that is pretty impressive. Most sewers think of nap as the fabric texture having a direction. If you stroke it one way it will look different than if you stroke it in the opposite direction. It will usually change color.
"Pile: Raised loops, tufts (cut loops), cut interlacings of double cloths, or other yarns or fibers deliberately emplaced to stand away from the surface of a fabric. A pile may form all or part of the surface of the fabric. Pile should not be confused with nap, which is formed by shredding surface yarns of a fabric" (p. 424 FDT).
You can think of the difference between nap and pile by these two questions:
Nap - Does the fabric have a direction that moves when stroked?
Pile - If the fabric has a nap, how long are the fibers from the base of the fabric?
Shannon Fabrics website is an excellent online resource. When you click on the specific fabric that you are interested in, it gives you the length of the pile in the description. This handy feature also helps you in planning your fabric choices.
The length of nap will make the difference in how you hoop your fabric, what design you stitch, what stabilizer you choose, etc. For these samples, I used threads and stabilizers from Floriani. For example, if it is a long pile you may use a magnetic hoop or if it is thick pile you may use a sticky stabilizer that is hooped and not hoop the fabric at all. There are other criteria in deciding these things, but this is an important beginning.
In general, Shannon Fabrics has three main lines that do not have a nap: double gauze (Embrace®), satin, and waffle. All Cuddle, Luxe Cuddle and faux furs have a nap. A particular note should be added about waffle fabric. While waffle fabric does have a raised honeycomb texture, and it has specific requirements for machine embroidery, it technically does not have a nap. You can brush it in any direction and it will not change.
Hope this clarifies the difference between nap and pile and why it is essential to machine embroiderers.
You can find Shannon Fabrics at independent quilt shops and fabric stores, and determine your nearest shop on the Shannon Fabrics website by clicking on the Store Locator button.
Colleen