Hello Cuddle Friends! I'm Pat and I am a Shannon Fabrics Consultant. I also own the online shop, CuddleSoftKits. I'm excited to announce a great Giveaway for a "Chevron Daisy Snuggly" Blanket Kit and a pattern book by ADORNit. There will be two winners in the giveaway! To enter, please see the bottom of this post. Here is the finished Snuggly, shown from the front side: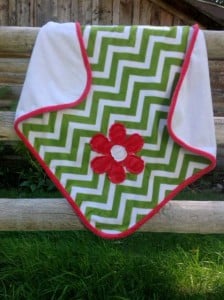 Here is the Snuggly back side: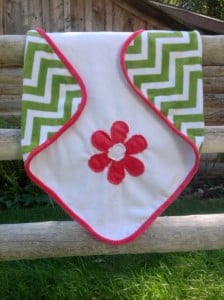 And, here is the pattern book: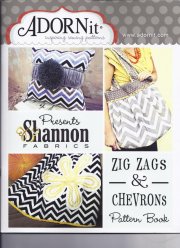 Are you excited now? But there's more...Shannon Fabrics has partnered with ADORNit, from Logan, Utah, to create the Ultimate Chevron Nursery. I was invited to work with the ADORNit team on their creative quest. We had a lot of fun working on this project, and we are sooo happy with the results! If you love, like, or are even intrigued by the popular Chevron pattern, check this out!
The Zig Zags & Chevrons Pattern book includes adorable patterns for * Receiving Blankets * a Throw Pillow * the Sassy Chevron Everyday Tote * Strip Quilts * Patchwork Quilts * Chevron Patches * How to make a Chevron Rug * plus tips and ideas for sewing with Cuddle Fabric *** plus A LOT more! If you love Chevron, Cuddle, or making baby nursery items, you will LOVE this pattern book! Check it out here!
Want to try out some of these cute patterns? Check out these adorable, ready-to-sew kits!
The Chevron Red/Aqua Strip Quilt The Chevron Red/Black Strip Quilt
The Chevron Patches Strip Quilt The Chevron Daisy Snuggly
To enter to win, comment below with the hashtag #Snuggly on why you like Cuddle.
Love, Pat
PS Don't forget to look at my Learning Center for lots of tips on working with Cuddle!
PPS If you order anything on my site from now until September 15 and mention code #Snugglycoupon you will get 10% off!