Did you know that September is National Sewing Month? The observance of National Sewing Month began in 1982 with a proclamation from President Ronald Reagan declaring September as National Sewing Month! To help celebrate, we thought we'd share a bit about what's happening for the month, as well as a few sewing sites and sources.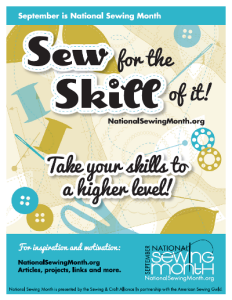 Here they are (in no particular order):
I'm sure there are some that I am forgetting (I apologize in advance), so please share your own links about sewing sources and National Sewing Month below.
Happy Sewing!
-Ellen