Hello! My name is Donna and I am a Shannon Fabrics Brand Ambassador. Thank you for reading the blog today. The summer heat started early here in Texas, so I have been working on sewing projects to beat the heat. I would like to share a quick summer project with you, using a design from Anita Goodesign for machine embroidery. The project features Embrace® Double Gauze from Shannon Fabrics, but I also played a bit with their Cuddle® fabric.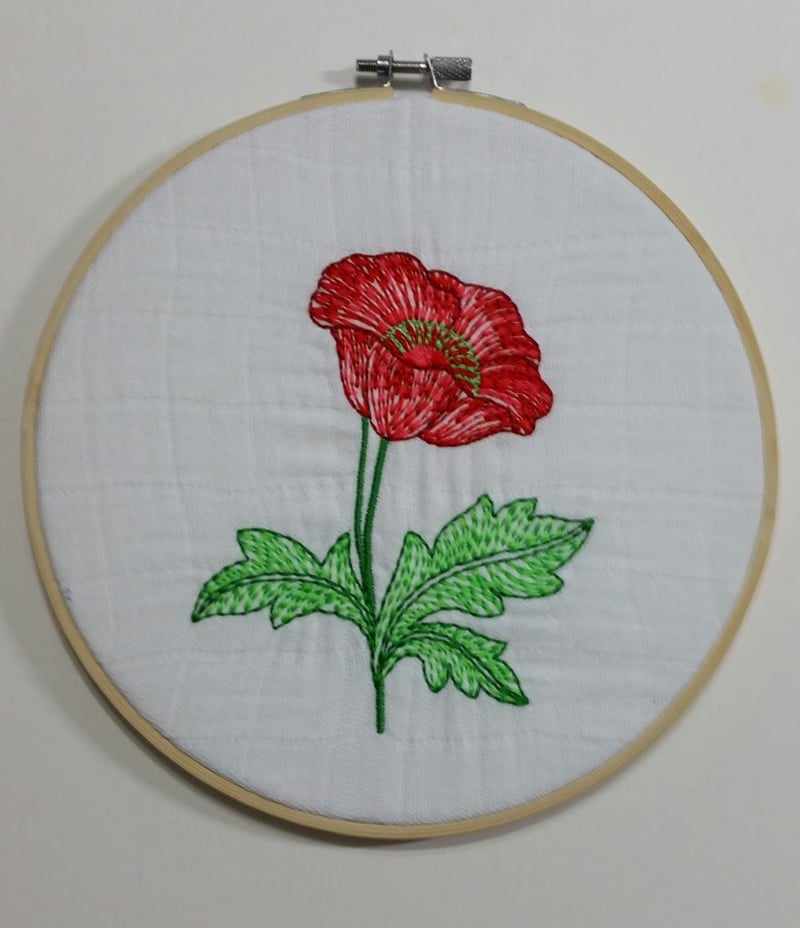 The project I am sharing today is a quick machine embroidery project. The embroidery design I chose is from the Anita Goodesign Embroidery Collection called Charlotte's Flowers. I have chosen to use it as a wall display, framing it with a wooden embroidery hoop. Many of these designs in this collection, would look great on a variety of fabrics and would be lovely on clothing, bags, placemats or blankets. I am noticing the hoop style of embroidery designs everywhere.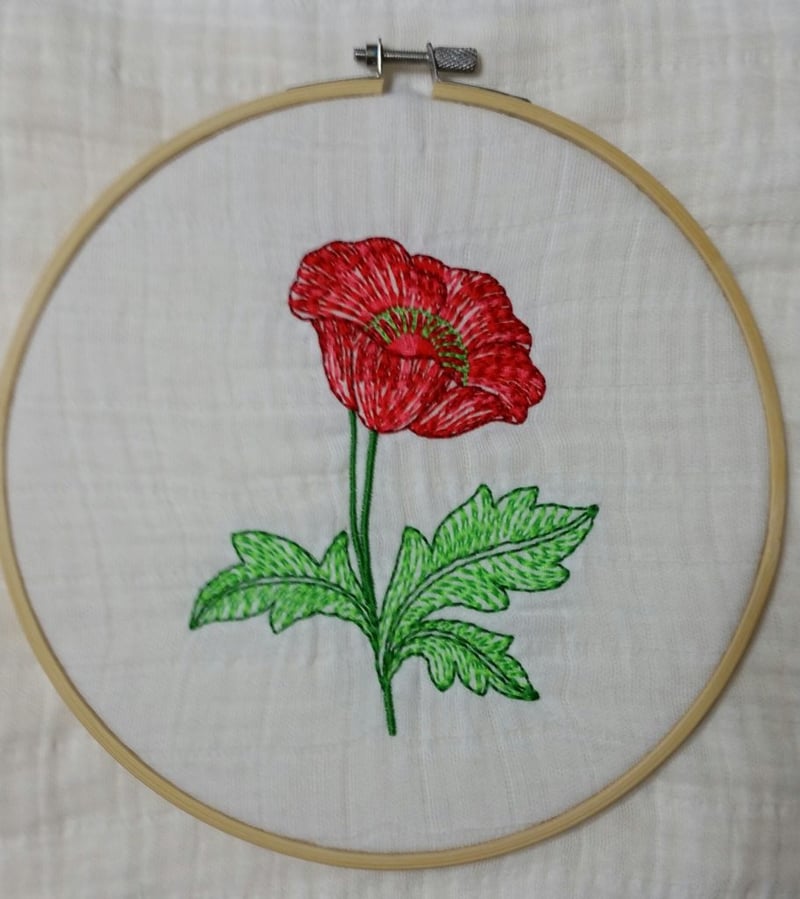 So, here is a bit more about my project. The Charlotte's Flowers design package has that lovely hand embroidered and hand sketched look. There are plenty of flowers and sizes to choose from. These are a few examples.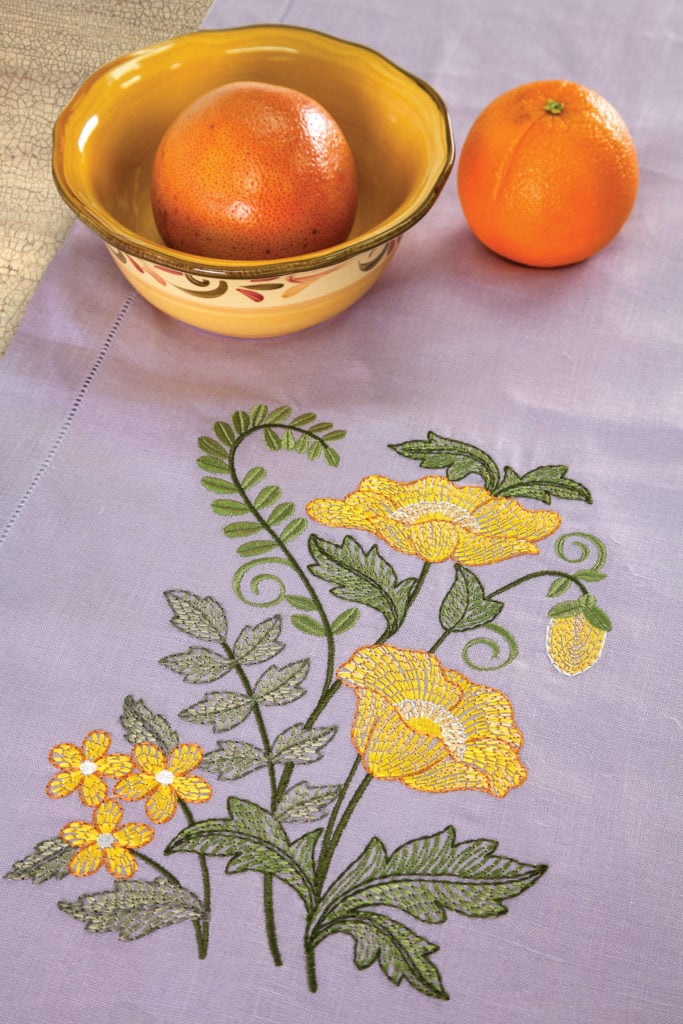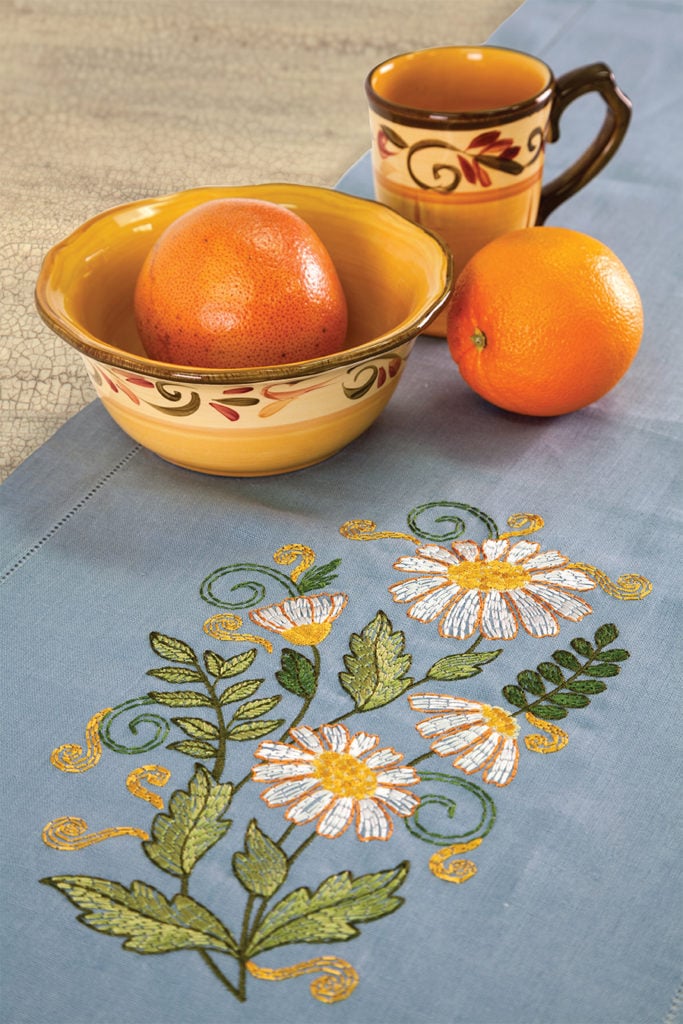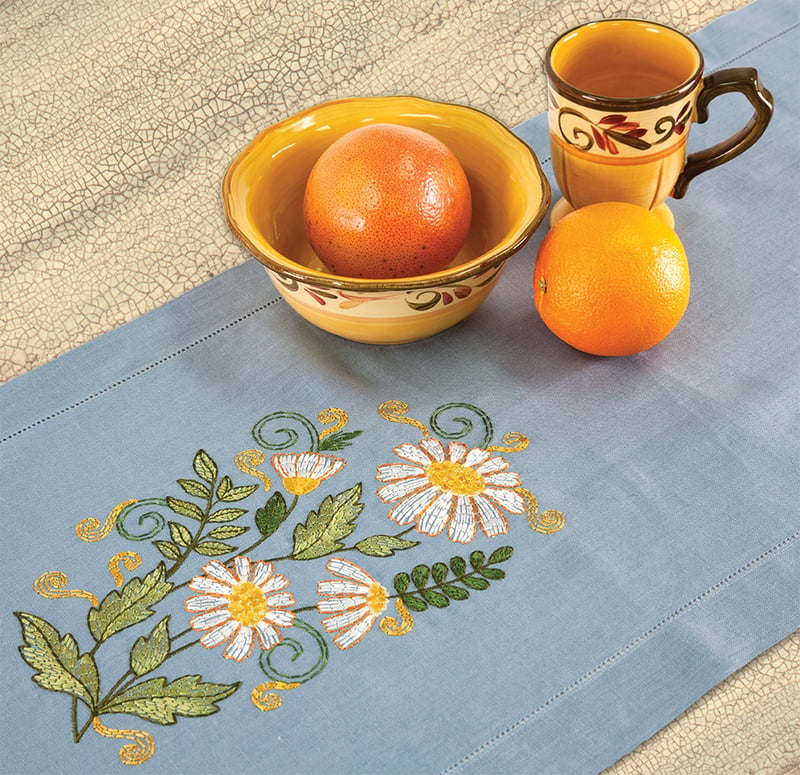 The design I used was Flow9. The design size is 4.8 wide x 5.4 high. To begin, I used 2 layers of OESD tear away stabilizer and spray based them together with 505 Spray & Fix temporary fabric adhesive. I layered one piece of Shannon Fabrics Embrace® Double Gauze on top of the 2 layers of stabilizer and topped the gauze with water soluble stabilizer and hooped all layers together. Be careful when placing the gauze on top so you don't stretch the fabric. Embrace has a grid pattern in the fabric and this is helpful to keep the fabric straight when hooping. I use a water soluble stabilizer on top of all of my embroidery projects. It makes a smooth finish for machine embroidery. I used an Embroidery Needle, size 75/11 from SCHMETZ Needles.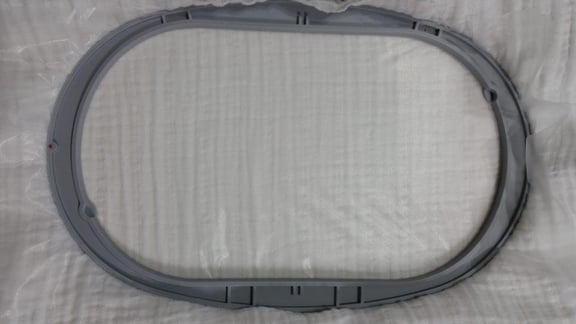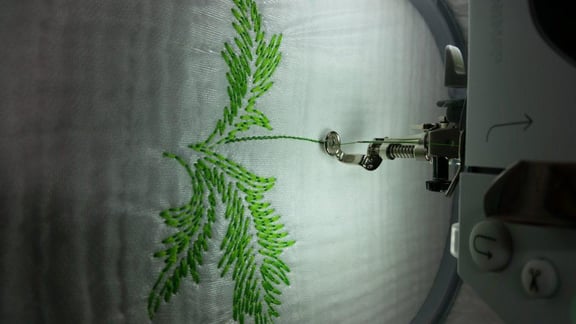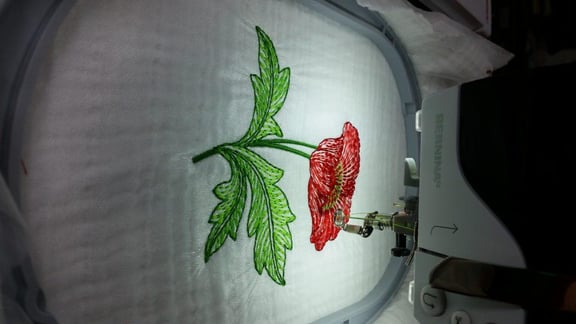 I think the designs make a great choice for the light weight of Shannon Fabrics Embrace® Double Gauze. I chose the Solid Embrace Snow. If you haven't tried Embrace® Double Gauze, you need to treat yourself! It is available in a variety of colors and prints. I have made pajama pants, tops, wraps and scarfs so far, but my list is growing. The fabric is so light and airy, just perfect for the hot summer temperatures!!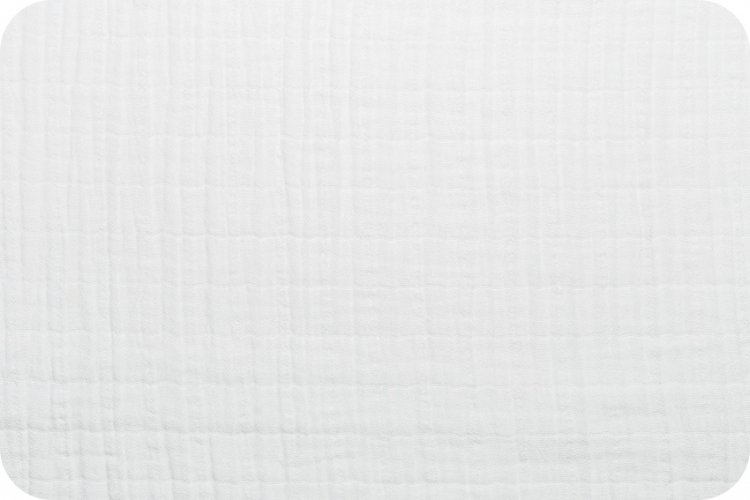 I used my BERNINA 580E to stitch the designs. It has excellent stitch quality for embroidery and sewing and a variety of presser feet to stitch just about everything.
The design uses 6 thread colors and took less than an hour to stitch out. I used Isacord and Sulky embroidery thread. I changed the thread colors from the original design, since this design reminded me of Poppies from my garden. Once the stitching was complete, I soaked the fabric in water to dissolve the stabilizer and let the fabric line dry.
To complete the project, I placed it in a wooden embroidery hoop, trimmed off the excess fabric and it was ready to display.
And, I also tried it in one color thread.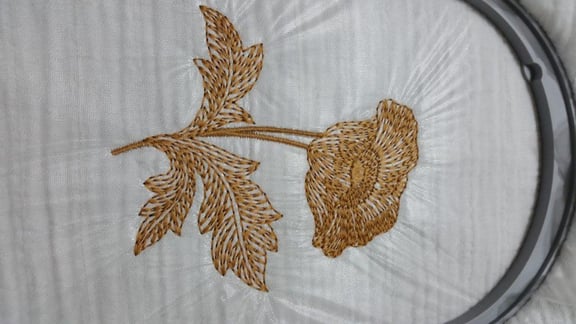 I played around and decided to try it on Cuddle® 3 Navy…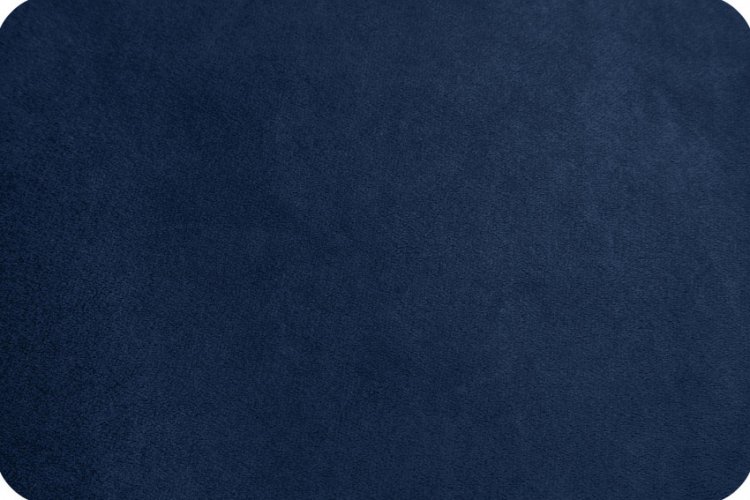 What do you think?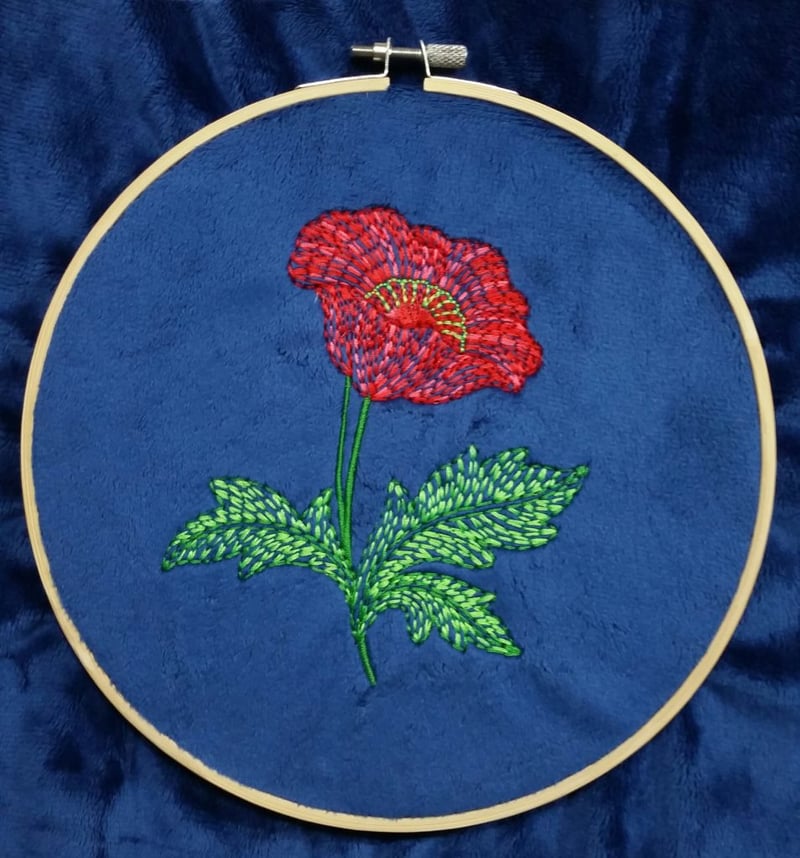 I hope you give this quick project a try! Tag @shannonfabrics on Instagram and share your creations!
By the way, you can find Shannon Fabrics at quilt shops and fabric stores. You can also use their Store Locator to find more online shops and shops near you.
You can also connect with Shannon Fabrics- Join their mailing list, Subscribe to the blog and follow them on social media: Facebook and Instagram
Enjoy your summer and happy embroidering!
Donna