Hi, I'm Leisha! I come from a family of quilters. I am a longarm machine quilter and my aunt Kristin is a fabric shop owner. She owns the online shop, Sisters & Quilters, with my mother Sandra. I'm lucky that they are both talented pattern designers and I enjoy working with them. So... you can imagine how thrilled we were when we were asked to collaborate on this "Giddy Up" quilt. And to top things off, we were even more thrilled to have it published in the fall Oct/Nov issue of "Quilt" magazine!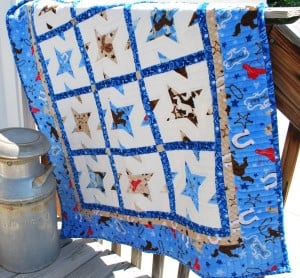 My aunt designed and pieced the quilt and I did the machine quilting. We used the adorable My Lil' Buckaroo collection, along with a white solid cotton.
Here is a sneak peek of the machine quilting I did on the quilt. Yes, this is the back. (Check out our next post to see a close up of the front!)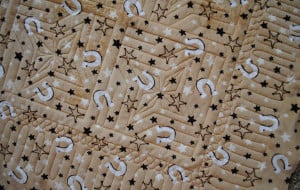 Kristin and Sandra are excited to offer the "Giddy Up" quilt kit in their online store. To buy the kit, click here: For more info, stop by sistersandquilters.com or sistersandquilters.blogspot.com and be sure to like them on Facebook. They often have great tips and free tutorials available.
If you would like to see more of my machine quilting work, please go to my Facebook page. I also just started a quilting blog, Quliting It where I share projects I'm working on, favorite client quilts, tips, tutorials, and more! If you would like more info or would like me to do some machine quilting for you, please contact me at quiltingit@gmail.com.
And, on your next trip to the store be sure to find yourself a copy of "Quilt" magazine's fall Oct/Nov issue. It not only has the detailed pattern, but also has great tips on how to piece and use Cuddle fabrics.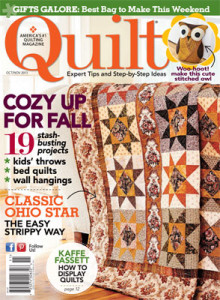 Kristin and I will be doing another post soon about how we made the quilt and quilted it. So, sign up here to follow Shannon's blog by email, so you won't miss our next post! Be sure to check back soon!
Thank you!
Leisha
PPS Should we have a contest or a giveaway in the next post? Use the hash tag #Giddyup and comment below. And, please share this on Facebook, Pinterest, Twitter, and Instagram.